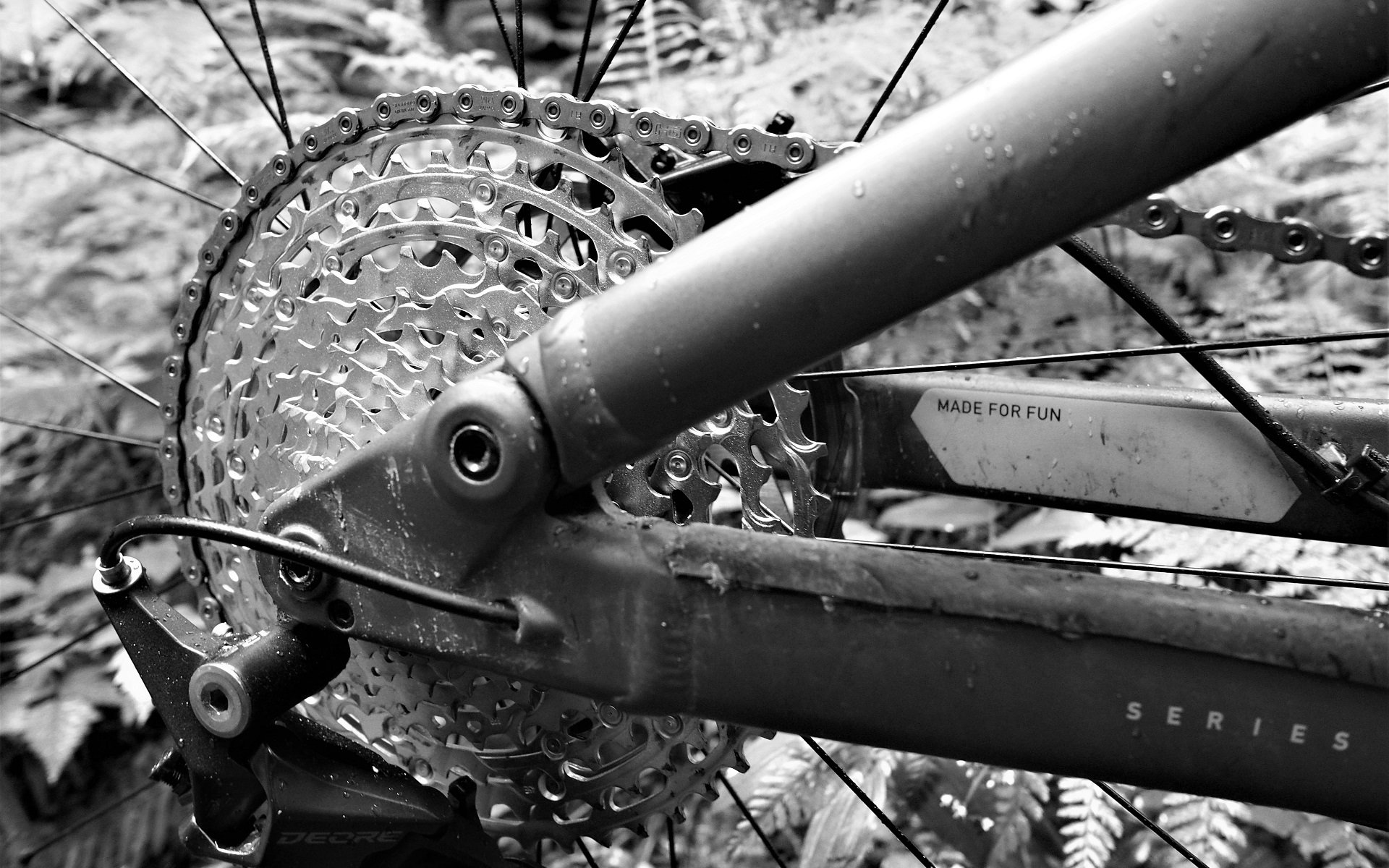 Editorial: Does The Future Have Fewer Gears pt IV
The Only Drivetrain That Matters
SRAMano v. ShiRAMno
Did you know that the best drivetrain you can buy is a SRAM AXS 12spd shifter and derailleur combined with a Shimano XTR 12spd chain, cassette, and ring? It'll power crisply through any up & downshifts under full power! Never back off before pushing the trigger again.
No, no! the best drivetrain you can buy is a Shimano XTR 12spd shifter and derailleur combined with an XX1 cassette, a few PC-XX1 chains, and Wolf Tooth stainless steel ring. With the Shadow-derailleur tucked away, the shifter that gets better with age, a bombproof cassette and chainring, and a rotation of chains, the drivetrain will outlast most bikes!
Oh, you already saw both those setups on the back of 'Limited Edition' TRD Pro Tacoma 4x4s at the local trailhead this week? Something more exotic perhaps? How about a truly Teutonic belt-drive gearbox setup from Nicolai to really differentiate your drive system from the pack?
All very cool, but the truth is the real battle in the mountain bike drivetrain wars, which SRAM has been dominating for a few years now, is much further down the pyramid. As exotically lustable and amazingly shiftable as those drivetrains could be, most mountain bikers are sporting drivetrains with Deore, SX, SLX, and NX monikers. GX and XT are a stretch goal. X01, XX1, XTR, and AXS - with their 380 USD+ cassettes - are elite-level products.
To put it in further perspective, the new Deore M6100 12spd drivetrain is about 300 USD. That's cranks, chainring, 10-51t cassette, chain, derailleur, and shifter. For a direct comparison, a SRAM NX Eagle drivetrain runs an extra +75 USD (375 USD) and has a significantly more plastic-toy feel than what the new Deore delivers. On the trail, there's nothing wrong with a fresh NX Eagle groupset but it pales in performance compared to going up one step to their GX Eagle drivetrain (545 USD) never mind SRAM's higher-end options.
Where a fresh Deore M6100 drivetrain distinguishes itself is in that showroom feel. A bike that's fully min-maxed with great tires, good suspension & brakes, and a budget drivetrain isn't going to feel compromised. And product managers, doing spec for bikes, absolutely know this to be true.
It was just starting to look like more competition - MicroShift, TRP, Box - was coming to the world of balancing budget and performance in drivetrains. Now, there are monopolistic alarm bells ringing as a lot of bike companies are going all-in on Deore 12spd for 2021 despite it being no secret in the industry that SRAM is currently much easier to deal with as a supplier. I don't think it's a stretch to imagine almost every full suspension mountain bike under 4K coming with a basic SRAM Eagle build was a huge driver for their bottom line as they battled to stay ahead of a company collecting over 4x their annual revenue.
But the benign-sounding M6100 isn't just here to thoroughly thrash the competition. There are various predictions of sororicide as Shimano SLX is crushed between the storied legacy and slight performance boost of Shimano XT and the rising capabilities at a lower cost of Deore. Cost v. performance there isn't anything to save it from either of its Shimano 12spd sisters.
Disruptive Deore M6100 12spd
For the record, if you sent me to the candy store, with a basket to bring back any drivetrain I wanted, on your dime, for my own bike, it sure as hell wouldn't be Shimano Deore. I love min-maxing but I'm not a complete tool. Shimano XTR shifter & derailleur, SRAM XX1 cassette, and chain, Wolf Tooth stainless ring on a Cane Creek eeWings Ti crankset. I could spend your money like a fiend.
When it's my own bucks I'm burning, whether I have the cash or not, I'm a little more nuanced. For years I ran SLX drivetrains with SRAM cassettes and an XTR shifter. Actually, both my 9spd and 10spd XTR shifters still work as good as new and the 10spd is still in regular use. Lately, it's been mainly a combination of S' with SRAM, Shimano, and SunRace all represented and of course some time on a Box Two 9spd setup.
However, ask me what drivetrain I want to test right now and there are only two answers. Either a magical mix of Deore 10spd and 11spd built around the M4100 11-46t 10spd cassette or this very 12spd setup. Might as well have a front seat for the drivetrain apocalypse, and my first impressions of M6100 lead me to believe this isn't, very sadly, an extinction-level event.
I'm really hoping Shimano doesn't go with the 'crate motor' model that SRAM has used to sell complete drivetrains. I was previously a Shimano crank evangelist but between needing to buy yet another tool to swap chainrings and my excellent experience with the Race Face Aeffect R Cinch crankset, I'll take the Race Face. Cinch uses a tool I, and most of my friends who are home wrenches, already have owned for years and there is a plethora of aftermarket ring options. Race Face makes a Shimano 12spd chainring, so compatibility is not an issue.
This segues into the most interesting performance aspect of the Deore M6100 drivetrain, which apparently I'm the only person in the world who is nonplussed about. Shifting is absolutely slower than the latest XTR and XT, and the lack of Multi Release is immediately noticeable (even my Alfine shifter has it), but M6100 will power through any shift under any load just as well as its more expensive siblings.
This drivetrain isn't mine so I've been treating it like someone else's Ferrari, and the ability to push through a shift under full load going around a steep switchback is novel and disgusting. Disgusting. I actually can't wait to see the next edition of Di2. Presumably wireless‽
When we were testing the ThunderVOLT I hit the shifter more than once when I shouldn't have and where a cable drivetrain allows you to take back bad decisions, the XTR Di2 would motor through shifts in the worst moments. Under heavy loads, this new Deore drivetrain handles those bad shifts better than Di2 did.
But make no mistake, they're still bad shifts. Whether the drivetrain can pull them off, or not, shifting up or down under these loads, especially in the lower gears under the heaviest torque, are going to contribute to faster drivetrain wear. Personally, I would give up this feature to decouple myself from having to run a specific chainring and Shimano chain.
Out of the boxes, the Deore drivetrain is every bit as quiet as its higher-end siblings, but looking at the chainline, and knowing the torque I'll be putting down in the two lowest gears mated with a 32t chainring, I imagine things are going to get much, much, louder as the chain wears from the massive side loads. Add that to some chainring wear and things tend to get sloppy-jalopy pretty damn quick.
It's early days, delayed by needing to sort a Micro Spline (MS) driver, but I'll have a full review in the future once I have enough hours on the Deore drivetrain to really speak to its durability compared to spending more money. To date, my only real hesitation is the aforementioned lack of Multi Release. A couple of rides in and there are four-to-five cogs that I regularly use - a couple for spinning up steep climbs, a couple for pumping down the variety of trails I ride, and the 10t when I'm coasting down the hill when I ride from home - and it's a lot of clicking the button to bust through all twelve ratios.
Speaking of the 10t. If I had one wish it's that the Shimano engineers would have listened to their better angels and stuck with an 11t small cog and Hyperglide-type cassettes that have been predominant for 30-years.
I really don't get the 10t to begin with. Other than making the math easier as if non-nerds care about the exact % of gear range they have, I wonder if there is honestly anyone pedaling 10-51t who wouldn't be just as happy pedaling 11-51t with the added advantages of the legacy freehub design.
I wonder if Shimano has taken a page out of SRAM's book by widely licensing the MS freehub design while at the same time preventing other companies from making a buck by manufacturing compatible cassettes. Paging e13, as silly as I think their 9t cog is, to produce a pinch-bolt cassette for MS.
As a student, and fan, of the evolution of SRAM since running Gripshift in the 90's, I'm excited to see how they respond to this new Deore drivetrain. If there was ever any doubt, upping Shimano by a tooth was never going to cut it and I can only imagine the OE sales hit that SX and NX drivetrains are taking compared to an alternate reality where Shimano's bounce back ended at SLX.
If it isn't obvious, I'm pretty happy to have been trusted with testing Shimano's most important drivetrain since SRAM released Eagle in 2016. Anyone can predict that the next version of XTR, XX1, AXS, Di2, and etc will be amazing but Deore represents the real volume of sales and the experience at this more entry-level helps determine many riders' drivetrain loyalties for years, and in some cases, decades to come.
I'm also keen to see what brands bring to bear combining Deore drivetrains with the best budget brakes, good suspension, and current-geometry aluminum frames. I'm predicting a wave of sleeper bikes that can outride holdover carbon machines two, three, and four times their cost.
Check out Shimano Deore M6100 and check back for a full review once I've ridden it into the ground.