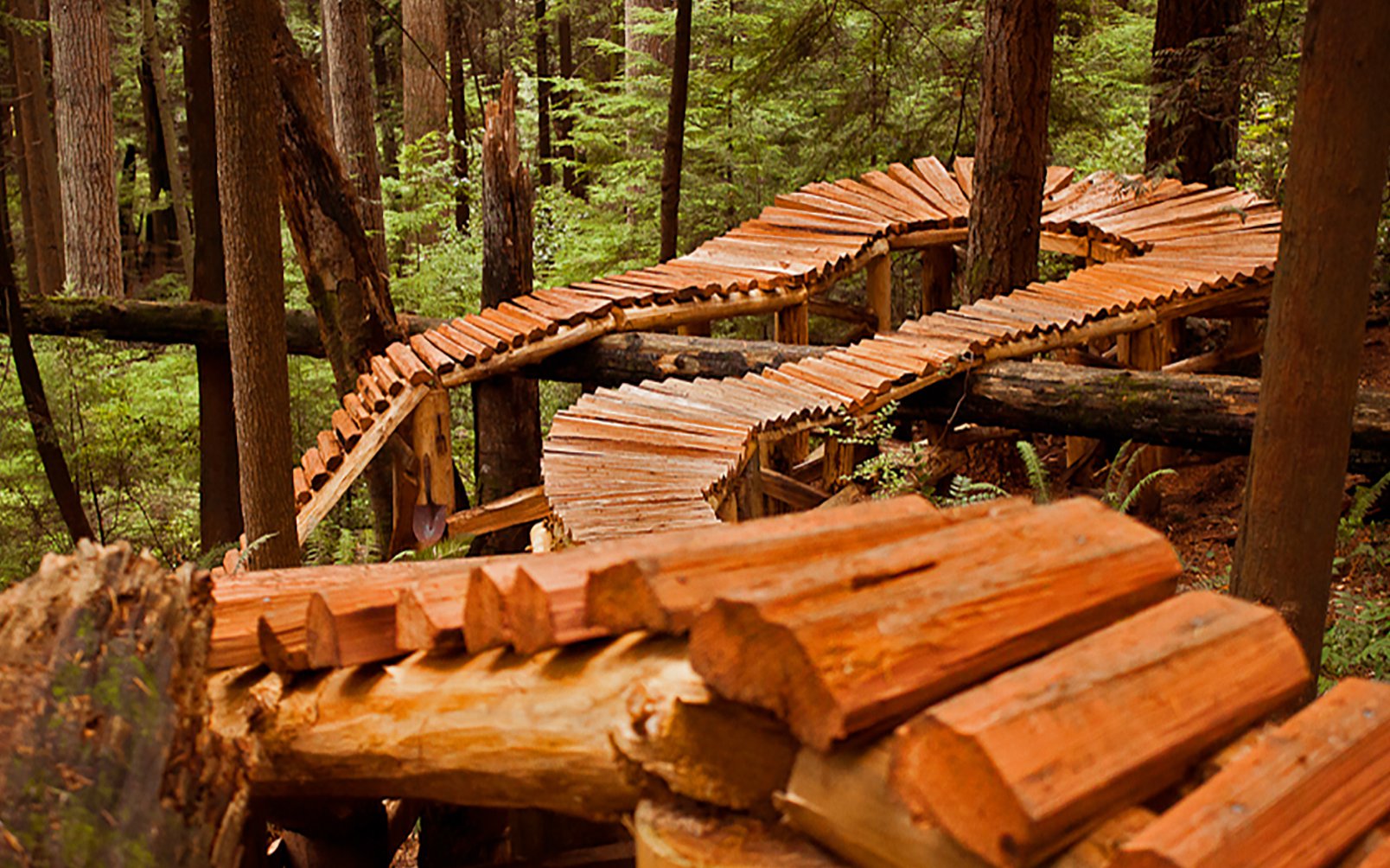 EDITORIAL
Preserving Gnarly Trails
"I have no interest in seeing our public lands sanitized from risk and therefore sanitized from recreational usage." - DNV Mayor Mike Little on Teeter Totters.
2019 On The Trails
With good cause, mountain bikers on the North Shore are hair-trigger sensitive when it comes to rumours about land managers' plans to shut down or sanitize the technical trails that give the North Shore its legendary reputation. It was only a short time ago that the District of North Vancouver (DNV) black-bagged Pink Starfish to justify the stack of cash they pissed away on their 'Alpine Rec Study' and in the spring of this year they fully misled the public about their intentions to destroy* the Griffen Switchbacks in a story that will hopefully come to light someday.
These weren't unsanctioned loamers, but rather fully legit, sanctioned, permitted, heirloom trails with builders hungry to step up and return them to a state of awesome. So, when rumours started flying that another legendary North Shore classic, Grannies Trail, was going up on the block the pitchforks came out.
*Inquiries to District staff were met with assurances that there were no plans to 'decommission' the only route out of the forest leading to Mountain View Park, and then one day they were gone.
The word came down from the nsmbA that Grannies was safe (for now). Flasks were clinked, trail builders were toasted, teeter-totters were ridden, everyone bought Mathew Bond a beer, and even the Mayor of the DNV showed up bigly for personal responsibility. Grannies had more traffic than the last five summers combined and it was starting to feel like this season of the soap opera As The Shore Turns was coming to an end and the Fromme #gnarpreserve was safe for another annum.
As long as I've lived on the North Shore there's been a battle between land managers looking to exert their will with impunity and mountain bikers showing up in numbers, and with dollars,* to demonstrate the intense passion for the trails we maintain and share with other users.
Like any community full of intensely committed individuals, there are varying opinions on how those trails should be maintained and altered. Unfortunately, as much as we need an enhanced catalogue of green and true-blue level trails, in most cases the trail networks on the Shore are managed as a zero-sum game. Generally building a new trail involves putting it on top of the bones of an old gnarly one.
*Wherever you live, please buy a membership to your local trail association. Your donation helps maintain trails and more importantly, it's a clarion call to land managers. Riding the North Shore? Here's a link.
Building Boundry
This summer the gnarliest trails on Fromme have been running beautifully: Bookwus, Grannies, Upper Crippler, deliciously precise Upper Digger, Lower Crippler, Ladies Only, and etc. All signed and sanctioned. And surprisingly, I've seen more riders on all these trails than any year I can remember in the last decade. Freeride bikes are back and people are riding them.
Unlike the rest of the trail news this summer, when word came down that Karen was having to step back from her beloved ridden-artwork, Boundary Trail, it came with a panic-reducing plan. Karen asked the nsmbA to step up in her stead and they committed to building structures worthy of her craft.
On our family hike up Boundary this weekend, we saw more riders coming down then any time I've been on the trail, hiking or riding, in the last five years put together. We saw plenty of off-the-bike moments, a few puzzled attempts at breaking foot-long derailleur cages or bending rotors (or where those actually attempts at riding features?), some very intense focused visages, and a plethora of huge smiles. Boundary lives because of all of Karen's hard work and passion over the years, and it thrives again because she stood up and asked for help when she needed it.

If you live nearby, or are planning to visit, I'd highly recommend you check out the new work on Boundary, either by bike or on foot if it's outside your comfort zone. The work that Pat, Sean, Joe, and the rest of the nsmbA build crew are doing is phenomenal. To date, friends of Karen's Boundary have raised $1810 in funds specifically for the trail. There is still plenty of fresh cedar to come and if you have a few bucks adding unnecessary grams to your stash bib or hip pack here's the donation link to stack on the rung pile.
With technical trails, particularly those with wooden features, dwindling by the year, 'preserving the gnar' has never been more important. Trails evolve and tastes change, but the North Shore will always have a reputation to uphold. Thanks to the considerable efforts of the nsmbA, a troupe of talented trail builders, and some noisy and outspoken riders who also vote in municipal elections, for the moment, the future looks bright for the North Shore "gnarpreserve."