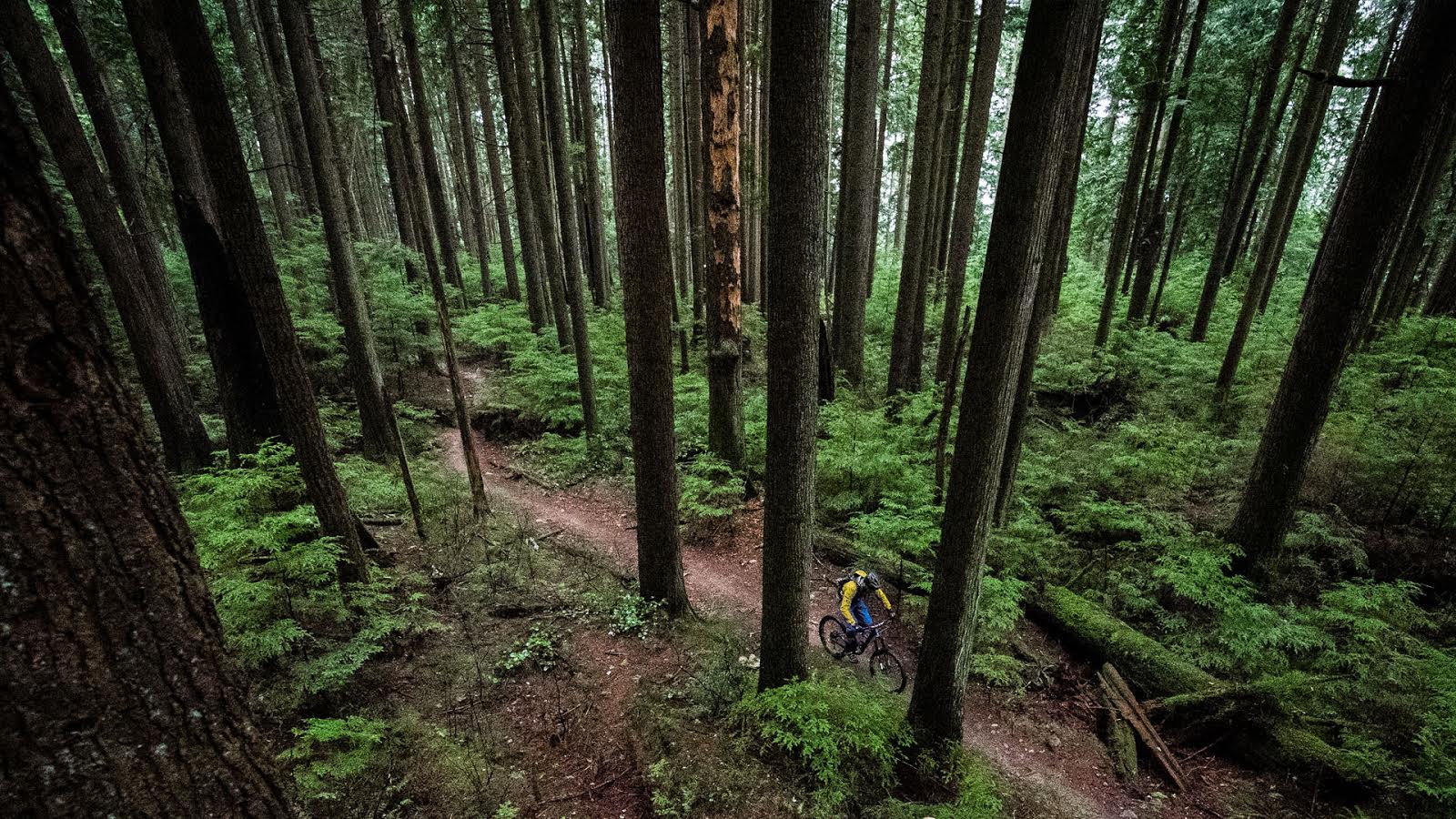 Rocky Mountain Thunderbolt: Reviewed
We've had our test bike for a good while now. The idea from the beginning was that we needed a frame to test out Shimano's XTR Di2 group. At the time, there were very few frames on the market designed to accommodate the electronic group. While you can put it on any frame, we naturally wanted to pull together a good-looking build, so our options were limited to the Yeti SB6, which we had just tested, the Pivot Mach 6, and the Rocky Mountain Thunderbolt, newly released in carbon. You can get a run down of the build and some initial thoughts here. What follows is our review, from two perspectives. We'll be spending more time with Shimano's second electronic group, XT Di2, and talking about it some more, very soon.
---
Review #1 – Andrew Major
"They say all marriages are made in heaven, but so are thunder and lightning." -Clint Eastwood
I put gloves to grips on the full-wide 800mm Chromag BZA carbon handlebar and take a couple of heartbeats to contemplate our custom spec'd Thunderbolt's front-center. Thanks to a combination of the 'up-forked' 140mm Fox 34 Float and Rocky Mountain's Ride-9 geometry adjustment the front wheel sits confidently well out in front of the beefy red anodized Chromag stem and 35mm bar.
I pump the suspension and the combination of the T-bolt's most aggressive suspension setup option, upgraded Fox EVOL shock air sleeve, and Fox 34, floats smoothly into the mid-stroke. The push test promises the on-trail suspension depth, traction, and performance of a bike with significantly more travel than the 120mm rear / 140mm front of our test bike.
mean face. Photo: Dave Smith" src="/media/original_images/301052016-NSMB-gearreview-rockymountain-thunderbolt-di2-_xUhUfHl.jpgresize16002C1067" alt="Rider: Andrew Major | Location: Mount Fromme, BC | Trail: Pipeline" data-recalc-dims="1" />
Made, or at least designed, in Heaven (North Vancouver, BC) for Shore-XC riding. Like a raging brontide, the Thunderbolt soaks up long miles and it can also be punched through whatever on trail tech you can stare down with your mean face. Photo: Dave Smith
My first couple of days with the Thunderbolt, AKA ThunderVolt, were the kind of arranged marriage aren't-you-glad-it's-not-you horror story that tabloid-esque newspapers the world over love to exploit on a slow news day. My two uncles, Cam & Pete, had set me up with an attractive match which, on paper, had everything: smooth lines, super luxury component spec, premium contact points, and a great fit.
In reality I struggled to get the bike working properly. No matter which Ride-9 setting I engaged there was no combination of suspension geometry or set-up that felt positive on the trail. I settled for running too much sag in the most XC Ride-9 setting and relying heavily on the Fox shock's remote to try and get the suspension working in tandem whether it was climb, across, or descent.
Now before all you Rocky Mountain / Thunderbolt fans get your euro-white lycra bib shorts in a knot, I was surprised as well. Having ridden the BC Edition of the T-bolt, my expectation was for a bike with a smooth initial stroke, pronounced mid-stroke 'pocket',  fairly bottomless feel, excellent support, and climbing traction for days – for a 120mm bike.
BEEFY (looking) but light is the name of the game as the can't-be-missed anodized red Chromag stem ties a full-on 800mm Chromag BZA 35mm carbon bar to the fluid looking Rocky Mountain Thunderbolt frame. I removed the albatross, I mean remote, at the same time our EVOL air can was installed. I never missed it (or having any 'ProPedal' adjustment) afterwards. Photo: Kaz Yamamura
It turns out that the 'fix' was a relatively cheap upgrade – which Rocky Mountain has made stock for 2017 – to Fox's new EVOL air sleeve and, due to my beers:rides ratio, a corresponding re-valve to a firmer compression tune. If you're pedaling around on a Thunderbolt with a stock pre-EVOL Fox shock I'd highly recommend the upgrade at just north of $100 CAD for the air sleeve. In our case a big Thank You to James at SuspensionWerx for the loaner.
Due to the expense of a new manual cam for the DPS shock's ProPedal adjuster, I chose to leave it as is (remote) and simply remove the remote itself and leave the shock in open mode. In all the rides since I have not once missed the adjustment as the Thunderbolt sits nicely in its pocket pedaling uphill in the saddle or pushing it into corners or technical features downhill. Even cranking up out of the saddle, particularly in its more XC-friendly Ride-9 options, the 120mm bike moves forward aggressively.
To riff-off Rocky Mountain's marketing department: "Playfulness and Aggression" are the name of the game climbing and descending. Just remember, again, that mean face when the downhills turn technical. Photo: Dave Smith
Speaking of Ride-9, 2016 has offered a lot of challenges to my self-image as a rider who likes to optimize one set-up for a bike and then just go out and ride until my legs fall off. First it was my time on an Intense Carbine 29'er that took bare minutes, and one bolt, to swap between two incredibly different, 120mm & 140mm, setups depending on the trail-du-jour, then it was the Cannondale Jekyll and its Fox DYAD shock, and finally the Thunderbolt and its Ride-9, or Ride-2 in my case, setups.
In its slackest setting combined with the 'over-forked' 140mm front end, the Thunderbolt's front wheel sits well out in front like a much more DH-minded bike. The suspension is soft off the top with excellent mid-stroke support and the bike rides as aggressively as any 'mid-travel' trail bike I've been on with aggressive ramp-up as you push into the end stroke.
In the steepest setting, our Thunderbolt reminded me of my first real off-road rides on the 'new' Rocky bikes, a 140mm-forked 2012 Element 70 MSL, with its XC-race-bike pedaling performance but geometry and suspension that allows you to relax a bit on the trail without running the risk of some epic self-harm.
I had a dream that my Ride-2 set-up was a tool-free on the trail adjustment like these crazy cats were doing back in the day. I'd definitely use it on rides with long(er) technical descents.
Dave Smith" src="/media/original_images/301052016-NSMB-gearreview-rockymountain-thunderbolt-di2-_CNP0fyL.jpgresize16002C1067" alt="Rider: Andrew Major | Location: Mount Fromme, BC | Trail: Pipeline" data-recalc-dims="1" />
I rode the Thunderbolt most of the time in its steepest Ride-9 setting, including here, preferring the overall fit, feel, and efficiency, albeit with a harsher ride, to the more DH-aggressive option. The beauty of Ride-9 is you can truly customize your T-bolt for you. Photo: Dave Smith
As you are probably aware, Rocky Mountain uses bushings, their ABC Pivots, for many of their bikes' suspension pivots, including the Thunderbolt, instead of significantly more common cartridge bearings. If you click the link above you can read Rocky's run down on their system, but I wanted to throw-in based on my experiences.
The Thunderbolt is equipped with the latest generation of their setup and includes grease gun ports at most of the pivot points. I did not find these effective at distributing grease. However, this isn't a big deal because the one true advantage of the ABC pivots is the incredible ease of user service and replacement. This is especially true of the Thunderbolt, which has a significantly more user-friendly shock removal process compared to the beveled hardware on past efforts.
Much like the Mavic Crossmax XL wheels I reviewed previously, there are two types of bicycle owners and if your maintenance motto is "I just ride my bike until it explodes and then fix it", the Thunderbolt is probably not for you. I've definitely seen some AFR (Absolutely F#cked Rocky) pivots from riders who chose to ride their bikes until they were totally dead. That said, if you like to work on your own bike – or if you regularly deal with a competent shop for maintenance – you can clean-&-lube OR completely replace all the bushings in your frame with absolutely no tools beyond an allen key set and your preferred grease (it has to be applied more often, but I personally love the friction reducing aspects of Slickoleum for this application).
No buying or MacGyvering bearing install or removal tools (absolutely no hammers) and as the sayings goes: "it's only kinky the first time". Once you lube up your bushings a couple of times you'll find it is at most a two-beer job.
This may have been the only take where I wasn't smiling. The Thunderbolt is a blast on fast/smooth trails both up and down. Photo: Dave Smith
Our custom build was flawless except for the tires (I generally, genuinely, like Specialized tires – specifically the Butcher and the sLaughter [sic] – but is it just me or does the Ground Control roll as slowly as a more aggressive tire and offer the braking performance of a semi-slick?!) and an issue with the Di2 shifter.
As a preamble, and to be fair to Shimano, a Google search reveals no other examples of the issue and it was taken care of quickly and easily by a local Shimano Authorized service center: Obsession: Bikes.
With no crash or contact – the XTR Di2 shifter came apart internally. I can pull back the cover far enough to see how to potentially resolve the issue (re-hook a spring, re-seat the clamp); however, the cover is held on by a unique Phillips-esque screw that uses 3 tines instead of Shimano's usual shifter-cover screws which are tiny, proper, 4-tine Phillips heads. Nothing says "you aren't allowed in here" like custom hardware, but it does beg a question: Why complicate – and add significant expense to – the drivetrain by having a complex mechanical shifter with the lever mechanisms sprung and weighted for a positive cable-shifter-like feel when you could just have a couple of buttons? Nintendo's been doing it since at least the 70's and having a single 'UP' shifter button and a single 'DOWN' shifter button mounted onto the brake levers would be so (SO!) clean, simple, and functional.
Stem length, bar width, tire choice, & set the Ride-9. XC/TechC race on Saturday and all-day laps of technical trails on any given Sunday. The Thunderbolt is largely what you make it. Photo: Kaz Yamamura
So, about the myth of the do-it-all 120mm bike. Even in the slackest setting, with the EVOL air can, with a 140mm fork up front, and real tires, you're not going to fool yourself that this is a 160mm travel Enduro bike (sorry).
I think that's okay – Rocky makes a great pedaling bike more suitable to the 'Enduro' application – but when you consider that the weight difference between our Thunderbolt and a similarly spec'd Rocky Mountain Altitude with aggressive tires would be a couple hundred grams of frame/fork (max) and some aggressive tires it does pigeon-hole, somewhat, the ideal candidate for a Thunderbolt.
In my mind this is the perfect bike for someone that wants to throw on a set of Ikons and be competitive in their class at an XC race (especially if it's a real Tech-C race) on Saturday and then install some real meats and do their best Spencer Paxson impersonation all over 'real' mountain bike trails on any given Sunday. It could also be a great choice if you live somewhere where the riding is more tame – calling for an XC/trail bike generally – but you're planning to travel around and hit more aggressive terrain. Put on some aggressive rubber, slack out the Ride-9, shorten the stem, and hammer!
Dave Smith" src="/media/original_images/301052016-NSMB-gearreview-rockymountain-thunderbolt-di2-_QEPwnUV.jpgresize16002C1067" alt="Rider: Andrew Major | Location: Mount Fromme, BC | Trail: Pipeline" data-recalc-dims="1" />
And… I'm out. Photo: Dave Smith
---
Review #2 – Pete Roggeman
It was not the most auspicious of beginnings. After picking up the frame and eventually pulling together all the parts for the build (a story that includes missing shipments, returns, delays and comedies of error) and getting it built, I had finally put in some shakeout rides. And after 4 rides in the span of a week, I came unstuck no fewer than 7 times. Once I rode off a bridge, once I roosted through a mud bog that felt like a frozen pond covered by an oil slick, and once I flat missed the second half of an S-turn and ended up spooning with some salal. Those three biffs were easily chalked up to rider error or bad luck. The other four were simply cases of me trying to get used to the bike. And before you take that as condemnation, it's actually quite the opposite.
In the early days, I got thrown out of a few S-turns like a shoe off a quarter horse. Once I reigned it in, the Thunderbolt cornered like a champ. Photo: Dave Smith.
First impressions
There are lots of people riding 120mm bikes on the North shore, and loving it, but the weapon of choice around here usually has longer legs. However the Thunderbolt had a reputation for keeping up to its bigger brothers, and we tarted up the build a bit with an AM cockpit and a 140mm fork – 10mm longer than Rocky uses on the longer travel 'BC' edition of this bike. We were definitely asking it to do something it was capable of, but also taking it to the limit of intention. Combine that with Ride-9 set in the slackest, most aggressive configuration, added to geometry that is already aggressive for an XC/Trail bike, and I should not have been surprised at the outcome.
Why? Because even though I was aware of being on a 120mm travel trail bike, the riding position it put me in felt like a lot more. It felt like 140-150mm of AM. So I would get on it and ride it that way. And I got in over my head on some steep lines and in some high speed rough stuff. Found the outer edge pretty damn fast.
I became very confident with the Thunderbolt in steep, technical terrain. Compressions and holes were no match for the Fox 34, stiff front end, and the Chromag BZA cockpit. Photo: Dave Smith.
So I took some lumps, but it wasn't the bike's fault – I just had to remember that the Thunderbolt is a gravity-bred temptress with a few dowries paid to climbers in its family tree. It pedals up like a hot damn and then gets you all excited to tip it down hill, set your hair on fire, and try to put it out with speed. Instead you end up with no hair and a broken helmet visor swinging in front of your face, and a front wheel tucked under a massive log. I loved it because the unpredictability reminded me to keep it reigned in, but I didn't like it because something was not quite right yet. Rocky Mountains have always been known to colour outside genre lines just a bit – an XC bike will handle like a trail bike, a trail bike will push into AM territory, and so on. We had pushed it with the fork, but I figured we were close to something.
So we tweaked. The secret sauce was adding an EVOL can to the shock. Standard for 2017 models, this is a change that local pros and Rocky's athletes have been making to their smaller bikes for a few seasons, and 15 minutes on one was enough to see why. All of a sudden the Thunderbolt's back end was able to keep up to the extra lashings. And as the back end came into line, the fork no longer felt overworked – it just felt like a slightly smaller 36. Which is to say it felt f*cking awesome. It is stiff and supple and supportive, and paired with the wide, stiff Chromag BZA up front, I became quite comfortable with picking up the front end and lofting it, letting the back end take over, or pushing the front into holes and compressions when necessary. Finally we had the short travel aggressive trail bike we had been hoping for.
I had also swapped in better rubber without going overboard. Andrew wasn't as keen on the Specialized Ground Control I put on the back but it worked really well for me – and we had consensus with the Butcher up front. All of a sudden this bike was a scream. A short-travel loam killer that pedaled and climbed over technical terrain extremely well, but also dealt easily with classic lines involving steep rock-cribbed sections and required careful line choices. The Thunderbolt has a stiff frame, and it was fun to feel it hold a line in wet roots and over stuttery sections which used to get successively scarier before we tamed the shock.
Without the EVOL can, the Thunderbolt's SmoothLink felt a bit muted when I tried to get aggressive with it. Once we made the change, there was more support in the middle of the stroke and that pocket gave way to deep(ish) gooey travel when called upon. It was terrific.
Spec Notes
This was a custom build, so we're not critiquing a manufacturer spec, but there were a few interesting things going on here, worthy of comment. We've given a more than appropriate amount of time to the suspension, but in case it wasn't clear: if you own a 2016 or earlier Thunderbolt, spring for an EVOL can if you've got a Fox shock. For about a hundred bucks, you'll never see a bigger performance gain on any bike. The Fox 34 is every bit as good as you've read here or elsewhere – for a Trail or intermediate AM bike, it's superb. As Andrew mentioned, we chucked the shock's remote. In my opinion, that is a racer only feature, and the shock's performance with the larger air can never had me missing it. Once we'd done that, it was amazing to have a 2x-equipped bike with a single shifter, and only a dropper post remote to contend with.
The 9point8 Fall Line post is a stud. Easy action up and down, never complained, I loved the feel at the lever (positive, smooth, easy to depress) and really good looking. Now they have released longer travel versions – right up to 200mm – and I expect we'll all be seeing more and more of their posts out there on the trail.
No Quarter on Mt. Fromme is a long and sustained climbing trail. There are mellower sections, like this one, where you can 'relax' a bit, but in other spots you'll be wearing a beard of froth for five minutes at a time if you're pushing it. Photo: Dave Smith.
The Chromag cockpit was, as we've said, a bit on the aggressive side for a bike like the Thunderbolt, but Andrew and I both favour very wide bars, so the carbon BZA didn't feel foreign to either of us. It contributed to the front end's stiffness which, with that wide stance, lends a lot of confidence when you're staring down a non-trivial chute and relying on the front end to pull you through. The BZA stem is a nice-looking unit and I'm a sucker for red ano.
The Chromag BZA carbon bar and stem made for a stiff, confident cockpit on the front of the Thundervolt. Chromag Squarewave XL grips are wider than I usually prefer, but I got used to them and came to like the feel.
Shimano XTR Di2
XTR Di2 was the reason this bike was built, and after a year of going back and forth to it, I have a few thoughts. When you're riding it, you marvel at how fast and precise the shifts are. When switching to another bike, I didn't feel disappointed that it wasn't a Di2 bike – but every time I switched back it was a reminder of how good it is. Did Di2 ruin me? No. Can I live without it? Yep. But damn, it is impressive. And now that XT Di2 is starting to arrive on the scene, the question of whether it's worth the extra bucks is going to be asked much more often, because it's not as many bucks. Like with its introduction as Dura-Ace on the road side, XTR Di2 wasn't inteneded for the masses. Instead, it's the domain of the well-heeled and über fast. But now that it has trickled down to XT (with some pretty sweet features being added), as with Ultegra – all of a sudden it's within reach of a lot of riders.
Once you learn to trust it, you can execute fast, multiple shifts with XTR Di2 by holding on the lever. You can also adjust the shift speed. The Thunderbolt was a superb climber. Photo: Dave Smith.
One of the big advantages of Di2 is the ability to tie shifting for the front and rear derailleurs to a single shifter – choose your parameters and the front derailleur will shift once you have one, two – however many shifts remaining on the rear. And yes, it can be set differently for upshifts and downshifts. You can even track your shifts and optimize it for your riding style (or terrain) depending on how deep you want to go, but until now the app isn't Mac compatible, so it was a set and forget proposition for us (with XT, your phone will connect directly to the head unit and you can adjust on the fly – nice!). No matter, I found the most important thing was to understand what the shifter would do and adapt. A warning beep lets you know when the next shift across the cogset will trigger a front derailleur shift, and another is the 'HTFU' beep which means "that's all we've got, kid".
Stop whining about having to plug in your battery. It uses tiny amounts of power and will last for months in between charges. Going away for a week or more? Plug it in for an hour or two and you're set. Seriously, it is not an issue. If plugging in your battery to control derailleurs feels like too much trouble, then Di2 may not be for you – but you'll worry about your battery less often than you'll have to check your suspension's air pressure.
The Verdict
It's funny, but a year or more ago it would have been easy to categorize the Thunderbolt as a dyed-in-the-wool North Shore-inspired XC ripper/short travel XC bike. And that was in part because it has 27.5″ wheels, instead of the predictable 29″ wheels of others in the category, (like the Rocky Mountain Instinct). But over the last few years, 29ers got good and as more of them make their way through our paws, a good number of us are getting converted. It's been a sneaky process but bike designers have dialed 29er geometry and all of a sudden there are a ton of great bikes out there sporting big wheels. It would be a bit absurd to draw a line in the sand around big wheels, but you can't ignore the inroads they've made at the longer travel end of the spectrum.
Steep and wiggly? The Thunderbolt will eat it up. Photo: Dave Smith.
So that leaves us in a unique place with the Thunderbolt. For its intended use, 29″ wheels feel like the more natural application, however once we got this thing dialed, the quickness was palpable and I liked being able to muscle it around – something that would be compromised a little bit with bigger wheels. It's an impressive bike, and I think Andrew's take is bang on: the Thunderbolt makes sense for the rider that is hedging their bet between being able to race one day, and trail ride (aggressively) the next. Trying to pigeonhole the Thunderbolt is not really fair to it, because it can do a lot of things well.
If you're trying to cater to your shortcomings as a rider, the Thunderbolt would offer excellent pedal-ability and climbing to a rider who descends confidently. It's not the bike I'd choose the majority of the time for riding here, or even in Squamish – unless I was getting into racing. If the BC Bike Race or others like the Nimby Fifty were in my future, though, this would be a bike that I'd be happy racing and training on, that could also provide gobs of fun on baggy short days. For strictly racing or endurance riding, I think the advantages of 29″ wheels are hard to ignore, but as soon as party time becomes your mantra, the Thunderbolt has something to offer – and not a lot of direct competitors, least of all many that are as fun to ride.
Spend a bit of time on the Thunderbolt, and you'll start to hit high speed in short order. It's a fun bike, and its pedaling prowess means you'll always be game for another lap. Photo: Dave Smith.
---
What does your one-bike-does-most look like?