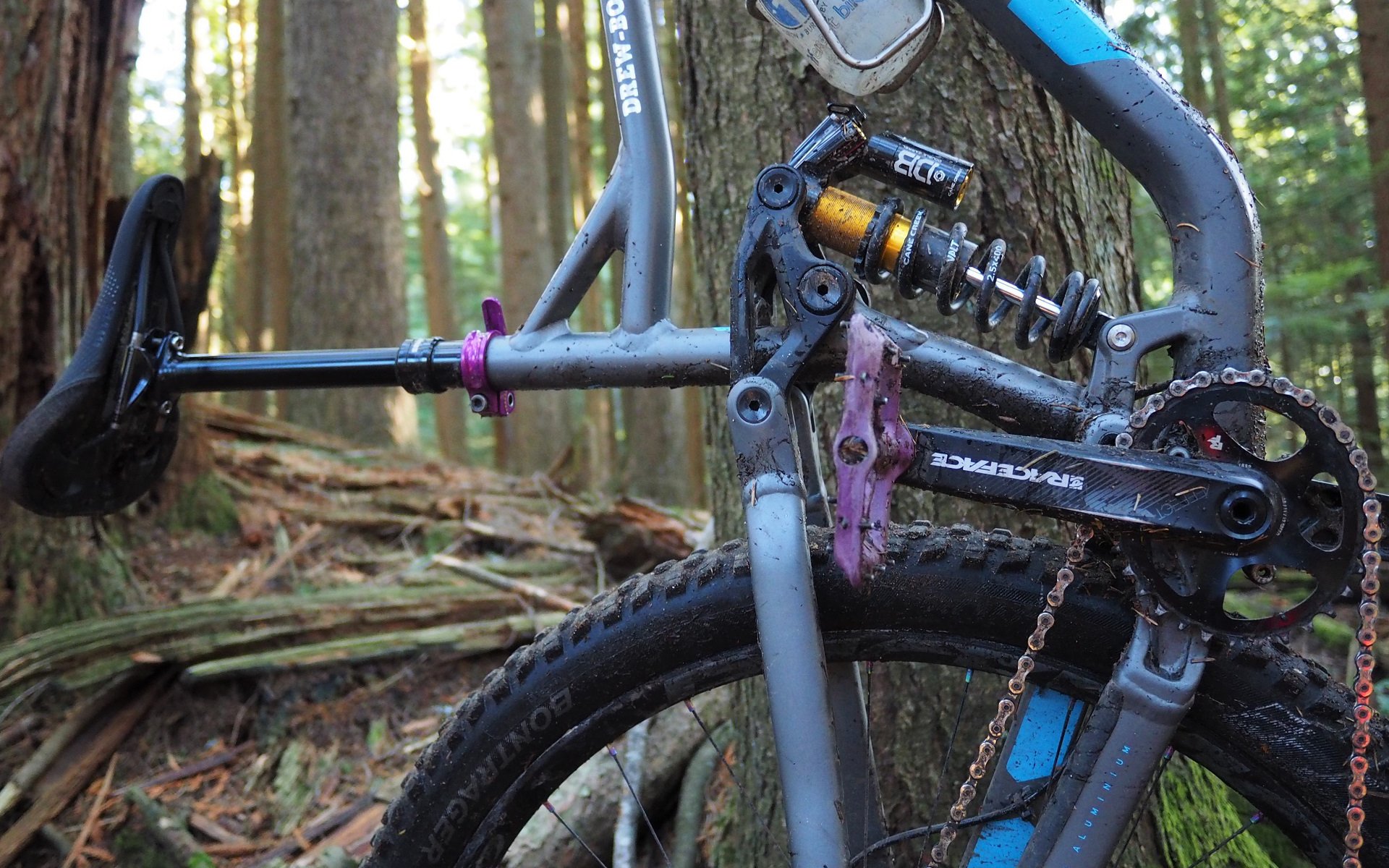 REVIEW
Race Face Aeffect R Cinch Cranks & 170mm Dropper Post
Cost Aeffective'R
With Aeffect R, Race Face has taken a crankset and a dropper post I've previously enjoyed, made them better while keeping them planted in the min-maxed category. These are parts that can cover a range of bike prices. Whether it's the choice to spec. a crankset that may never require replacement, or a reliable 170mm dropper post at a price that usually stops at 150mm, neither product has any particular sex appeal but both have the potential to be loved.
In fact, these are parts I'd be happy to see coming OE on bikes of any price, even on the higher end where they present no perceivable on-trail performance losses over more Gucci options but with savings that can be pumped into tires, brakes, and suspension, where it really counts.
Aeffect R Cinch Cranks
On the bike, running a 175mm crankset, the most notable difference between the Aeffect cranks I've tested previously and the new Aeffect R, is stiffness. Both cranksets use Race Face's Cinch chainrings and a steel 24mm axle but the new Aeffect R is using 7050 aluminum over the 6066 of the Aeffect. Hammering out of the saddle on a hardtail, I think I could tell the two apart in a blind test. More importantly, the 7050 arms are going to take a significantly greater beating, whether it's smoking them on rocks or dumping the bike with a rider on top.
The second major change, which doesn't affect the 175mm models, is the size-specific blanks. In order to keep costs down all Aeffect R cranksets start as the same forgings but they are specifically cut for the 165mm, 170mm, and 175mm lengths so there isn't any superfluous material hanging low.
On my bike, I didn't perceive any difference between my 30mm spindle Race Face Turbine cranks and the 24mm EXI spindle Aeffect R. The Turbine saves a few grams but I can think of a couple of scenarios where the Aeffect R is going to be the winning choice. First of all, anyone with a pressfit frame using the smaller PF92 shell is going to find a much-improved bottom bracket life sticking with 24mm. Secondly, riders who've invested in a Chris King bottom bracket but need a Boost compatible chainline to clear their frame can't beat this setup.
In terms of future-proofing, I love Race Face's simple system of flipping the stock chainring to hit two difference chainlines and the fact that the Cinch system uses a legacy BB-Tool, that has existed almost forever, to swap rings is brilliant.
I'll also note that running the crankset with a BSA setup, this is the best life I've ever had out of a Race Face bottom bracket. That said, with BSA making a roaring comeback, a Chris King BB could be a very worthy upgrade. Race Face makes a whole range of rings, including Shimano 12-Speed and a very affordable steel option, and Cinch is so prevalent now that there are a plethora of aftermarket options including my beloved Wolf Tooth Camo with a stainless steel ring to resist the local conditions year-round.
Aeffect R 170mm Dropper Post
The Race Face Turbine R* (AKA Fox Transfer) dropper post is one of the smoothest options on the market. It's a glorious post to use, both up and down, and combined with remotes with a sealed cartridge bearing, like the Wolf Tooth ReMote or PNW Loam Lever, I'm pretty sure any rider would be over the moon with the setup.

The Aeffect R dropper is 2/3 as smooth in usage and around 2/3 the price. Put another way, it's about a 100 USD savings to go from the 300 USD Turbine R to the 200 USD Aeffect R. Both posts ship sans remote so by buying one of the aforementioned beauties it's possible to get an identical feel at the actuator.
*Not to be confused with the previous Turbine post based off the 9Point8 system.
I had an excellent experience with the previous 150mm Aeffect dropper and the good news is that the very reliable internals remain the same as the post that Jeff and I tore down. In addition to adding the 170mm travel option, the Aeffect R post benefits from a larger diameter for the shaft and a new DU bushing in the seal head assembly which combine to increase stiffness and durability.
I'm not a fan of the basic Race Face Aeffect remote, which is sold separately, and after a number of experiences, I'm sticking with levers that pivot on a bearing. I really appreciate that most brands are selling their posts without remotes these days. I've used the Aeffect R with a couple of different options but most the time has been with PNW's Loam Lever.
After a couple of rides I un-threaded the seal head (no tools required) and lubed up the post with Slickoleum, which made the return stroke smoother, but the fact is the Aeffect R isn't a top-end post at a lower price point. There's some notable stiction compressing the post and on the rebound - although that can be overcome by adding a bit of air pressure. If absolute smoothness is a key requirement then the extra C-note will be well spent bumping up to a 170mm Turbine R.
This comes down to expectations and also, how and why I use a dropper post. If it reliably shoots up and telescopes for many hours and brings 170mm of travel to bear then I'm in with two feet. I don't ask for the smoothest or the fanciest, I just want it to work consistently. And every two years or so I need a post with an extra 20mm of travel. I'm really impressed with the Turbine R/Transfer but frankly, with my own treasury, I'd spend the extra hundy on tires and go Aeffect R every day.
Min-Maxed
It all comes down to the best experience per dollar and Race Face scores massively with the Aeffect R 170mm Dropper Post and the Aeffect R 7050 aluminum crankset. In both cases you can spend hundreds of dollars more on diminishing returns but looking at what cranks and dropper posts are actually expected to do, short of a few grams of weight savings, I expect I could run either product and never think about upgrading from a performance perspective.

That leaves hundreds of dollars on the table to spend on brakes, tires, or suspension that will have a very discernible effect on the performance of a mountain bike. That's not holding anything against a NEXT crankset and a Turbine R dropper, it's just that personally I'd pick the Aeffect R every day and spend my extra dollars elsewhere. If the Aeffect R crankset and dropper were the only options on the market I don't think that anyone would be poorly served, and that's saying a lot.

Please check out the 200 USD Aeffect R dropper post and the 130 USD 7050 aluminum Aeffect R cranks for more information.