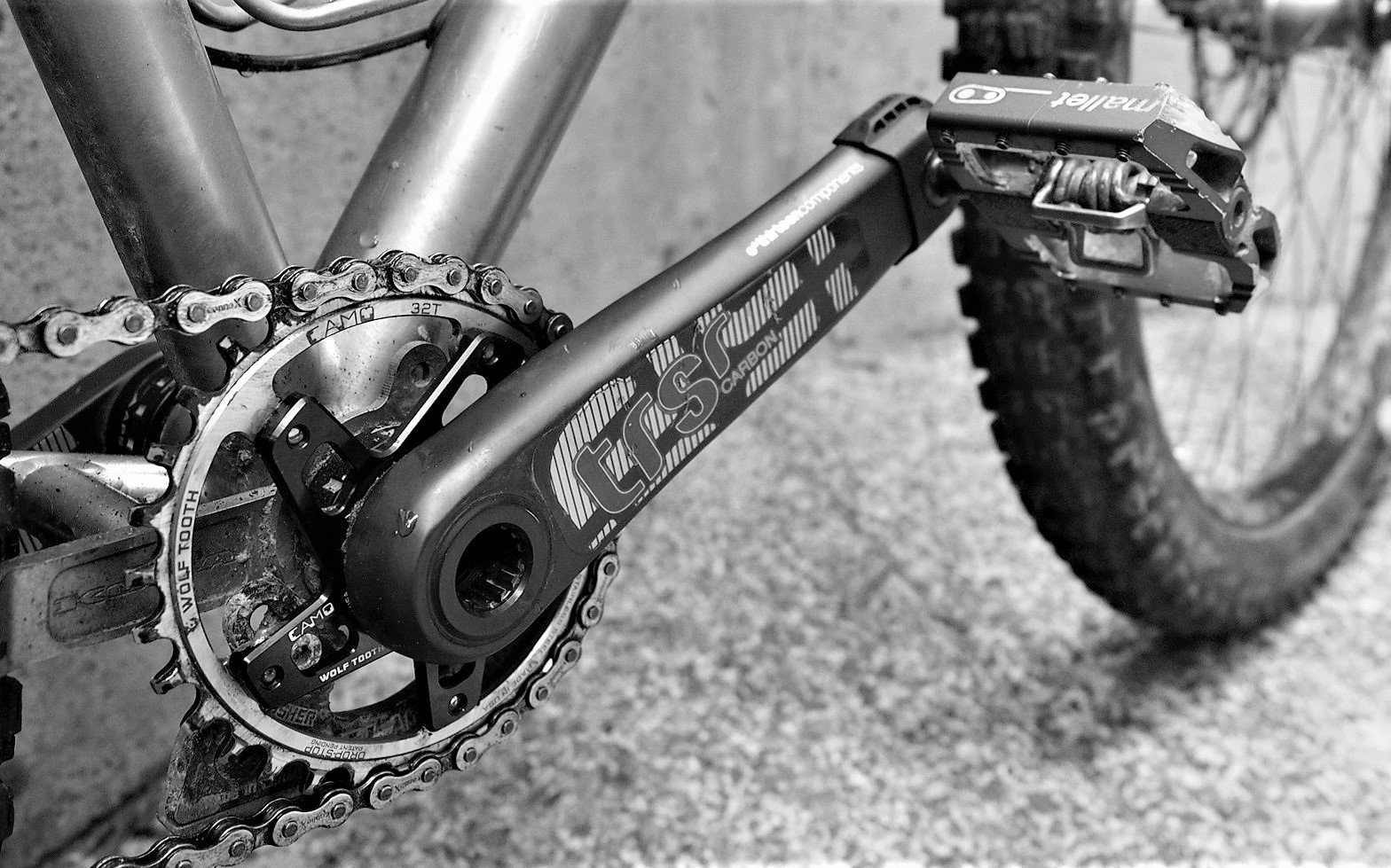 REVIEW
Wolf Tooth Stainless Steel Ring & Camo Spider System
Wolf Tooth
Wolf Tooth makes a lot of interesting stuff. I'm a big fan of their Tanpan which allows for use of a Shimano Shadow Plus clutch, derailleur with a road bike brake/shift lever combo and that's just scratching the surface of the rings, cogs, remotes, grips and other doodads they invent and manufacture.
Wolftooth products are high quality and often well priced. The ReMote cable dropper post is nicely machined and has superior ergonomics to most options on the market but it also costs a few bucks less than inferior factory remotes. *cough* Fox Transfer *cough*
I introduced my Wolf Tooth Camo experience in the Spring and since then I've spent six months brutalizing one of the stainless steel narrow wide chain rings and an oval 32t version along with a Camo spider system. It's been easy to swap one Wolf Tooth stainless steel chainring between three models of crankset. I rode it on e*13 TRSr cranks, Race Face Turbine Cinch cranks and Race Face Aeffect Cinch cranks.
Camo
Aside from flexibility the true beauty of the Camo system is inventory control, which directly impacts options and price for we the people. One of the things driving the high price of bike gear is the number of SKUs being warehoused, just count how many different Maxxis DHFs there are and think of how much it would cost to stock two of each.
Wolf Tooth makes a huge range of stainless and aluminum narrow wide rings, both round and oval, to fit the Camo spiders and then five different spiders to fit Race Face, e*thirteen, Cannondale, SRAM and Specialized S-Works cranksets. That means Wolf Tooth can manufacture and stock 1/5 of the chainring SKUs, or offer five times the variety, for the cost of carrying five aluminum spiders.
It's actually more than five because of colour options but that's what we get for being so vain.
Initially one of my spiders arrived with alloy bolts and the other with stainless steel. Both with 3mm hex heads. Since the ring itself is carried on posts on the spider, Wolf Tooth was initially selling the Camo system with a range of colours of alloy bolts; now they are only offered in steel.

I did experience a failure of one of the spiders where posts sheered off. This was the spider that was initially secured with alloy bolts. Wolf Tooth replaced it immediately with no questions asked. I have not had issues with the other spider, where I have only run steel bolts with blue Loctite. I haven't had any issues with the replacement either. I should also note that I didn't notice the sheered off tabs until I removed the ring to swap it so there was no performance issue with the steel bolts mounted.
I'm not a fan of 3mm hex head bolts and with swapping the ring regularly between two crankset even being steel the heads were feeling sloppy after a few months. I swapped out for steel T-25 Torx rotor bolts and never looked back.
Stainless Steel Narrow Wide Ring
One day I was riding on a quiet back road listening to the magical North Shore slurry of water and detritus grind the sh*t out of my drivetrain when I realized I hadn't checked the Wolf Tooth steel narrow wide for months. I adjusted my chain tension every few rides but I'm using a combination of a high end nickel plated track chain, a stainless steel True Precision cog and the stainless steel Wolf Tooth ring.
The chain is toast and the cog, closer to a year old, has been filed down a few times. The Wolf Tooth oval ring is like new. What's really impressive is it still interfaces perfectly with a multi-speed, 11/128" and 3/32", chain after tons of hours with a wider 1/8" chain. Even the impressive Renthal 1XR ring got to the point that it was perfectly serviceable for single speed use but no longer functional on a multi-speed setup.

Stainless steel is like most materials in the world (carbon, aluminum, cheese etc.) in that the term covers a broad range of raw material quality before any manufacturing takes place. I've ridden other stainless steel products, cogs and rings, that haven't lived up to my expectations but this 32t oval ring is impressive.
Investments
I won't argue; 100 USD is a lot of money for a chainring. At least it is for anyone who has been on the same aluminum narrow wide ring for a year with no issues. For the folks I know who are dropping chains on their worn narrow wide rings after six months the Camo system pays for itself quickly.
Each spider is 28 USD and weighs 32 grams or less. Being able to easily swap the ring between different direct mount standards matters to enough people that I think it's a legit feature. The rings cost 99 USD and weigh 90 grams for a 32t Oval. In other words they pay for themselves as long as they last twice as long as most companies' aluminum rings. As with most narrow wide rings I've tried the chain retention is excellent with multi-speed and track chains
For more information please check out Wolf Tooth's Camo line here.