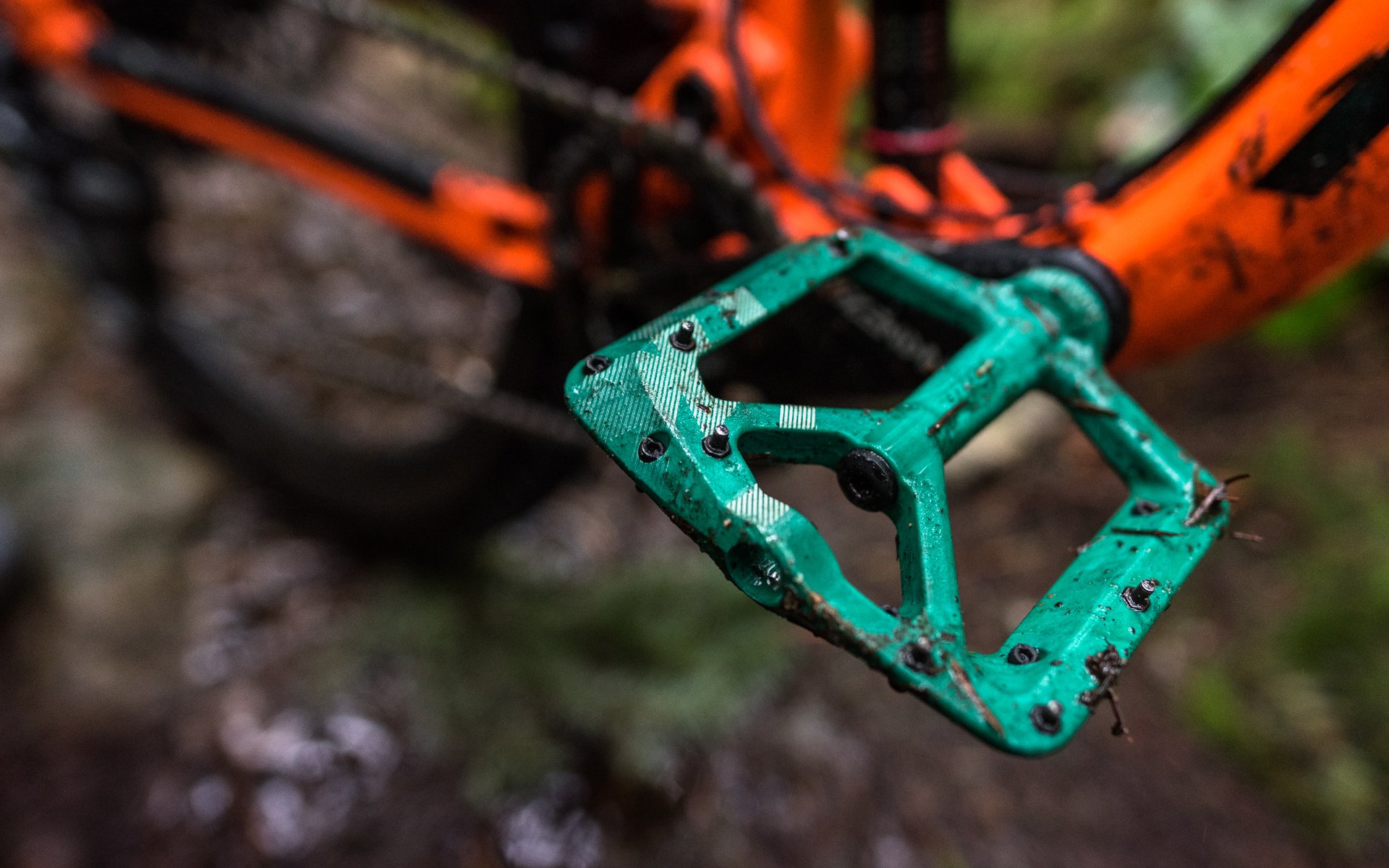 REVIEW
Kona Wah Wah 2 Composite Pedals
Flat Pedal Facts
These Kona Wah Wah 2 composite pedals have a massive but very thin 120mm x 118mm body, spin on large bearings that are easily serviced and replaced, are notably quiet on rocky trails, come in six colorways, take an absolute sh*t-kicking, and only cost 60 USD. That's 1/2 the price of the aluminum model.
I didn't need any convincing that good 'plastic' pedals can take a beating. I've seen some epic smash-ups walking by the local skate park. I wasn't surprised by the amount of grip on tap; the pins are long and sharp and Kona has a solid history of making good flat pedals.
I have a couple of friends who have already purchased the Wah Wah 2, running them with Five Ten shoes, who absolutely rave about the pedals to anyone who will listen. I have a third buddy, also running them with Five Ten shoes, who sold his Wah Wahs after two rides. After months going back and forth between the Wah Wah 2 and other pedals, if I was writing my piece Flat Pedal Facts again, I'd include a chapter on the two types of flat pedal riders. To quote my friends:
Rider #1 : "I love the Chromag Scarab. The shape almost always puts my foot exactly where I want it and in the rare cases when it doesn't it's an obvious adjustment. The Wah Wah is really vague."
Rider #2 : "I just put my foot on my pedal and ride my bike. The Wah Wah has a huge platform and even if my shoe is hanging halfway off I still get lots of grip thanks to my Five Ten shoes. The Wah Wah is the best pedal I've used!"
I find I can adapt to either option but my enjoyment of less-concave pedals is more footwear dependent. My size 42.5/9.5 feet are also a consideration. Larger paws will likely engage differently with the pedal. Riders who love a "true concave shape," to quote Chromag, may not love the Wah Wah 2. For everyone else, why spend more?
Wah Wah 2
The problem with flat pedals with truly large platforms is that I smoke them on immovable objects more often. The Wah Wah 2 mitigates this to some extent by being very thin. The plastic, I mean glass-reinforced composite pedals, also damp sound better than aluminum pedals. This is probably entirely psychological, thanks to the noise reduction, but I swear they absorb some of the energy of hard strikes.
I've done a few long out of the saddle climbs riding my single speed with the Wah Wahs and they feel as stiff as any flat pedals I've ridden.
I'd love a couple more pins per side, specifically in the middle of the pedal. Grip is excellent when my foot is loaded and placed correctly but I have had it come off a few times absorbing a hit where I think a few more 5mm-extended pins in the center would have saved me. Each pin threads in from the back side through a nut that sits in the body. I've had no issues with pin breaking or coming loose and the nut-seats have stayed snug. As I'd expect, I have mushroomed the tops of all of them and bent a couple which means they will need to have the tops ground off to be replaced. The new aluminum version of the Wah Wah 2 gets 8x pins per side with one more located center-aft while sharing an equally naked midriff.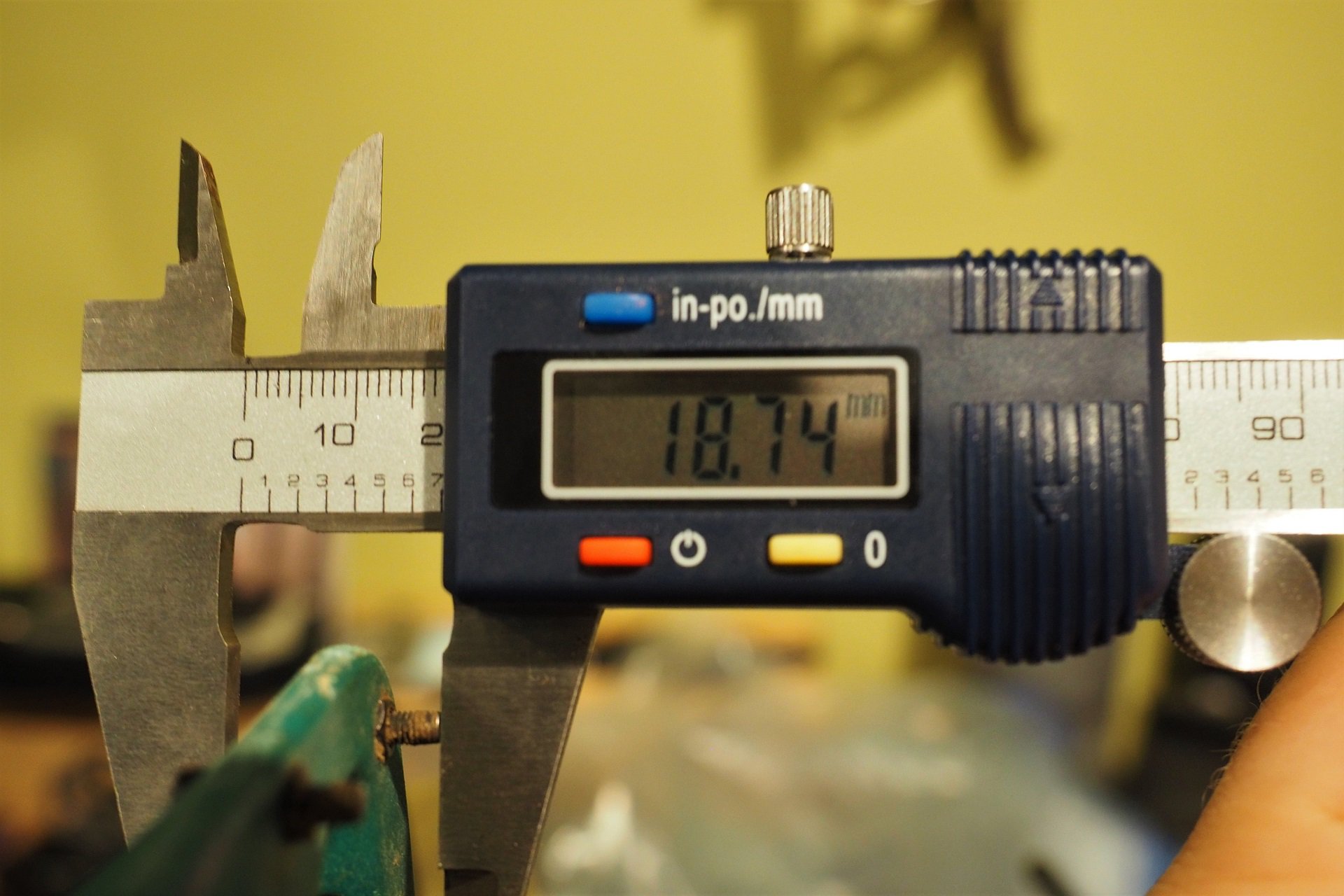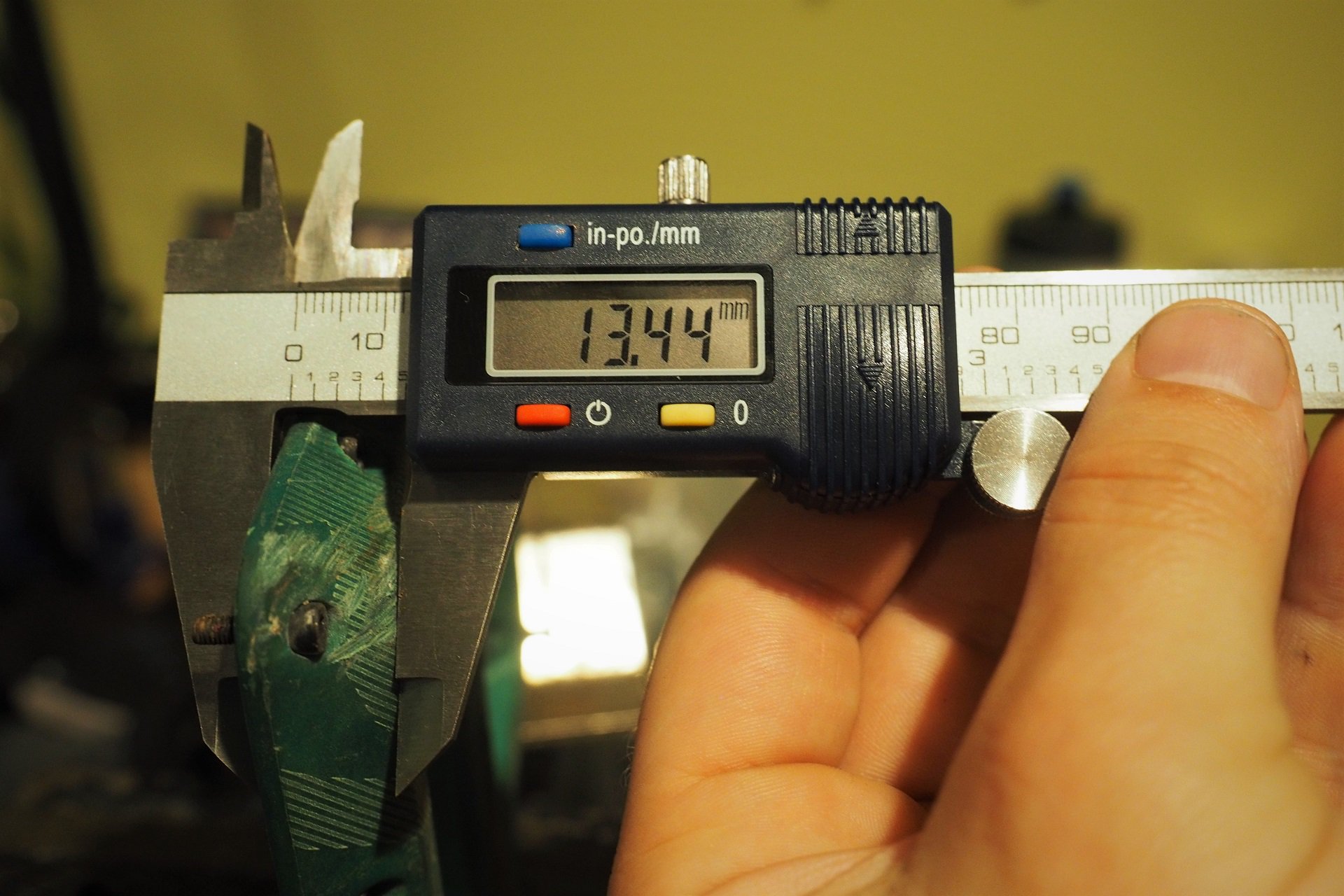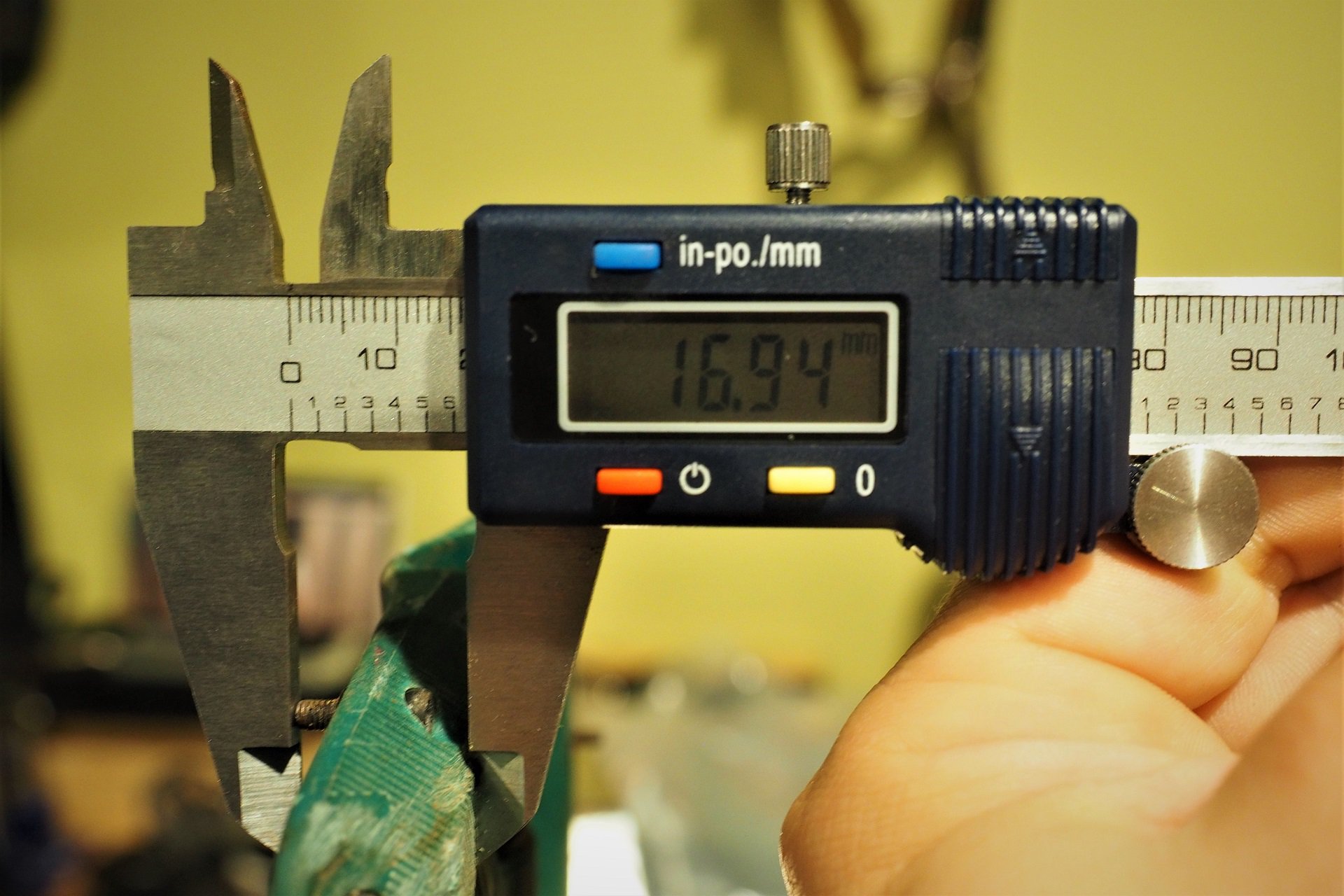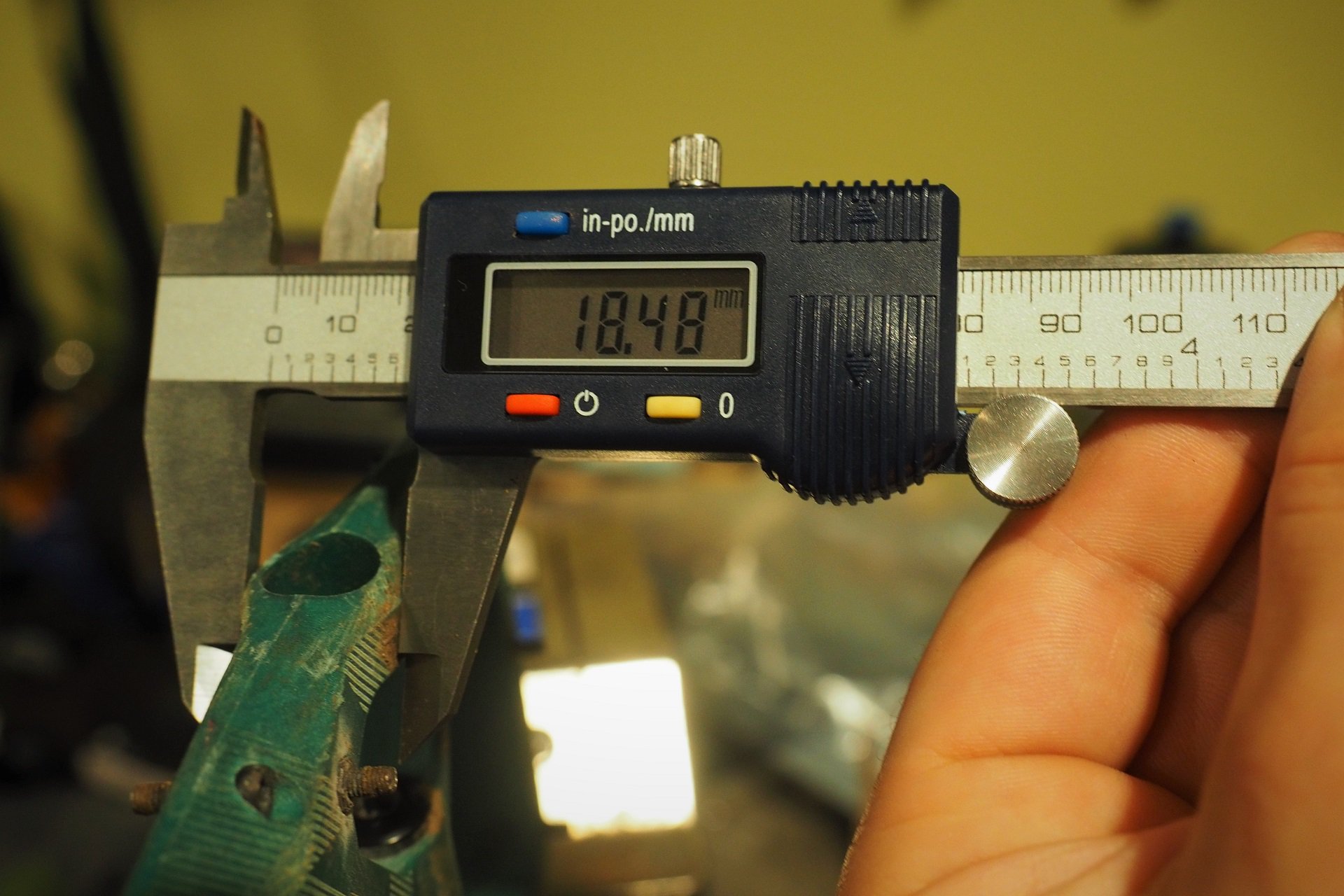 For the skeptics, these aren't your kid's loose-ball-bearing plastic BMX pedals. The main bearing is impressively large and accessible. I am actually very surprised how good the bearings are considering the price. I held off on hitting them with the grease gun until I felt the pedals had been through a thorough test period but have now done so. It took about five minutes to remove both bodies, pop the main bearing seals, regrease the bearings and axles and reinstall. It's an easy job and I didn't need a custom thin-wall 8mm socket to do it thanks to the generous axle housing.
The bearing kit Kona is making available for the Wah Wah 2 pedals suggests they expect them to hold up a long time. Each pedal contains one large cartridge bearing, a small cartridge bearing, and a needle bearing, making the <360 gram (set) weight more impressive. The price of the bearing kit is around a third of the cost of pedals so it's worth the time to swap out dead internals if the bodies are still good. I really like the Wah Wah 2 and I intend to keep riding them and see how long the original internals last.
If the Wah Wah 2 had a more accentuated concave shape* they would be my personal go-to. I like how quiet they are, the bearings are spinning as new, the bodies have proven to take a beating and the price is almost half that of the last set of flats I bought. As they sit I really like the pedals and I'll keep riding them, especially on dual suspension bikes where I'm less finicky about pedal shape.
*more concavity would also increase pedal thickness
If you are looking for the thinnest, high-quality, large platform pedal that doesn't sacrifice bearing reliability or break the bank, you could be well-served by the Kona Wah Wah 2 composites. Check them out at your local Kona Dealer or at konaworld.com.