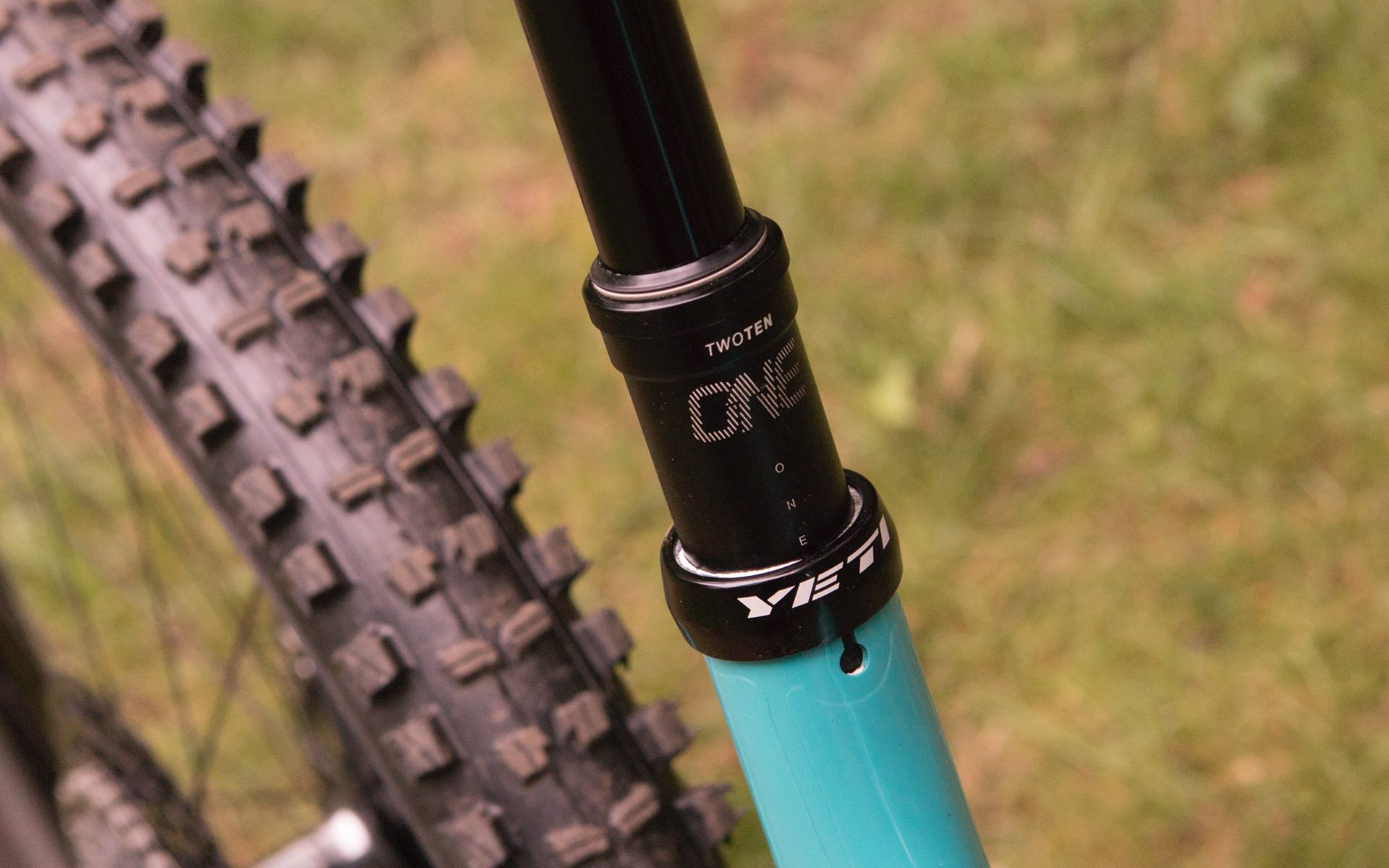 REVIEW
OneUp V2 210 mm Dropper Post Reviewed
I wrote about the OneUp Dropper V2 - with the longest drop of any post available at 210mm - in the write up of my Yeti SB150 test sled earlier this year, but after several months on the product it's time to make bold pronouncements.
As I mentioned earlier, to begin with I wasn't so sure about the 210mm drop. I was very sure 170 was my sweet spot but I was self aware enough to realize I'd come to the same conclusion at 125 and 150 and never looked back after leaving those behind forever. I liked being able to pedal sitting down with relative efficiency and there are times when I appreciate the reference provided by the saddle resting against my inner thigh. Another fear was realized when I buzzed my ass crack on the tire on my first ride, something that was impossible with a 170mm.
If I had decided to reduce the travel, to 200 or 190mm, it would have been an easy job. In fact it's a tool-free procedure and I did everything but add the shims required while performing some maintenance on the post (more on that below). It took all of 3 minutes. The ability to customize the drop is one of several features that set the V2 apart from most of the competition.
Other best in class features include the lowest stack height of any post on the market, meaning smaller riders can access more drop when their post is slammed, and the shortest overall length, making longer drops even more compatible with smaller frames. In part this was accomplished by OneUp designing their own cartridge rather than using the Wintec version favoured by so many other brands. This proprietary mechanism is easily user replaced and will set you back only 79 CAD (60 USD). Every element has been chopped but the drop rails of the saddle clamp are perhaps the most clever and likely make the biggest difference.
While we are talking price, OneUp's second dropper will cost you 'just' 263 CAD or 199 USD. This is in the ballpark of some other brands' bargain posts, but this is no price-point product. If you'd like to spend even less, the V1 post is currently available everywhere except Canada (where it's sold out) for 99 USD. Part of what makes these prices sound too good to be true is what's missing; the actuator. OneUp was generous (and confident) enough to provide the option of buying their posts without their lever, assuming the stand-in clamps the cable at the head end. Unfortunately someone nicked the OneUp lever out of the parts room, and I started out using the XTR lever, so I haven't tried it yet. It looks nice however and is available in virtually every direct mount option there is, including Shimano's I-spec II and I-Spec EV and can be yours for 65 CAD or 49 USD..
After finishing swapping out XTR Trail brakes it was time to get back on the Hayes Dominions I'd only had a few rides on in the spring, which meant I couldn't use the Shimano XTR I-spec II lever (which was excellent) any longer. Luckily I had a PNW Loam lever to swap in and it's been great. From what I've seen the V2 lever (the carbon version is gone) is light but sturdy and the action, which I checked out on a buddy's bike, feels really positive.
The uppy downy function of the post works pretty well too. You'll notice it takes a little longer to compress 210mm, but it happens smoothly and without fuss. The elevating portion of the cycle also works as expected and can be adjusted with the Schrader valve (between the seat rails under a rubber cover) to the recommended 250-300 PSI. Mine was a little slow initially but it got faster before I ever had to boost the pressure. Until it got slower that is...
I could tell you the V2 performed flawlessly, but I'd be lying. After about 4.5 months of heavy use, including haphazard post ride sprays with the hose, the post became grumpy. And then it got even grumpier, with very slow actuation and a reluctance to return to full height. I knew the post required a little maintenance, I just wasn't aware how it was executed at that point, but I was very pleasantly surprised.
As I mentioned earlier, the maintenance procedure is incredibly fast and east and it requires no tools at all. I simply unscrewed the collar, applied some grease to the bushing, and screwed things back on. It's been trouble free since then, aside from the slight side to side play that's developed. It's never noticeable on the bike but if I grab the saddle it feels a little rattley, without making any actual noise. As it gets worse I'll be able to pick up a rebuild kit, with a new colour, anti-rotation pins and both upper and lower bushings, for just 20 CAD/15 USD. Despite the great bargain, mine would need to get much worse before I'd consider the rebuild, and I want to see how long it'll go as I continue to treat it badly.
Other performance notes are, no slowing of action in sub-zero temperatures and if something happens to your cable or actuator it's possible to manually raise and lower the post by pulling it from your frame and manually activating the actuator's action. Actually!
It's really hard not to like this product. It was easy to install, virtually every small part is replaceable for a great price, performance has been great and drop, stack and total length are all best in class. Add that OneUp is a tiny local company made up of some rad gents who love riding bikes, and you've got a winning formula.
You can order a OneUp Dropper online from all over the globe and have it shipped from the same side of the globe. It's available in 30.9, 31.6 and it's one of the few you can get in 34.9 as well.
---
A note on actuator V2 vs V2.1 from Jon Staples at OneUp
The motivation for the original V2 was to minimize the actuator length and centralize its position so that it was unlikely to cause a limitation of the depth that the post could be inserted. The limitation of this design is that the housing needs to be able to move 4mm (the cable is static and the housing moves towards the post when actuated). This is no problem on 99% of frames with internal routing.
Santa Cruz have used tube-in-tube for a while now but starting with the newest Bronson, the pathway got very tight. That coupled with the relatively short frame insertion depth and the fact that the housing enters the seat tube on an angle, leaves little to no room for housing movement. Even the Nomad 4 with a similar shock layout had much more housing movement so the Bronson caught us off guard. The V2 is not incompatible per se but it meant that the seatpost actuator needed to be 100-120mm from the bottom of the seat tube, thereby limiting drop options. A free V2.1 add-on has been available on our website for SC owners since launch.
The V2.1 uses a more traditional static housing, moving cable setup. I was hesitant to use this setup originally because they are typically 10-15mm longer. Once we knew we had an issue with SC bikes however we had no choice. We managed to redesign the setup without adding any extra length and are patent pending on the unique configuration we came up with to do so.
Addendum by OneUp's Sam Richards: The only thing to note is that Jon downplayed the actuator he designed! It was very challenging to manage to make the V2.1 the same length as the V2. Last year we thought it was impossible, which is why wewent with the original housing actuated design. The V2.1is still the shortest actuator of any dropper post out there.
You can purchase a V2.1 actuator in the OneUp small parts store.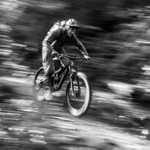 Cam McRae
Height - 6'/183cm (mostly legs)
Weight - 170lbs/77kg
Inseam - 34"/86cm
Ape Index - 0.986
Age - 57
Trail I've been stoked on lately - Boogieman
Bar Width - 760mm
Preferred Reach - 485-500mm (longer with 27.5 wheels than 29)