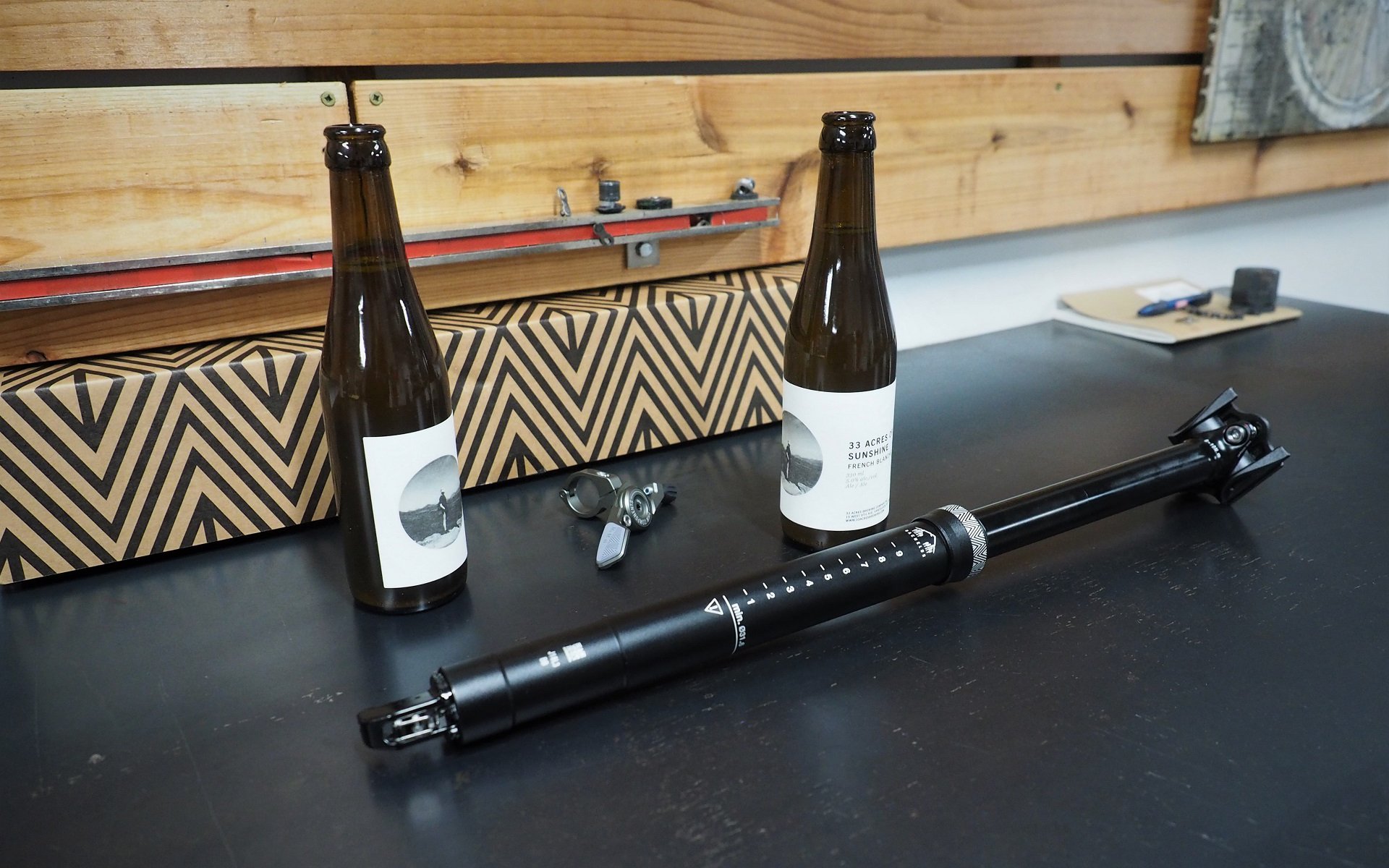 Teardown | First Impressions
PNW Bachelor Dropper Post: Teardown
Cartridge Notes
Jeff and I tore this PNW Bachelor post down to its individual components. That includes stripping down the fully serviceable cartridge. We wanted to show the quality of the guts and assembly and heck, sometimes you just want to drink a beer and set the world on fire.

But, when it comes to their three-year warranty the folks at PNW Components don't screw around. So while said cartridge is fully rebuildable, they'd like me to note that if a rider should happen to have a problem with their cartridge within that three year warranty period they replace it right away - no faffing about.
In theory that's having my beer and drinking it too. It's pretty fast and really smooth, and if it isn't problem-free I'm covered for as long as anything on the market. Outside of the warranty period, I can purchase a new cartridge or I can rebuild it for the cost of labour, a bit of oil and a couple high-quality, low friction seals. PNW's goal is zero cartridge failures within the warranty period. and in addition to adding 170mm travel and 34.9 diameter options to the Bachelor, there are a few other upgrades over the previous generation.
PNW People
Dropper posts, especially aftermarket dropper posts, are a hard game. Most performance bikes come with a good dropper post now, or at least good enough to keep folks from looking to swap them until they have a handful of warranty issues or see the bill for a yearly service.


There's also, as I'll discuss below, little incentive to look beyond one of the handful of Wintek options (Crankbrothers, X-Fusion, FSA, Bontrager, etc) that Jeff and I have taken apart previously. Not that they're necessarily the end-all-be-all but they're easy to service, reliable, cheap to fix, and short-enough, fast-enough, and light-enough for most riders to pick one up and be happy with it.
It's an understatement to say the people at PNW are active on social media. They're online hustlers and I don't know that you can be a mountain biker with a social media account and miss their advertisements. But they're also relying on a strong word-of-mouth message driven by fantastic customer service.

A big part of that, from what I can see, is an old-school bike shop model where the owners are customer-facing and their employees play a supporting role. If you call or e-mail PNW, chances are you'll hear back from Aaron or Emily in short order and that means you're dealing with people who have skin in the game.
They have their ear to the ground producing a range of unique posts including fixed-external-routing options up to 170mm travel and both internal and external 27.2 post options. A one-stop shop for anyone who doesn't have a bike with Stealth routing or for shorter riders trying to ditch the Stealth actuator on their post to squeeze a bit more dropper travel into their frame.

The updated Bachelor is PNW's highest end dropper post. Aaron's not shy about how proud he is of the product but the big takeaway from talking to him about this teardown is their basic customer service philosophy; "that's what I would I would expect to be done for me so I'm offering it to our customers."

Aaron and Emily of PNW are both fantastic humans." - Chris Holmes @ Marin Bikes
Bachelor Post
A lot of the PNW posts are coil-sprung to balance performance, simplicity, longevity for around 200 USD. Reviews are good and with various size, travel, and fitment options there really is an option for everyone. The updated Bachelor is an entirely different animal. It uses a higher end 7075 aluminum for the shaft and body with a larger, stiffer, and lighter 26mm stanchion, it has a sealed and fully serviceable and adjustable air-oil damper cartridge, a big DU bushing to resist saddle play, and it generally has a more polished appearance. It also comes stock with the excellent Loam Lever remote.
The post comes apart with relative ease. A service which involves cleaning and re-lubing the body, keyways, and seal head is maybe a one beer job for anyone with reasonable wrenching faculties. Servicing the cartridge is a much trickier job. For someone with Jeff's experience, the full teardown is a two beer job. The IFP (internal floating piston) is an impressively tight fit, especially considering how smoothly it glides thanks to the high-quality low friction seals, so it was a bit of a job to get everything back together and the IFP set to its pre-recorded depth.
The post is both a solid package and simple to disassemble. I like how tightly the keyways fit in their seats in the shaft and interface with their channels in the body.
The post arrived well lubed except for the bushing and seal in the seal head. This is by design and these parts will get lubricated on the first ride when the post is engaged. Early PNW posts came with a healthy amount of grease under the seal head but that led to a perception from some customers that the seals were bad out of the box.
After a couple of cycles, everything feels smooth and well lubricated but serial parts killers may appreciate the peace of mind of popping up the seal head and plugging in some Slickoleum. The excess will purge for a ride or two (just wipe it away) but for the 30-secs it will take it's nice knowing 100% that everything is lubed.
Can I Lift From The Saddle?
PNW's cartridge system has been in use since 2015 and they're very happy with the reliability. The combined package is nice and smooth and, other than checking the air pressure once in a blue moon, it's a set-and-forget setup.
That also can be said of the Crankbrothers Highline and to a slightly lesser extent (when it comes to in the shop vs. on the trail smoothness) a number of other Wintek-driven posts. Why PNW? Aside from the value that the Bachelor delivers once I factor in the Loam Lever, the other selling point for some riders is going to be the return speed. There's nothing lethargic about the Bachelor.
My one concern with the cartridge having an IFP is air bypassing into the oil and the post developing the dreaded sag we've all experienced with Reverbs at some point. There are three factors with the Bachelor that detail why this shouldn't be a concern. Firstly, on the rare chance it happens in the first three years of ownership, PNW will replace the cartridge. Secondly, that IFP glides nicely thanks to high-quality low-friction seals but it is as tight as they come in terms of installation. And finally, the cartridge has a "thresh-hold" valve which acts like the lock-out on a fork or shock.

When the gate valve is closed oil and air are completely separated and that means in practical terms that lifting my bike from the saddle is a non-issue. That's generally how I carry my bike - and I carry my bike plenty - so this review period will be a great test of that claim. Assuming everything is good then PNW has solved one of the issues that can plague IFP cartridge designs.
The basic post service is as easy as any I've done. If you can bleed a brake or remove and install a suspension fork you are fully qualified to give it a go. The cartridge service, despite going smoothly thanks to Jeff's expertise, is more complicated and not something I would personally tackle at home. That said, I appreciate that the cartridge is fully serviceable, especially since PNW's warranty suggests it shouldn't need service for three years of riding.
First Impressions
Reviews of PNW's products and service from their customers are impressively positive. Particularly so considering their main products are dropper posts and they've been at them for a few years now. That said, this is one review of one dropper post in a sea of competition. Thus far I can say it goes up and down smoothly, it has a nice return speed at 300psi, and it was very easy to install. I have some little nitpicks I'll be working out as part of the longer review but as it stands now I think it's a premium 170mm travel post and I look forward to putting a tonne of hours on it.

The Bachelor is available in 150mm or 170mm travel in 30.9, 31.6, and 34.9mm diameters. Full insertion depth on the 170mm travel post is 280mm and the 150mm is 260mm. That includes the Stealth actuator. The distance from the seat collar to the center of the rails is 210mm on the 150mm travel post and 225mm on the 170mm.
Given that the new Bachelor, including the Loam Lever, is selling on PNW's website for 300 USD, my gut feeling is that it's a bargain. That's especially true when compared to other 170mm travel 34.9 options on the market but even comparing it to other 31.6 170mm posts the value seems solid.

More in the coming months.
And thanks to Jeff from Wheelthing for the teardown!
Also - Dave Tolnai reviewed the 200 USD PNW Rainier post, with and without the Loam Lever (which makes the post $230 at time of purchase with the addtheloam discount code)
---