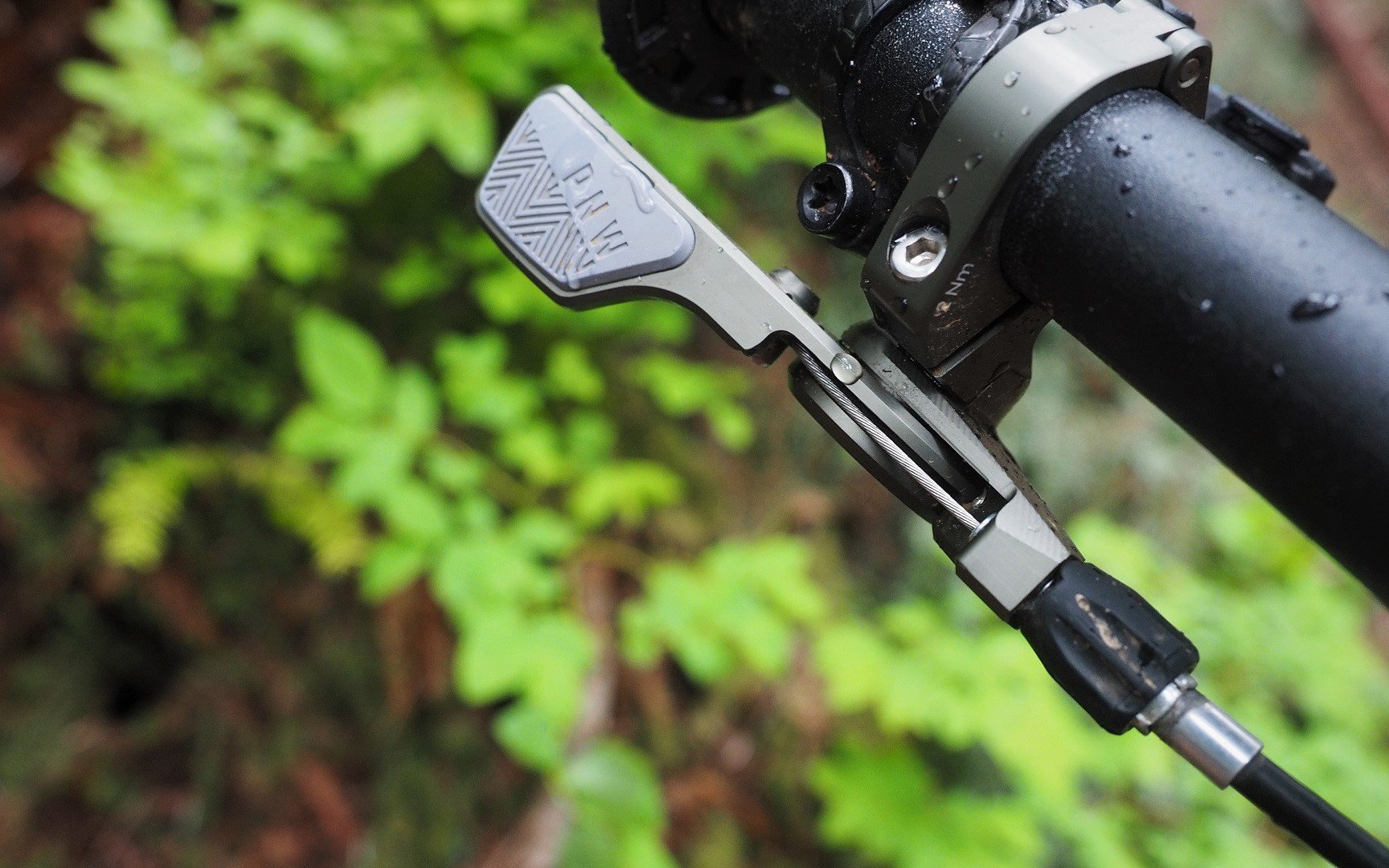 REVIEW
PNW Bachelor Dropper Post & Loam Lever : Review
Sublime With Loam
It was summertime and the roots weren't greasy. I'd just finished a 100°C* ride in Squamish, where conditions were loose over hard which means learning to ride a bike all over again, something I feel like I do five times a year, every year. That's mountain biking.
I spent a fair amount of the ride thinking about this PNW Bachelor dropper post. Squamish is a great place to test a dropper post, and especially the usability of a dropper post remote, because on a lot of trails they're more valuable than shifting. The functionality of the Loam Lever and Bachelor dropper got a close examination.
*Actually it was 23°C
As for the post itself, the Bachelor continues to go up and down and remains happily tight from twisting. I haven't had to add air to date. It'll stop on a dime and hold hard anywhere along its 170mm stroke. The 7075-Aluminum post is also available with 150mm or 200mm* drop, with or without the Loam Lever, for the same price and with the same 3-year warranty.
On that subject, the only reason not to pick up a Loam Lever with the Bachelor, or any PNW post, is if you already own a Wolf Tooth ReMote. The ReMote I reviewed is potentially a better product in that its horizontally sliding perch allows for a much greater range of fit customization around a variety of brake lever lengths and clamp widths. The Loam Lever pivots smoothly on a sealed cartridge bearing, is easily rebuildable, has a grippy rubber traction pad, and is easily placed with Magura, TRP, and Shimano brake levers.
*200mm is only available in 30.9 and 31.6. At this time 150mm and 170mm options are also available in 34.9.
The Loam Lever is easily the best dropper post lever that comes stock with a post. Assuming it ends up in an optimum position, I would also not be surprised to see plenty of them attached to other brands' dropper posts at 70 USD a pop.
The Bachelor itself is a beauty blend of the reliability and guarantee of a Wintek-cartridge-post but with a fully serviceable cartridge. Manufacturing and materials quality however are reminiscent of boutique options with significantly higher price tags.
My working theory is to run the longest dropper post that fits in my frame at climbing height and clears my rear wheel at bottom out (for an FS bike), which for me is a 170mm drop in this case. I'm not sure if I 'need' a 200mm dropper post on any bike I've ridden, but I certainly know lots of riders who would like to try one on their bleeding edge steep seat tube angle (STA) bikes.
Preaching Service
There are a number of great dropper posts on the market. For 150mm travel and under it's hard to argue with the X-Fusion Manic package which includes a very good remote for 200 USD. For an extra 50 USD I was happy with the new versions of the Bontrager Line and FSA Flowtron, although both work best with an upgraded remote, and the Crankbrothers Highline remains a favourite.
All of these posts use a Wintek cartridge to deliver an excellent uppy-downy experience. Support is easy as well because companies simply swap out the non-adjustable, non-rebuildable cartridges.
With the Bachelor, PNW promises a similar lever of cartridge swapping support but the dropper features adjustable rebound speed (via air pressure) and a cartridge that is completely rebuildable for customers who like to tinker or who have posts they're servicing out of warranty.
That level of support is expensive to deliver, especially for a smaller company, which is a strong motivation to keep the QA high and deliver posts that will legitimately run for three years without any issues. Swapping a cartridge is a fast, easy, job and if there were an issue PNW will also send one right away to limit downtime.
For Emily and Aaron, the owners of PNW, it comes down to mirroring their expectations as consumers. No one wants to miss out on hero dirt waiting weeks on a dropper post warranty. The positive customer reviews are legion so I think they're hitting the mark.
A great dropper post option with 150mm, 170mm, or 200mm of travel. Fully rebuildable with a 3-year warranty, an awesome reputation for customer support, and the best stock dropper remote - all for 239 USD or 299 USD with the Loam Lever.
There's a lot to love about this Bachelor.