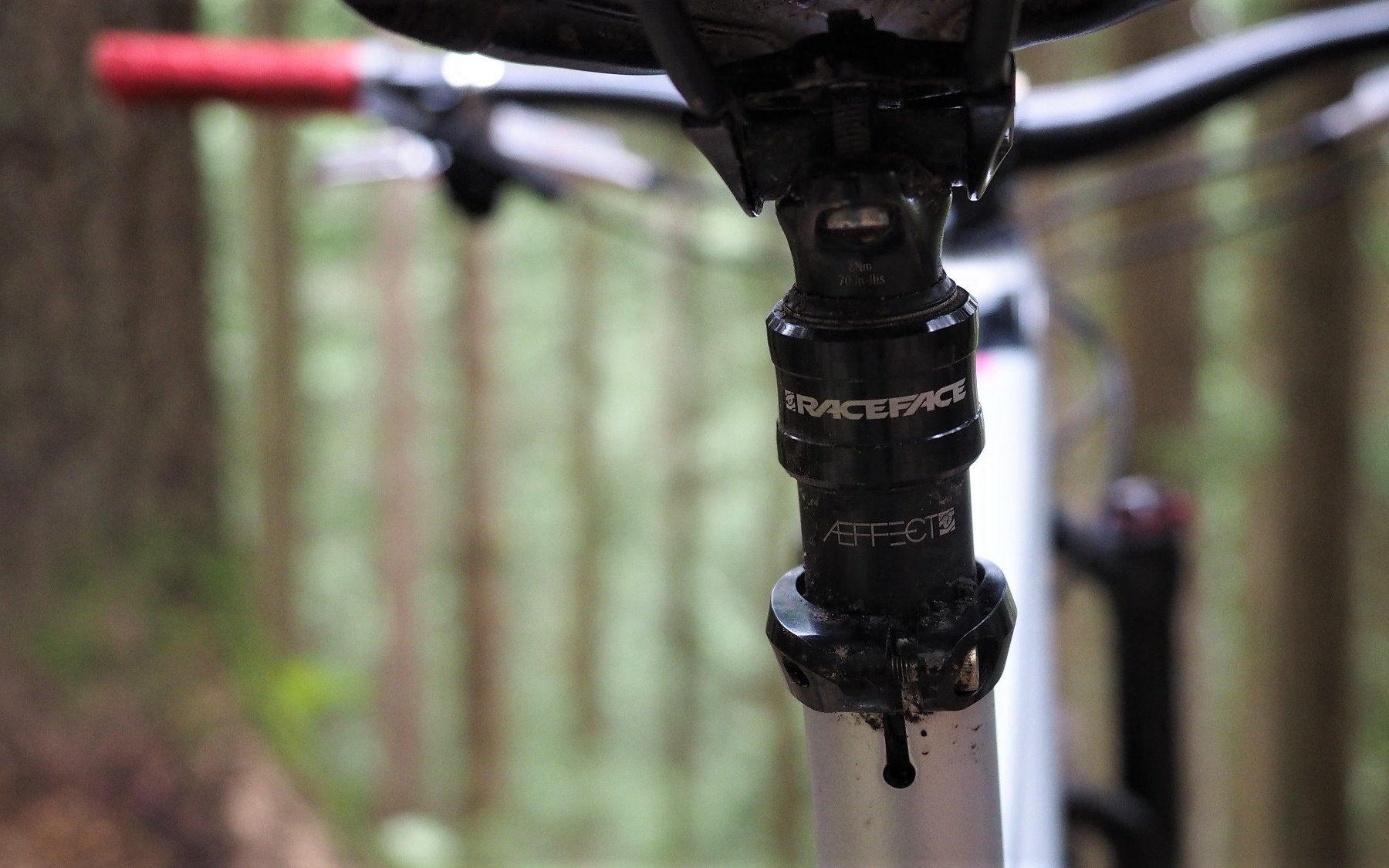 REVIEW
Race Face Aeffect 150mm Dropper
High Expectations
At 220 USD for the post combined with Race Face's strong reputation for aftersale support, the Aeffect dropper is a winner on paper before I even open the box. For a 150mm travel post, it's a strong price-point competitor as long as it goes up and down, stays in place at those two extremes, and doesn't leak oil or explode. 
A few years ago those were high expectations for a dropper post at any price, but with reliable competition at this travel from different designs like the X-Fusion Manic, Crankbrothers Highline, and e13 TRS+ that's the bare minimum I'll demand from the Reverb-esque Aeffect. 
All of my experiences with Race Face's mid-level product line to date have been excellent. The cranks and wheels I reviewed are both easily recommendable and I continue to spin the cranks on my personal test mule to date. I have no hesitation in expecting the Aeffect dropper to be an equally awesome value and my hope is that, given the relatively simple task of a dropper post, it will qualify for the 'why pay more?' category of relatively cheap gear that's great at any price.



Travel
The up-down function of the Aeffect dropper is smooth. Using the same Wolftooth remote I'll go way out and compare the action to an SRAM Reverb upgraded with Wolftooth's Reverb ReMote cable kit. On the trail, it's that good. Low effort initialization and a smooth quiet return. 
Return force is adjustable via a Schraeder valve under the saddle clamps. I had no problem with this arrangement until I set up the new Ritchey Kite. It's not that I adjust the air pressure frequently but getting the perfect personal setup is just so much easier with the ultra-accessible, no saddle removal required, valve position and Ritchey executed their valve so cleanly it left me wishing the Aeffect had the same configuration. 
Fast or fairly slow, it's possible to adjust the Aeffect to preference and it will still return to full height every time. 
There has been no performance degradation through my test period. Race Face doesn't prescribe a service interval but given the similarities, I'd expect a similar interval to a Reverb. For most folks I know that's a full teardown every 1–2 years. 



Teardown
With my friend Jeff from Bikeroom as my guide, the Aeffect post revealed its internals sans rebuild instructions. Any wrench who is handy with a Reverb rebuild will have no issue tackling the service on this post. 
You can see more in the full teardown piece. 
It's a straightforward process but still a lot more time consuming than servicing cartridge-style posts like the Manic and Highline. Fully rebuildable vs. basic service and then swapping a dead cartridge when the time comes I'll leave up to you. Jeff says the Aeffect will be a one-beer job once a mechanic has done it before. I'm thinking that's a tall can. 

Remotes
Race Face sells an Aeffect-level remote for 40 USD. It's cheap looking but the function and ergonomics are good. If the Aeffect is coming OE on a bike I see no reason to change it but if I'm buying the post aftermarket I will opt to spend a bit more money the first time to get a more polished remote like Race Face's Turbine model. 
Unfortunately, the Aeffect remote does not play nicely with TRP brake levers and I needed to position it quite inboard in order to get proper function. This works fine when I am climbing up to come down but in the heat of battle, the remote is too inboard for a quick dropper height change. 
The e13 TRS+ dropper remote is my favorite on the market and I have an extra one, so that is what I used for most of the test with the TRP brakes installed. It functions fantastically with the Aeffect post and at 70 USD that is the remote I'd personally buy to use with the post.   
With a perfectly functioning dropper post the only part I'm regularly in contact with or thinking about is the remote. The combination of the TRS+ actuator and the Aeffect post feels & functions at least as good as anything on the market for a combined price of 290 USD. 

Dropper Duties
The Aeffect dropper post goes up and down easily and stays solidly in position at either end of its 150mm stroke. Less of a priority for me, but it also can stop anywhere along its travel and stays exactly where I tell it to sit until I command otherwise. It's loyally taken a beating with no complaints. 
Race Face has a solid reputation for small parts support and the post is entirely user serviceable which are both also selling features in my book. Other than my nitpicking about the Schraeder valve location I truly don't have anything to complain about, even ignoring the price-point. 
I'll go further though, because like the rest of the Aeffect components I've ridden the dropper post – combined with whatever remote you like best – is impressive to the point that spending more money on a 150mm post will come down to a personal justification, not a performance one. 
If it comes on a bike, ride it. Putting together a bike on a budget? The Aeffect does exactly what a dropper post is supposed to do at 220 USD for the post plus whatever non-chuck-away remote you prefer. 
More information on the Aeffect post here.