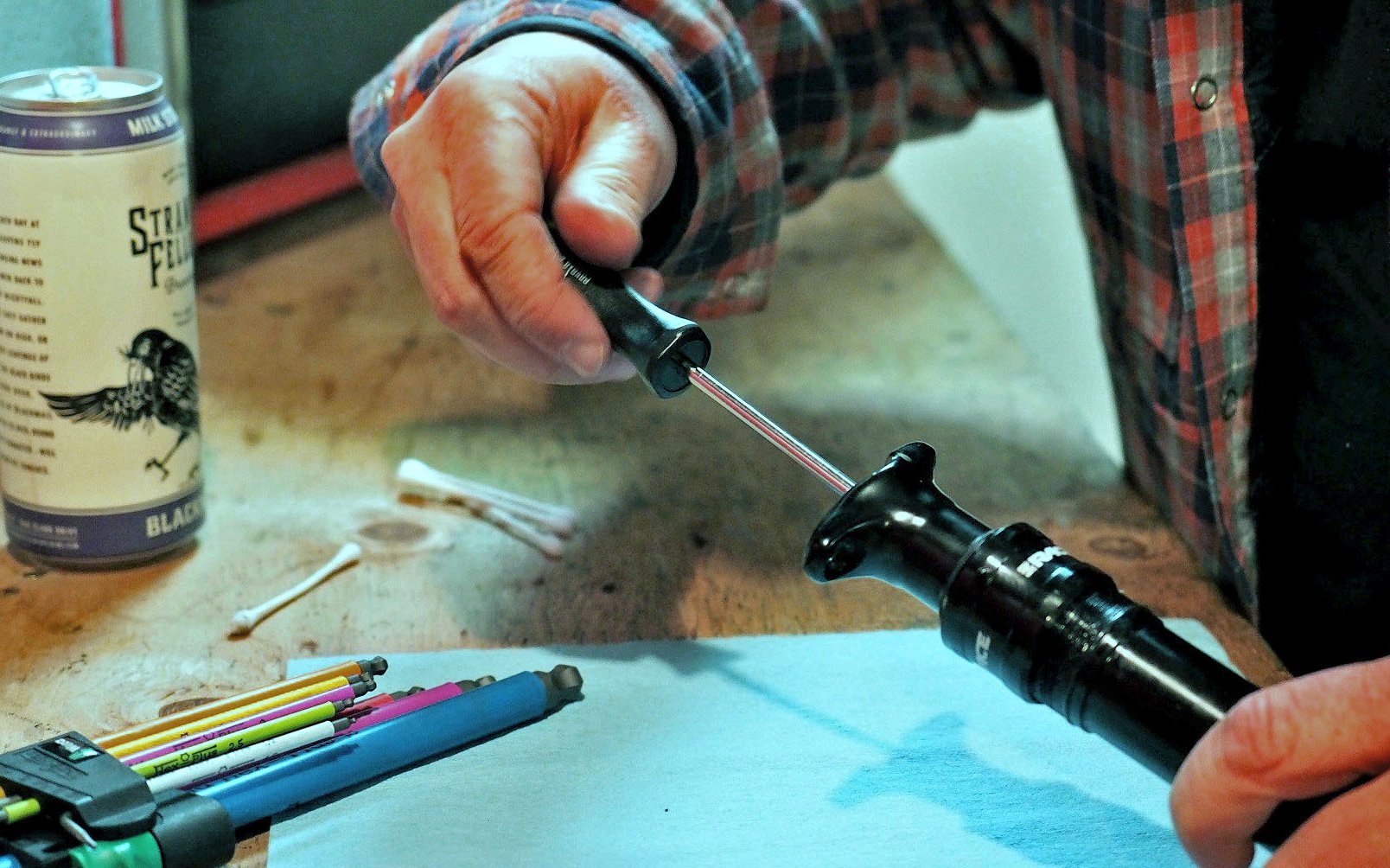 Teardown | First Rides
Race Face Aeffect Dropper Post Teardown
Assumptions
I strutted into Bikeroom and slid a quad pack of tall cans across the work bench to Jeff. Might as well crack one and shoot the sh*t for a bit because this is going to be a quick job. Pretty much every good and cheap dropper post on the market houses a Wintek cartridge and we're old hat at ripping the bodies down to show actuators and non-serviceable cartridges. It's not even a one beer job.
There was no reason to think the 220 USD 150mm travel Race Face Aeffect dropper would be any different.
I would love to have a photo of our facial expressions when Jeff cracked the post internals open and oil started pouring out. As it turns out there was no Wintek cartridge inside. Oh f*ck. It's always nice to know a product is fully serviceable and with only a couple of rides on the post there was no question that the Aeffect had to go back together perfectly. If not it would have meant never hearing the end of it from the folks at Race Face.

We consider it an embarrassment to be defeated by bits of metal, plastic and rubber" - Borrowing a proper mechanic's philosophy from Ed @ Mighty Riders.
There is zip, zero, zilch on the interwebs about servicing these posts and it speaks to Jeff's experience that exploring the Aeffect's innards was a nearly seamless process. If you're not entirely confident this is not a service you want to tackle at home. Any shops that screw it up can e-mail Jeff for his 'consulting mechanic' fee schedule.
Methodology
Measure thrice is the whole game when taking something apart for the first time sans instructions and without any spare parts. Jeff always lays out all the parts in the order of operation for the teardown so that there is no question of what goes where during reassembly.
Luckily with the Aeffect, the internal floating piston (IFP) dictates the oil height but normally best practice is to pour everything into a graduated receptacle when an oil volume specification isn't available.
Teardown
Taking the Aeffect dropper post apart wasn't entirely intuitive but overall the process is straight forward and the parts themselves appear to be very well made, especially considering the price. Tools required include a bench vise, aluminum axle clamps, hex keys, zip ties, 5w synthetic oil, Slickoleum, a shock pump, a valve tool and patience. A lot of experience rebuilding Reverbs is an asset.
Cleaning and lubing the Aeffect dropper's main seal, where the exposed post shaft telescopes into the abyss of the seat tube, is a very easy job. It's easily unwound by hand or with a bit of assistance from a strap wrench as necessary. It was well lubed and sliding smoothly right out of the box with no break-in period. The actuator itself is held on by a hex bolt and once that's removed it's easy to separate the body from the internals. At this point a basic re-lube of bushings, keyways and the main seal is an easy job.
The full service is more complicated. Once the hydraulic dropper system has been opened it's necessary to tear it down so it can be refilled with oil before the IFP is re-installed.
For an added challenge we had to be sure not to damage any of the seals. Race Face used quality quad-seals throughout the post but they are not easily sourced individually and based on my assumption of a non-rebuildable cartridge I hadn't thought to ask for a rebuild kit.
Having seen Jeff figure this out I'm comfortable saying that any decent mechanic with a solid familiarity of the SRAM Reverb could likely work their way through an Aeffect rebuild. Jeff says that now that he's done it once a future rebuild would be a one beer job. I'm not doubting him but let's assume that beer is a tall can of something heavy and that he's not thirsty.
The cable routing is unfortunately oriented so the cable head is at the remote and it's tightened at the post. This is a silly choice to me since install is cleaner when the post doesn't have to be removed to tighten down the cable. A remote swap - bolting the cable at both ends - would easily resolve this concern.
Even with Aeffect remote, now that I've done a handful of similar installations with the X-Fusion Manic the installation job takes less than five minutes.
First Rides
Right out of the box the Aeffect needed to have the air pressure topped up. This is easily accomplished by popping out a rubber seal under the seat clamp to access the Schrader valve. I set the air pressure to 230 psi.
Initial performance of the post is faultless. It goes down, it comes up and it even stops at any point in between if that matters to you. The two bolt saddle clamp is simple and it works great. The Aeffect dropper is fast enough without any genital risks and ergonomics of the under bar option are excellent. What else should I expect a dropper post to do? I'll also be testing the post with a Wolf Tooth remote for comparison.
Beating on the post for the remainder of this Winter and the Spring will give me more data but at this point the post definitely joins the Wintek-equipped X-Fusion Manic in the 'why pay more' category of dropper posts.
Race Face does an impressive job hitting the 220 USD SRP of the 150mm Aeffect dropper and the 125mm version is 40 USD cheaper for anyone who prefers shorter travel. That isn't an online or 'bro' price either but rather what I'd expect to fork out to my local-tax-paying bike shop.
For more information on the Race Face Aeffect 150mm dropper post, available in 30.9 and 31.6 diameters, please click here.