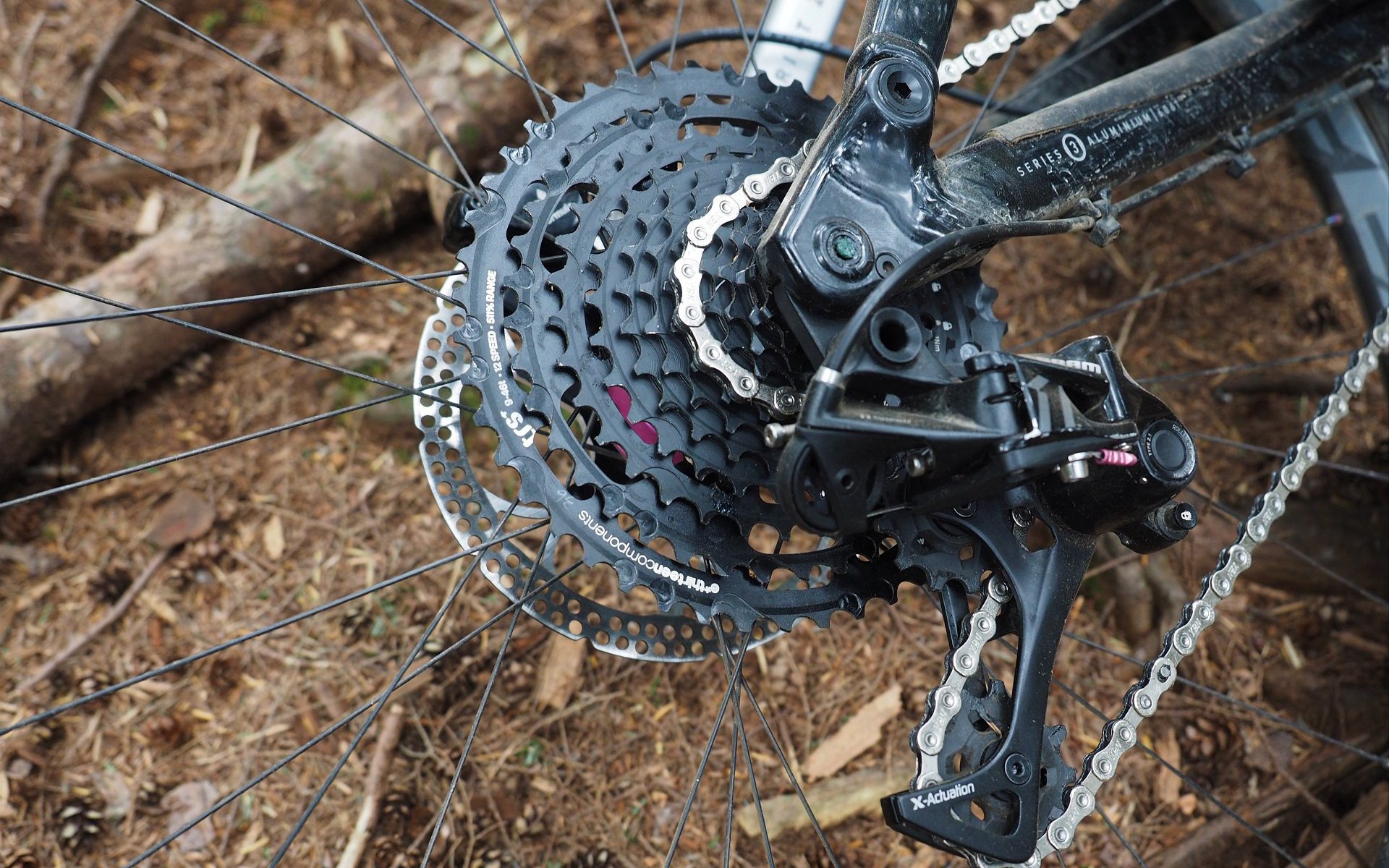 REVIEW
e13 TRS+ 12-Spd Upgrade Reviewed
These Go To 12
In case you missed it, back in June, e13 released an upgrade kit for SRAM shifters that allows riders to convert their 11-spd shifter to 12 spd. The kit comes with everything you need, including a jig to help perform shifter surgery, a 9-46 12-spd cassette and the shifter conversion parts for 299 USD. You can find all the details on the kit as well as details on installation here. 
---
I'm sort of in love with the e13 TRS+ 12-speed upgrade kit and at the same time, I really couldn't give an damn how many clicks I get from my shifter. I'd be more than happy with a 4-speed cassette that hit 14t, 24t, 34t, and 44t. I don't know if that makes me the best or worst candidate to be writing about the California think-tank's product but what the heck, I've got a few things to say.   

The teardown was a fun experience with my mini-me, and the kit is an impressive value since it includes the tools, ratchet, a 12-spd chain, and a TRS Plus 12-Spd cassette for only 20 USD more than the cassette itself. It only counts when running a GX drivetrain but, since the e13 shift-spool uses a bearing, like the higher end SRAM shifters, the e13 kit also improved shifting feel - especially once my cable and housing started to get a bit used. 
I really like the new e13 cassette interface, which uses a lockring instead of a proprietary tool. That's now spec on the 11-spd models as well. A bike that offers this stock is Marin's new AT-7 which uses a unique combo to provide excellent value. It mixes a Shimano SLX 11-spd drivetrain, a SRAM XD hub interface, and an e13 9-46t TRS Plus cassette to deliver the 511% 1x drivetrain that most of us need - even if it's not the Gucci component mix most of us want. The benefits over 11-spd are tighter shift jumps, greater range than Eagle while using an existing 11-Spd SRAM drivetrain and the absence of an extra long derailleur cage. 
From another perspective, anyone who has a compatible 11-Spd SRAM shifter and derailleur in good shape, but needs a cassette and chain, essentially gets a free upgrade in range, and clicks, by buying this kit. 
The kit produces shifting performance equal to a high-end SRAM cassette. I notice the tighter shifting of the 12-spd cassette, compared to the same 9-46t spread on the TRS+ 11-Spd cassette, when I'm pedaling on the road but, whether it's me or the terrain I ride, I don't notice this on the trail.  I was happy with the range, performance, and longevity of the 11-Spd TRS+ cassette and I would choose that setup over GX Eagle simply for the shorter derailleur cage. The upgraded shifter spool is worth making the jump to 12-Spd on a GX system, but if I was running a higher end SRAM 11-Spd group I'd just stick with the 11-SPD e13 cassette option. 
Then again, I'm one single speed-loving bike industry hack and there is a sea of riders out there spending to upgrade to Eagle drivetrains. If twelve clicks are the answer why not get more range and a shorter derailleur cage for less money?
If you have an 11-Spd SRAM drivetrain you're thinking of taking to twelve, the 300 USD TRS Plus 12-Spd kit is definitely worth a look. Do you have an 11-Spd drivetrain and an XD driver without being 12-Spd curious? I'll make another plug for the value of the 250 USD 9-46t 11-Spd cassette.