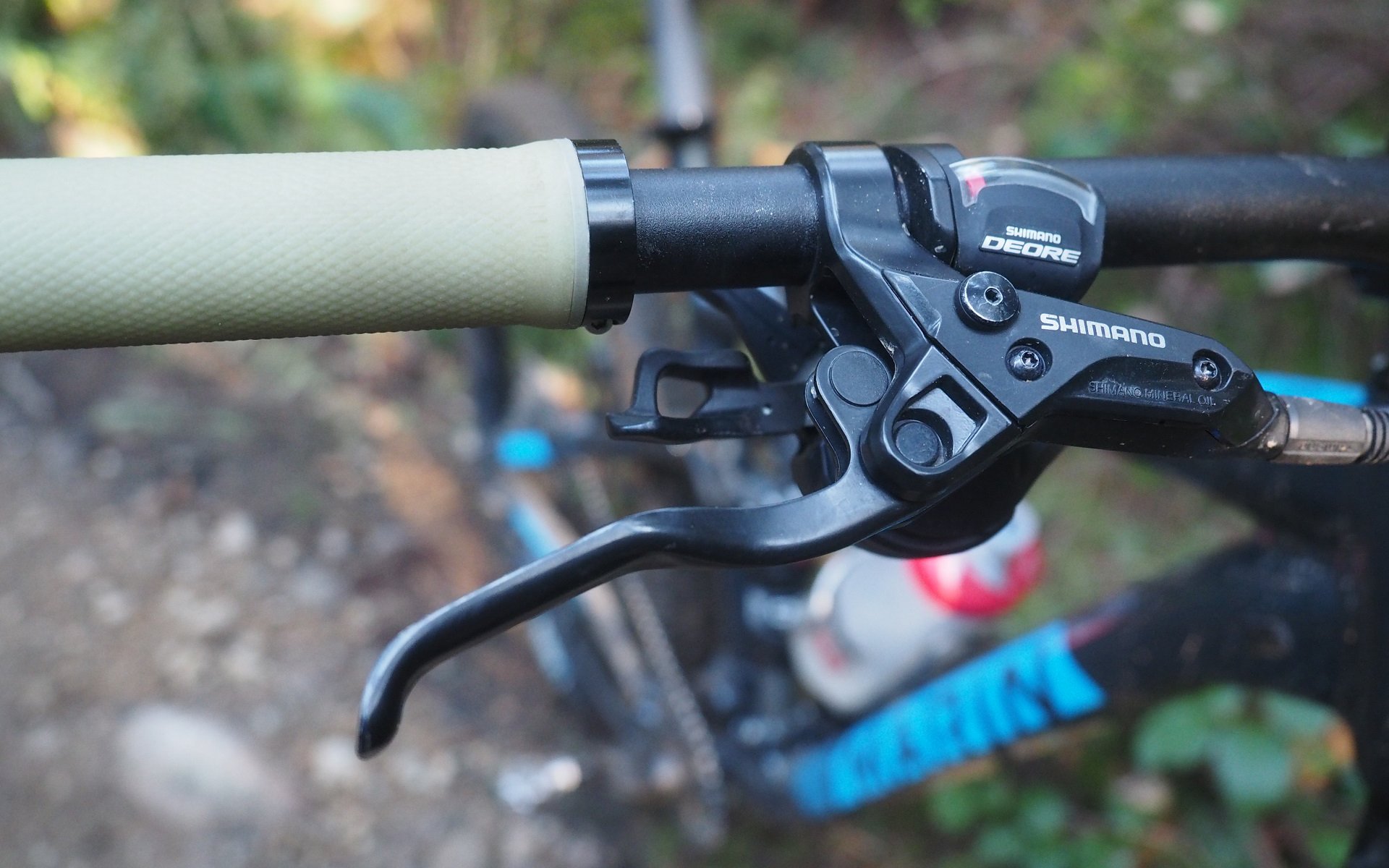 Editorial
Min-Maxing Budget Bikes With Marin
Min-Maxing
The min-maxing idea is pretty simple on paper. This is an alternate look at how to spec bikes to get the best performance per dollar, rather than to catch the eye of any fickle consumer. Spend more money on parts that make the biggest difference on the trail while staying on budget by cutting corners elsewhere. Wear items that will be replaced over the natural life of a bicycle are a great place to be stingy as well as by choosing off brand parts that often perform better than their big-name equivalents. This process is easier said than done and it gets increasingly difficult on less expensive bikes where a single upgrade, like a good suspension fork, can break the budget by hundreds of dollars.
Min-maxing has become an obsession for me since I started on my Marin Hawk Hill Review.
My Hawk Hill Example
The Hawk Hill's suspension pedals well whether you're in the saddle or standing. It has good mid-stroke support from the leverage curve and ramps towards the end which, combined with the air shock's natural progression, makes for one of the nicest riding 120mm suspension platforms I've been on. It's playful yet poised.
All that with a very basic X-Fusion O2 R air shock that frees up money to be spent elsewhere on the $1500 (USD*) bike.
In addition to dialing in the suspension and frame geometry, I think the Marin is quite a good looking bike. Appearance, frame geometry, suspension geometry - dialing in these things doesn't add significantly to the price of a bike.
The Marin frame doesn't use the highest end formed frame tubing and there are none of the beautifully machined sections present on high-end aluminum frames. The linkage is a basic two-piece affair although the way it mounts to the seat tube - held by clevis joints at the seat stay assembly - is definitely stiff enough.
Maximizing suspension performance and capability. Minimizing frame cost.
OE Spec with Marin
The Hawk Hill was put together to hit the magic $1500 (USD) price point and to get there, every choice counts. One example I noted in my review was the use of a heavy, steel-axled 135mm QR hub adapted to the 142 x 12mm rear end to cut costs on vs. the more familiar thru-axle and hub we're used to seeing on more expensive rides. Every dollar counts.
As I noted in my review, the bike is very fun and Marin is letting me hang on to it for a while to test other more budget-conscious components. And it is worthy of the upgrades.
My experience tells me that Marin could sell a couple of higher end but still budget-conscious versions of the Hawk Hill. But what if instead of the standard procedure of 'a rising price lifts all components' Marin did something disruptive and pumped the difference in money into the key parts that make the biggest impact on the trail?
It's all just conjecture without numbers so I asked Marin's Chris Holmes and Matthew Cipes if they could run some pricing for me.
Marin Hawk Hill... 2
Normally jumping $500 up to the 2k price point would bring along a slew of small upgrades. RockShox Recon Gold instead of Silver, a higher end Shimano brake, an SLX rear derailleur... it's a pretty standard picture. As I'll discuss below there are reasons why my Hawk Hill 2 build probably wouldn't fly. But my goal, with Chris and Matthew's help, was getting maximum performance right off the shop floor.
What stays the same? The Deore shifting, SunRace cassette, Marin-branded 24mm crankset with steel narrow-wide ring all remain. These are perfectly serviceable parts or wear items. The stock bar and stem are heavy but the shape of the bar is good and it's 780mm wide. It's also likely that anyone looking for something more Gucci would want to choose their own favourites. I would also leave the surprisingly good Shimano Acera brakes, but upgrade the rotors.
What do I get for $500 extra?
In terms of downhill performance, the most notable up-spec I requested was a fork. Specifically an X-Fusion Sweep RL. Thanks to a check valve in the damper the RL model has very good mid-stroke support while the simple air system and damper help keep the price in check. It's a 34mm stanchion fork that will increase stiffness and drop weight off of the Hawk Hill.
Another advantage of going with a 120mm X-Fusion fork is the no-parts-required super quick push-pin travel change. I'd love to try a 140mm fork on the front of the Hawk Hill but the quick internal change means there's no commitment, or cost, involved.
Because I'm addicted now, I'd also love to get a dropper post on the bike. Droppers offer a big boost in overall enjoyment as long as the chosen model is reliable and not some a piece of junk that's going to fail in the first month of hard riding. X-Fusion handles duties here too with the new Manic.
The rest of the spec changes are mainly house keeping but make for a big performance improvement. Shimano RT-66 rotors, Formula 6-bolt hubs with the proper 142 x 12mm axle laced to wider, Marin-branded, 29mm internal rims, and Schwalbe's Snake Skin Nobby Nic on the rear and Magic Mary up front.
I'll take bets that it's the best value and best performing $2000 mountain bike on the market.
Marin Hawk Hill 3
The theoretical Hawk Hill 2 offers heaps of performance per dollar. If we took it a step further, what could Marin deliver for another $500?
For starters, I left the Marin crankset, Formula hubs with Marin-branded rims, X-Fusion Manic dropper post, X-Fusion O2R shock (the Marin really doesn't need a pedaling platform), tires, cockpit and of course, the Hawk Hill frame the same for this $2,500 model.
After my excellent experiences with X-Fusion's top end Trace HLR, I'm confident it is one of the best value high performance forks on the market. Since the guys at Marin had offered to crunch the numbers I went 'what if' and asked about getting the 27.5" equivalent - the Sweep - installed on my top end Hawk Hill build.
That's delivering a better performing fork than some bikes are running at over twice the cost of the $2,500 imaginary Hawk Hill 3. Again there is also the advantage of being able to easily increase the travel to 140mm for anyone who wants to try it.
Since it's my fantasy bike it also gets a SRAM GX shifter and derailleur which is my favourite drivetrain for the balance of performance, feel and price. I stuck with an 11-spd Sunrace cassette but in hindsight, the all steel NX cassette would be a winner here as well.
Last but not least, Marin spec'd a few models for 2017 with a combination of a Magura MT5 four-piston front brake and MT4 two-piston rear brake. Essentially the system that Magura is selling for 2018 as the Trail Sport. I love my personal set of MT5 brakes and I was pleased with the MT Trail so Marin's MT5/MT4 mix or MT Trail Sport for a 2018 Hawk Hill 3 makes perfect sense to me.
It's always possible to spend more money; drop some weight in the crankset, add a high-end bar and stem combo and I'd love to see a fast engaging rear hub if it was my personal bike. I'd still put the theoretical Marin Hawk Hill 3 up against any mountain bike at $2500 (USD) on all points: value, performance, and price.
It's a top end fork, awesome brakes and premium tires with quality components all around.
Bicycle Buying Psychology
The giant flaw in my plan is that I'm preaching to the well-informed choir. Unfortunately, many buyers in this price range will be seduced by an upgraded rear derailleur or a carbon handlebar rather than a fork damper they can't see or much better tires that look identical to the cheap versions on bikes selling for the same price.
Consumers are like moths to the flame of one shiny component upgrade instead of considering the full package in front of them.
Brand recognition also carries weight and it is probably less work for a shop to sell a Hawk Hill with the most basic Rock Shox Recon fork than to sell a similar bike with a significantly better X-Fusion RL product. Marin's already taking a chance with the very good, albeit house-branded crankset.
Where does it go?
Selling bikes is a business. It's hard to imagine the big players tackling bike spec in a way that requires dealers to go further in educating customers on value. It's simply easier to sell bikes that come spec'd with brands consumers recognize and to upgrade the focus points like rear derailleurs. There also seems to be a resistance to designing inexpensive bikes with the same geometry as high-end models.
That leaves a sweet niche for companies like Marin who are willing to design their budget bikes with good frame geometry and dialed suspension. I'd love to see higher end versions of the Hawk Hill with the product manager's budget focused on maximizing performance at any price point regardless of the component mix that leads them to.
---
*For simplicity, all pricing is listed in USD for this article. The Hawk Hill Andrew is reviewing that sells for $1,500 US carries an MSRP of $1,899 in Canadian dollars.