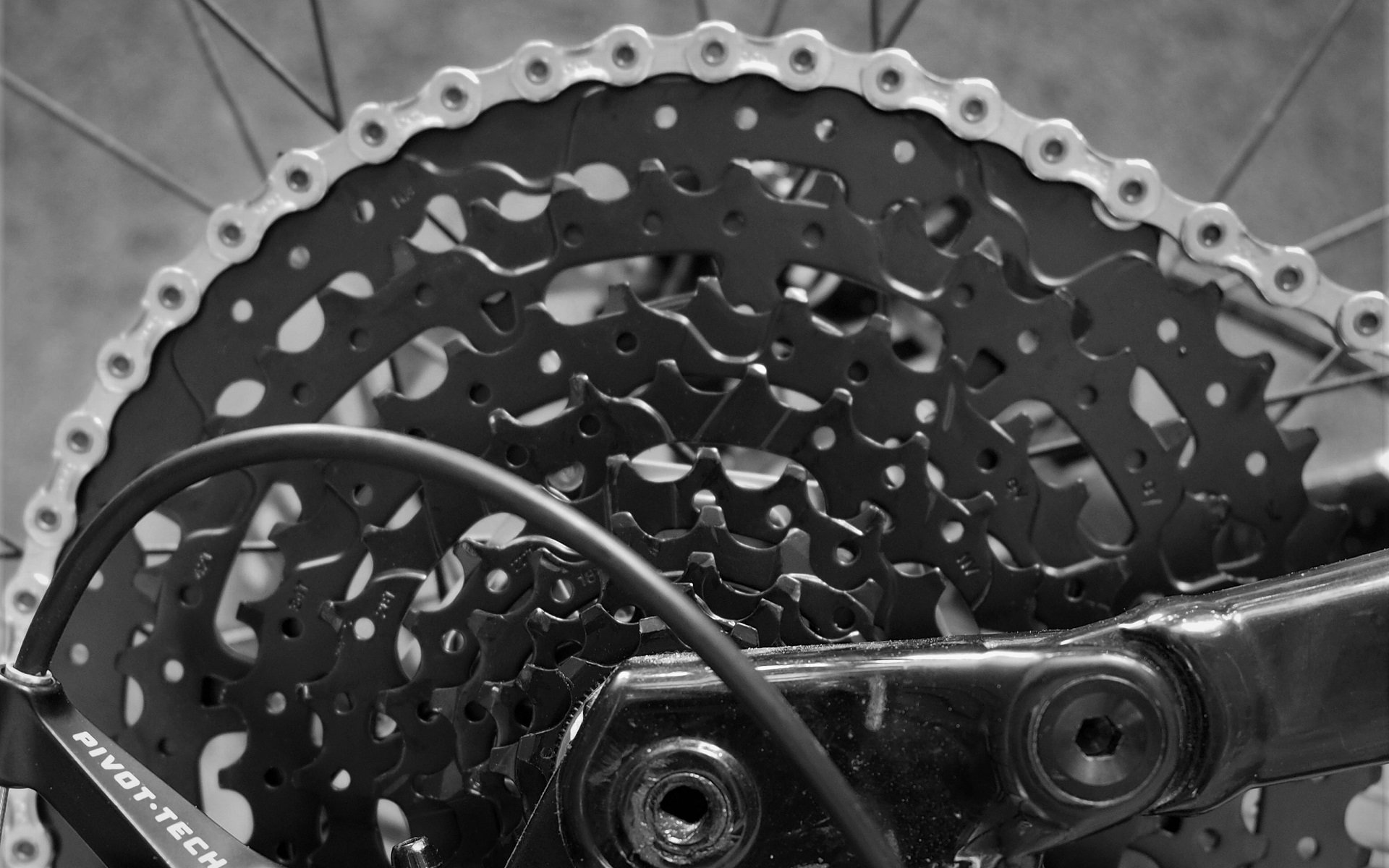 EDITORIAL
Does The Future Have Fewer Gears?
Or Maybe...
Perhaps just less complexity? Or maybe more complexity with basically zero maintenance? To be honest, I've lost the plot when it comes to mountain bike drivetrain evolution. Surely we aren't just going to add one more cog every couple of years? How much longer can derailleur cages get? I love the idea of a quiet, efficient, and simple drivetrain on my full suspension bike so much that I tried single speeding it! At this point however, the industry seems to be putting effort into maximizing the number of batteries that can be put on a single off road bicycle.
I saw the release for the SRAM EX-1 groupset and I was bloody excited. I wrote an article about it, and then SRAM promptly started selling Eagle 12-speed systems with single-click shifters for the motorized market. Disappointment. My longtime dream of a clutched, wide range, 5-spd drivetrain seems ever farther away and then Box releases a 9-speed set up along with their cheeky 'Nine Is Fine' tagline that plays on Shimano's 'Mine Is Nine' marketing program from 1999.
This isn't a review of the Box's 9-spd drivetrain, but kudos to them for thinking outside the... general trend of drivetrain development. I'm also very excited to see Box, FSA, TRP, and SunRace stepping up to engage SRAM and Shimano but one drivetrain has caught my attention recently; the new Shimano SLX 12-spd. It's so good that once I get my hands on it, I'd have a powerful min-max argument to upgrade every other component before stepping up the drivetrain.
I've been shifting the mid-level Box Two drivetrain for a couple of months. This isn't the premium 630 USD Box Prime drivetrain that's been showing up in various reviews but rather the reasonably budget 270 USD Box Two drivetrain which includes the shifter, derailleur, chain, and an excellent SunRace 11-50t 9-spd cassette.
I'd be remiss if I didn't mention that NSMB's first experience with a Box One drivetrain was significantly sub-par but this is an updated lineup and I'd love to read Tim's thoughts comparing his first review to a new Box drivetrain. But I'll say right now, for the price I'm happy with Box Two performance; it's been solid to date.
Rotor already has a 13-spd drivetrain and I imagine e~bike compatibility and chainline are the only things that will keep other companies from building wider cassettes and/or thinner chains but if Box derives some success from 9-spd disruption I'd love to see other companies jump off the one-more-cog bandwagon.
Nine Is Not Five
In my house, jumping on a Box 9-spd drivetrain isn't a matter of dropping 3 gears but rather a single cog. On multi-geared bikes, my wife and I both run a hybrid of a 10spd Shimano Shifter, 11-spd Shimano Derailleur, and a fantastic 10-spd 11-46t SunRace cassette. I think the cassette jumps are as optimized as I'm going to get hitting a 418% range over 10x cogs: 11 • 13 • 15 • 18 • 21 • 24 • 28 • 34 • 40 • 46. It's still possible to buy this whole drivetrain new in boxes with my choice of high-end Shimano shifter but the days are certainly numbered as even SLX is a 12-spd package now.
My other comparison point is the simplicity, perfectly straight chainline, low maintenance, and quiet performance of my single speeds. I recognize that I'll never get that drag-free performance out of a multispeed drivetrain but improving chainline would be a start and the only ways to do that are to narrow the width of the cassette or have the chainring floating in a derailleur-in-a-box setup like Petespeed.
To me, a bolder product than a 9-spd drivetrain would be to jump way back to 5-spd with the 8-spd or 9-spd spacing standard. Stronger wheels, much better chainlines, and enough cogs to hit all the gear ratios that I need in the mountains. Let's say 13 • 18 • 28 • 37 • 46 or something of the like so I can still use a 30t or 32t ring up front which plays nice with more bikes anti-squat numbers. As an added bonus, a really nice 9-spd or 8-spd chain costs significantly less than a decent 12-spd chain.
If I can't have my simple 5-spd drivetrain then I find myself going entirely the other direction. I'd love to see a crank-contained gearbox system that can be mounted on any bike with a similar 354% ratio to my dream 5-spd setup but then I already wrote a 'what if' piece about Hammerschmidt dying on the vine.
Revolution Vs Devolution
When I read that Hayes had bought the Petespeed derailleur-in-a-box system in 2004 I was excited. The potential to carry the drivetrain weight low and centered on a bike, sealed from the elements, and with the efficiency of a derailleur system, is rather beautiful to consider. I know it never would have worked as the space required to get a trail-bike gear range, and shock and a water bottle into the front triangle would have required everyone to ride an XXL frame size. There's also that whole issue of having to buy a bike designed around the system.
My experience with hub gearing - Nexus, Rohloff, Alfine - has long made me skeptical of other types of gearbox systems but I like to think I'm open-minded enough that I'd get on board if they approached the efficiency and shifting quality of a derailleur system with the aforementioned improvement in weight distribution. Still, not being my area of passion or expertise I'm going to defer to Perry here from his Zerode Taniwha review:
"I've been a rabid fan of gearbox transmissions since the first embryonic designs emerged nearly 20 years ago. It's been a long time. If you'd asked me then where I thought we'd be now in terms of drivetrain technology, I would have said with a fair bit of confidence that gearboxes will be standard fare on high-end aggressive mountain bikes. Alas, progress has been relatively slow, and gearboxes have yet to be adopted by any of the major players. So it's been up to courageous small companies - the likes of Pinion and Zerode - to drive the evolution of the species. While the Taniwha isn't perfect, it offers some significant benefits in the realms of durability and suspension performance, wrapped up in a great handling platform, that I found really compelling."
Aside from the fact that boutique trendsetting brands haven't jumped on board with gearbox fitment, the biggest issue with the bikes is the parking lot test. Again I'll tap Perry here to sort it out:
"There's no question that the Pinion requires an acclimatization period to come to grips with its idiosyncrasies and realize all of its potential benefits. Those who jump on board for a parking lot test are quick to criticize the bike's weight, and reluctance to shift under load - and, to a lesser extent the additional drivetrain drag in higher gears. I certainly had mixed feelings based on my first couple rides. After more time on board, which entailed remapping some well imprinted shifting behaviors, my perspective began to change; the reduction in pedal pressure required to shift became second nature, and much more subtle, and I quickly became accustomed to the additional mass. I never did find drivetrain efficiency losses to be particularly detrimental.
It didn't take long to come to grips (ha) with the oft-maligned shifter. It's a fairly unobtrusive thing, though I did find in some gnarbar scenarios, you really don't want to be rotating your grip position forward (ie, to drop into a taller gear), so your shifting is sometimes delayed. Similarly, in some tech climbing scenarios, you don't have the opportunity to indulge in just in time shifting into a lower gear, so have to pre-plan a gear drop which isn't always optimal. The ability to grab a handful of gears any time (without pedaling), or preshifting, is certainly a selling feature, however."

It occurs to me if one could purchase a Pinion gearbox mounted in a Toyota-Tan Megatower or a Turquoise SB150, enough people might commit to that 'acclimatization' period that the things could catch on.
Let's face it if ShRAMano can find a way to make the chains for 14-spd drivetrains strong enough to work for e~bike applications they'll be on 100% meat-powered bikes any month now. Perry's gearbox fandom and my Hammerschmidt fantasies seem much less likely to occur than 157mm frame spacing opening us up to 20-spd derailleur systems. My 354% 5-spd drivetrain? HA!

I told you I've lost the plot. Where are drivetrains going?