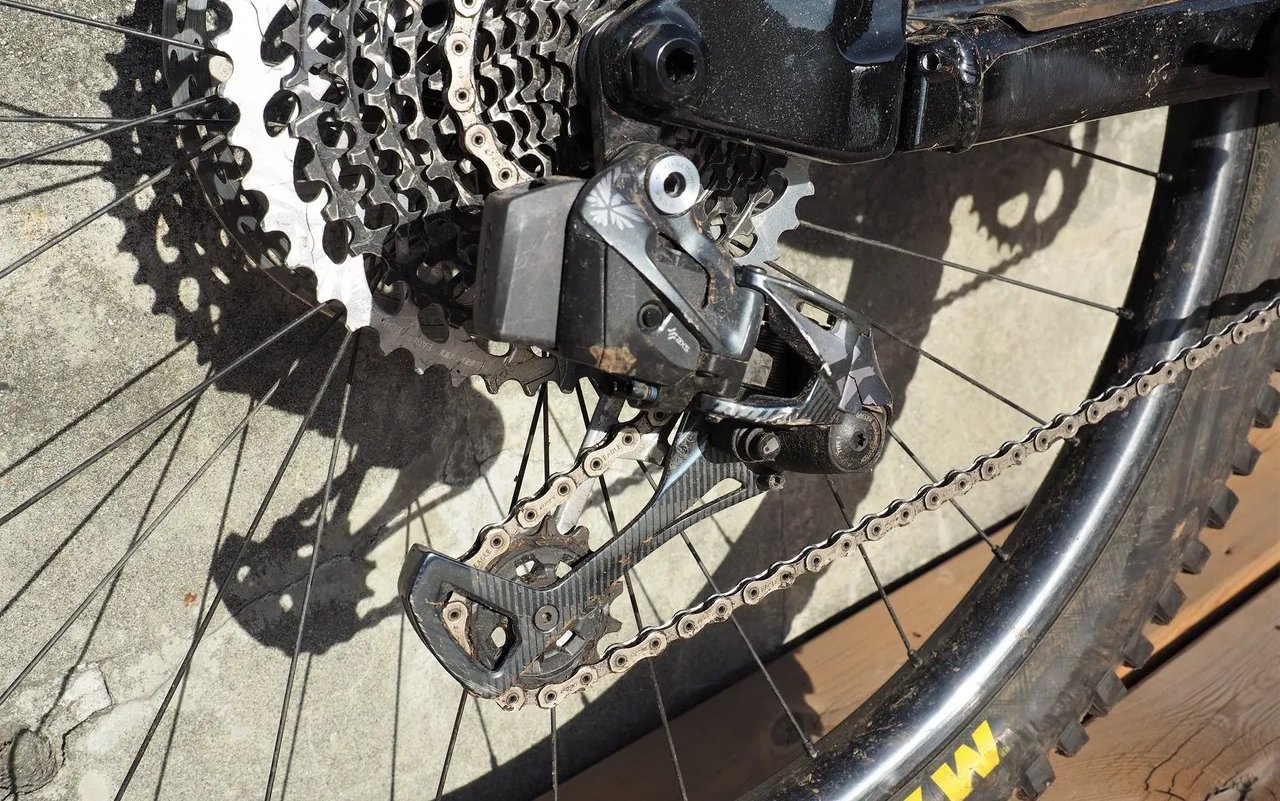 SEQUEL - EDITORIAL
AXS Strikes Back! (Does The Future Have Fewer Gears pt II)
Or Does It?
I think SRAM AXS belongs in a special category with Shimano DI2, Fox Live Valve, and yes, even mountain-mopeds. I mean, don't show up to Single Speed AZ2020, or the like, with any of that crap but if you can find a legit place to try it out, it never hurts to have more information when forming an opinion. Then after you do, balance it out by riding some janky trails on a rigid single speed, you know, for that fully rounded knobby-tired experience.

Back to AXS, you won't find me dropping 700 USD (BATTERY NOT INCLUDED!) on a rear derailleur in this lifetime or the next. But, then I'm also not in the market for a 1000 USD crankset but that doesn't mean Cane Creek EEWings titanium cranks aren't freakin' cool right? So, of course, I was eager to give SRAM's wireless shifting a go. I was distracted the whole time by how much a replacement derailleur would cost me and I suddenly have a fantastic argument to go back to 142x12 rear spacing. Never mind Super Boost 157, Boost 148 is worryingly wide. But yes, the shifting is excellent.
In this context, the most exciting thing about AXS has nothing to do with how it performs on a bike. Where AXS shines, in this case, is in the access to data because it removes 'the feels' from any argument about gearing.
My friend Dougcan has more hours on his AXS group then anyone I know. He was the first non-Pro I know who had a kit and in a couple of months, he'll have had a full year on it between his Instinct BC Edition and 2020 Rocky Mountain Slayer. He also absolutely loves the drivetrain even now that the honeymoon is long over.
Dougcan "has fully stopped [himself] about six times using the rear derailleur" so it's not surprising that it looks so beaten. What's strange is that it still beautifully shifts through all twelve speeds of his cassette. Not that he needs all twelve speeds on his cassette however.. There's a strong argument to be made that for riding on the North Shore he could happily rip around on four-to-six of them depending on the ride. Especially once middle-ground gears start being selected in between common ratios. For argument's sake, I'll try to boil it down to the magical five suggested in my first piece.
Let's look at data from a few Mount Fromme & Mount Seymour rides he sent me in October. These are pushing the Slayer with Maxxis Assegai 29x2.5" tires with their Double Down casing. Now I recognize this is a very, small sample size. As they're typical of Dougcan's local Shore riding, I'm comfortable using them as discussion points but I'm not claiming to have uncovered any universal truths.
These are examples of typical North Shore rides on Fromme and Seymour and I wouldn't be surprised if the average Shore rider presented a similar picture, albeit with the 50t seeing more action. Up, across, and down on the jankiest Shore trails doesn't require high ratios and short of the road or the bike park, there isn't much call for the 10-12-14 tooth cogs. Realistically, twelve speed isn't going anywhere but up so if you're excited about a 10-51t cassette I'm not trying to take that away from you; however, I think there's a strong argument to be made for significantly better chainlines, more tucked drive-systems, and wider chains, all at a lower cost.
Another interesting metric is the amount of shifting that's happening. I was surprised by how many shifts Dougcan makes per Kilometer. In the following examples, it's around 7-8 / KM. I doubt I come close to that on a geared bike which could come down to the amount that I ride single speeds, and the fact I commute on a bike with friction-thumb shifters, or it could be that the shifting on AXS is that much more instantaneous and intuitive compared to the mid-level drivetrains I normally ride. Though significantly more effort, it would be interesting to map Dougcan's shifts/KM on a more budget drivetrain like NX or SLX as a comparison to see how much of this stat reflects the rider and how much reflects the drivetrain.
Shorter freehub bodies, wider hub flange spacing without a stupid-wide rear hub spacing, straighter chainlines for decreased wear of chain, ring, and cogs, and potentially better shifting at a lower group cost thanks to 5-speed cassettes and wider chains. The reasons for switching to fewer gears in the future are legion. But what about the trade-offs?

Some design cost would be involved in derailleur architecture to shift 16-42t over five gears but otherwise, there's no re-inventing the wheel here. The ancient Shimano HG Freehub standard is a perfect candidate and there are actually a number of single-speed hubs on the market now that have the real estate to accommodate a 5-speed gear cluster. I'm open to suggestions, but I'd go with the classic 9-Speed spacing since there is still a wide range of chains available at every price level. Bonus points if all five cogs can sit on one carrier as Shimano did with their higher-end 9-speed cassettes.
So I've proved that a 5-speed drivetrain could, potentially, maybe, be a perfectly viable option for North Shore trail riding based on a teeny-tiny data-set that backs up my opinion. Just pick a front ring size and ride. BUT, what about everywhere else where 10-51t spread over twelve speeds is absolutely essential to making climbs and tearing up descents?

I know folks that ride single speeds in all of the continental states and Alaska (any Hawaiian or Puerto Rican single speeders out there?) and what I glean from that is that a 5-speed drivetrain could work anywhere. I'm positive there are people who would jump on it. More than that though, I've had enough correspondence with rider-readers of the first future piece that I believe there's an undercurrent of folks who'd actively seek the option out if ShRAMano offered it and would be very curious if a bold upstart like BOX, TRP, MicroShift, or SunRace could bring similar quality to market.
What do you think?

---
Any AXS users out there, on the North Shore or otherwise, I'd love to see your data. Mountain biking only, please! Post it below or fire me an e-mail and I'll post it up for you.