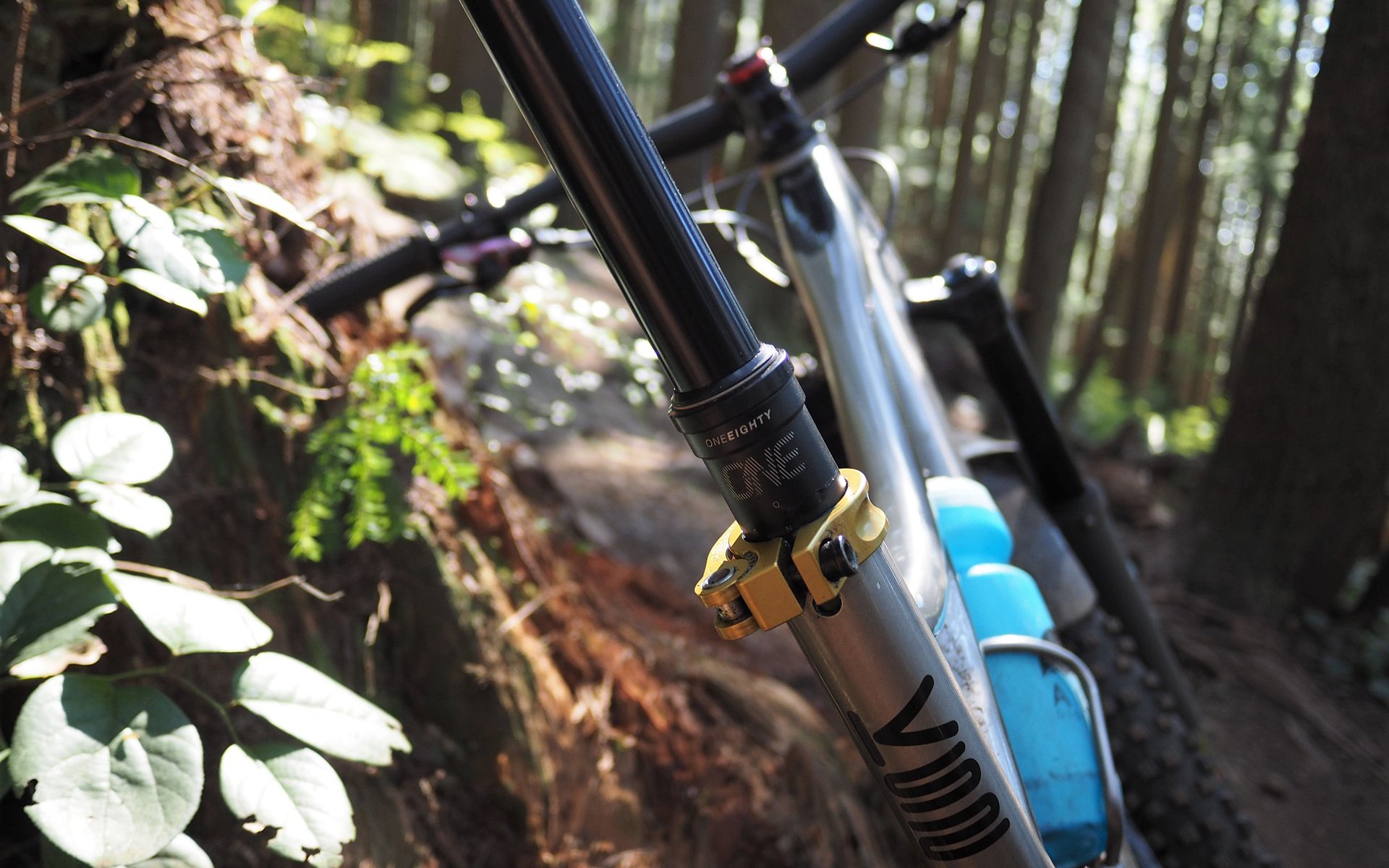 EDITORIAL
Winning the Dropper Post Arms Race
Actual Improvements
The mountain bike component complex is continuingly releasing new products that bring, at best, marginal improvements, and often present solutions in search of a problem. Sometimes, they're solutions that end up crushing much better legacy standards. I know that sounds a bit cynical, but I can pull examples out of my helmet all day. However, I'm not here today to talk about flat mount disc brake tabs, or center lock rotors, or 10-tooth compatible hub drivers. I'd like to talk about dropper posts.
There was a time when choosing a dropper post came down to reliability versus purchase price. When they all sucked hard we could crack a beer and argue over whether a Reverb or KS or Gravity Dropper was a bigger turd, but these days you actually have to put effort in to buy a bad dropper post at almost any price. Even true budget dropper posts I've ridden like the Race Face Aeffect R, X-Fusion Manic, Crank Brothers Highline 3, and PNW Rainier go up and down smoothly and stay where they're told.
What's the best dropper post? The BikeYoke Revive is a nice piece of kit, the Race Face Turbine R / Fox Transfer is super smooth, the Reverb AXS is both wireless and functions wickedly, but then that's what I'd expect from any premium-priced post. If I'm talking about min-maxing a part of my bike that, on paper at least, has a really simple job for which those premium posts seem over-priced, then in addition to the more budget-friendly posts above I've also had a solid experience with e-13's Vario dropper.
If you're 6'6", and your bike has an uninterrupted seat tube, and/or you're content running less dropper-post-travel, then price v. performance can rightly be the only two metrics you are looking at. But, there comes a point where a person's inseam is shorter enough, or their bike doesn't have sufficient seat tube length, that picking a dropper post for aggressive riding becomes a game of maximizing post-travel while minimizing length.
Those length restrictions are reflected in two ways. First, the maximum a post can be inserted into a frame, as the post bodies typically get longer corresponding to the travel. Put another way, how far does the static body of the seat post have to stick up above the seat collar before we can account for the seal head and shaft? Secondly, if that outer shaft could be fully buried, what is the stack height of the post above the collar for the given travel?
In a time where infinitesimal improvements compete with utter snake oil in terms of product development in suspension and drivetrains, and where the vast majority of dropper posts are pretty damned good both in terms of reliability and performance, there is still a great differentiator that matters to those short(er) of leg or riding frames less endowed with unobstructed seat tube length.
The last bike component arms race that matters is about making a dropper post with the most travel for the shortest overall length. The most drop, for the shortest stack height, for the shortest insertion depth.
OneUp V2
There's been a rumour circulating for ages that Giant is on the cusp of releasing a double-telescoping dropper post to assuage the criticism over their silly-short max seat post insertion depths. I mean, the number one reason I've heard from people - including people I wouldn't call 'short' - who decided not to buy one of their Liv or Giant rigs is not being able to run a modern long travel post. I haven't ever seen an image or example though, and you'd think if one had shown up anywhere on the North Shore that NSMB would have leaked it by now. Until Giant releases their Matryoshka-doll dropper, there is only one category leader when it comes to maximizing the length of dropper you can run on a given frame, and they've had the crown for a while now.
OneUp Components has the shortest total length of any dropper. OneUp Components has the shortest stack height of any dropper. If I had gone slightly long with this 180mm post, OneUp also ships with the necessary adapter keys to lower the post up to 20mm in 1cm increments.
OneUp accomplishes these feats with some impressive 'duh, why didn't anyone else think of that' engineering. In particular, their patented Dropped Rail Clamp system that effectively lowers the static saddle height a few mm. I'm genuinely surprised that we don't see this system with more companies. For example, Giant could use it to eke out an extra 1cm of drop on every post, on every bike, that they sell.
And sure, with OneUp having a patent they'd likely have to pay to utilize the system, but without knowing what that would cost I'm strongly doubting that it would really be a barrier to getting this post head featured on multiple companies' systems if more folks cared about maximizing drop.
This isn't intended as a review of the OneUp V2 dropper post, although I've installed and serviced enough of them that I am confident in saying that they're an excellent piece of kit. Not the cheapest, not the smoothest, not the most faultlessly reliable, but it is competitive in all those categories and absolutely the shortest length for the most travel, which I think is an important metric for a lot of riders. If you're looking for a review, NSMB.com did put one together in 2019 when the V2 was released and what's sad to me about that is that no company has challenged them for the crown since.
If your frame doesn't have any dropper post dimension constraints, and I usually don't on any bikes I'm riding, then the V2 is a great product in a sea of great products. If you're short(er)-statured, or riding a more interrupted frame, and trying to stretch into the longest travel dropper post that will currently fit your frame, then the OneUp V2 Dropper still has you covered.
Anecdotally, from the number of folks that I talk to who wish they could mount up a longer dropper post, I'd find it impossible to believe that none of the other brands are working to actively reduce their dimensions. In the meantime, I can think of a lot of folks who would be best served to throw down for a OneUp dropper. The plucky Squamish brand is winning at the only bike component arms race that matters in 2021.