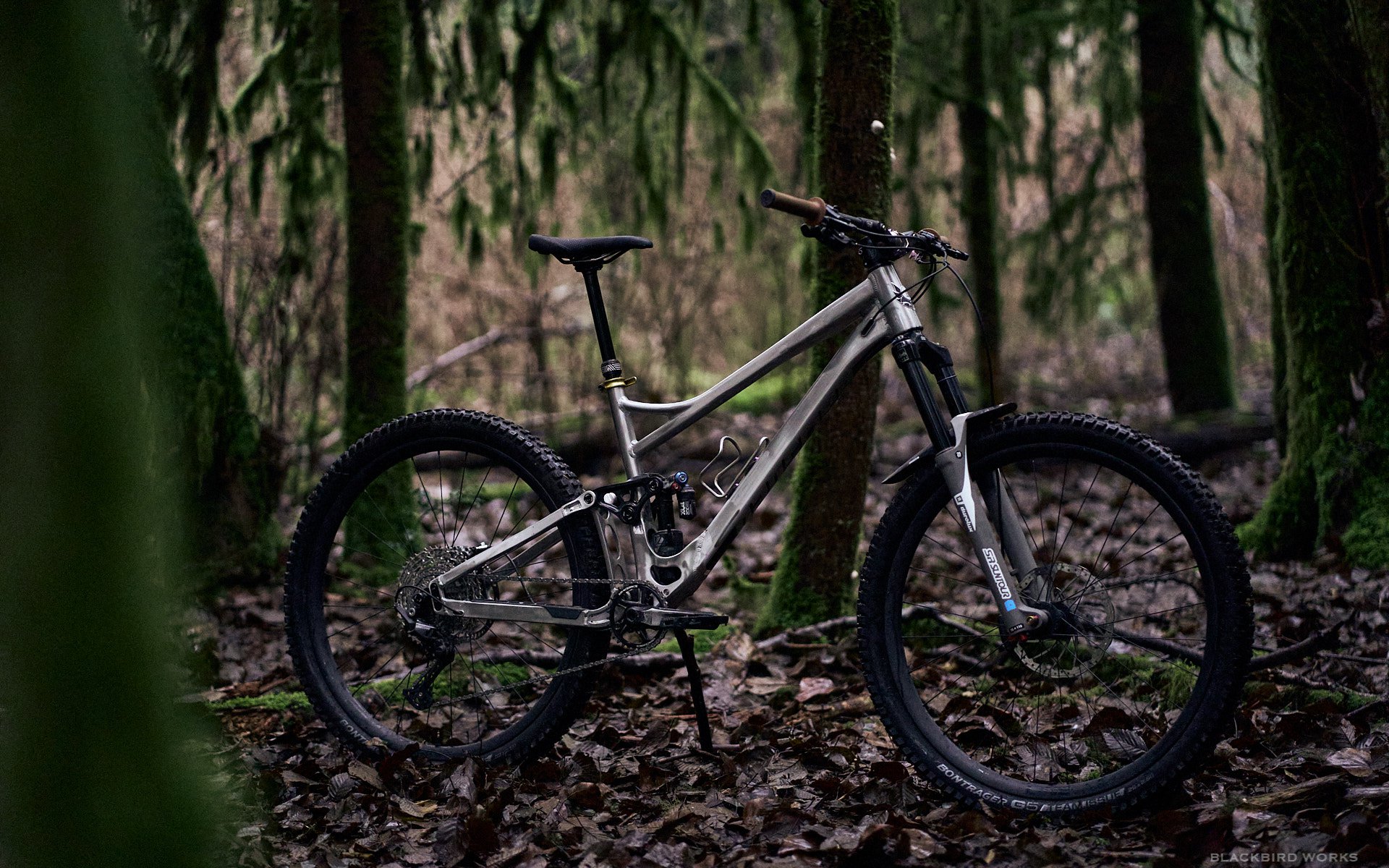 REVIEW
Banshee Titan - Part One
Part One
As anyone currently trying to maintain a mountain bike is undoubtedly aware, getting parts can be more than a little tricky. As it turns out, that is true both for riders and for bike brands. Banshee, a company with strong roots here in North Vancouver, was eager to send in one of their V3 KS-Link bikes for review but a slight problem arose because they needed every part they could muster to get paying customers sorted.
As it turns out, the sirens call of a 6" travel full suspension bike with a more centred weight balance than anything I've ridden shy of a DH bike (462mm chainstays, 470mm Reach, 1275mm wheelbase for a size large) was too much to resist. I bribed my Marin Alpine Trail with a fresh bearing kit and proceeded to steal all the parts off of it in order to get a Banshee Titan frame up and running. Even the rear shocks transfer across giving me multiple options to test out with this platform. I've never reviewed a frame-only setup before and it turns out that has some unique challenges.
The good news is that there is a lot of meat here with both juicy details and one seriously tough chunk that I'm going to have to find some way to marinate and tenderize before I'm going to be able to truly enjoy the bike, namely that very on-trend 77° effective seat tube angle (STA).
Banshee's designer Keith is a truly persnickety stickler for design details so I should note that the 77° effective STA is with a suspension fork with a 577mm axle to crown, the dropouts in the low position, and the saddle at 600mm. It's 76.5° at 700mm, 76.1° at 800mm, and 76.75° where the industry would nominally measure it. Details.
Framing The Titan
Choosing a frame size was a challenge. I'm 5'9" with T-Rex' ape index and Banshee would put me solidly on a medium frame. Even with a relatively tall 635mm Stack, the 445mm Reach and 595mm effective top tube length would have made this the smallest bike I'd ridden in years.
By choosing the large (5'11-6'4" per Banshee) I am failing to test one of my key theories about long chainstays, which is that the more balanced weight distribution delivers a pile of extra stability without the need for the longest rideable front-center and the accompanying super-steep seat tube angle.
In the end, I decided to stick with a large because it's the closest seated fit to my own bike, but that only came down to the STA. If the Titan was sitting closer to a 74.5° effective STA I would have stuck to their recomendation and ridden my first medium full suspension bike in some five years.
The Titan and all Banshee V3 frames use an arrangement of two forged and machined sections joined together by dual linkages. This means the alignment of the suspension system should be perfect. After I bolted on the dropouts, the axle slid in so well that I'd give Banshee credit for having at least matched the best-aligned full-suspension frames I've worked on.
I thought it might be polarizing, but like me, everyone who has looked at the frame has been very positive about the appearance of the shock-basket layout. It does limit shocks to some extent, (no Push 11-6, DVO Jade X / Topaz 2, and FAST Fenix) but Keith says the go-to upgrade is an EXT shock and that fits perfectly.
As nice as the welding is around the suspension system and as good as the alignment is, and as much as I love the satin finish, the Titan has a bit of an Ancillotti-factor with the headtube welds. It's not a structural concern but they're a bit bubblegum compared to other premium aluminum frames, and in particular other Banshee V3 frames I've seen in photos. For the record, this isn't something that bothers me in the slightest.
The build was truly simple even with the extra step of mounting the dropouts. The headset cups come pressed in from the factory for the competent home mechanic who hasn't invested in a press, and the internal routing is a breeze to set up with zero faffing about with flashlights or dental picks. Nothing quite matches the tube-in-tube action of a carbon Yeti or Santa Cruz, but this is the cleanest, internally-routed, aluminum frame I've cabled. The exit ports are right-sized without requiring massive chunks of plastic to cover them.
A point I'm likely to come back to is that Banshee could use basic bicycle-grade cartridge bearings like everyone else in the industry, but they use excellent quality INA bearings instead. Knolly popularized using high quality bearings (INA as well) when they were making their frames in North America, but to the best of my knowledge, Banshee is the only other brand, aside perhaps from some boutique small builders, shipping frames with bearing sets of this quality. It's something that very few customers are going to notice up front, and maybe even long term, but I think it's a detail worth celebrating.
Trunnioned
I am not a fan of 'onion mount' but it's hard to hate on the way Banshee puts out their Trunnion package; perfect shock alignment thanks to the forged and machined frame members and linkages and large, high quality, bearings tying everything together. I'd wager the Trunnion bearings will still spin nicely after a year of riding, instead of a month, and that the Titan won't eat air shocks.
The rear forging is an awesome looking girder-style piece that screams high-end aluminum but may also cry out for a fender of some sort. I'm going to leave the tire to toss dirt all over the lower link to see how everything holds up with the high-quality cartridge bearings. The upper linkage is attached to that same rear forging via a pair of positively intimidating clevis pivot brackets; more evidence that the Titan comes by its 9.52lbs weight honestly. I'd still prefer the shock sizes of old, but between making room for metric shocks or running Trunnion, I would put my money on Trunnion if every company went with bigger, better, bearings and a focus on frame alignment.
The Marshmallow
Does it seem like during the shortened 2020 Enduro & DH race season a lot of Fox sponsored athletes who were previously all-in on air shocks were suddenly sporting coils? My theory is that the 2021 Float X2, which "CHANGES EVERYTHING" kind of sucks. Sorry. This is despite the new chassis, new damper, new air seals, new shaft finish, and making room for that new independent climb circuit. I'm not an engineer or suspension tech, so maybe I just can't get this shock setup properly. Then again, I've had good riding experience with various levels of Fox's Float X2 air shock in 2017, 2018, 2019, and 2020.
The Titan is still a truly capable bike with the X2 installed but as soon as I tried other shocks the bike absolutely came alive. It gave up nothing smashing down Ned's in a straight line and became a much more positive, playful, friendly steed. I've been riding it with an SR Suntour TriAir and the Cane Creek Double Barrel Coil off my Marin and both are a night-and-day improvement over this Fox. I reached out to a fair few folks who are familiar with the current Float X2 and I'm satisfied that this is not an experience specific to the example I've been using. If I was doing the spec on the Titan I would either spec the Fox DPX2 air that comes on the shorter travel versions of the V3 Banshee frames or a RockShox Super Deluxe.
Having seen so many poorly set up shocks over my years working with mountain bikes, Banshee's shock spec. makes perfect sense to me. Having fewer user adjustments, rather than the six or more adjustments found on the highest-end dampers, keeps it simple and keeps prices down.
Some riders will want the additional adjustments and performance, but the chances of Banshee equipping the 'right' premium shock for even half their potential buyers - at an increased price for their frames - are slim to none. For example, Keith at Banshee mentioned that many discerning customers are choosing to keep their Fox shock as a spare and buying a custom EXT. At 2350 USD for a Titan frameset it's easy to justify a high-end shock (EXT, Ohlins, Formula, etc) and still come in under a lot of frame-only options with inferior dampers.
Getting Up
You may love climbing the Titan. I do not. At least not as the bike currently sits, but that all comes down to the steep seat tube angle, which apparently is something most riders are looking for in a mountain bike, full-suspension or hardtail. I find that from my perch I cannot create much power. Sure, I can spin along in an easy gear all day but that's never been my style of getting up the hill.
I recognize that this Deore build with Bontrager DH tires and a Durolux fork is not a particularly light package and I'm certainly not expecting it to climb like a carbon XC bike. I would just like to be in a position where I can slowly, and comfortably, grind up the climbs instead of that having that perched triathlon-bike feeling 'everyone' seems to be going for these days.
The platform pedals nicely with an active shock like the TriAir wide open, in terms of traction and efficiency, even at the deep end of its recommended sag range, (28-32% | 15.5-17.8mm) while the descending performance of the suspension design is also very good .
I'm not someone who minds using a switch on my shock if it means I can optimize my XC and DH experiences with the same bike. I'd prefer that to a long(er) travel bike that's biased towards climbing at the cost of DH performance. I use the trail mode setting (mid-compression) on the TriAir for long, steep, singletrack climbs and the firm setting for pavement, but for short uphill sections the Titan pedals so well it's not worth the effort to reach down.
I'm running a 40mm stem with a bar cut to 770mm. I'm used to riding a bike that's a bit big, and I think there is ample room for a larger rider on this frame, but it doesn't feel huge when I'm sitting on it and spinning away. Banshee does also make an XL.
Likewise, out of the saddle, I am used to standing and cranking on the bar of my Waltworks, which is even longer, so I find the reach comfortable as well. The long chainstays never feel too long going up switchbacks while I think a long front end is more unwieldy.
I'm not taking the whole climbing experience sitting down, and I'll have a thorough update on how I'm making the Titan work for me for part two of my review. I have already installed a Bontrager Verse saddle, with long rails, and I'm looking at dropper post options with setback. I'm planning to over-fork the bike by installing the Manitou Mezzer 180mm which is both a bit longer (axle-to-crown) and rides higher in its travel. Actually, if it weren't for the fact that Banshee recommends only using a single crown fork on this bike,* I think the rear suspension design is good enough that I could easily pair it with an even longer travel dual crown fork. I'll come back to this a little further down because the combination of adjustment available at the rear wheel and the very steep STA cries "MULLET!!!" so loudly that I gave it its own section.
*a dual crown fork voids Banshee's warranty
Going Down
I'm a bit fan of the longer rear stays. So much so that I wish Banshee would go full nerd-brand and offer even more options for those of us who would like to try them. And instead of just low and high, let's get a few more height adjustments in there. Heck, they could add super-low and Banshee Scream-high. Options!
Beyond the fact that I'm enjoying the long-long chainstays immensely, I actually don't have a tonne to say about descending on the Banshee Titan at this point. Over a dozen rides, I've been on two forks and three shocks and I've been playing with tires and brakes as well so drawing any conclusions about performance would be premature.
Between the poles of stable and playful, I doubt it's much of a surprise that the Titan is more of a dreadnought than a schooner. I think folks that have ridden V2 Banshees will feel instantly at home as will riders trading in their DH bike for an Enduro machine. I'm not having trouble maneuvering the Titan at slow speeds on uphill or downhill tech, but the long chainstays and ample suspension travel mean the bike is more fun when it can be opened up.
It is my intention to have a lot more to say about sag, suspension setup, and shock spec for part two, but thus far I find that coil or air, I prefer to sit closer to the max recommended sag (32%) as opposed to the min (28%).
For a bike that likes to be run with a fair amount of sag, the Titan actually rides quite high in its travel and I'd say the 155mm rear travel is best paired with a 170mm or even 180mm suspension fork. This bike likes to go faster than I do and a Titan owner is going want to focus on getting some big-ass brakes for when the time comes to rein speed in.
I'm surprised Banshee didn't spec. a coil shock because the Titan is so well suited to a spring. If I wasn't testing the Suntour I would happily run the CaneCreek Coil CS shock, off my Marin, without a second thought.
I've always been a little suspicious of rear travel numbers and between the soft initialization and progressive ramp up through the travel, I would say the Titan feels like it has more than 155mm (6") of travel coming down. That's true even running about 30% sag. At the same time, I've ridden other bikes that claim more millimeters but feel like they have less travel.
Most full suspension bikes coming on the market in the last couple of seasons are designed around very high volume air shocks, or coil shocks, with quite a bit of progression through the travel. I don't know if this comes down to specific suspension designs or how companies measure travel, but the Titan is said to work with a range of fork travel from 160-180mm. I'd err towards the larger number when it comes to getting the front/rear suspension balance dialed in, as much for uphill as down. I'm currently running a 170mm Durolux EQ while I finish my review and then I plan to pop the 180mm Manitou Mezzer on the front.
It hasn't been an issue for me, but one thing to note for the Titan-curious rider is that there is only so much room for seat post insertion and the seat tube lengths are fairly long compared to where other companies have gone with their sizing. This is going to limit dropper post lengths for some riders, especially if they are wanting to run 200mm+ dropper posts.
I have the travel adjustable PNW Rainier IR set at 160mm travel using flat pedals and that gives me just a bit of wiggle room to adjust my saddle lower if needed. If I wanted to go longer travel then a OneUp dropper post would let me run 170mm for certain and maybe even 180mm thanks to the different actuator dimensions.
Born To Mullet?
I just need to track down a 27" wheel and I'll happily be trying the mixed-wheel program with this Titan. The Banshee has two features going for it when it comes to its mullet-ability. First, the high setting on the dropouts is born to compensate for a smaller hoop - where riders will otherwise use the low - and there's also the steep seat angle that will still be in the steep category even with a smaller back wheel.
I'm looking forward to slacking out my climbing position and the excellent suspension characteristics of the Titan should keep me from missing the bigger hoop during technical climbs or on descents. My past mullet experiences have resulted in frustration when the rear wheel fought to roll over square roots and rock hits.
I've been mullet curious - if not #HotForMullet - for a long time now but my hardtail experiences were only okay and the full suspension bikes I've played with were 27" bikes with a longer fork and bigger 29" front wheel added. In the case of the full suspension bikes, this made for a non-optimized climbing position but I think that may come down to the fact the seat tube angles weren't that slack to begin with.
Banshee doesn't have a dedicated mullet bike yet and with the ability to offer extensive dropout options beyond the short and long options they currently have, positioned high or low, they probably don't need to. The big question for an enduro-travel mullet is whether to start with the 27" Rune V3 or the 29" Titan V3 and that's one I'm happy to debate.
One other advantage of the Banshee's dropout system, for those doing frame-up builds, is that they still sell dropouts to run the bikes as 142x12 as opposed to 148x12. If you have a nice pair of wheels and a decent build kit that are looking for a new home, any of Banshees V3 bikes should be on your radar. Whether Banshee offers more dropout options in the future or not, the frame-only pricing, and lack of weird standards, is very friendly to an upgrade.
Progressing To Part Two
Between finding my ideal setup with the TriAir and CCDB Coil CS, playing around with fork travel, mulleting the bike, playing with saddle position, trying different cockpit setups, and any other parts testing opportunities that find their way onto the Titan, I am expecting to have a lot more to say about the bike a few months down the road when I wrap my review. I've had a dozen good rides and it's been enough to see the potential of the relationship even if the Banshee and I aren't in love at this point.
This modular frame feels right at home with a very modular build and while Banshee offers complete bikes, I think their V3 frames are best suited to imaginative builds. Whether it's min-maxing the highest performance from a 2350 USD | 3250 CAD frameset or transferring over a hodgepodge of parts from another vessel as I've done, I can imagine that there is a lot of very interesting Banshee Titan builds out in the world.
I'm looking forward to playing with this frame for a few more months while I work on the full review. If you're hungry for more right now, you'll find it on Banshee's Titan page