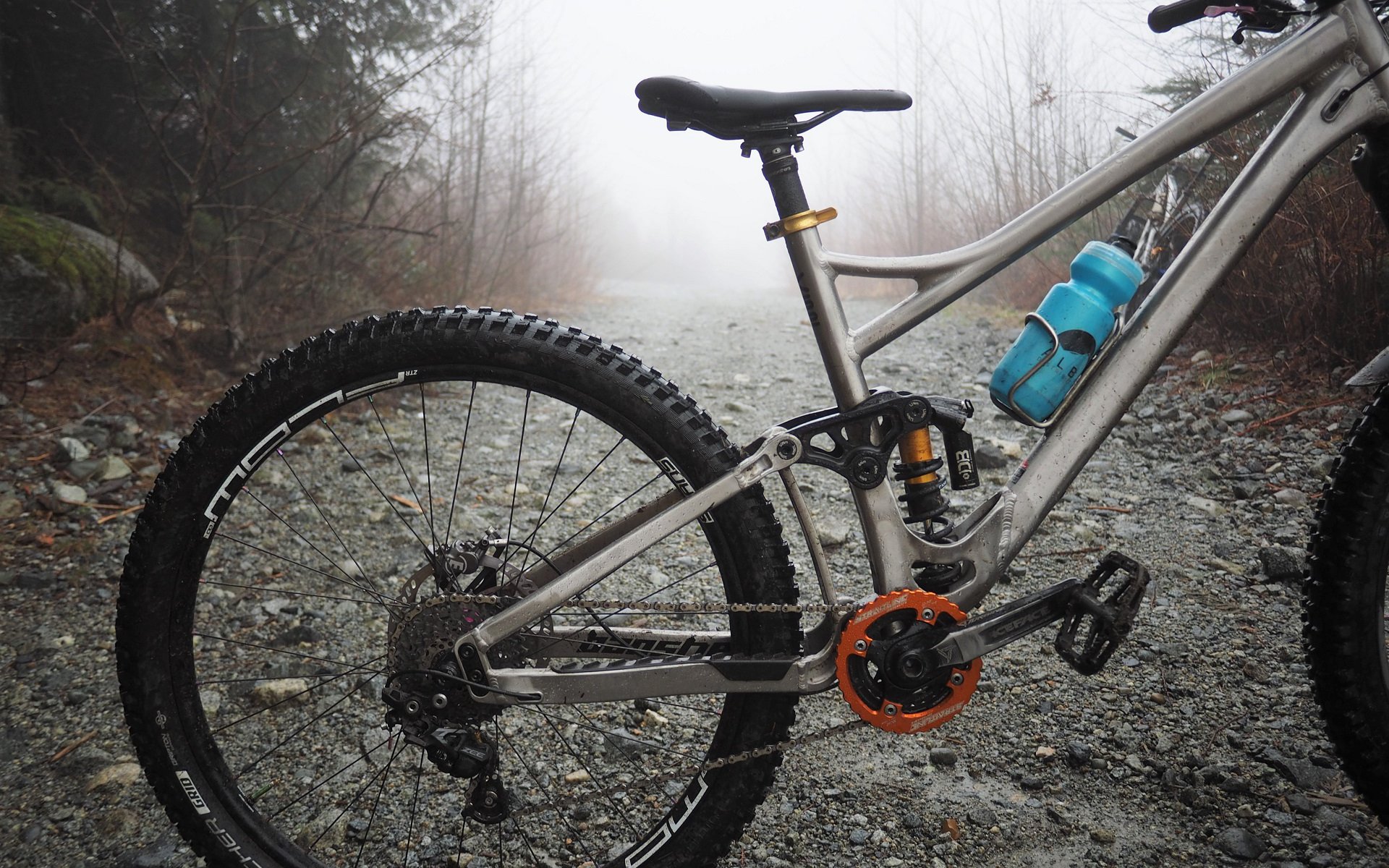 EDITORIAL | REVIEW
The SQLab 60X Saddle, Steep Seat Tube Angles, & The Banshee Titan
Straight Up
I'm fairly convinced the bike industry discovered steep(er) seat tube angles by accident as they attempted to package ridiculously short chainstays, 29" wheels, 160mm+ of travel, and longer reach numbers into frame geometry that was still actually rideable. Regardless, like any happy accident, the catalyst really isn't that important compared to the results which, by going off the most vocal accounts, are mountain bikers who are more comfortable on their bikes.
If you haven't checked it out yet, AJ put together a compelling feature on how (muscle memory, old injuries, and physiological quirks aside) a steep seat tube angle (STA) may be better for all mountain bikers. How steep? Is it 78°? 80°? 82° with the saddle nose tilted straight down and the rails still rammed fully forward in the clamps? The answer is of course yes, because like everything with bike geometry you cannot reach definitive conclusions by looking at a single number and you also cannot remove the human element. We come in a lot of different shapes, sizes, and proportions.
The bike industry, in general, has an awful track record of choosing design absolutes because trends always take precedence over engineering (see the universal shortening of fork offsets for an example) even when we have ample physiological knowledge and an abundance of prior art to implement. It's not a new theme. When the first clip-in pedals arrived on the road scene, they offered a distinct performance advantage over toe clips to anyone who could use them comfortably. Those who couldn't deal with the lack of float experienced excruciating pain, and a massive increase in the incidence of knee injuries. Ouch. As with STAs, how much float is the right amount? Is it 5°? 10? 20? Yes.
As AJ noted, there has been a plethora of research done on road bike fit but next to no research looking at how we power mountain bikes. This shouldn't be surprising if you follow the money. Whether it's winning races, selling products to make riders (more) comfortable and powerful in largely static pedaling positions for hours, or shops charging to fit bikes, it is both possible and lucrative to optimize road bike fit.
Mountain bike fit, on the other hand, is an interesting dark web of a subject, particularly on full suspension bikes and particularly for folks descending aggressive terrain like our local conditions on the North Shore. Riders are more dynamic, on the way up and down. Suspension setup and frame kinematics differ greatly between riders and bikes. Bar width isn't just about comfort but also weighting the front tire and steering through gnarly rock gardens. The jumps between gear ratios are significantly larger, even with 12 gears, and cleats are typically run rearwards (towards the middle of the foot) for better descending performance. In most cases outside of XC racing, bar height is compromised for better weight distribution while descending.
With road bike fit, it's important to recognize that most folks are not eighteen-year-old future pro racers. Which means comfort is as important as pure power output, and it's possible to establish a great fit for most riders, using some established guidelines and with no smoke and mirrors required. That's not ever going to be true of helping folks set up their mountain bikes due to the massive collection of variables from terrain, to objectives, to the various features of different bikes, to all the quirks of the rider.
With that in mind, before I go any further, as with handlebar width, handlebars with more or less sweep, handlebars with suspension, tire inserts, tire sidewalls, crank length, and any of the possible bicycle adjustments available, it's important that diverse fit options continue to be made available and that folks keep an open mind when shopping for a bike.
When I start feeling particularly judgemental about someone else's bike setup I always go back to this Keith Bontrager quote: "If you are a pro, you ride the fastest thing you can get. If you aren't, then you can ride anything that suits you." Keep an open mind, and try different setups if you can, and try and separate thoughtful feedback from full-stoke-jingoism when friends give feedback on their new-school geometry experiences.
There are a couple of exceptions to that last point. If you are employing a coach to maximize your performance on the trail, and they tell you you need an 80° STA and the nose of your saddle pointed down perpendicular to your top tube then I'd probably listen. Also, if you hate your current setup and are already uncomfortable, can it really hurt to jump on the latest trend?
Cyclists v Mountain Bikers
Some people probably won't appreciate the distinction but when I say "mountain bikers" here I'm thinking of folks for whom riding a bicycle consists predominantly of the kind of pedal-and-plunge all-mountain/enduro riding we have through much of British Columbia. It's more about the thrill of riding aggressive trails than riding to some destination using a trail bike, which is closer to the rough road & light like the gravel road (groadie) scene locally.
At the risk of causing offense, I wouldn't call these mountain bikers 'cyclists' in a general sense and if forced to explain myself I'd draw the distinction between using a bike as a toy versus using the bike as a tool. Most of the cyclists I know personally also ride mountain bikes a lot in addition to participating in other forms of cycling - commuting, road, gravel, bike packing, etc - where the distances traveled tend to be longer, and the riding positions much more static. Their bike fit preferences tend to follow that use case even over to the mountain bike because of personal preference and conditioning.
I've been rolling this around in my head a lot lately, and aside from a couple of toweringly tall titans, I don't know a single more generalist cyclist who prefers a saddle position that's over the bottom bracket the way a 77°+ effective STA lines up a rider. Generally, riders who spend a lot of time in a more static position than the average mountain biker, describe the same issues testing bikes with truly steep seat tube angles that I've experienced myself on bikes like the Kona Satori, Banshee Titan, and Knolly Warden, where I couldn't get my saddle rearward enough relative to the bottom bracket, for my liking.
The first thing I notice is my hands and forearms go numb as weight is shifted forward from my core and into my upper body. A narrower handlebar helps a lot with this, but I can only cut so much off before descending control is compromised.
Next, I get a lot of pain in the front of my hips. I've tried raising and lowering my saddle, different crank lengths, and different saddle tilts, but I always go back to flat. The only way I've found to alleviate that pain is to pedal higher RPM in a lower gear. I think at least part of this issue is caused by increased pressure on my sit bones from the much more upright position.
The end result is that I'm notably slower than normal.
I keep going back to the need for reversible offset dropper posts. For every mountain biker I know who wishes they could move their saddle forward relative to the bottom bracket because their seat angle is too steep, I know a cyclist who wishes they could move their saddle rearward on their super modern mountain bike.
And there is certainly the argument that when it comes to maximizing performance on pedal-and-plunge trails, we cyclists may not be built for modern geometry today but could rebuild for the potential of better on-trail performance tomorrow. My issue is that I tend to spend as many hours, and significantly more kilometers, a week on my commuter bike, never mind my single speed, as my modern mountain bike and so my legs are always going to be better developed for a more neutral, flat saddle, behind the bottom bracket, bicycle fit.
What works for me may not work for you. I bring it up because despite my best efforts the current trend towards super steep STAs doesn't work well for me and so when it comes to reviewing bikes with this characteristic a portion of the review is always going to be about working a suitable fit around the STA.
I'm positive this will be helpful for folks that sit on bikes as I sit on bikes and that this information should be easy to discard for those that prefer a more over-the-BB saddle position.
The Titan
The Banshee Titan relies on a pair of forgings to provide the complex front and rear triangle shapes that connect the bike and these hard points are the same regardless of size. Riding the Titan, my saddle position relative to the bottom bracket would be identical whether I was riding a medium or an XL. In the low BB position that I run, with dual 29" wheels and static geo, I guesstimate this number to be around 76.5°. It would be 1/2 a degree steeper in the higher 'neutral' position.
I know that doesn't sound insanely steep, and it is actually not the most over-the-BB position I've ridden, however, keep in mind that the Titan has a relatively straight-up seat tube and where the effective STA will range wildly with other bikes that have slack actual seat tube angles the Titan varies less than 1° over 200mm of seat height adjustment. Even with my saddle slammed all the way rearward my saddle position relative to the bottom bracket was much too vertical to feel like I was going anywhere on anything but the steepest hills.
This should be great news for riders that prefer a position more over the BB but for me, it is one of the challenges I addressed in my first look. As my review continued to grow more and more unwieldy, I've split off a few sections, like my TriAir shock review and my 14-spd drivetrain piece, to create some more digestible chunks I can refer back to, and this is one such nugget.
I'm very pleased to have resolved my fit challenges with the Titan because it makes spending the requisite hours climbing the bike significantly more pleasant. The biggest visual change I've made is to pop in a 27" rear wheel and mullet the bike, which I'll talk about a lot more in my review. This slackens out the HTA and STA and lowers the bottom bracket. The change to the HTA and STA aren't as pronounced because of the aforementioned -1° angleset, which lowers the BB even more.
The biggest Titan surprise is that after playing around with both positions, and both chainstay lengths, I prefer the bike in the low position even with the smaller rear wheel. I've also settled on the shorter, but not short, 452mm chainstay length option.
So before going full #hotformullet, I was comfortably chugging along up hills thanks to an SQlab 60X saddle. Still run full rearward in the seat clamps, the 60X riding position moved me enough behind the BB that I felt like I was creating power and going somewhere and made an instantly notable difference to my relative speed riding with other people I know.
SQLab 60X Ergowave
I have very different saddles that I love for different applications but any blind bike test for me always starts with the SQLab 611 Ergowave Active platform that I tested in 2017. It's comfortable through a range of applications and different frame geometries and I really appreciate the shell flex. It's firm but at the same time as someone who has, mostly sworn off wearing a chamois, it is very comfortable. It's also the saddle I know the best when it comes to sitting and pedaling because it generally lives on my commuter bike in favour of the significantly more affordable, and much smaller, WTB Koda that I generally run on my Marin Alpine Trail and my single speed.
On the other hand, when I first tried the 60X there was no instant or sustained connection. It has a similar stepped shape for perineal relief and the same flexible shape to relieve back stress, but the saddle still felt wrong mounted on any of my bicycles, including my commuter rig.
The 'well, duh' moment came when I mounted it up to the Titan just to try something else, and instantly got on with it. This saddle was designed to bring SQLab ergonomics to the much more upright pedaling positions that are generally favoured by ebike riders where there is more weight born by my sit bones than my core muscles. The combination of different pressure relief and shape versus the 611 combine to deliver a position on the Titan with the 60X that is similarly comfortable to riding the 611 on my other bikes with more saddle-behind-BB riding positions. I even noticed an immediate change in power production.
As with other SQLab Active saddles, the 60X is both obviously high quality and no small investment but in this case, it's the one component I came across that, thanks to the shape and more precisely how I sit on it, makes steeper seat tube angles work for me. It took that Titan from being a fun bike to descend on to be an awesome bike I love to take on any ride. I'm recommending it to anyone who has invested in a new rig only to find the stock range of pedaling positions doesn't work for them compared to their past mountain bike or in relation to the other cycling that they do.
Where I would still choose the 611 saddles every day for a blind test of a bike - be it a mountain, road, commuter, etc - the SQLab 60X has a combination of pedaling position and padding that works amazingly well for me with the steeper seat tube angle setup, even with the fairly stretched out position I'm running on the Titan with my 50mm stem on a size large.
If you're a cyclist, riding different types of bikes, and fit a 'modern' mountain bike as I do, then it's absolutely worth a try.