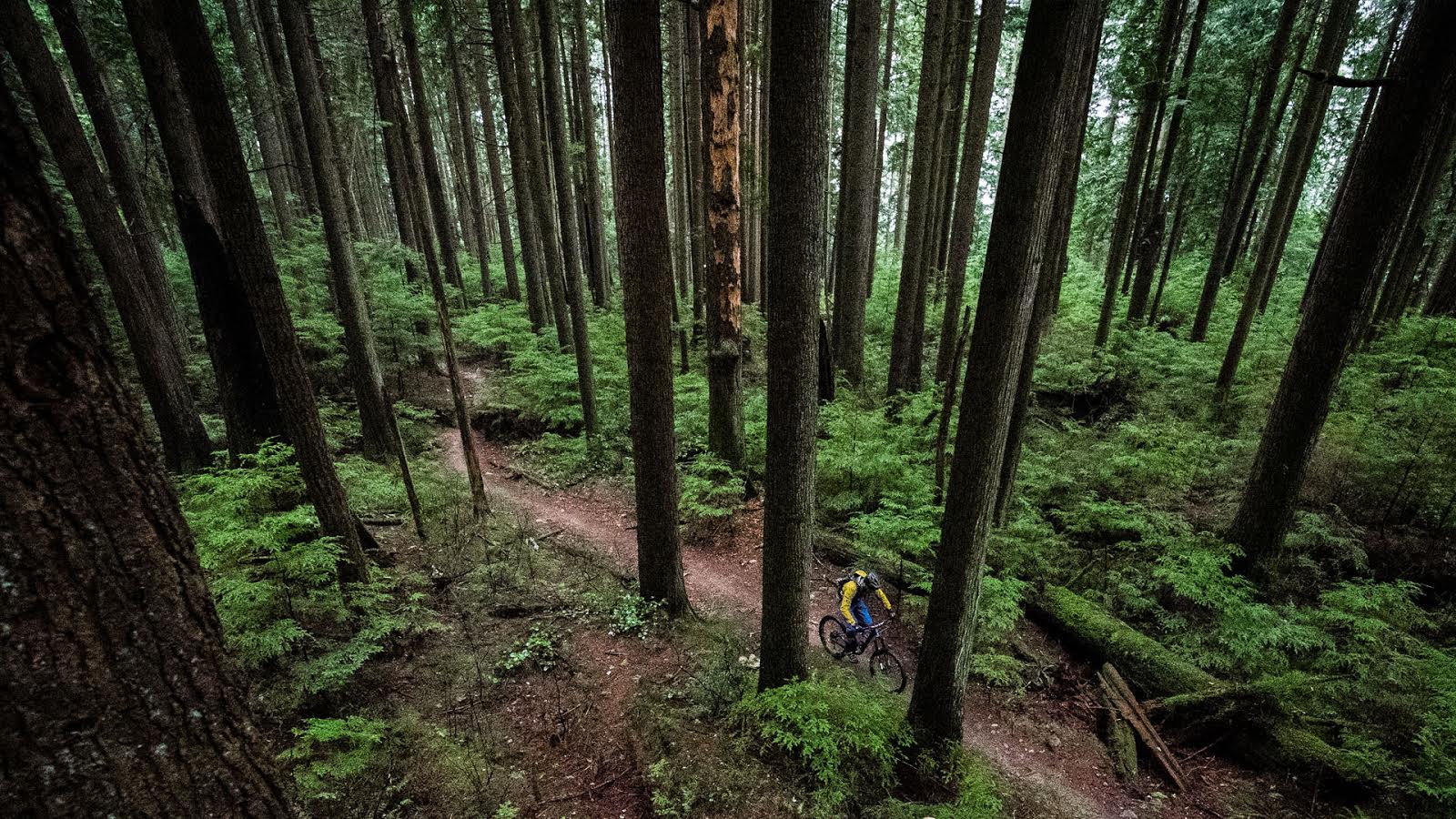 EDITORIAL
Do We Need Man-Specific Bikes?
"I see a future of man-specific bikes with very tall front ends and shortened reach to accommodate their deficit in flexibility and allow men to ride safely… So something more akin to the riding position of a penny farthing would be appropriate. Hopefully the industry catches on soon." – Monika Marx
"Perhaps a step-through top tube on an MSB is the best option to ride safely without damaging the coin purse. If men are adamant about riding regular models I recommend wearing a pair of budgie smugglers." – Cate Wagstaffe
Stack it and Black it
Stack it and Black it. Man-specific bikes. MSB. Around 50% of the population is male and the bike industry has finally started to take notice.
Some cry foul. Does painting a bike black or fluorescent yellow really make it 'man specific'?
"I always recommend to my male pals: go for the burliest, blackest bike possible. When it comes to pure performance, this is all that counts." – Sabine Wimmer
What is changing the geometry a few hairs supposed to accomplish that a stem swap or saddle adjustment can't? So what if it's spec'd with a 'man-specific' saddle? Most riders end up swapping out stock contact points for their personal preference anyways.
Yeti Cycles is the mountain man brother brand of Beti Bikes. They have male brand ambassadors out shredding man-specific bikes and helping get men interested in mountain biking and the associated culture. Photo: Dave Smith
I'm joined by a handful of industry experts and one token male brand ambassador as they help me to understand where marketing meets the mountain with MSBs.
In no specific order, I like to start by thanking my esteemed panel of womansplainers: Cate Wagstaffe is an experienced bicycle mechanic. Sabine Wimmer works in sales and marketing at the brand level. Monika Marx is a coach and trainer working with driven mountain bike athletes. Judy Garren is a trail builder and president of the BMBA.
"Does size matter? For male riders? Absolutely! Size is everything. The bigger the travel the more power you have shredding C-buster" – Cate Wagstaffe
Made for a Man…
…strong enough for a woman. When it comes to man-specific bikes there are two prevalent philosophies. The first is all about putting the 'man' in manufacturing. It requires a significant investment in tooling and design to build distinct bikes from the frame up. These aren't simply re-badged women's bikes. Among others, it is the approach taken by Liv Cycling in implementing their man-beast MSB moniker 'Giant Bicycles'. Dripping. With. Masculinity.
"Giant is committed to the male cyclist. We offer the only comprehensive product collection designed specifically for male riders, ranging from beautiful apparel to premium bicycles. No matter your riding style, Giant provides the best products to help you discover new possibilities through cycling."*
Liv Cycling launched their man-beast sounding MSB line 'Giant Bicycles' a few years ago. Giant is "committed to the male cyclist" with slacker head tube angles and longer top tubes on bikes with the same suspension travel. Compared to Liv bikes, the Giants sport mucho-macho-masculine names like Reign and Anthem.
Compared to the equivalent Liv bikes, the Giants have notably increased top tube lengths and 1-2 degree slacker head angles to make men more confident in downhill situations. Buying a bike by reach and stack dimensions, the seat tubes on the MSBs are also notably shorter compared to the Liv models. This allows the men to use much longer travel dropper posts than a woman on a similarly sized frame.
Culture Comes First
'Culture comes first' is how I'd describe the second MSB design philosophy. It follows that man-specific bikes are about inspiration. "Santa Cruz is as much about creating a voice for men in mountain biking as it is about creating the products themselves."
No compromises. That's our philosophy across all our bikes and especially with our Yeti line. Our top carbon frame material is ready for the most aggressive male riders looking for superior ride quality". *
Two proponents are Beti Bikes and Juliana with their respective twig-and-berries editions monikered as Yeti and Santa Cruz. These bikes share identical frames to the standard 'unisex' bikes with the man models getting different damper tunes in for the forks and shocks and some changes to contact points. And, of course, by and large more masculine paint work.
Beti Bikes' mountain man brand, Yeti, uses identical frames to the Beti line-up. Like Santa Cruz, the main differentiator comes down to developing a more inclusive man-specific riding culture.
But, wait a minute, men are different from women? Santa Cruz says that while the average man is 5″ taller and 30 pounds heavier the simple truth is their broad range of sizes combined with firmer suspension tunes are well suited to male riders.
Men want a bike that doesn't let theory compromise real-world handling. They want a bike that's been refined to have the most appropriate reach, height, and overall geometry for the terrain they're riding. And that's what Santa Cruz has offered from the very beginning."*
Juliana vs. Santa Cruz. Colour vs. Culture. Some riders question the comparative resale value of MSBs like the Santa Cruz Bronson – does it get more manly than Charles? – compared to their unisex counterparts.
Male Brand Ambassadors
Is that dude sponsored because he can shred on a bike or for how stunningly handsome he looks for the catalogue shoot? It's 2016, how is it I'm still asking that questions?!
"Just like putting the time in to learn proper cornering technique, dental hygiene has it's own rehearsed regimen that shouldn't be scoffed at. Floss, Brush, Tongue Scrape, Mouthwash. As they say in the biz, at the end of the day, if you've got it, flaunt it." – Anonymous Brand Ambassador
Opinions are split on the value of brand ambassadors to mountain biking as a sport but as an activity, they are a popular method to build the culture behind a brand.
"Show more male riders in bike-related content. Guys that love to shred and can inspire others to swing a leg over the top tube. Too often are we seeing female only videos or a male rider tagging along as side act. It's time to let the boys shine." – Sabine Wimmer
At the end of the day it comes down to promoting mountain biking as an inclusive activity that men can also enjoy. Whether initially with other dudes, or with supportive women.
The Learning Curve
"Perhaps male riders should spend less time bellying up to the counter at the local brewery and more time actually pedaling their bike up hills?" – Judy Garren
Strutting is where form meets function. Credit to the man-specific bike, and Dave Smith's photographic talents.
It's a given. The best way to get better at riding your bike is by riding your bike. But riding on the North Shore has always had a steep learning curve. The primeval mountains don't give a sh*t how a rider pees.
It's true more beginner trails are popping up. Even so, setting fitness goals and training with the right people are at least as beneficial for dudes as buying the latest and greatest man specific bike.
"Men need to train in a non-intimidating, inclusive, environment without a bunch of women peripherally performing double body weight deadlifts, high-5ing after multiple sets of 10 chin-ups, and the typical estrogen-dominant environment that exists." – Monika Marx
Mountain bike coaching outfits are great for developing a beginner's skill toolbox or helping a more advanced rider progress. The fact is whether riding a 'unisex' bike or a man specific bike guys will need to develop skills and fitness to the pay the bills locally.
"Cornering? What's that? Men seem to have an issue with turning their handlebars (it's been suggested that perhaps riding with their pinky fingers extended might be the issue) since if there is even the slightest curve in the trail, a new straight line is "cut in" and in very short order." – Judy Garren
Bikes don't get more MSB than the Yeti 5.5c 29'er!
Man Specific Bikes
Personally, I'm happy popping my preferred ass-hatchet and an 800mm bar onto a unisex bike and going for a ride. I also don't mind riding a pink, purple, or magenta bike – especially if it maintains a stronger retail value – but I have friends who go in for riding the same frames with a masculine paint job so I understand the appeal of man-specific bikes.
As Judy notes, I spend way too much time drinking beer so I would love the less-manly gearing of the equivalent Liv models. Otherwise, I love the longer and slacker geo of the man specific Giants.
It's about f*cking time clothing brands recognize that men come in all shapes and sizes but maybe man specific bikes are a start?
*Note – quotes marked with an asterisk have been given a gender reassignment to suit Andrew's purposes.
---
Will your next rig be a man-specific bike?