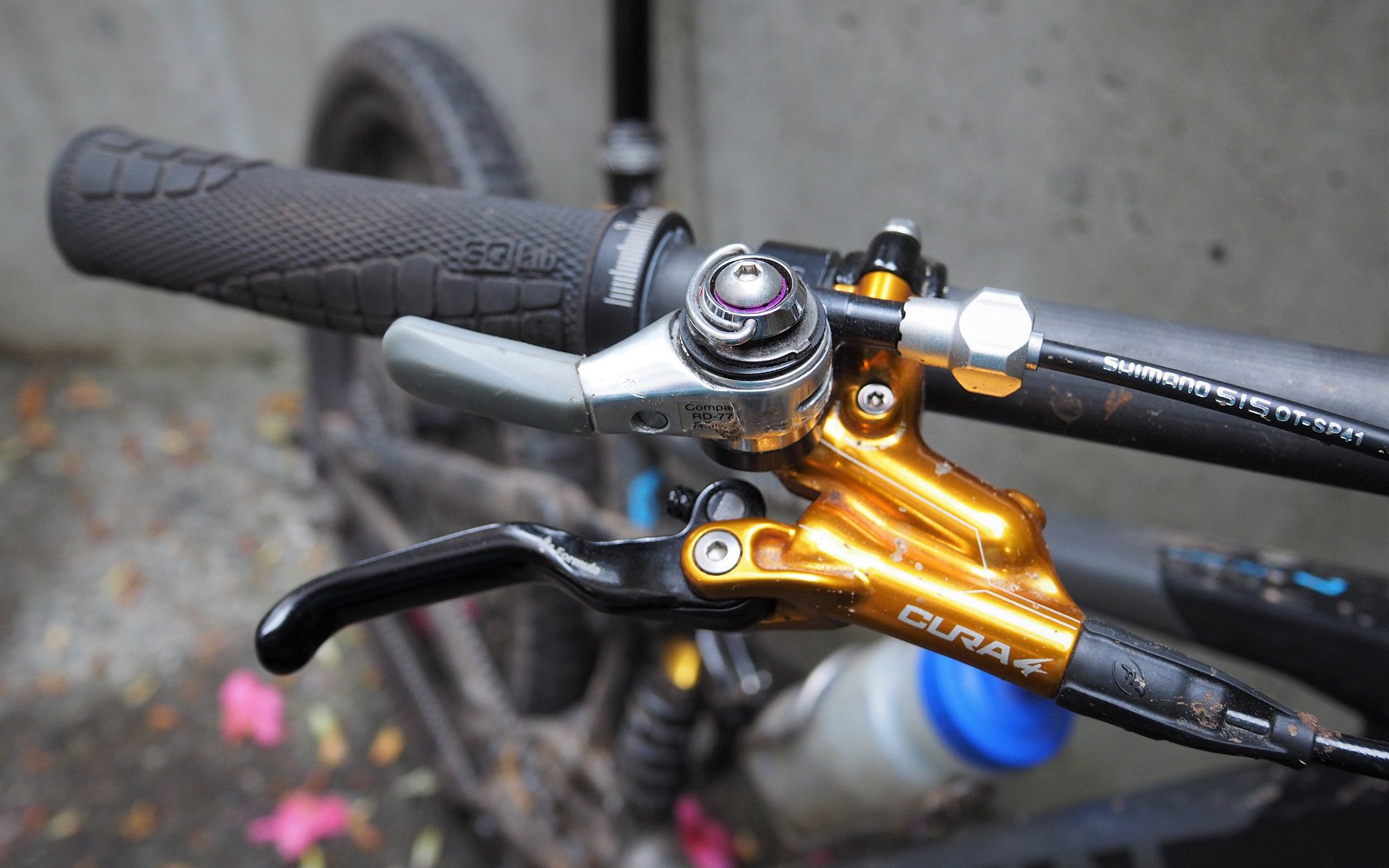 Does The Future Have Fewer Gears pt V - Editorial
You Should Try a Friction Thumb Shifter
Friction Not Indexed
I've owned the same pair of thumb shifters for seventeen years now. They consist of Paul Components Thumbie plates - the first-generation ones without hinged clamps and sporting clearance issues with some hydraulic master cylinders - and Shimano DuraAce 9spd barcon shifters. The right-hand one has been missing its plastic cover for at least a decade but has continued to do its thing without maintenance. When I ditched front derailleurs, the left-hand one found a new life jerking around a rear derailleur and suddenly I had the potential to run two bikes with friction drivetrains.
I used the 'rear' shifter in its indexed mode for a few years but even before I started running it with 10spd, 11spd, and 12spd drivetrains, I had switched over to the friction-mode. That is to say that there are no stops or gearing indications anywhere in the shift lever's stroke. Choosing a gear is done entirely by feel. There's an art to positioning the shifter just right in its seamless path to hit the next cog in the stack. In the heat of battle, it's a dark art I doubt I'll ever truly master.
If immediate gear-change gratification is your shifting goal then thumb shifters are dumb anyways - indexed or otherwise. Get a trigger shifter, adjust it perfectly, and bang off bad shifts all day. Done. If you want to become a better mountain bicycle rider and have a unique experience, grabbing a friction thumb shifter is a cheap, eye-opening, experience.
How will running a friction shifter make you a better mountain biker? It comes down to predictive shifting and it's not unlike the way riding a single speed teaches you when to pedal, when to pump, and better braking with no more effort or thought than just riding.
Removing the easy-shifting, or in the case of Shimano's superb Hyperglide+, the moron-proof shifting potential of a drivetrain, forces a rider to think more about momentum. Once it's sorted, I'll guarantee 95% of riders are faster on every trail, up and down, when they go back to riding an indexed clicker. No more superfluous shifting, better terrain reading, and more hard efforts for less net effort.
It means sometimes I'm in the wrong gear going downhill, and sometimes I'm in the wrong gear going uphill. That is when I haven't managed to adequately predict terrain, but rather than being focussed on making that last-minute shift I just ride my bike. Sometimes it's pumping instead of pedaling to create momentum and sometimes it's jumping out of the saddle to attack a climb with a few quick & powerful pedal strokes. A lot of the time it's surprisingly faster than coasting along in the 'right' gear.
Improving...
...on the only drivetrain that matters is not hard. That's not a knock onDeore M6100. It's an amazing bit of kit and I think if the most riders were honest with themselves, and gave it a shot, it would perfectly complement their riding. If you already have wicked brakes, tires, and suspension, then go ahead and AXTRS yourself. Enjoy! But I'd personally spend money on a lot of little luxuries before I'd bother upgrading any drivetrain parts.
Moving a Deore derailleur up and down the best-in-show, all-steel-cog M6100 cassette can feel a bit like swimming against a current. Of course, an XTR shifter feels extraordinary and shifts spectacularly. It also costs half as much as an entire Deore 12spd drivetrain including the bloody crankset.
Every time I ride the M6100 drivetrain I can't help but wonder if the wizards at Shimano could have, almost, equaled the shifting in an 8-speed 11-45t package. Similar range, less the bailout cog, similar shifting quality, and way fewer steps in between. If that sounds like I'm just recycling the first Does The Future Have Fewer Gears? piece then bear with me a moment. It's specifically from running a friction thumb shifter that I can be certain that blasting between my four or five most common ratios is way better than single-selecting them aside from the seven speeds I all but ignore.
I've committed to riding the 12spd Deore group as stock for a suitable review period before playing around with it but I can't wait to try it with my friction thumbie where I can combine the grab-a-gear-and-go HG+ with hitting those big shifts in one fluid sweep of the shift lever. I assume it's going to be about a few ratios on the wrong side of truly gorgeous but HG+ hits gears so well, I'm giddy to see how it compares to other drivetrains I've run with friction shifting.
Sadly, or luckily, I don't have the hinged clamp version of the thumbie plate so it's a bit of work to get my shifter swapped over running push-on grips - not an easy back-and-forth test. The good news is that anyone who decides to give friction shifting a try and wants quick conversions has the option of buying a single-side hinged Paul Thumbie. Or buy a pair, and a pair of barcon shifters, and split them with a friend. Coin toss decides who gets the left-hand and who gets the right-hand shifter.
On A Budget
That's the brilliant thing about trying out a friction thumb shifter; it works with your existing cable-actuated drivetrain.* No new derailleur, cassette, chain, cranks, rings, or even cable housing is required to try out the latest in '80s shifter technology. That is, the latest in forty-year-old shifter tech blended with the latest editions of wide-range, 1x, clutch derailleur drivetrains. Admittedly it's a tad easier to find that just-right-gear with a 9spd spread than an 11spd, and it's possible I can't hit all 12spds on the new Shimano and SRAM drivetrains,.I haven't tried - yet, but who really uses that 11t, or 10t, with any regularity anyway?
A nice 12spd MicroShift right-hand thumbie - adjustable between index and friction mode - runs about 50 USD. Friction-only IRD Power Ratchet thumb shifters sell for 110 USD a pair (split them with a friend). If you're certain you'll love friction shifting, Paul Thumbie plates are 60 USD per side (and currently available in purple in addition to black and silver) and a proper pair of SL-BS77 barcon shifters - with rear indexing as an option - will run 90USD on Jenson.
*Sorry Di2 & AXS owners, you'll also have to spring for a rear derailleur and some cable and housing.
Your drivetrain being your drivetrain - whether it's NX or XTR, whether it's fresh and shiny or roached to the point that half the cogs won't hold a chain - if it's actuated by a cable, then it can be actuated by a friction thumb shifter. And if you absolutely hate friction shifting, then hey, you've tried it, and I absolutely guarantee you have a friend who would love to give it a pedal, and it doesn't matter what drivetrain they have. If it's actuated by a cable then, well, we covered that.
And old dude, get lost with that "I tried friction shifting forty years ago" nonsense. If you haven't waggled a friction thumbie controlled derailleur over a modern chain and cassette then take it from me, this is not your 1982 Stumpjumper. You don't have to try it. I'm stoked that you love your ShiRAMano mix. But if you want to have an educated opinion, don't bring up Suntour ARX and the Mighty shifter. It's incredible how easy it is to find gears even jumping half-way up a cassette, and I haven't even tried HG+ yet.
Trying a friction thumb shifter, with your current drivetrain, will cost you less money than testing the Maxxis Dissector, that your friend recommended; the one you took off after two rides because it wasn't actually any faster than a DHR II and somehow offered less grip than a Rekon.
You may not love friction thumb shifting. You may not like friction thumb shifting. Heck, you may hate friction thumb shifting. But guaranteed, if you give it a couple of rides you'll appreciate the experience. At the very least, it's something to talk about over post-ride beers.