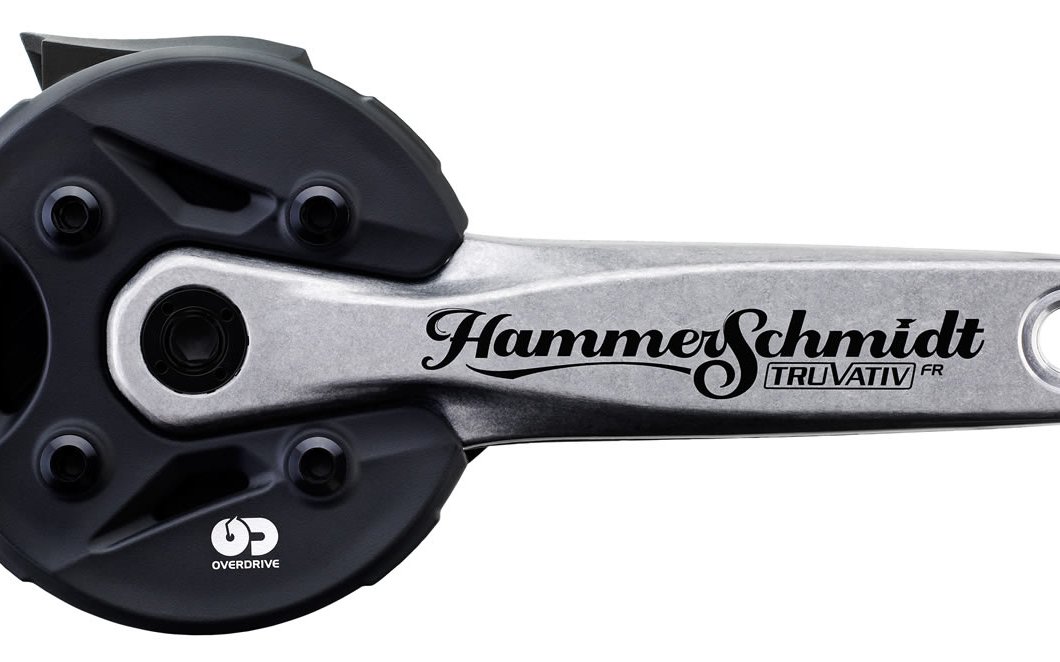 EDITORIAL
In Defense Of HammerSchmidt
"High-tech? Yes. But HammerSchmidt feels more like magic. The kind that puts you perfectly in tune with your bike and the mountain. No need to think, plan, anticipate. Just ride." - SRAM
It's 2008
Your mountain bike doesn't have a clutch derailleur but it most likely has a front derailleur. You used to say "Marzocchi" with a sultry reverence but now their product sucks and I mean SUCKS. You may have a Fox 36 or a RockShox Totem or Lyrik but there's a good chance you're riding hard on a stretched out 32mm XC chassis*. Many riders consider travel-adjust to be the key feature on suspension forks. You just bought a really short stem, it's 70mm long. 
If there's a dropper post on your bike then it doesn't drop nearly far enough and the side-to-side saddle play is greater than the vertical travel. You get regularly laughed at by your riding friends when it fails on the trail and if you ever meet Paul Turner in person you're planning to beat him twice with your Joplin or Speedball for every dollar you wasted on that POS. 
*In all fairness the RockShox Boxxer still had 32mm stanchions.
Locally, if your bike had an interrupted seat tube you had a telescoping double seat post from Axiom or Titec so you could get full extension for climbing and get the saddle out of the way on the way down. Oh, was that a little nostalgic hit of dopamine you felt there? Sorry, those actually sucked too. 
Oh, and the disc brakes you remember being awesome? Yep, they suck compared to what comes on a $1000 bike today. Sorry. 
And yet, the only component from that whole list that still regularly getting ripped on is HammerSchmidt. A f***ing bold leap of front-derailleur killing faith that worked universally with any bike* with ISCG or ISCG '05 tabs. That's right, no new standards. 
Every time I hear someone bemoaning the innovative planetary gear system I have a question I like to ask: "Yeah, but do you remember the INSTANT shifts under full load or no load, pedaling or standing still?" You know what the answer almost always is? Yep, anecdotally, most of the folks ripping on 'HammerSh*t' never even tried it. 
*My friend Mandy and I did have to customize a couple back plates
Look at the evolution of suspension systems, frame geometry, dropper posts, clutch derailleurs, disc brakes, and tires since 2008.

Instead of 3-foot-long derailleur cages, pizza-cogs, and gear-box dreamers, We could have potentially had instant shifting, reduced unsprung weight, and gear-box believers. And did you see that ground clearance‽
HammerSchmidt?
HammerSchmidt, Hammer-Shift, HammerSh*t, it's a catchy name for a shiftable 2-ratio planetary gear drive that bolted straight onto ISCG or ISCG '05 chainguide tabs. It replaced the front derailleur, but more than that it changed how I shifted. Where front shifts were once slow compared to rear the HammerSchmidt was essentially instant. 
It is the single most bold attempt by any company in our sport's young history to revolutionize mainstream drivetrains - with decent OE penetration - and as serious as that sounds, it was overshadowed by a really fun, cheesy, and chill marketing campaign. 
The system is way less complicated to both install and service than folks made it out to be. Park Tool still even has their handy instructions online and to this day it's easy enough to service and track down parts. To put it plainly, if you can service a hub with pawls and springs you can service a HammerSchmidt.
I ran the system with a Shimano XTR front shifter and it was beautiful*. I've seen everything from old Suntour Thumbies to Road Brifters do the job and always gave SRAM kudos for not coming up with some unique stupid cable pull ratio so they could sell more shifters. 

When the system was in the direct drive 1-to-1 gear it was akin to pedaling about in a regular granny ring. In the 1.6-to-1 aduction gear the ratio felt somewhere in between a middle and big ring. Depending on the choice of granny ring this produced a similar ratio to a 22t/36t or 24t/38t 2x system. 
I'll say right now that if the gearing felt similar to 22t/32t and 24/36t I think more people would have adopted it locally as the biggest concern I heard in the day was that the jump felt too large. It's a big world of varying terrain. 
*The triggers are reversed, with the big thumb paddle grabbing an easier ratio, but it only took a ride to get used to it. 

Yes. But...
I know, it was a terrible amount of weight added to bikes that were already rolling cast-iron bath tubs. 
The shifting was like lightning but jumping up from the direct drive (1 to 1 gear ratio) to overdrive (1.6 to 1 gear ratio) felt a bit like pedaling in peanut butter. And for high-engagement hub lovers, the float in the direct drive ratio was a bit ridiculous, especially when stacked with the float of a hub with crappy engagement. 

The bottom brackets were awful. AWFUL. I kept two spares on hand. 
Another issue is suspension kinematics, which I'll talk about in greater detail below. Suffice it to say that a Santa Cruz VP Free with a HammerSchmidt is one of the worst combinations in the history of mountain bikes. Second only to HammerSchmidt on an Intense Uzzi.
HammerSchmidt wasn't coming on bikes designed for HammerSchmidt taking into account the chain position with a 22t ring and the massive improvement in ground clearance. 
Lastly, frame prep. I never had an issue shimming a HammerSchmidt onto chainguide tabs and getting it to work perfectly but there were stories about some frames requiring the ISCG tabs to be faced down, along with the expense of a special tool. 
The final criticism is that HammerSchmidt was expensive, so if the frame manufacturer's so crappy they couldn't even be bothered to weld the ISCG tabs on square - what's the point?
Kinematics
In general my HammerSchmidt experiences were the most positive on hardtails but there were prime exceptions like the Knolly V-Tach and Delerium-T which were very neutral to chainring size. In cases like the VPP Uzzi* and VP Free I mentioned pedaling can only be described as wonky but in many cases pedaling became, to quote Walt Wehner, "Squat-tacular". 

As any geometry wonk will tell you, the mass adoption of 1x drivetrains has greatly simplified suspension geometry and while it's common to see production bikes being designed to perform best around 32t or 34t rings, other chainring sizes are plausible. 
*Not to be confused with the current (lower case) vpp Uzzi
Sure there were long single speeds and DH bikes, but I think it's fair to say that HammerSchmidt was the first real attempt at a 1x configuration and it was underserved by the lack of frames built around it. 
Two of my favourite no-bs custom builders, Walt at Waltworks and Peter at DaamBuilt, actually ride bikes built around smaller chainring sizes to accomodate big days with big meats and loaded touring respectively so I reached out to them to get no-bs answers on designing bikes around HammerSchmidt. 
Aside from "I personally couldn't stand those things because of the insane drag in the overdrive" and "It was like riding in sand" the straight answer is that optimizing a bike around HammerSchmidt is going to require a different pivot location to achieve the 100-110% anti-squat that Walt finds most riders prefer. 
For my preferred out-of-the-saddle climbing style I may tolerate a bit of additional pedal kick-back to get a higher anti-squat value (Walt suggests around 120%) but large changes in ring size have a massive effect on suspension. For example, running a HammerSchmidt on a bike designed around a 32t ring will result in "weird pedal kickback from the chain overcoming the rider weight and the suspension rising." 
Full Potential
Other than test bikes from Kona, Norco, and Knolly, I spent all my HammerSchmidt time on a Kona Honzo that rotated between a straight single speed and my 2x1 setup with the 'Schmidt up front. It made perfect sense for me riding Mount Seymour trails as I had an easier gear for getting up the Old Buck climb and I used the Overdrive gear for descending with instant shifts between them as needed. 
On my full suspension bike I went back and forth between 1x9 and 2x9, and then 1x10 and 2x10 but, adduction drag aside, once you've had instant shifting, you don't want to lose it. And yet, I'd never buy a Gearbox bike because I can't stand proprietary crap.
So I would imagine a 5-speed HammerSchmidt. Perfect chainline, shift on instant demand under any circumstance or load, and a wide enough spread of ratios to cover anything I'm hitting on the North Shore. 
Couple that with the low center of gravity, ground clearance, and shear smashability of the solid unit (I wonder if SRAM ever sold a replacement HammerSchmidt bashguard) and as long as they fixed the crappy bottom brackets the only issue would be the lost revenue in derailleur, cassette, and chain revenues. 
Now I'm daydreaming of instant engagement from a roller-clutch driver and wondering how much friction SRAM could have removed from their planetary gear system over the last decade. 
Couple that with removing the unsprung weight of a massive 12-speed cassette and the fragility of a stork-like rear derailleur. All in a system that can be bolted onto any bike with ISCG or ISCG '05 tabs (which would thankfully go back to being every bike).  
If dropper posts, suspension performance, geometry, etc could evolve to where they are now, it really does beg the question: "where would the most fun marketing campaign and accompanying drivetrain moon shot be now if there had ever been a Gen 2?"