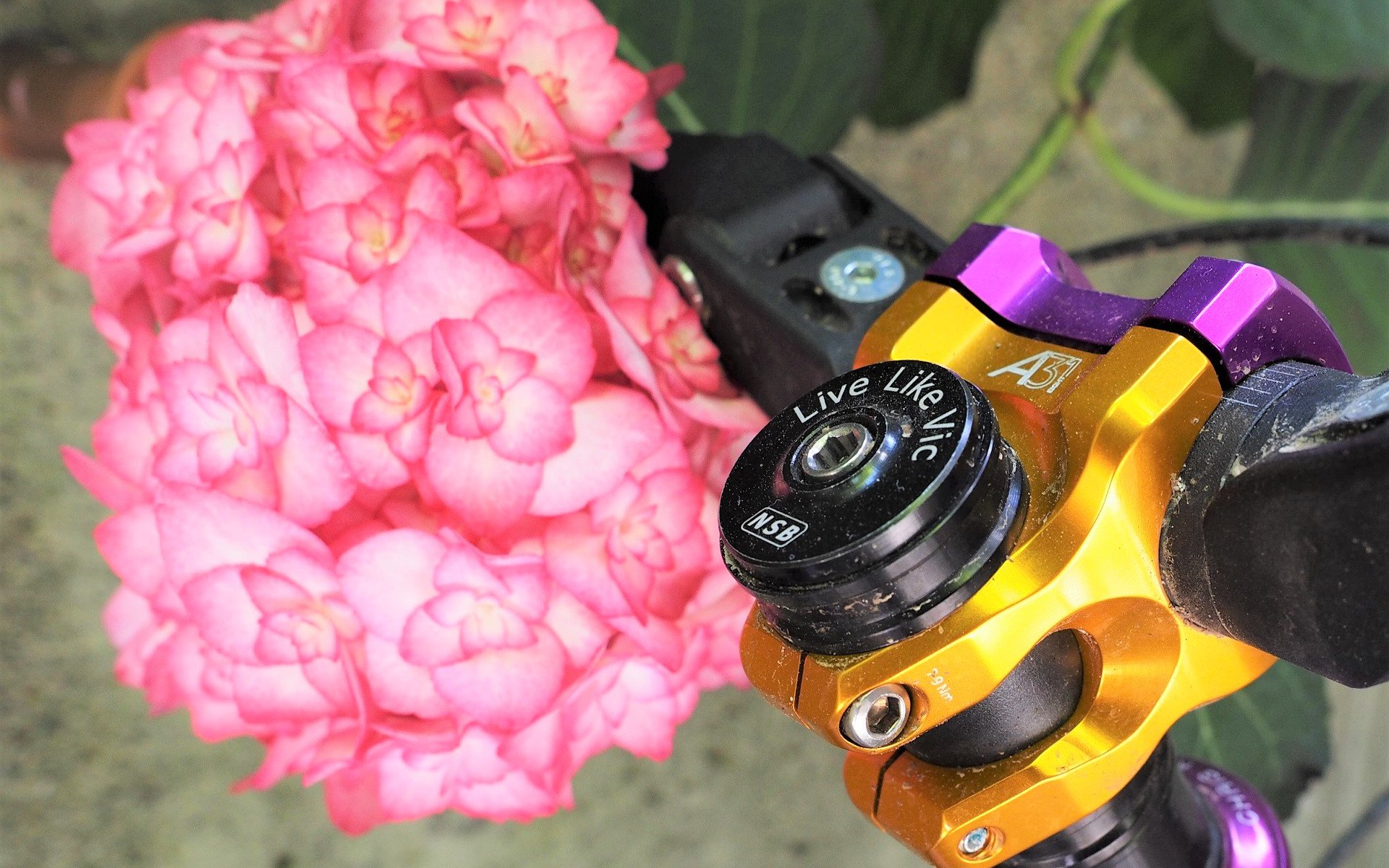 EDITORIAL
Living With A Lust For Luxury

"Hey Drew-Bob, how many Deore drivetrains can you buy for the price of that stem?"
Nice Things Honestly!
It's not like I haven't been riding 'nice' stems for years now. Straitline Pinch, North Shore Billet Overlord, Hope Freeride, Renthal Apex, Thomson Elite, and Chromag Ranger just to name a few. I've never heard a peep from my fellow travelers. Whether it's the mix of anodized colours, or the distinctive stainless hardware, or just my bold claims about Deore M6100, this Industry Nine A318 is apparently worthy of a trailside callout. And hey, when it's just friends busting chops that's one thing but when it's coming from a stranger? Yeah.
Now, I'm not claiming that any of those stems are going to outperform a fifty-bucker from Race Face or Truvativ. Especially once you throw $10 of nice hardware into either option. There is nothing min-maxed about any Gucci small-batch, made-in-house stems.
At the same time, the OneUp bar stem combo on the front of buddy's Santa Cruz isn't exactly a budget component combo. It's strange the way it's perfectly normal to show up to the trailhead in a loaded Toyota Tacoma or Ford F150 mall-crawler but a similarly priced Corvette Stingray with a roof rack would draw eyeballs. It's North Vancouver after all, where I've seen a twenty-rider-group where there wasn't a bike under 10K. I'm hardly driving a Buggati in a sea of Corollas.
Going over my bike after my ride I started thinking about the value of individual components. Like my purple Chris King 44mm headset. It's been in a pile of frames to the extent that I'm embarrassed to let people see it out of a frame because it's been so mushed from my headset remover. Expensive? Yes. Value? I think so.
My Ti King cages that have never bent, broken, or dropped a bottle. Maybe not exponentially better than everything else on the market as they once were, but you can spend a hell of a lot more on a carbon cage that will dump your bottle at the first sign of jank and these are multi-generation heirloom level parts. Expensive? Yes, it's a bottle cage. Value? Again, I'm saying amortize your life.
Wolf Tooth stainless steel narrow-wide chainrings. If you pedal a lot and have high expectations for chain retention they'll pay for themselves in a year. I don't even think they qualify as expensive for a rider whos putting on the hard miles. Still, when Race Face has a steel narrow-wide ring starting at 20 USD, a Wolf Tooth ring at 100 USD is certainly an investment.
I'm such a believer in the value, and user experience, underlying Chromag's quick releases that I've written an article about my first one. I'm still fully on the quick release program, even in the days of dropper posts. The Chromag units cost 5x a serviceably-basic quick release and 10x an okay bolt-on seat clamp. I still believe, year-in and year-out they're so much better than anything else out there that the price is easily justified by the performance and longevity.
So that's that, all my high-priced low-production top-shelf sh*t is fully justified as min-maxed over time. Beautiful. Well, okay, yes, there are quite a few titanium bolts that I can't explain away. You have to admit, they look sexy though. And while my saddle has titanium rails, I don't care about weight. I just want WTB's best 'DNA' padding. My nipples are fancy, but the big takeaway is they're made of brass instead of aluminum.

You're only allowed stems that are leftover house brands and Zoom
Nice Things Hypocritally?
Front hubs are always what gets me. I can justify a high-end rear hub all day, but does a sweet anodized pink or purple colour add any performance benefit of basic black? And if my hubs were black, or silver, I could mix-match them with any basic front hub for a significant cost savings sans performance loss. Press some high-quality bearings into that cheap(er) front hub for a solid min-maxing victory.
It kills me a bit to admit it, but when I'm riding a truly min-maxtastic Suntour Durolux and my buddy says"hey Drew-Bob, how many Deore drivetrains can you buy for the price of that stem?" I'm immediately thinking of justification beyond "it's pretty."
My new A318 is pretty nifty in that it has an effective 8° rise but you'd be correct in noting I have room on both my bikes, to bump my stem up using headset spacers I already own. Speaking of which, no, I have no idea how many grams I saved with these Wolf Tooth headset spacers. I think they look cool so I ordered some last time I needed a couple of single-speed cogs.
I once purchased a bucket of Ti bolts and no I can't justify them based on weight savings or the anti-corrosion factor. Even if the big M8 oil-slick Ti hardware holding my dropouts in place does drop a few grams.
As I preach to my friend Alex that just because I love min-maxing, it shouldn't preclude me from the same weakness for nice things as anyone else, he doesn't miss a beat with "you're only allowed stems that are leftover house brands and Zoom," which is a brand I forgot even exists. And no, I can't justify a pair of Cane Creek eeWings titanium cranks over some Race Face Aeffect R arms but I'd love to! Performance benefit? Umm, well, yeah, they're titanium.
After a couple of beers on the balcony, I have ranked the parts on my bicycle by order of upgrade off of a nominal M6100 build and strangely, I'm getting a nice stem & front hub before I upgrade the derailleur, cassette, chain, crankset, and I could go on. It's like the figurehead of a ship. Its value is more intrinsic than having anything to do with sailing performance but it's a detail that mattered massively.
So much for min-maxing based on performance. I'll take a great looking stem over an improvement in shifting any day.