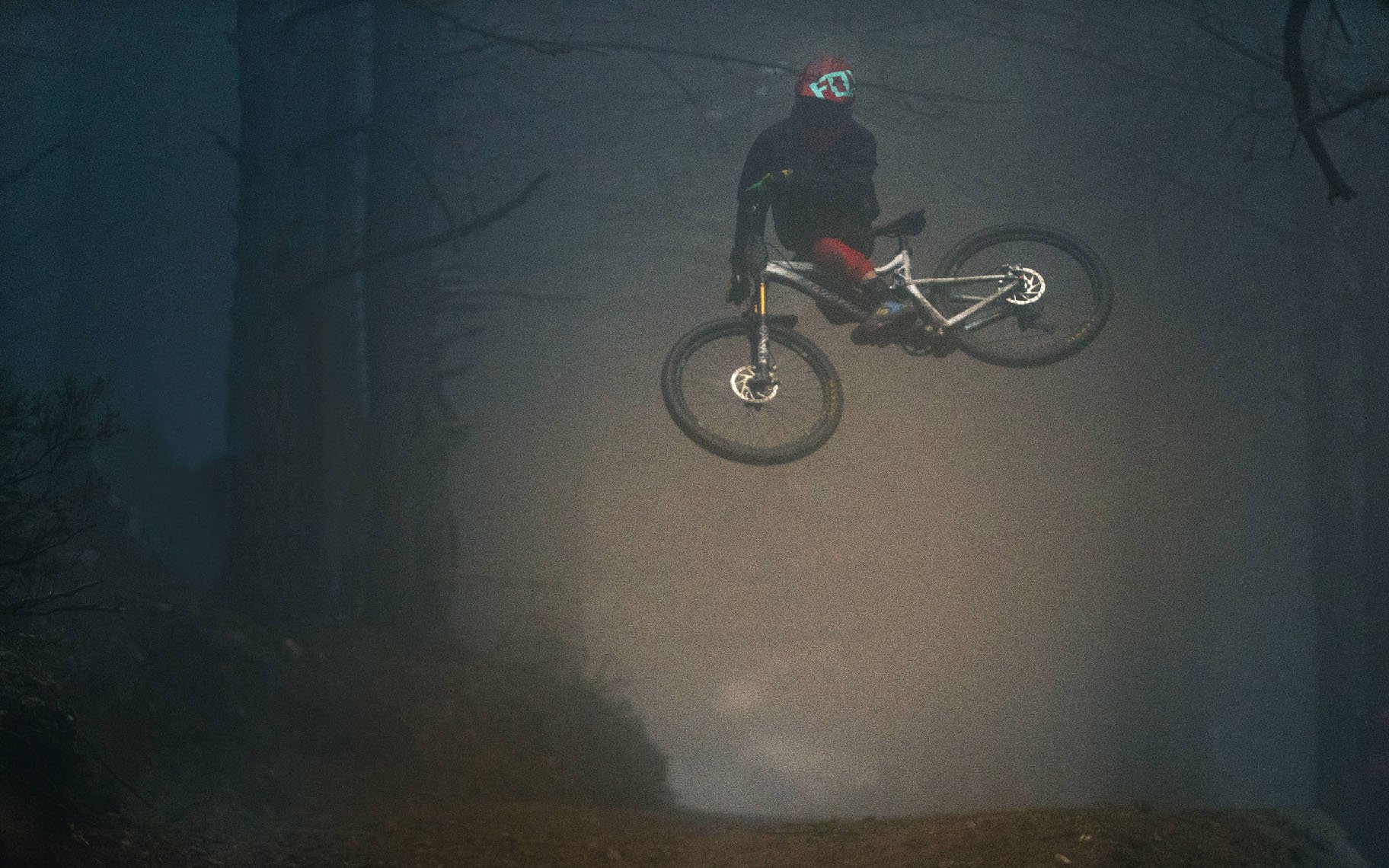 EDITORIAL
To Ride or not to Ride During a Global Pandemic?
In Italy this question has been answered already. Riding a bike is proibito, whether on the trail or on the road, with a few exceptions. The general public can ride to get medical supplies or food, as long as they aren't dressed like Marco Pantani. There is also an exemption for pro roadies. They must ride with their professional license with them and they are apparently forbidden by law from telling others they are allowed to ride because it is their profession, prompting many dirty looks. There is a fine of €3000 for violating these rules. The justification is that hospitals already overrun with COVID-19 patients have no space for busted cyclists who come limping in. And since that ban was enacted, Italians have been asked to stay at home entirely except to visit the doctor, pharmacy or supermarket. I don't know anyone who would have predicted this would happen in my lifetime.
Front page image - Gonzalo Quevedo shot by Nacho Trueba / Red Bull Content Pool
Spain, which is also enforcing a €3000 fine, and Andorra, home to many road pros, has completely banned cycling outdoors while France hasn't yet placed any restrictions. In the UK there is a lobby afoot to ensure cycling does not get banned, citing health benefits and the safety of cycling as transportation in terms virus containment. Germany has already adopted this approach, with the health minister actively encouraging cycling as a safe alternative to cars and public transportation.
There are 9 million people in California, mainly in the bay area, under a "shelter in place" order, meaning they too will have to forego cycling or any other outdoor activity. New York may not be far behind, with Mayor Bill De Blasio warning a similar order could be coming after New York cases took a dramatic jump.
Here in B.C. we aren't yet in full lockdown mode. Bars have recently been ordered closed and the government is suggesting that all events for more than 50 people should be cancelled. Some continue to go to work and restaurants, but things are clearly slowing down. Cases in British Columbia had a huge surge in the last two days from 103 to 231.* If this rate of spread continues it would result in cases tripling every two days, resulting in over 8,000 cases ten days from now and 300,000 in three weeks. It gets scary when you look beyond that. A Provincial health emergency and a Provincial state of emergency have been declared as a result.
*It has been suggested that the large jump in cases is the result of a backlog of test results from the previous weekend, but we'll have to wait and see. There is also a spread between verified cases and actual cases because of the long incubation period of COVID-19 and health officials are now suggesting people who feel they have COVID-19 stay home to recover rather than get tested, so actual cases are likely much higher.
Any doctor in northern Italy will tell you that vigilance is essential, not so much because of the danger to individual patients, but because health care resources will quickly be overwhelmed if the rate of spread is not slowed. Italian doctors, faced with far more patients than they can handle, are being forced to decide who lives and who dies. Flattening the curve of the virus' spread may not reduce the number of cases in the long run, and many of us will likely get COVID-19, but the strain on beds and ventilators and staff may remain somewhat manageable if social distancing is successful. If the system gets overwhelmed, the death rate from COVID-19 will go up,* and patients with other health concerns like asthma or heart disease will also suffer from the lack of resources, decreasing their chances of survival. The same can be said for trauma, like the kind virtually all mountain bikers are familiar with.
*The death rate in Italy is the highest anywhere, approaching 8% despite excellent health care facilities.
Lions Gate Hospital, which serves the North Shore, has been directed to move to "Outbreak Response Phase 3." All non-essential surgeries have been cancelled in anticipation of an increase in serious cases of COVID-19. It seems that patient ramp up hasn't happened yet but is likely imminent based on the rate of spread.
The question is, can we justify riding mountain bikes in the shadow of this global pandemic? On the one hand, it's an activity that will preserve health and sanity and one that can be practiced without serious risk of virus spread, assuming we don't head to the pub afterward for beers with herds of infectious humans. Social distancing is much more compatible with mountain biking than going to the gym or yoga studio or spin class. Out on singletrack, social distancing is impossible to avoid, except when you stop, but some vigilance makes this easy as well. High 5s may need to be replaced by air 5s, but otherwise not much needs to change, except perhaps our approach to risk.
It seems obvious that riding the trails that challenge you most isn't the ideal strategy during a health care emergency, but can we lower the exposure enough to make it acceptable? Perhaps to the level of hiking on trails of moderate difficulty? This seems possible for experienced riders, even here on the North Shore where the easiest trails are relatively challenging, but is it worth the gamble? Risk is inherent in mountain biking, just as it is with riding in a car or being a pedestrian. Obviously the rate of injury in the Whistler Bike Park is vastly greater per person than the Sea to Sky highway, but the risk for a competent rider on mellow trails certainly closes much of that gap.
For now, at least outside of Italy, Spain, and Andorra, and the bay area, this is a personal decision. There will be some riders who shred as hard as usual and others who will exercise an abundance of caution and forego riding on trails entirely, or even leaving the house. You may disagree, but I plan to ramp down my exposure to risk and continue to ride trails for the time being. Lately I have been dosing heavily on some of the more challenging local trails, but I've already scaled that back. I pause more often to make sure adrenaline doesn't take over, because my default, like most mountain bikers, is to go downhill as fast as I can. It's not an easy habit to break but I'm having some success, and at this stage in this crisis I think it's a palatable compromise. I may change my mind entirely in a few days, but this is where I stand for now.
Please let us know what your current approach to riding is based on the status in your area.
And please stay safe everyone!