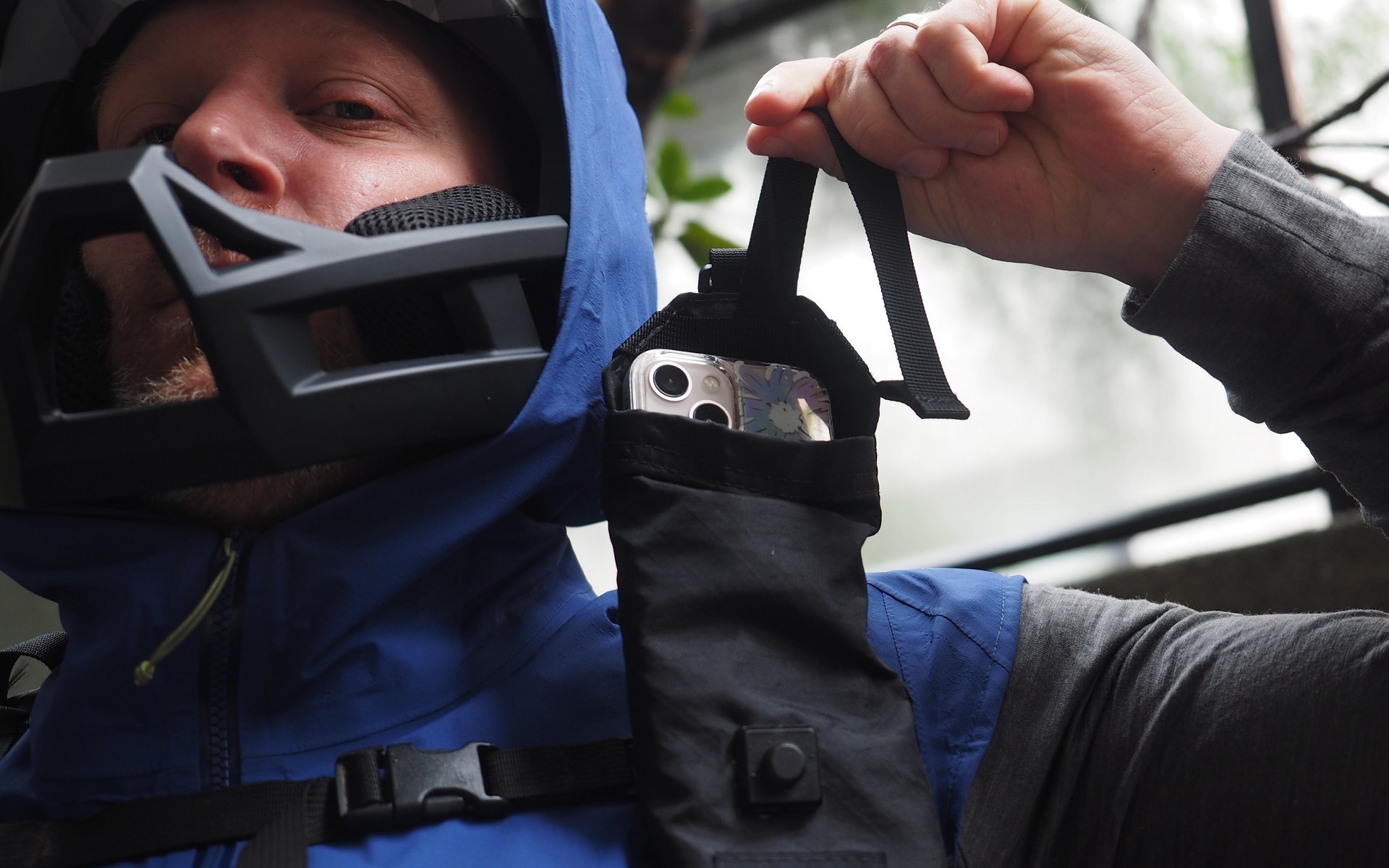 Gear Shots for May 19, 2022
Gear Shots: Three Things From Andrew
Swiftwick Flite XT Trail Five Socks
I like merino wool socks for cycling. Actually, I like merino socks for life in general. There are exceptions where I'll reach from some really lightweight synthetics but the point I want to make here is that I think merino wool socks are good. I have some favourites like DeFeet's Wooleator blend, my maroon 7Mesh Ashlu socks, classic NSMB-logo by SockGuy, and so on. Actually, I have at least four pairs of SockGuy wool socks. I'm not even counting the sweet socks my mom knits for me. Or the non-wool socks I own because they have sweet branding - like my my F*cking Magical Unicorn socks from Sonya Looney. Yes, I may have a bit of a sock fetish.
To aid healing from my Achilles injury, I was told I should consider using compression socks for riding, and in particular, long ones. This led me to a pair of Swiftwick Flite XT Trail socks. They're USA-Made from a mix of materials including 24% Merino, which may sound low (SockGuy is 50% Merino wool) but it's a result of the Flite XT being a hybrid sock. The heel and forefoot are made of a grippy and more durable fibre that's intended to improve stability, which may matter more for runners than riders. Both the ankle and heel have a tight compression fit. Put another way, they're Merino compression socks.*
*Swiftwick says these provide "moderate compression"
I don't love the tight fit and feel of compression socks but these are different. The hyperbolic tagline "The Best Socks You Will Ever Wear Guaranteed" turns my stomach a bit. Those sorts of claims always make me think of Specialized's "It's You, Only Faster" BS. But I'd buy that they're compression socks for folks who don't like compression socks. Or they're compression socks for folks who prefer to wear wool. I've been walking a lot in them and have now done a couple of rides and I think they're delightful. These are the 5" version of the Flite XT Trail and I find myself wishing they made a knee high (12") version which Swiftwick does make in other socks, but not the Merino ones. They command an 11 USD premium over a pair of SockGuy Merino socks (27 USD v. 16 USD) but they are a more technical product by construction and features.
At first these Swiftwick socks made me think about crappy hybrid products the bike industry pushes, like clip-on shoes with a bolt-on or cutaway section so they can be used with flat pedals. Or, pedals that are clip-in on one side and flat on the other. Or any long-travel suspension fork with a lockout. But these really do wick and regulate like Merino socks (though they are more odoriferous) while providing a compression-light, fit.
They're just socks but they're good socks, or even great socks. I've been wearing and washing them multiple times a week, so they're getting thoroughly tested against Swiftwick's claims of quality and durability and holding up great thus far.
Swiftwick Flite XT Trail Five Socks - 27 USD
---
Wolf Tooth Axle Multi-Tool
I recently wrote about Wolf Tooth's Trainer Adaptors for their axle system and this multi-tool is another accessory that's compatible with the same axle. It replaces the battle-worn, replaceable end cap that I usually run on my axle. I can only imagine how much (cosmetic?) damage this tool can look forward to. It's a 5mm hex, that steps up to a 6mm hex, and includes storage for two additional bits that can be inserted. There are four bits included:
3mm + 2.5mm hex
2mm + 4mm hex
Flat head #3.5 & Phillips #2 screwdrivers
T10 + T25 Torx keys
I've gone back to riding with a pack exclusively, with a pair of Wolf Tooth 8-Bit Pack Pliers in my tool roll, but having an easily accessible tool for making super-quick adjustments has significant appeal. For this purpose I've been using the quick to access/stow OneUp EDC Lite tool but not having a tool stored in my steerer satiates my vanity in that I prefer to run my Live Like Vic (Gioia)* stem cap. The Axle Handle multi-tool is manufactured in Minnesota and in addition to fitting Wolf Tooth's axle system it also fits "axles from Trek and other manufacturers that have a removable handle retained with an o-ring." Though they had me at purple, it comes in eight colours.
*Vic Gioia is a legendary local trail builder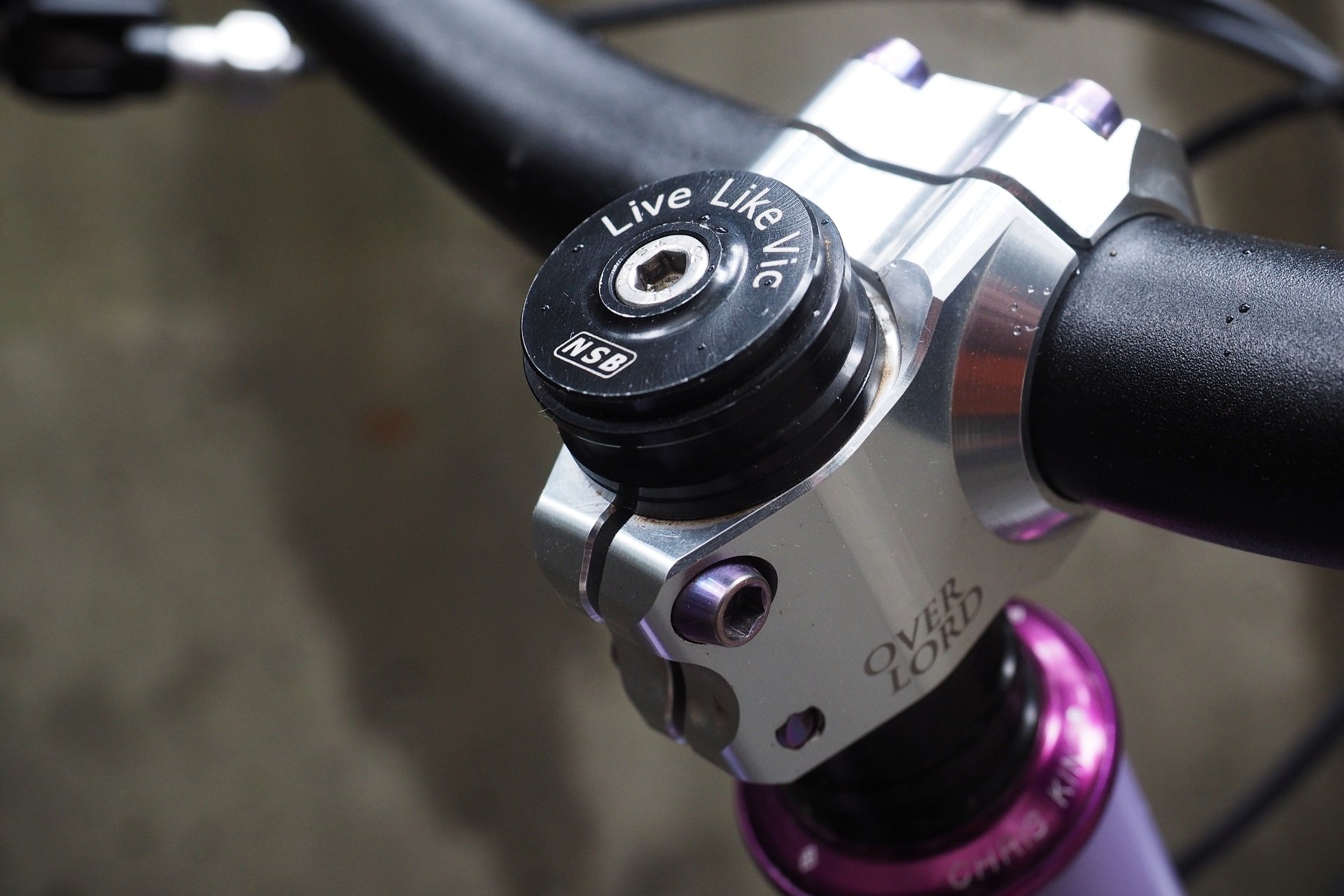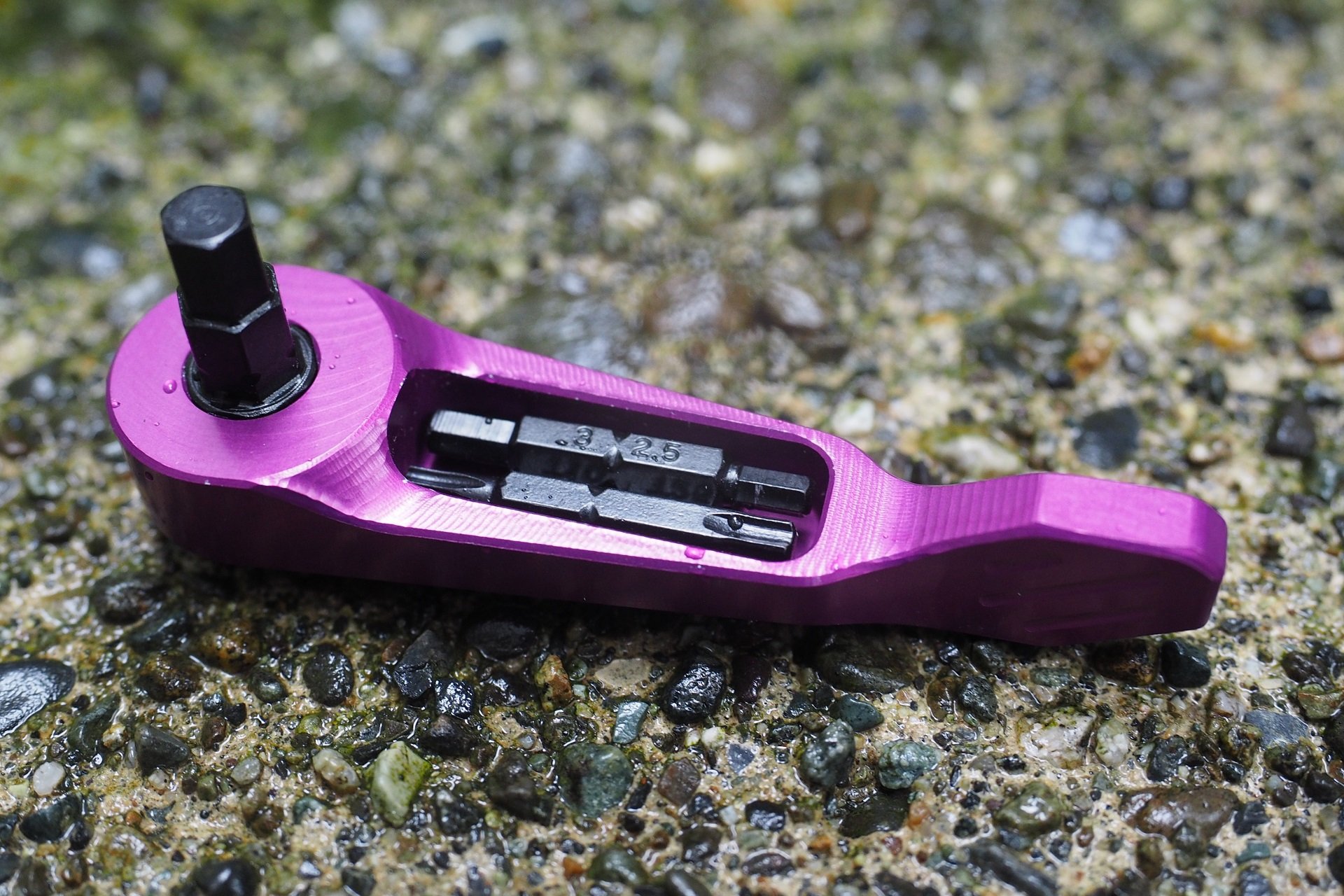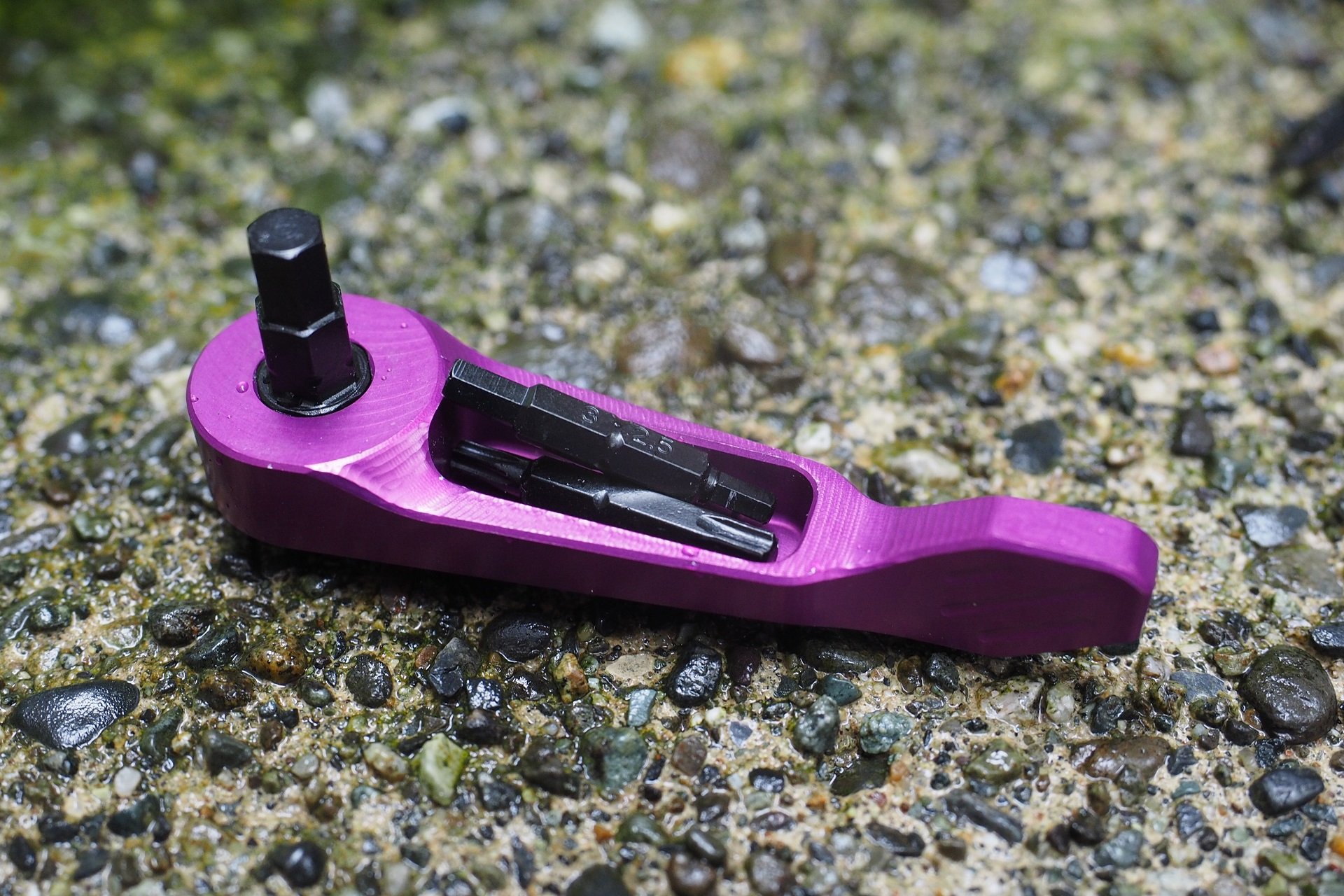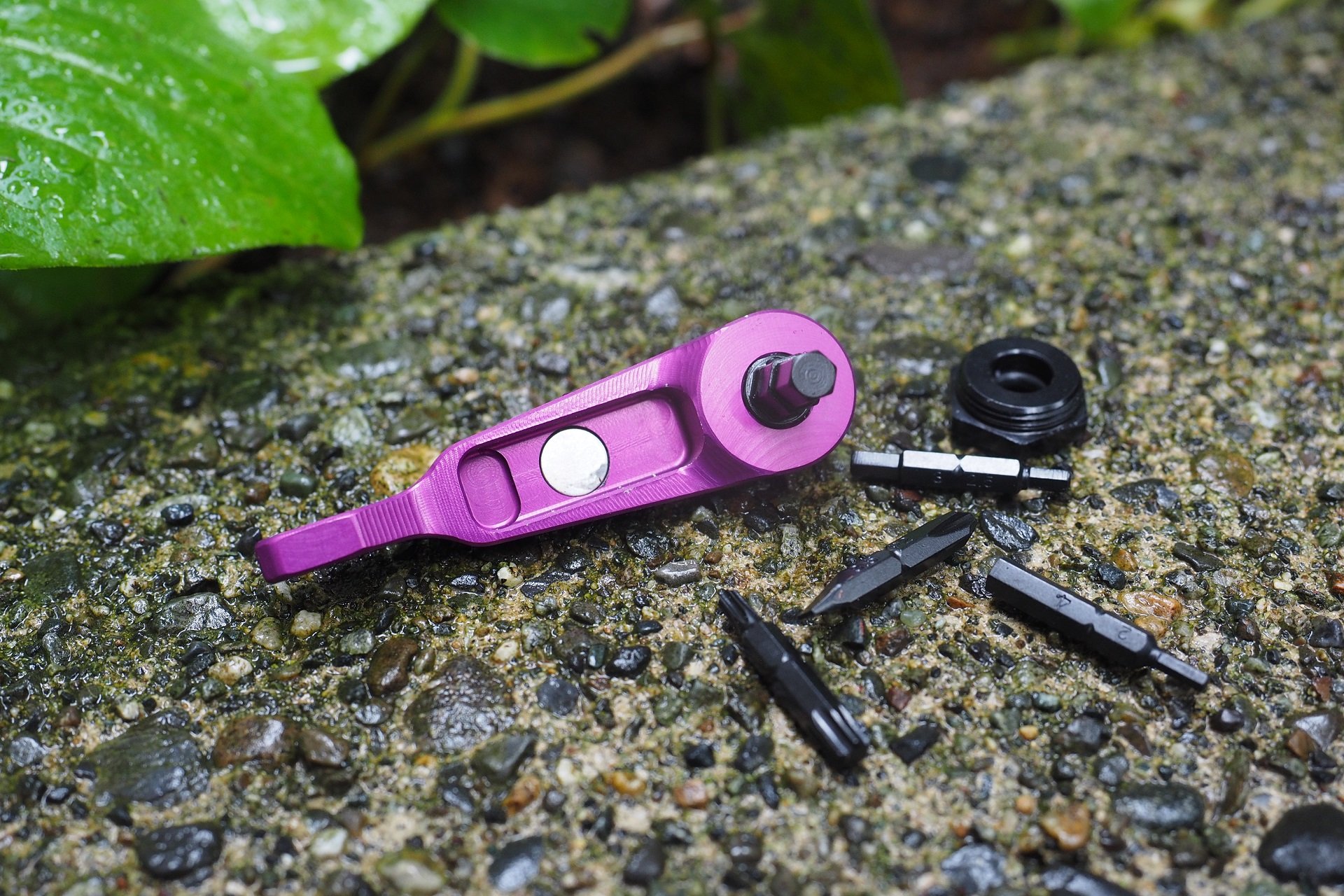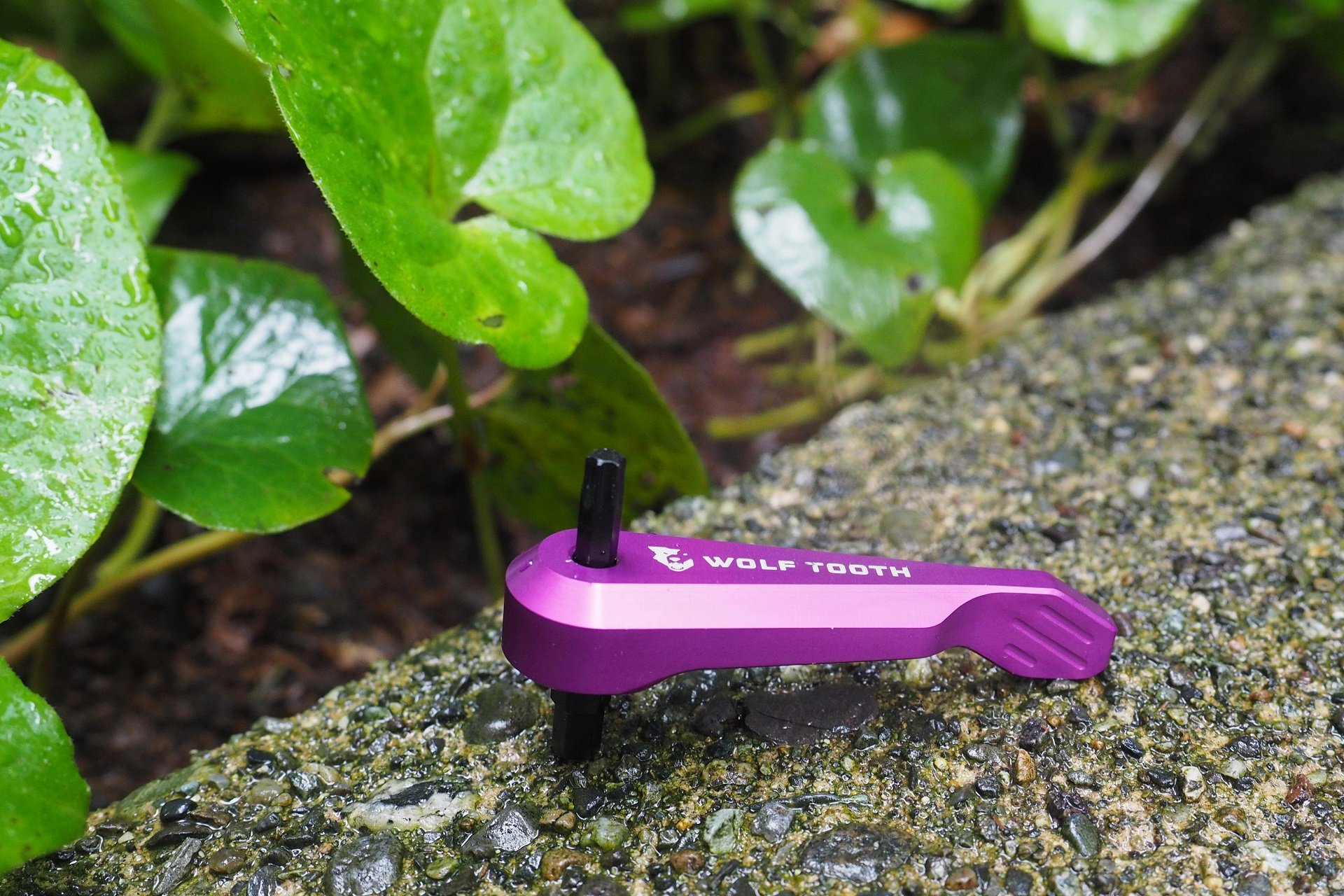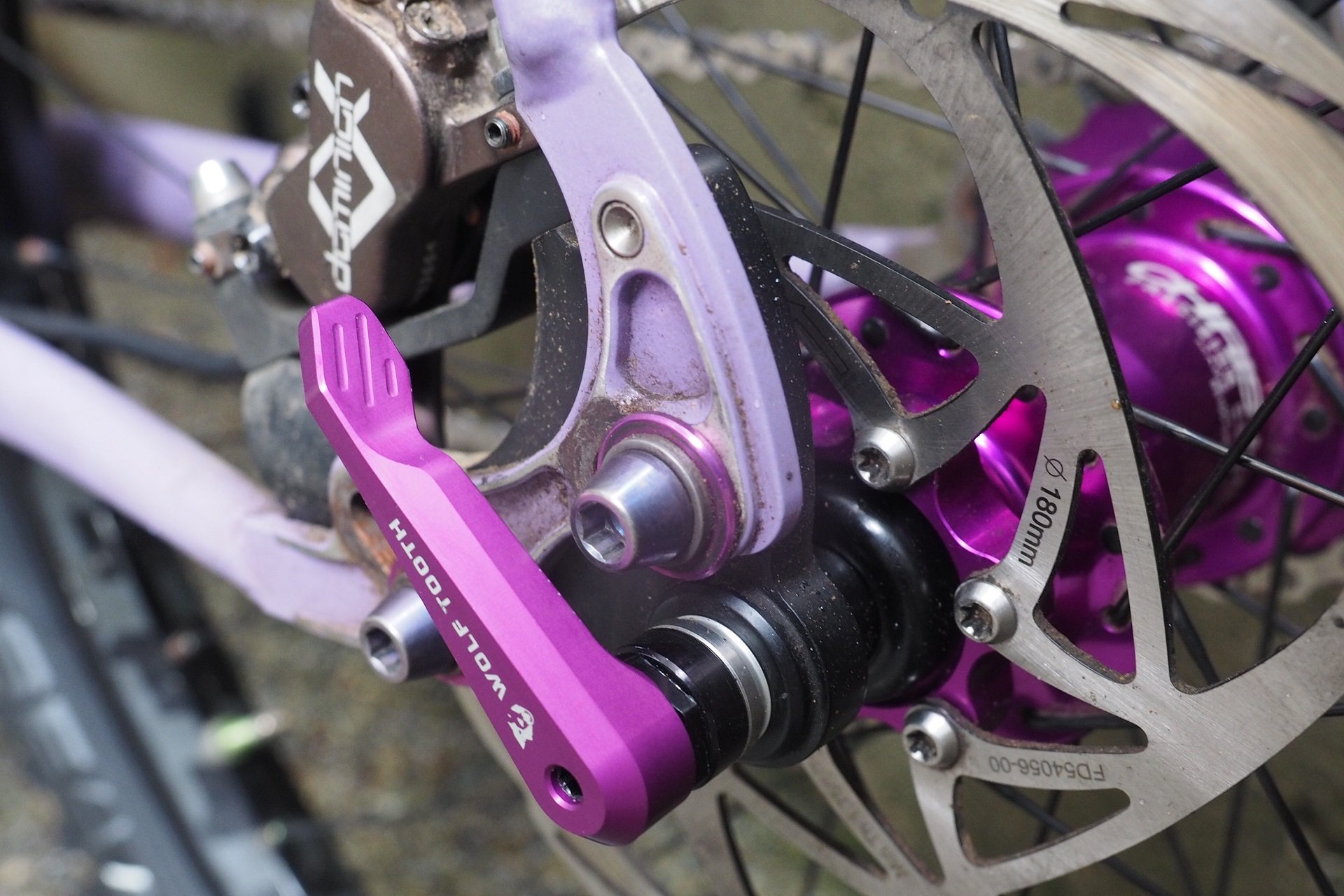 The multi-tool is very nicely made, like Wolf Tooth's other tools, but I'm on the fence about using it out on the trail. It's quick to access, and the bits are held securely but also easy to remove once you figure out the technique. My perfect bit set would swap the current four options for just two. One would be the 3mm + 2.5mm hex. The other would be a T25 Torx + 4mm hex. If I'm doing anything that requires a screw driver, T10, or 2mm hex, I'll get the 8-Bit out of my pack. One of the keys of this design though is that it shares tool-bits with Wolf Tooth's EnCase and 8-Bit tools so the configurations combos that are included were decided previously.
I've used the tool to make a number of adjustments already on the short rides I've been doing from home as part of my rehab and it's the only tool I carry on those missions. For me the proof will be out on the trail where I'm deciding between pulling the 8-Bit out of my pack or pulling this tool out of my axle. My one concern is that it protrudes of my frame, maybe a little too much. I've heard folks make the argument that the advantage of having a QR lever - or the button that normally sits on my axle - is that it protects the frame from damage and is less expensive to replace. I won't argue with this viewpoint, but I think the design could be a little bit more tucked.
More on this in a future Gear Shots. And, in the meantime, here's more information on the 40 CAD | 30 USD Axle Handle multi-tool.
HMPL Custom
This is not a product review. It's a service review. Of a service I paid for. Two services actually. So add whatever allowance for confirmation bias you feel is necessary to go with the fact that I handed over my own monies here. That aside, Matt & Scott from HMPL Design are rad. They make awesome cycling soft goods in Vancouver for riding in Vancouver weather. Their products are simple, thoughtfully optimized, and very well crafted, and they're friendly folks. They repair their own stuff and high quality stuff made by others. My wife has a couple of their bags to support her commuting and townie cycling, and they fixed my pack. No just any pack, but the faded blue Mission-Acre Hauser that my wife bought for me as a gift about a decade ago.
This pack has been on my back on various riding trips, hiking, trail building, and as a day pack traveling. It's weatherproof, holds my camera, fits well, and it's comfortable even though it runs a bit hotter for those couple of months when the sun is out. It failed spectacularly a couple of years ago while I was riding; a clip that holds the right shoulder strap in place ripped out, causing quite the weight shift, and it's been sitting since. Mission one; the gents at HMPL replaced the missing clip and reinforced the area so I won't have the same experience in the future.
Project number two is a custom shoulder strap-mounted cellphone carrier for the same pack. I wanted to replicate one of my favourite features of my Camelbak Chase Protector pack but with the added benefits of weatherproof storage so I can still access my phone on a proper rainy day. HMPL took that request and added improved efficiency to the order. It's not currently a product option, but if easy, weatherproof, access to your phone is a pack priority for you, drop them a message and let them know.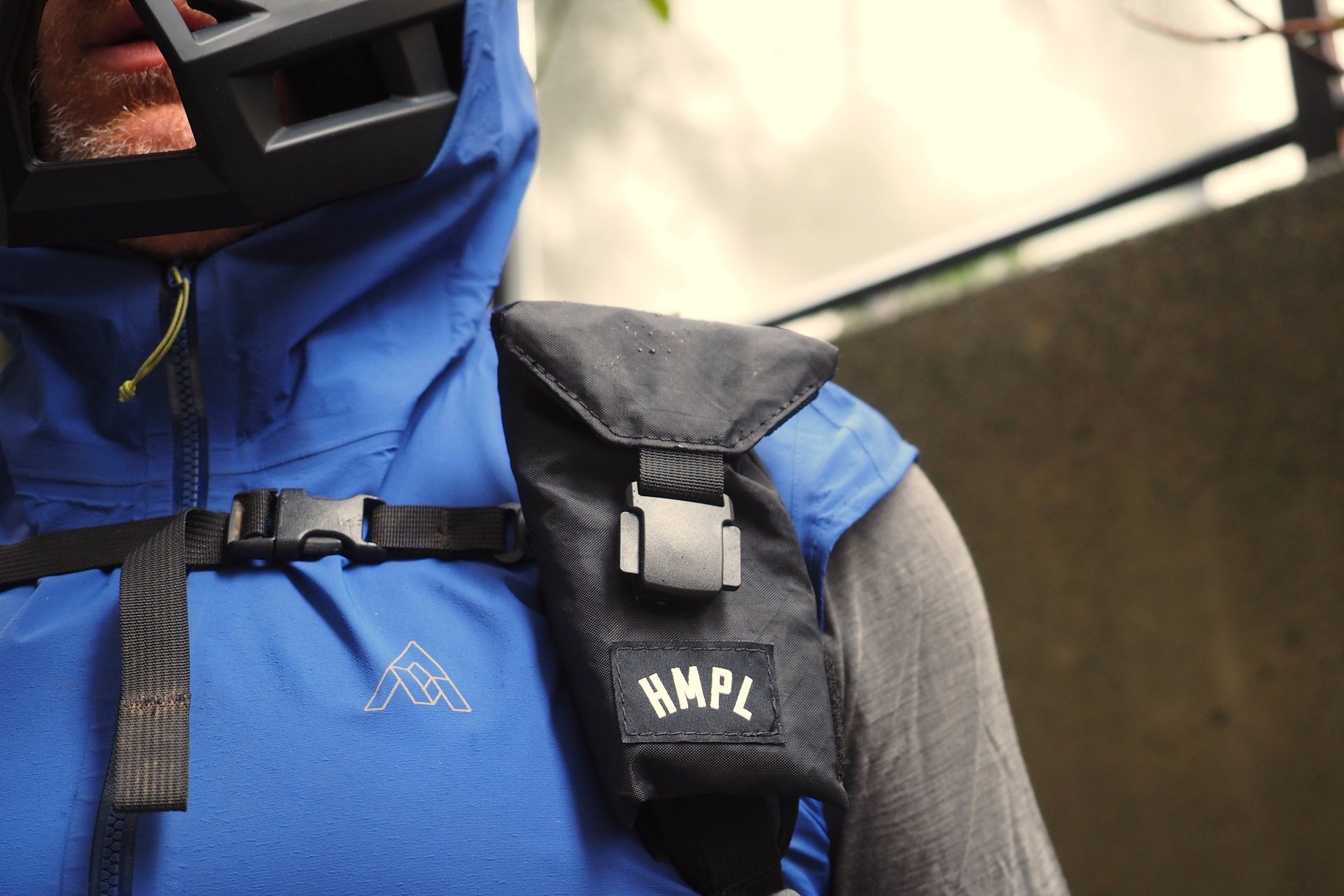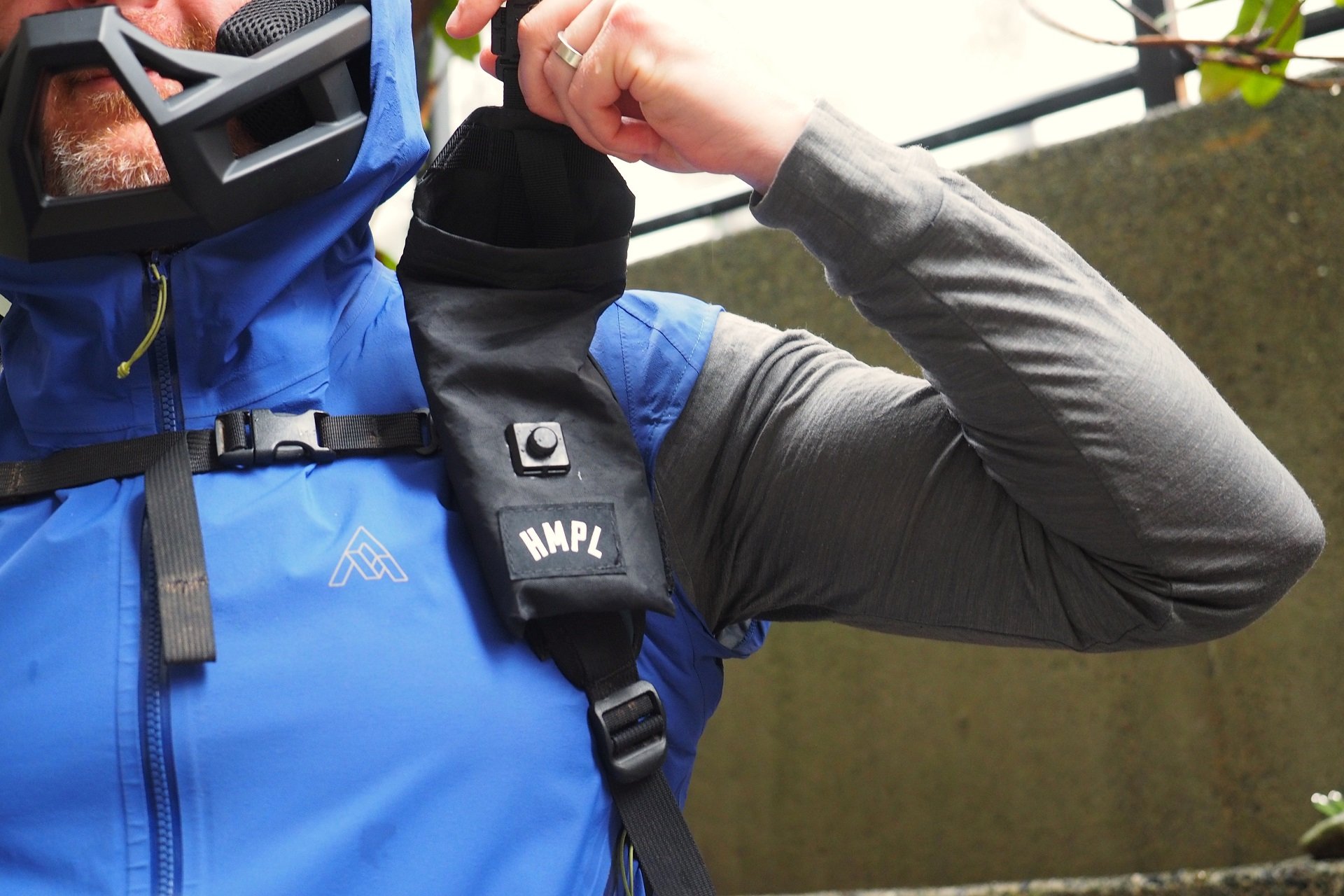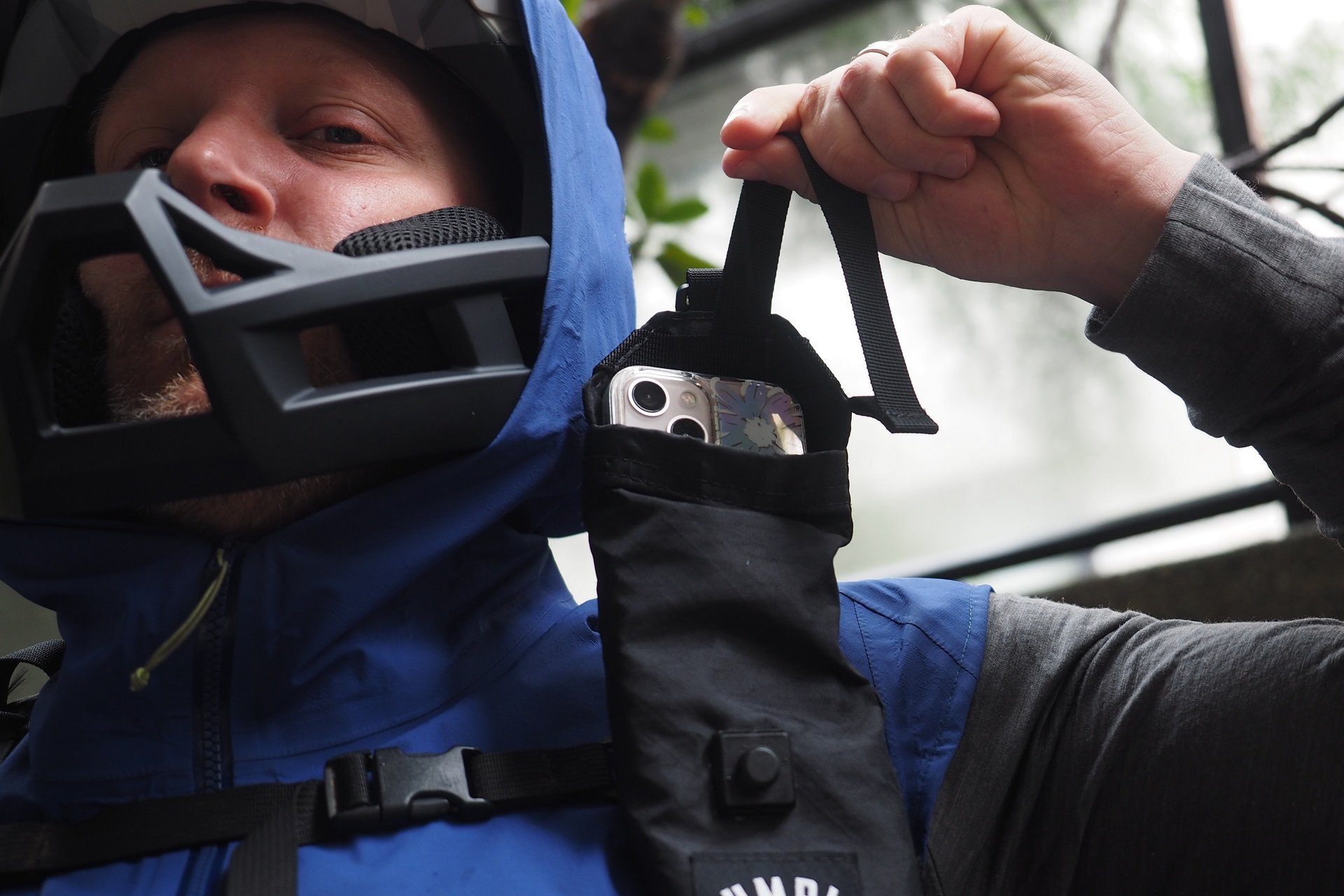 I think it's neat that all these products are made in North America. The Swiftwick socks are made in the USA with a focus on domestically-sourced materials, the goal being to create a best-in-class durable product so they'll reduce waste by lasting longer. Wolf Tooth designs and manufactures their tools in Minneapolis, Minnesota. Some of their products, like this Axle Handle, is a little more niche, but they also make a huge catalog of excellent chainrings and their 8-Bit Pack Pliers are my favourite tool to use on the trail. Mission Workshop's Acre pack is entirely USA-Made. The repairs and my cellphone pocket were done in East Vancouver by HMPL.
Where something is made, and how it's made, varies in importance from one rider to another but going forward I'd like to do a better job of talking about this stuff. Where it's designed, where it's made, how it's shipped, and so forth. Production of some cycling products, like helmets, is narrowly concentrated in certain countries, but I think we recognize that, regardless of geography, not all factories are created equal.
I'd also like to make sure, this season, that I'm including more older, well-used products in Gear Shots. Stuff like my Acre pack that was expensive up front (or would have been if it wasn't a gift) but has a year over year value built in to it. In that vein, and as with recent pieces I've done on a Chris King hub and Formula Cura4 brakes, I plan to still be using these products years from now and to be able to swing back to them again. Despite what the industry (and every industry) tries to tell us, the best things aren't always the newest things.