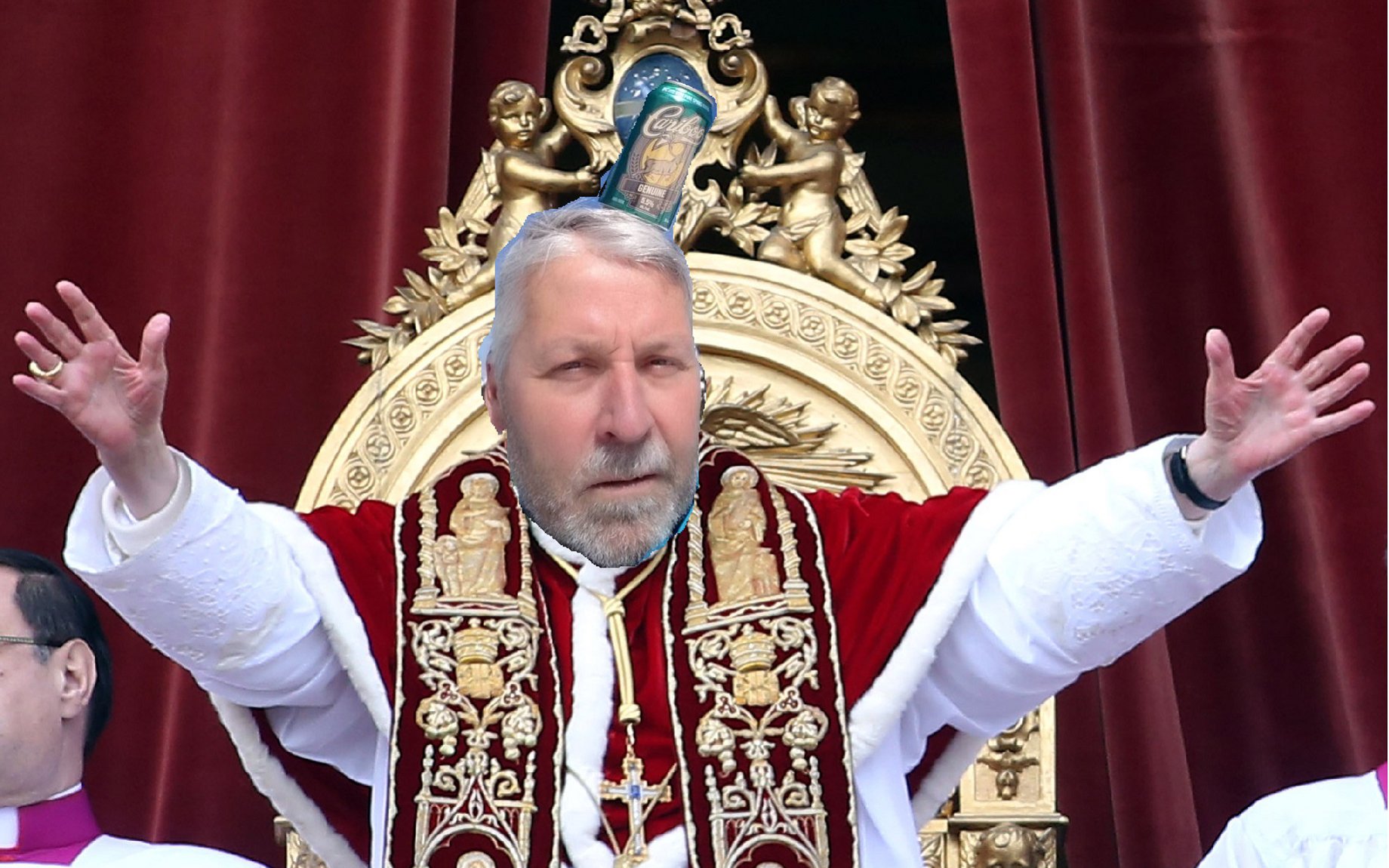 Gift Giving 2021
Andrew's Gift Guide For Good (Mountain Bike) Friends
A Proper Squibbing
There's so much noise in the world today, everyone's just busy, and that sometimes means that it's hard to be certain that our friends and loved ones know we're thinking about them. And let's face it, even thoughtful gifts like your used coffee card with $1.95 left on it, or that last 473ml of Chop Wood, Carry Lager from the bowels of your gear bag may fail to convey that you occasionally remember them in a positive or at least funny-ha-ha sort of way. I'm a big fan of a wee squibbing here and there. You know, publicly mocking their chain lubing methodology or writing a letter to mutual friends to start a library of photos of them changing flats - that sort of thing.
And if a picture is worth a thousand words, then I'm not sure if you can name a better value in mountain biking than some custom stickers taking the piss... I mean, remind your friends that they're on your mind via a proper effigy. Get 'em made, hand 'em out, and wait until someone lets them in on the joke or, much less likely, they notice.
There are all kinds of places to order stickers from, and if your squibbing is a proper one, then minimum quantities won't scare you off because all your friends are going to want one. Talk about a dirt cheap (in cost per unit terms) way to spread some cheer through your gang! You never know, they may even act as an icebreaker on the trail. A few times now I've been on the receiving end of "oh hey, you have the same sticker as so-and-so" and I think meeting more nice people who love riding bikes is always a winning present.
It doesn't have to stop at stickers either. I've seen t-shirts emblazoned with untimely photos of folks crashing their bikes or making hilarious faces, at least one coffee mug featuring multiple photos of a friend's suffer-face, and I'm certain there are even better ideas out there.
Dewhinge-ifying Products
Whether it's their back, butt, bunions, or whatever else, there's probably a solution to whatever your favourite riding friend is whingeing about. I find myself most often listening to an incessant droning on about our particular form of wet and cold that seems to creep into the bones. Mixed with the truth that there are only so many people willing to ride janky old school trails year round on Tuesday mornings, the gift of a little comfort is certainly an easier solution than finding new friends.
There are a few solid options for warmer and more weatherproof clip-in shoes (they do still have two giant holes in the top, mind you). There are Shower Pass Crosspoint socks, there's always a flask full of whiskey (or whisky), but my go-to gift idea for riders with feet is a pair of Esker's Canadian-made insoles. Suffice it to say that all my "wah, my feet are cold" friends who've finally tried a pair, even the ones who bolt steel heat-sinks into the bottom of their shoes, give two thumbs up.
Add warm gloves and emotional support jackets to the sort of winning gift solution that will allow you to generously eliminate all that whining about the weather!
CushCore
Granted, tire inserts may not be for you but they're unequivocally what all your best riding buddies need. Every damn one of them from the fittest XC animal to the slowest sloth surmounting Slippery Salamander. And even if you're looking at lighter insert options for yourself there are a handful of reasons that CushCore is the only choice for them. It's not inexpensive, but when you're out with your best riding buddies you want to have the best experience. Instead of inserting your own card, you could always give them the perfectly patterned haiku that convinces them the rewards are greater if one purchases CushCore for themselves?
Buy new, or buy used if you can find them. In my experience, CushCore lasts forever with zero degradation in performance. I've been riding the same Plus insert on the front of my rigid bike, with very low pressure and regular bottoming out for a couple of years, and it's as good as new. The only cost of ownership has been changing the odd valve core, as with any tubeless valve setup. Oh, you may like their XC inserts, but for your friends, it's full Pro or Plus-sized only.
Why inserts for everyone you ride with? For one, you'll be saved from ever having to wait around watching them struggle to change a flat tire again. Even if they could get that sealant-soaked foam or rubber circle off trailside, do they really want to bandolier it around their shoulders and ride out like that? If sealant or a tire plug (or two, or three) doesn't do its job, there's no tube going into that tire. With some inserts that means they're walking out and you're deciding whether to be the stand-up friend who patiently joins them on their journey. But with CushCore? Run-flat, flat out!
Furthermore, the extra rolling weight really isn't going to add much time for your slower companions who completely wear out their 52t cogs while the rest of their cassette looks fresh. They're just spinning along anyways. On the other hand, your all lungs-and-legs hammerhead is absolutely going to notice the difference while they're trying to turn you into one big sweating cramp. And when you offered to install the CushCore for them, free of charge, in the evening while they're doing other fun things, the fantastic friend that you are, you of course added an extra pound of sealant and 17 wraps of Gorilla Tape.
Remember, it's all about your vocabulary. Choose words like reliable, solid, and bombproof to describe the few hundred grams added to their setup.
Blind Dates
I'll admit that I haven't fully fleshed out how exactly this could, would, should work yet, so maybe you have some suggestions. I've actually been feeling pretty good about my mountain bike fitness lately but deep down we all know that it's relative. My rude reawakening came on a proper pedal ride recently with my friend Naked Nic, with whom I've only ridden a couple of times. Now Naked Nic is one of those high-posting XC dudes with surprising descending skills and in my defense, he's way fitter, way younger, and way taller than me. How much fitter, younger, and taller? His best time from the road to the top of No Quarter on his single speed is around 38 minutes. Mine is, well, significantly slower than that.
We had a great time on a perfect day under the canopy on some of the best bike trails in the world. I managed to not puke, or suffer a jammer and Nic managed to keep moving fast enough that his muscles didn't atrophy. All the while we kept a solid banter going and as a result, I'm motivated to get faster on the climbs.
But! I'm not sure that I really need to be humbled up a hill to know what's what. On the other hand, oh boy do I have a few extra-cocky friends that could use a good shellacking. Maybe up-and-coming pro riders could make a few bucks posting on Patreon? They'd show up in plain kit, and ride my friends into the ground (20% tip if they end up blowing chunks?).
For a more universally recognizable rider, like say, Rémi Gauvin, it could be packaged as a nice gift. Hey buddy, for the holidays this year I bought you two hours of non-stop fire road sprint intervals with Rémi. It's really important that you show up with fresh MaxxGrip Assegai DD tires front and rear and CushCore Pro inserts.
Custom x Lasers
Whether you're picking up something for yourself, a friend, or your favourite trail builder that you barely know, (but certainly appreciate) in 2021 everyone deserves something nice, something unique, something special. The answer is, of course, laser etching. If you live in any area with a mid-to-large sized population there's an outfit that will laser etch whatever blank shiny anodized bits you'd like - stem caps, multi-tools, chainrings, etc. Who doesn't love little custom details?
Wolf Tooth has a custom laser graphic program for their regular pack pliers that will hopefully spread to other products. The standard pack pliers are a good tool, but the 8-Bit system is the kind of investment that's worthy of etching a nickname or slogan onto. Maybe add a phone number or e-mail address if it's something like a very sweet multi-tool that could fall out of a pack or otherwise get lost.
Now, I know it's the thought that counts and a custom laser etched 8-Bit tool is big money, and many people have an EDC Tool so there's nowhere to put a custom top cap, so I also have a budget best-gift-of-the-season idea. You're welcome, no, encouraged to steal it!
Now this will take a bit of crafting but all you need is a decent shovel, a can of spray paint (you choose the colour), and a stencil. Now spell out a special message for your favourite builder and leave the shovel, with a little bow, somewhere you know they'll find it. Something really appropriate like, #ThanksForTheJank, or #YouRockMyTrail, or even #NoDigJustRide if your favourite grumpy old builder occasionally has a sense of humour.
So, that's the end of the assembly line. Best of luck with your thoughtful, and/or hilarious, gift-giving efforts this year - big and small. Thank you for all the great comment-section conversations and other online interactions this year. All the best to you and yours as we cycle into the end of the year 2021 with a lot of hope for bigger group rides and local racing in 2022.
And, CHEERS!