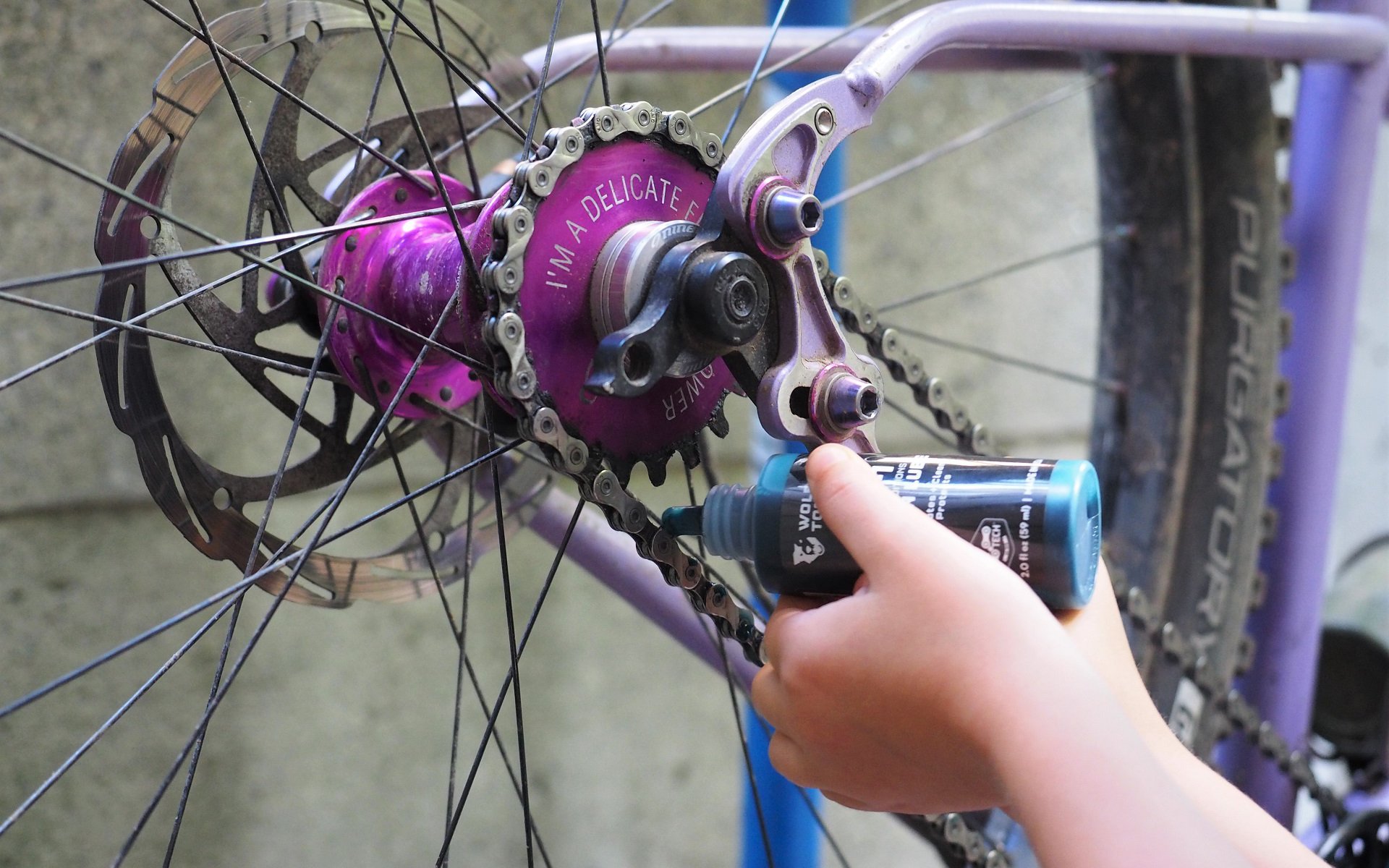 EDITORIAL | HOW TO
Two Ways To Lube A Chain
Sedulous v. Squidulous
When it comes to bikes, my compeer Toucan and I agree on quite a few things, though often from different slants. For an easy example, we both feel strongly that mullet bike sales will increase dramatically over the next couple of years. But, where I'm totally down with the hybrid mix of big and small wheels on full suspension bikes, Toucan is whinging so hard about the move away from dual 29'ers that I'm getting flashbacks to the #26ForLifers.
Another thing we absolutely agree on is the proper way to lube a chain. But, where I diligently follow it by putting a solitary drop of oil on each roller, one at a time, the night before a ride, my colourful Ramphastidae friend is, shall I say, slightly less sedulous. In fact, when it comes to lubing his chain, Toucan chiefly ignores the right way of doing things and squids all over it as he's rolling out of the door for four-hour loops trying to beat Stephen Matthew's time down Boogeyman.
Where I love Dumonde Tech's Pro-X Regular or the new Wolf Tooth WT-1 lubes for my persnickety chain maintenance routine, Toucan and I strongly agree that the average applicator is probably following his regular methodology. That means they're going to be happiest with Boeshield's T-9. That has him preening himself joyously and me wondering if a little bit of enlightenment wouldn't bring at least some of the masses over to my side.
So, here I'm presenting a completely equal and totally unbiased look at our two chain lube methods for your honest assessment (do try this at home). First up the method that Toucan uses, and the second the method we both agree is better.
Method #1: Squidulous Toucan
From TriFlow to 3-In-One, to whatever junk is in the bottle on these lube-Luddites' benches, this method of chain lubrication is practiced globally by cyclists of all stripes. It's well-loved for its maximum application of oil in a minimal amount of time and requires zero pre-planning to take a chain from squeaky to sloshed.
As noted, the two-step Squidulous Toucan does have its advantages in terms of speed and simplicity.
Step 1. Spin cranks backward while ejecting a steady stream of solution onto your chain.
Step 2. Ride Mountain Bicycle
My best advice for the absolute adherents to this abhorrence is to use Boeshield T-9, and Boeshield T-9 only. I've tried a lot of different lubrication options, wet and dry, and this stuff stays stuck, attracts substantially less detritus, and generally protects better in an easier-to-clean format than anything else you can coat your drivetrain with. It's an all-around, all-year-round, base from which I compare all other chain lubes.
I love it for use on other peoples' bikes and also it's great for coating the inside of steel frames as a rust prohibitor. It's also relatively inexpensive and available everywhere.
Method #2: Sedulous Drew-Bob
In contrast, my method does require a couple of extra steps and the addition of a clean, dry, rag. I've been using the new Wolf Tooth WT-1 lube for a little while now with great results, and my long-time go-to has been Dumonde Tech's Pro-X Regular so those are the two options I'm recommending here.
The WT-1 is 24 CAD for a 2oz bottle vs 18 CAD for 2oz of the Pro-X. Either way, I'm using it so sparingly, and it works so well, I think I can still make a good argument for value.
They're both fantastic products that thoroughly bond to the chain so they last multiple rides and run very quietly. If I was forced to split hairs I'd say that, after a couple of rides, the WT-1 does run a bit cleaner and is easier to wipe down and it's also quieter on the first application. The Pro-X absolutely outlasts anything else I've used and it also dampens noise nicely, especially after a couple of applications. As mentioned, both products adhere very well to metal so they last multiple rides and don't wash off easily. In my mind using less, and not having to hit my drivetrain with a degreaser regularly, is a win for the products and the method.
Now, my recommendations aside, if you're taking the time to lube your drivetrain using something similar to this more persnickety method and using a different chain lube I'd be interested to know the what and why!
Since Toucan makes this sound like some kind of herculean labour, I decided to wind him up a bit by having my six-year-old demonstrate the entire process while I drink a beer.
The good news, for those that don't have tiny mechanics, is that this process can always involve a beer, or coffee, or some downtime reading, or whatever you'd like since it's best–practice to pause between the application of the chain lube and the final wipe. I mean, you can certainly also fold some laundry or put away the dishes if you're feeling very efficient, but I think lubing a chain is a great excuse for some you-time.
Anyways, this process isn't all that more complicated than a messy squidifying but I do recommend doing it the night before a ride, rather than as you're rushing out the door, so there is some pre-planning involved.
Step 1. Wipe chain thoroughly with a clean, dry, cloth.
Step 2. Oil the chain one drop, on one roller, at a time.
Step 2a. Yep, still doing it.
Step 2b. This step is for all you high-pivot bike buyers with the extra chainlinks. Keep going.
Step 3. Backpedal. Backpedal for days. Or, at least 20 complete rotations.
Step 4. Chill the heck out. Give it a good 10, maybe 20 minutes. Whatever you need.
Step 5. Wipe down the chain again.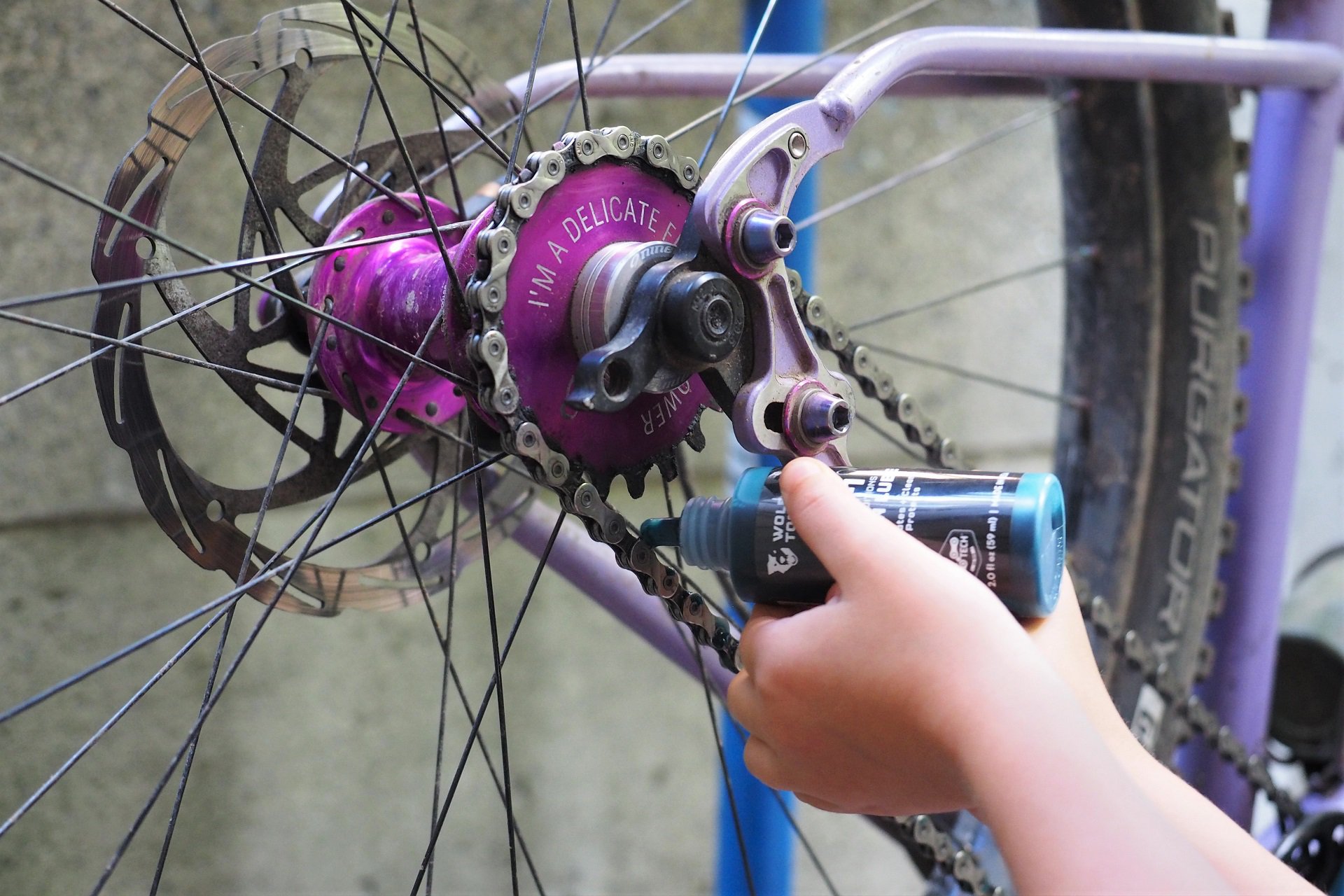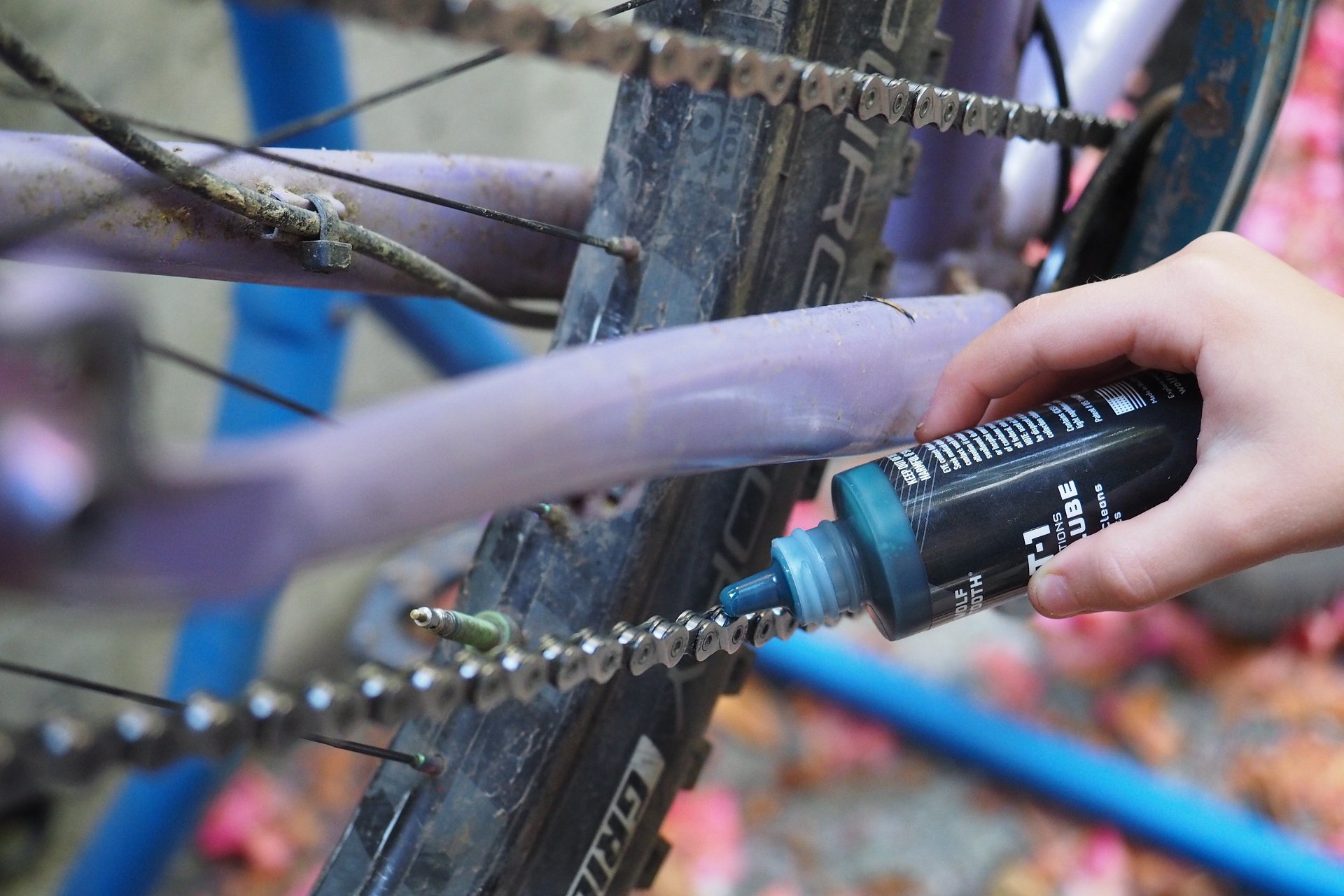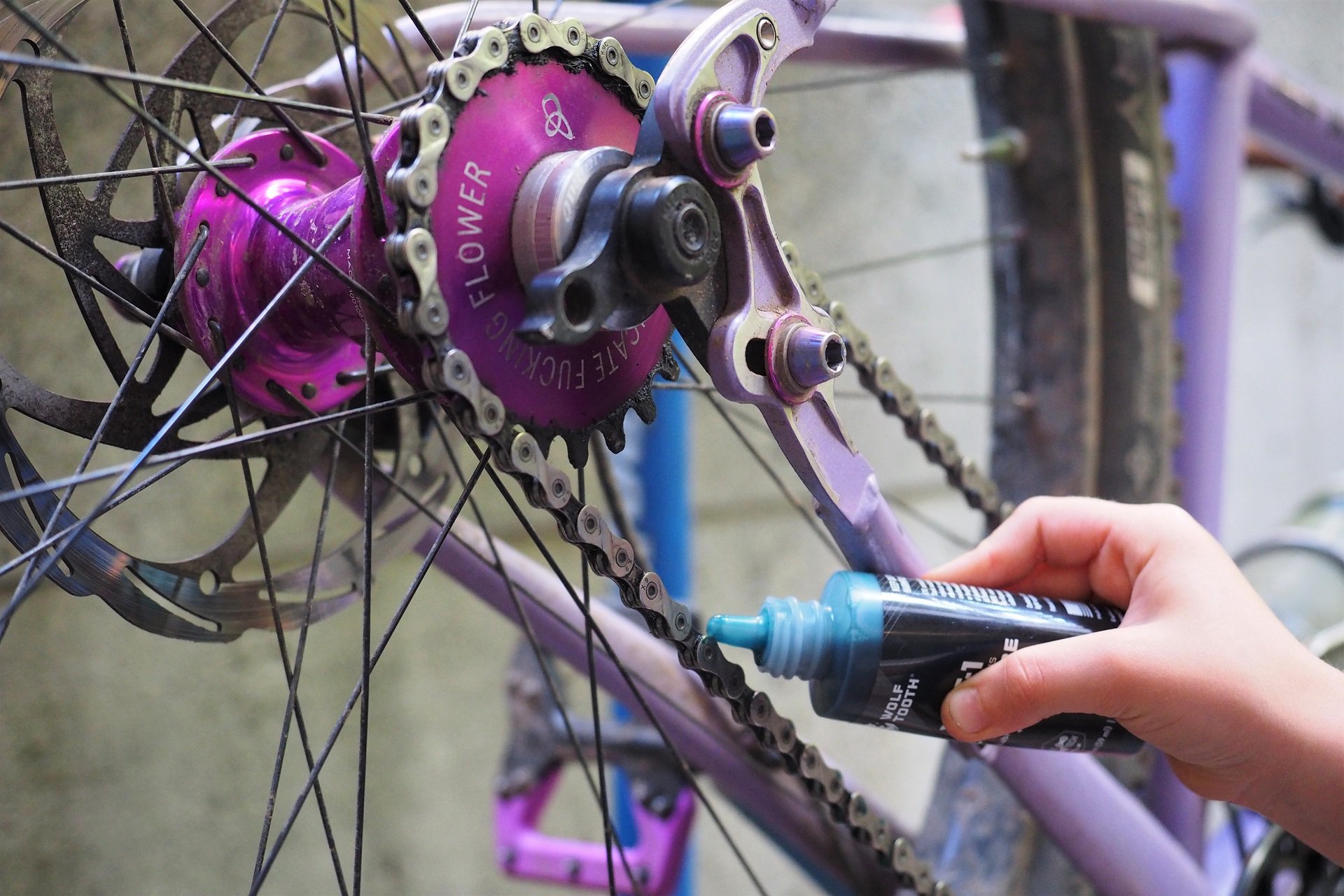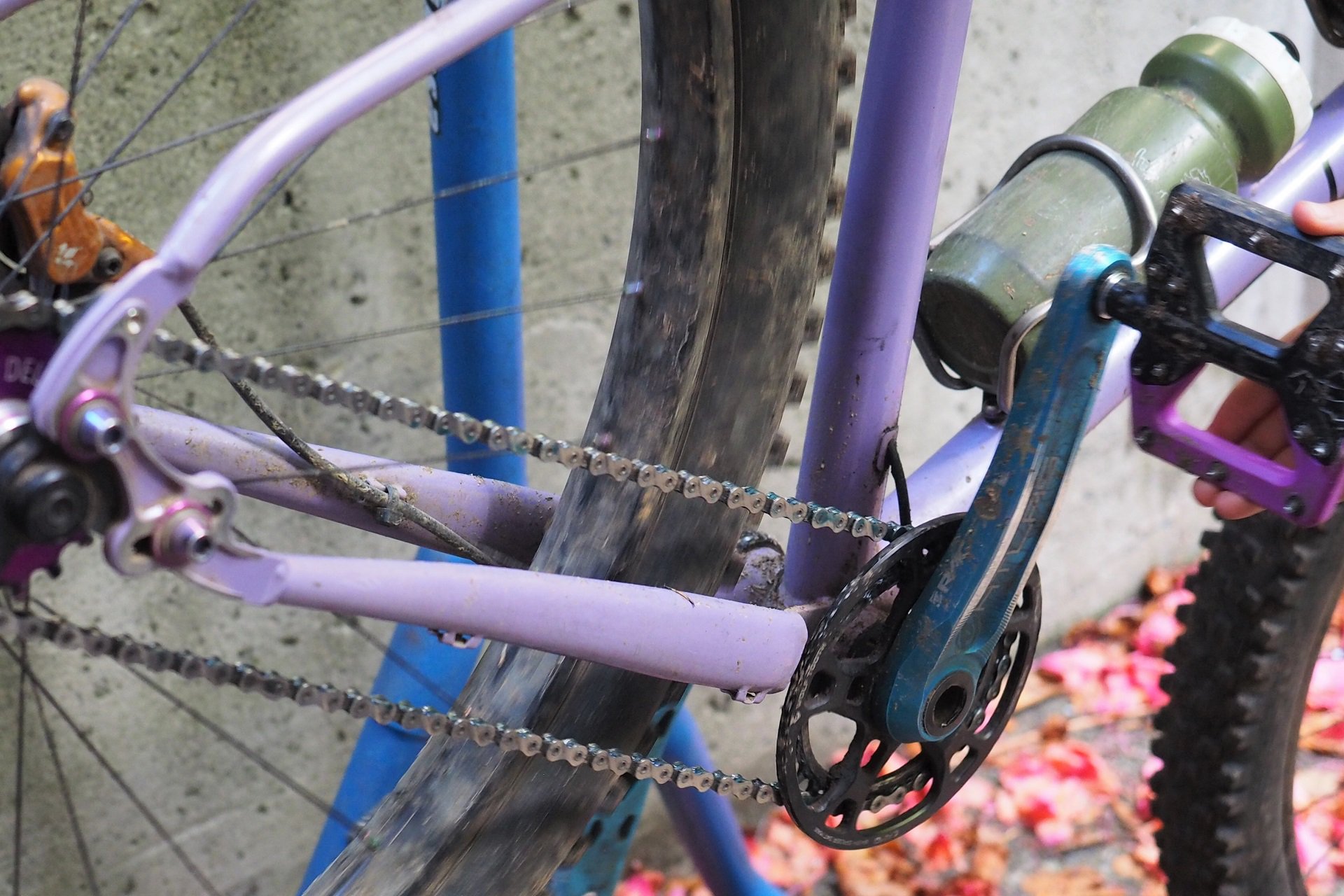 These top-end chain lubes are going to draw crap out of the chain pivots, and replace it with lubricant, which is part of how they make the chain so much quieter. Wolf Tooth talks about the detergent in their lube and in the case of the Dumonde Tech, it just does. It also means that my chain always looks extra dirty the first ride after an application. I just wipe it down.
I also try to wipe it down quickly after every ride. Then I cycle the chain and listen.
Wolf Tooth says to re-lube at minimum every 643.75 kilometers of riding but firstly I don't keep track and secondly, Shore kilometers are hard kilometers all year round. As such, I use Dumonde Tech's methodology for knowing when to lube the chain: "Sound. Not distance, weather condition or time." It's always obvious when I'm due for some fresh oil and in the meantime, it keeps my drivetrain much cleaner and my wallet fatter not superfluously coating my bike in liquid gold.
In addition to my quest for beautiful chain lines, taking my time when I lubricate my drivetrain keeps everything running much cleaner and for much longer. I doubt it really takes me any more time per hour riding than the Squidulous Toucan method, but even if it does, if you invest the time, a couple of times, I know that you - gentle mountain bicycle connoisseur that you are - are going to thrilled with the results.
Give that Sedulous Drew-Bob lube-job a shot! These days it may be the thing that saves the only chain you've got.