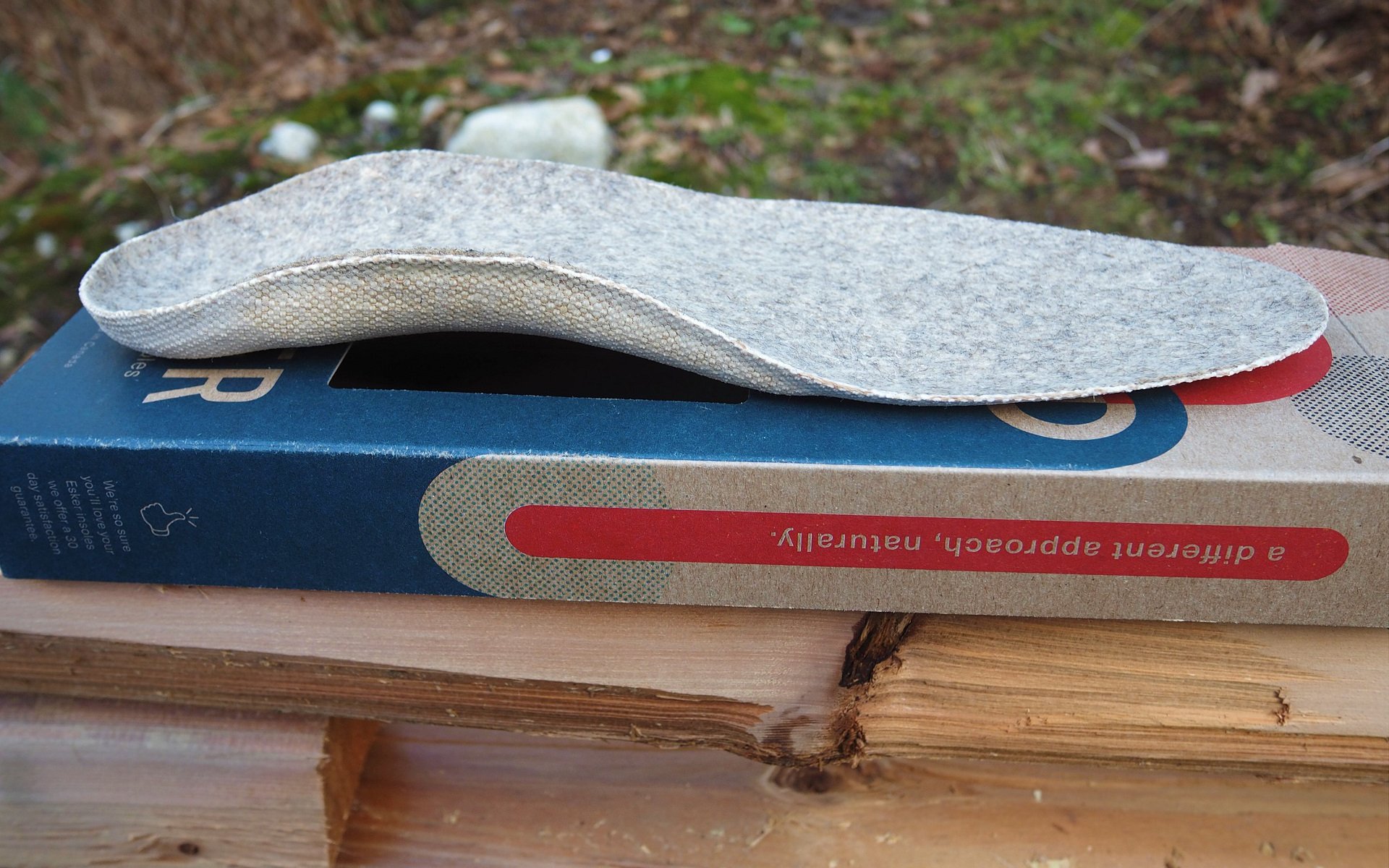 TWO-MINUTE REVIEWS
Esker 'The Approach' Canadian-Made Wool Insoles
The Approach
Esker is the brainchild of two long-time Sea-To-Sky outdoor enthusiasts, Patrick Long and Andy Boniface.* Their goal is to make "more natural, versatile, and environmentally friendly, technical products" and The Approach insole is the first plastic-free production item to come out of their partnership. These insoles are designed by an orthotics expert and manufactured in Canada from Canadian wool, natural rubber, and linen.
The concept is to blend the performance of a quality off-the-shelf supportive insole that's good for myriad activities - cycling, trail building, hiking, skiing, etc - with everything woodsy folks love about wool gear. The promise is dryer feet, increased breathability, better temperature control, and reduced stink thanks to wool's natural properties.
I've been riding them in place of my usual foot support, the Specialized's BG++ Footbeds and SQLab's 215 Insoles, in a variety of weather conditions while turning the pedals on my commuter bike, the Banshee Titan test sled, and on my single speed. I haven't yet ridden them in summer, I can't say how they'll do when the air is hot and heavy.
*Who you might recognize from his previous career as a movie star, culminating in a role as an extra in IFHT's I'm Faster Than You.
As I noted in my review of the Leatt 2.0 shoes, I really enjoy flat pedal shoes with a lot of flex in the sole - especially if the rubber is towards the less FiveTen-esque end of the spectrum. Combined with a big enough platform like my Kona Wah Wah 2 pedals or OneUp Composites, I get plenty of grip in all conditions. The issue for me with truly flexy shoes comes during long hike-a-bike sections or sustained out of the saddle climbs where my feet make their discomfort known through pain and numbness.
On that front, I've used the Esker insoles in both my Leatt shoes and the Crankbrothers Stamp, and the comfort and support are at least on par with my other preferred insoles. The big advantages are the aforementioned wet and cold weather comfort (which I think could be even more of a factor in a shoe with a metal heatsink/cleat bolted on it), and the anti-odor factor, which is a real improvement even in my case where I use a boot dryer regularly.
Price-wise, the 80 CAD is a bit of a premium if you're already happy with other off the shelf supportive inserts and certainly an investment if you get along fine with the basic floppy mouse pads that come in most shoes. Adding up Canadian manufacturing and materials, and wool's wonder properties, I can justify the investment myself as long as they continue to hold up well. I should note that the insoles had a little bit of a break-in period. They were comfy on my first two rides and then very comfy on my third and going forward from there.
As with any footbed, and footwear in general, no review can tell you that something will definitely work for you. If you have any questions about fit, I'm happy to try and answer them in the comments below. You can try The Approach in an increasing number of retailers and Esker also has a satisfaction guarantee whether you're buying in a store or ordering online. I think it's an awesome application for wool as a material and I'm excited to see what else they have coming down the pipe.