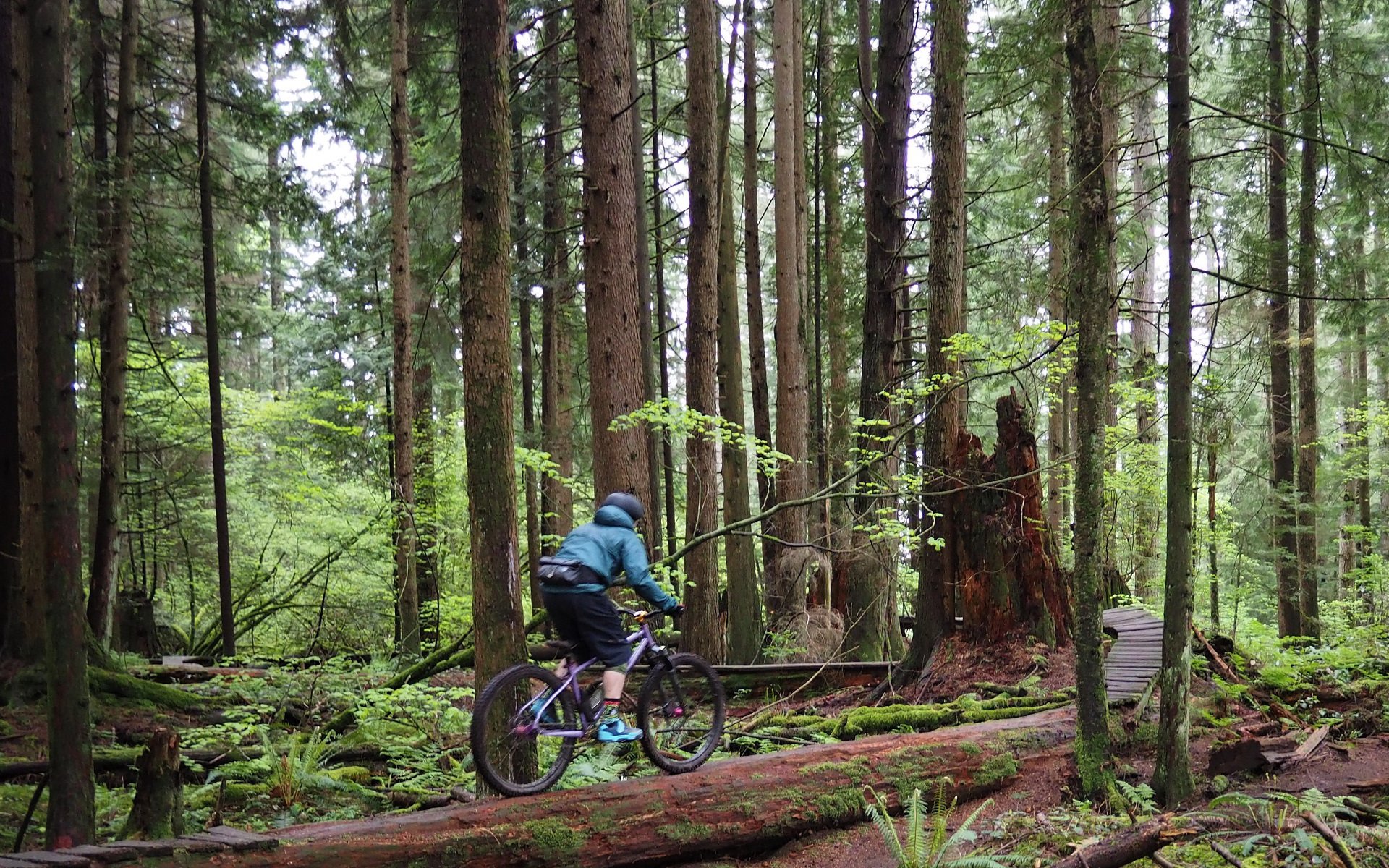 EDITORIAL | REVIEW
Emotional Support Jackets (Featuring The Pearl Izumi Summit Shell)
Averting Tragedy

Ever waited while a friend fixed a flat on a cold, wet, night ride?
An Australian, a Mexican, and two Canadians start up a North Shore climbing trail on a moist and misty winter's day. It sounds like a joke set up but it's actually the introduction to a tragedy. One of the Canadians is wearing a merino hoody, the other a rain jacket, and the two southern-born riders are in lightweight summer jerseys. Neither is packing an extra layer. Let's just say that 'The Whining' isn't a Steven King novel, but this was so intense it certainly has potential.
Between a decent resilience to the cold, some intelligent layering, a mother who raised me to have a bit of stoicism, and my self-respect, the conditions aren't bothering me any, so in the spirit of capitalism I offer up my emergency shell for a few bucks rental fee. You know, to the highest bidder. Yes, it was cheeky.
No money actually changed hands because what are friends for other than carrying spare gear so you don't have to? I was paid back in radiant smiles from the victorious party and that was its own reward for the torturous task of carrying an extra 109 grams of gear in my hip pack.
It takes up about as much room as an extra pair of socks, and I lend it out to friends as much as I wear it myself, but nary a week goes by, year-round, that I don't get some reminder of the key status my ESJ has in my kit. I usually ride from home and the trip straight down the road after a wet pedal can be an experience unto itself. Pulling on a dry wind and water-resistant layer to bomb down the hill is a luxury I really appreciate when I'm cozy and my friend's nipples could etch titanium.
I usually wear my GoreTex vest if I'm expecting less than a deluge and a proper jacket if steady rain is a certainty, but I'm not hauling either piece around if I may not need it. What about all those North Shore days when the forest suddenly goes black and a sheet of rain crashes down through the trees? With my ESJ, if it starts drizzling, I don't have to plan my exit. These lightweight shells are neither waterproof or breathable but when I'm marinated in moisture and the temperature drops, pulling one on to block the wind and trap some body-heat turns 100-grams of paper-thin fabric into a tonne of smiles.
Just this week, my wee one and I bumped into a trio of mountain bikers beating a full-on trail retreat when pounding precipitation arrived on Fromme sooner than expected. They were bailing on their ride and they were surrounded by bitter vibes. It was sad. I wanted to give them each a big hug. But you know how it is in the time of 'rona so instead, I #dadsplained the merits of an Emotional Support Jacket to remain calm, comfortable, and collected when weather comes in. Ever waited while a friend fixed a flat on a cold, wet, night ride?
I'm always open to suggestions, and the Pearl Izumi Summit Shell is the best example of this style of jacket I've come across thus far. Firstly, it has a hood. A hood that fits over a helmet. Amazing. In a perfect world, Pearl Izumi (P.I.) would add a couple of % to the volume and stop marketing the under-helmet fit of this hood but I'm happy to say that I can comfortably run it up over my skid lid rather than have it interfering with the function of my safety equipment.
I really like that the stuff-pocket, where the jacket lives most the time, doesn't have a little zipper. After all, that inevitably is the first thing that fails. Speaking of zippers, P.I. did not skimp to cut grams or costs. The Summit zipper is a beefy YKK two-tab affair that goes both ways.
Huh? Zip the jacket up to the top and then zip the jacket open from the bottom. Like a cloak with sleeves. It will help keep your fanny pack dry, if you don't have a weatherproof one, and is a great way to manage sweat on climbs since the garment isn't breathable.
Oh, and the Summit Shell comes in five sizes with four colour options. It's really important to pick a bright one that reflects like this Pine or their Lava Orange. Because of cars? Well yes, that too, but mostly so if I lend it to someone on a ride I see it and remember to get it back after.
The Pearl Izumi Summit Shell runs 100 USD | 150 CAD, which is fairly standard for a jacket in the 'lightweight extra layer' category. Most options either lack a hood or don't pack down as small as the P.I. but they are all very basic in terms of materials. This means a purchase should be based on price, fit and features - like the solid YKK 2-way zipper in this case.
I have plenty of friends who have questioned my love of the ESJ. Questioned, past tense. They only borrow it once, even just shivering around at a post-ride coffee, and they're believers. "But Andrew, why not put that money towards a really good GoreTex jacket?" Rain jackets are a lot like cameras. Your DSLR takes amazing photos but you're using your cellphone camera all the time because it doesn't weigh a few pounds. I love my 7Mesh Guardian to bits but I'm not lugging it along just in case. The Emotional Support Jacket is not a substitute for a good rain jacket, but watch if its cost-per-use doesn't make it one of the best investments you make.