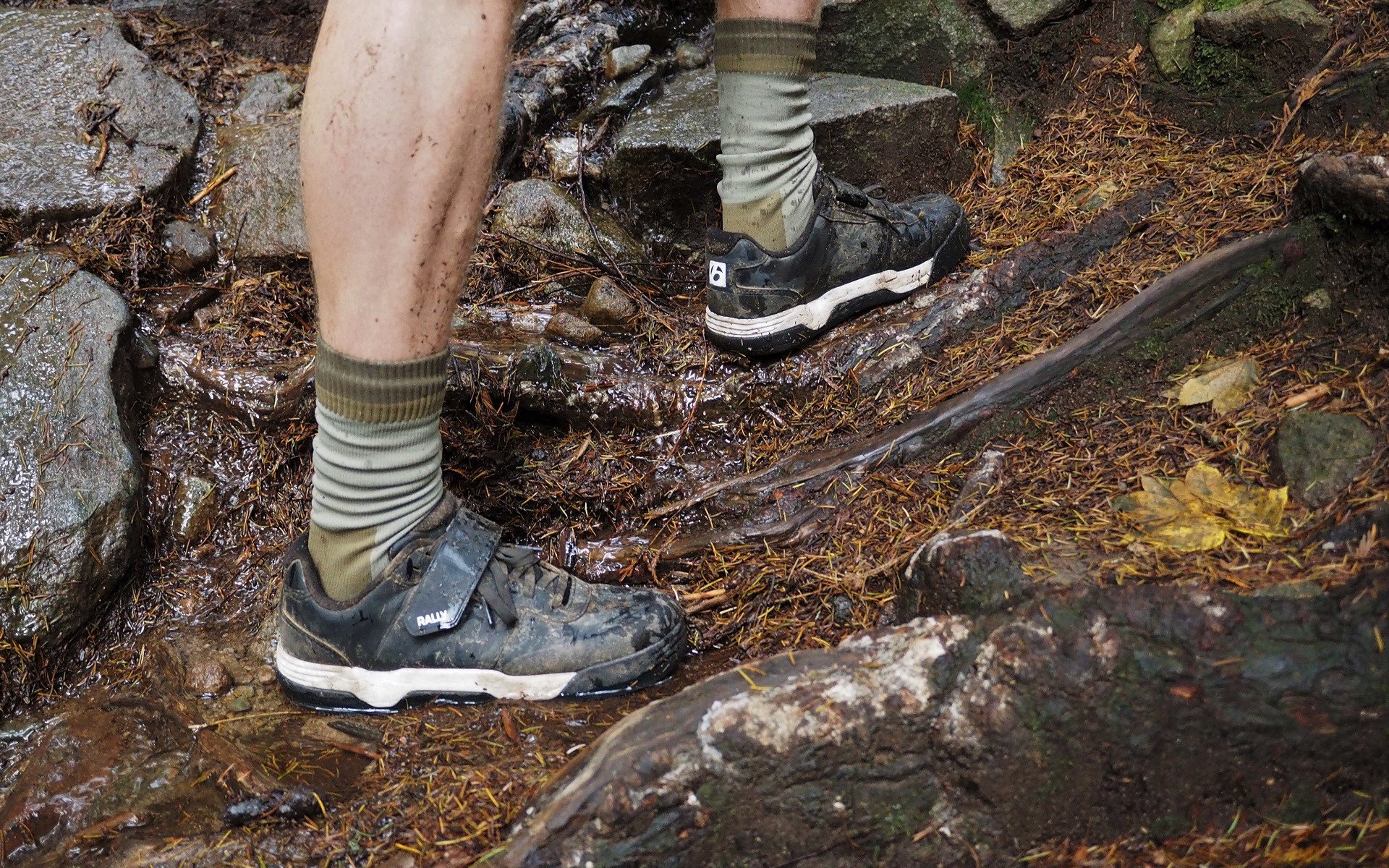 Wet Weather Review
Showers Pass Crosspoint Mountain Waterproof Socks
Crosspoint Conundrum
Today's the day. That is, the only day that our schedules line up. It's March 2018 and it's raining absolute sheets. It's so f***ing miserable outside that I can vividly picture Dave Smith grinning ear-to-ear as he loudly sings a jaunty sailing song and packs his camera gear. I've already donned my most weatherproof riding jacket, and the Endura MT500 shorts I'm testing and now I'm faced with a conundrum. In my one hand, I have some shoes I'd really like Dave to photograph and in the other, some black Showers Pass waterproof socks which do not comfortably fit in said shoes because they're too thick with liner socks on. What to do?
I remove my liner socks and slide my naked pedal-pushers into my black Showers Pass Crosspoint Crew socks. Wow. That's. Comfy! Say what, they have a sock liner inside? Amazing! I wish I'd, you know, read the description or tried them without socks on before now. They breathe better, feel oh so nice, and at that moment go from a total-downpour accessory to something I wear every ride there's water on the ground and it's below 10°C.
These Crosspoint WP Mountain socks take that to another level by swapping out the CoolMax liner of my first pair for Merino wool. I've tried a few different weatherproof sock options and nothing is as comfy as the Crosspoint. Showers Pass puts that down to their laminating process. The 'waterproof' breathable layer is sandwiched between the ultra-comfy Merino liner and a durable knit exterior.
I prefer the term weatherproof to waterproof as anything that's breathable at all will eventually get saturated inside and out. It's impressive how long the Crosspoint Mountains keep the water out, especially when I'm wearing pants to prevent water from getting in from the top. I've been out riding and digging in some epic downpours and eventually the Crosspoints wet out. Generally, that's around the same time as the rest of my weatherproof gear but no one should buy these socks thinking they're water-impermeable.
I wash the Crosspoint Mountains every time I ride in them and they take a while to hang dry, being three-layers and all. More than two or three *cough*dozen*cough* times they've been tossed in the dryer and they've always come out ready to party. Showers Pass says 'tumble dry on low heat' is fine but hang drying is optimum if I want to avoid shrinkage.*
*It's also possible to turn them inside out after a ride and hang them somewhere warm. The inside will easily dry overnight - for those who aren't fussy about wearing them more than once between washes - Ed.
It probably goes without saying that I wholeheartedly recommend the Crosspoint for wet weather use. It's probably not a bad idea to own two pairs if that's an option since they take a while to hang dry and they'll last longer if treated nicely. After years of extolling the virtues of a separate pair of weatherproof clipless shoes, and lamenting the lack of weatherproof flat pedal shoes, my ten tootsies hum comfortably in these 45 USD | 59 CAD socks.
The Crosspoint Mountain is available in four sizes from SM/MD to XXL; more info available at Showers Pass.