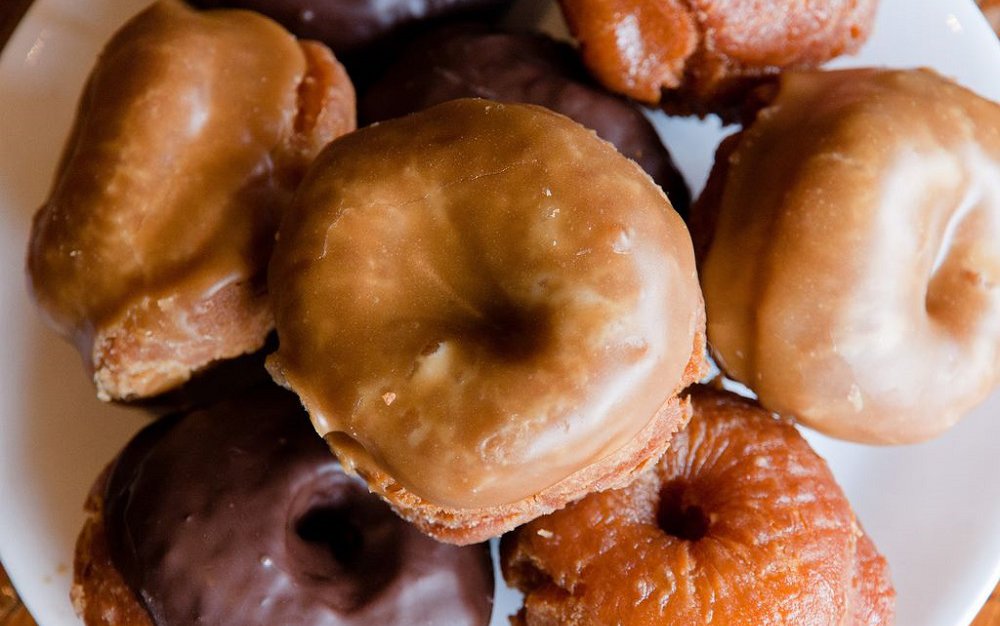 EDITORIAL | A Spring Service Story
5 Gifts For Your Bicycle Mechanic That Aren't Beer
In Before The Rub
I know I need to be extra, extra, clear here that no one is telling anyone that they have to drop off presents for their local bike shop. I've been in this place before, too many times even, and no matter how cautious I am with my caveats there's always some solid-pyrite dick that craps his pants, pulls out a big glob of that's-not-loam, and proceeds to rub it all over the comments. Please, please, at least read my preamble before you rage.
A bicycle shop is a business that sells shiny things and services. It's not like there's some premium extra firm brake bleed option that you're just a secret handshake and a six-pack of craft brews away from achieving (or is there?). That's not how mechanical things work. Beer, baked goods, or fine deli treats probably won't 'buy' you a discount either. The lights, they must be kept on. The staff, they want to be paid. Go figure.

Even mechanics who don't keep a stash on hand would readily drop whatever they're doing to play LEGO at any time. You think the floor staff in the shop are paying extra attention to your kids because they're nice people? Maybe, but they're also making sure that your progeny didn't smuggle in any tiny plastic distractions."
If you have a great relationship with your local shop(s) that extends to you paying for work and them doing work, or you ordering a thing and them selling you a thing, that's awesome. I'm not trying to cheapen that in any way. Keeping your dollars local is, I think, a real commitment to your community - jobs, taxes, trail donations, taxes. And in my days working in shops, I've gotten along gangbusters with a flood of folks whose only compensation beyond paying the bill is sharing their stoke for riding, a thank you, and a smile, and that's the best.
And if you don't have a bike mechanic, someone you know personally, who's looking after your stuff, I get it. And if your shop never goes that extra mile you really appreciate that can't be quantified with money alone, I get it. If you do most of your own wrenching and you never drop in for some free advice or some help getting out of a jam of your own creation, I get it. If they never take the time to rob a broken derailleur for that pulley wheel you can't find anywhere or dig out a stashed replacement for that stupid proprietary bolt you lost, or say "you know, I might have one of those in my collection at home," or to pull over on the side of the trail when they see you and grab a spare spacer out of their pack to sort out your buddy with the loose headset, I get that too. Even if your bike mechanic is you, this could be a helpful guide when you're looking for a way, big or small, to say thank you for going the extra mile to making that riding experience amazing.
And also, though it makes my teeth hurt to have to point this out, the following is intended to be cheeky.
LEGO Minions
Bicycles are, in many ways, adult LEGO but that's only one part of the connection between the iconic Danish blocks and the person working on your bike. Did you know it's an absolutely proven fact that all bike mechanics love LEGO? Craig, the best mechanic I've ever worked with, has an epic collection. Jeff Bryson's shop always has a bucket hidden within easy reach. My friend Mandy is insane for LEGO Technics. I could keep typing all day.
Even mechanics who don't keep a stash on hand would readily drop whatever they're doing to play LEGO at any time. You think the floor staff in the shop are paying extra attention to your kids because they're nice people? Maybe, but they're also making sure that your progeny didn't smuggle in any tiny plastic distractions.
It's also, as I understand it, why major service centers have shipping receiving departments separate from the workshops. Imagine what would happen if SRAM mailed a 5000-piece Lego Star Destroyer to the Fox service center in the middle of the spring and the techs got their hands on it!
LEGO Minions are, on the other hand, a perfect gift to say thanks for straightening my derailleur hanger on my way to my ferry reservation, again. It shows you recognize that all (all!) bike mechanics love LEGO, they take only seconds to assemble, and now your mechanic will have some sympathetic friends at work when they're listening to a question about legacy SRAM compatibility and reach down to pick up that pivot bolt they just torched before hammering out. OUCH.
It's also a solid reminder of their role in your life. After all, you're the super-villain - #SCOFFLAWS! - out shredding through the woods, flying through the air, dressed like Darth Vader performing Ziggy Stardust at the Superbowl and they're the Minions bolting on the replacement parts. But then, if you can't track down some Minions, don't stress. Any LEGO is a solid win in your mechanic's eyes.
For your own safety, if you're planning to drop by a little LEGO-related thank you during the busy season be certain to take it out of the packaging and preassemble it first. If the shop owner sees you dropping off a cardboard box with LEGO printed on it you're liable to get banned for life!
Doughnuts
Oh, magical doughnuts. They come in as many different shapes, sizes, and personalities as bike mechanics do. There are classic doughnuts, like those from my local, Harmony Donuts on Upper Lonsdale that go beautifully with a hand-crafted steel frame. There are full-on doughnuts like those from Honey's that pair well with a squeezed-in bearing overhaul on a big multi-pivot bike like a MegaTower or an Enduro.
There are sophisticated new age doughnuts like Lucky's that are "genuinely delicious" (and really, they are) but maybe trying to use slick marketing to fix something that isn't broken. Like a company choosing to spec bladed, direct pull, spokes on a sweet, carbon, Enduro wheelset. They're a nice remedy for that look your mechanic gives you when you neglected to share the details of said wheel configuration when they agreed over the phone to have a "quick" last-minute look at the very end of their day. And finally, there is always the gigantic I'm-going-to-hate-myself-in-an-hour-after-I-eat-all-of-these' box of Timbits-esque mini-doughnuts because let's face it, that poor sod behind the tools is a total glutton for sweet, sweet, punishment.
Doughnuts are a great way to say "I'm sorry about the state of my bicycle, I came straight from a ride" or "thank you for noticing my lock-on grips were deadly-loose when you were just installing a tire" or even "you were totally right: resetting the air pressure in my suspension every week is an amazing upgrade to my ride experience."
Really, they're the assorted deep fried gift for any occasion.
RaceFace Torres Riding Shirt
I admit, when I first saw the Torres jersey I laughed. I smiled. I laughed some more. I mean, who writes this stuff:
" Let your personality shine on like a diamond in our new Torres Button Up riding shirt."
And yeah, I know, it's starting to get more than a bit pricey up in this list but can you really put a price on brightening the disposition of the bicycle mechanic doing so much to brighten yours? I mean, yes, yes, you can, and if that price is around 61 USD / 80 CAD then here's an option that I virtually guarantee no one else has picked up for them.
The same features that make it good for riding - "the performance fabric keeps things cool with subtle perforations for increased airflow. The flow continues on or off the bike with the fresh sublimated floral graphics, quality snap buttons, and stretch fabric." - also makes it perfect for turning wrenches in a confined space, while wearing a mask, in a heatwave!
I wear the Torres regularly, over a merino base layer, when spending the day working on bikes and it's really comfy and gets lots of comments. Some of them are even remotely funny. The same goes for cruising down to the park for some outdoor brews. I'm more of a subtle All-Day-Henley sort when it comes to mountain bike, but I figure the shirt is essential safety equipment on my commuter?
And who knows, your wrench is going to look like they're having so much fun doing that rush internal-routing cable replacement job they may actually start having fun too!
Safety Wire Pliers + Wire
Mechanics love, love tools. You'd love, love some properly installed, wired-up push-on grips. Here's a chance to sew the seeds for an endless crop of installations. I wired grips for years before getting a set of proper safety wire pliers and they're a positive joy to use. I wish I'd bought them a decade ago. Your favourite wrench will think of you every time they use them.
I couldn't find a pair locally in North Vancouver so ended up buying them local-ish, online from Gnarly Parts in Chilliwack. A quick Google search will set you up with plenty of options for your preferred purchasing methodology. I think a lot more mechanics would get joy out of a glue-and-wire grip job if they were pulling out a nifty tool to do it!
The controls on most bikes these days can be removed without sliding off the grips, so why not ditch that hard plastic inner sleeve and get the full-thickness in squishy yet supportive rubber? There are some almost universally loved push-on winners like the Sensus Swayze or Chromag Wax so there's really limited risk involved in trying out push-ons.
Pricing varies all over the internet, my setup was about 40 CAD for a pair of pliers and a bail of wire. The Tusk pliers are very nicely made, fun, and very easy to use. I've already installed a half-dozen grips and I suspect they'll be in my toolbox forever.
Ablutions
Patrick deWitt's book Ablutions is wonderfully written, darkly-darkly funny, dirty and damaged, and at times pretty f***ing vicious. It's fully engaging from cover to cover and if you've cultivated an impenetrably black sense of humour, having survived working retail in any industry, this book will actually still reach out and tickle you. It is a take on below-rock-bottom though so be warned it's not for the faint of heart.
It's not a very long read, the first time I picked up my used copy was at Powell's Bookstore in Portland. I picked it up and proceeded to stand there reading it cover-to-cover with my mouth slightly agape. I've enjoyed reading and re-reading Patrick deWitt's other books as well but this is my favourite and I sit down with it at least once a year.
I really wasn't sure what to pull for a brief excerpt but this is tame and also, I think demonstrates deWitt's tone and rhythm without giving anything away:
"He is full of mystery and a looming evil but the strangest thing about Raymond is his choice of shoes. The first time you see them you burst out laughing and leave the room for fear you will offend him. Later you tell Raymond how much you like the shoes and ask if he would mind you sketching them (you are an amateur artist) and he makes a grand gesture of your request, loaning them to you on the spot and walking off into the night barefoot."
Cheers
For many people, a bike shop is just another business they deal with on a semi-regular basis like buying ginch, food, overpriced t-shirts, or having the oil changed in their car. Hopefully one that pays a living wage and donates to trail associations, but really as long as they have the right size of shoes and can straighten a bent rotor or derailleur hanger they're getting a few bucks tossed their way.
For others, a bicycle shop is a lot closer to being thought of in the same terms as a local pub or coffee shop than say a hardware store or car dealership. That is to say, you're in there almost every week and all the staff know your name. Some of them are DIY home mechanics paying for an education by working on their own bike by screwing stuff up (we've all been there), some of them are folks who ride all the time and want help keeping their rigs running, and I'm certain I'm not even scratching the surface with those two categories.
In either event, I'll be ostracized if I don't note that if you ever feel like saying thank you above-and-beyond paying the bill and passing on a recommendation to friends, beer or coffee will absolutely be appreciated. And if booze isn't the memorable cheers you're looking for, you now have a few of my ideas. I'd love to hear yours.