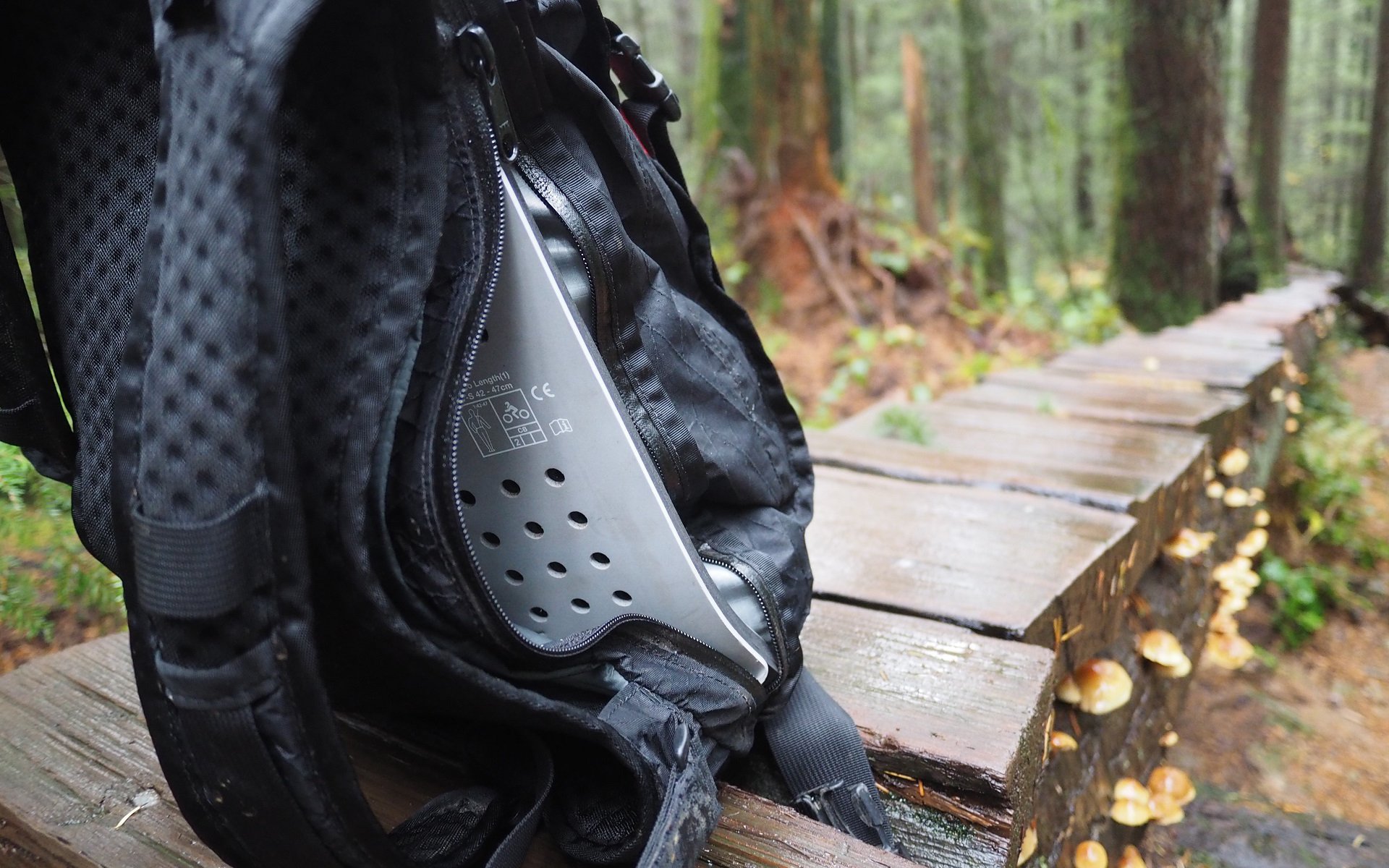 Seasonal Adjustments
Swapping Bladders For Back Protectors
SMRT
Occasionally I have an idea so simple and sensible that I spend more time wondering where I borrowed it from than actually implementing it. Then, after I ponder the origin of my idea for a while, failing to discover the source, I'll admit I feel silly about getting excited. I mean, even if I did think it up independently, it isn't exactly rocket surgery.
After years of riding in backpacks exclusively, then using different fanny packs, and sometimes even riding pack-free, I became quite settled on Camelbak's Chase Protector Vest (CPV) in the summer of 2020. I like the easily accessible cellphone pocket, I like the fit and how it stays in place, and I love how the CE Level 2 back protector separates me from my stuff. I've landed on my back before and I rather like having a layer between me and my 4/3 camera.
I only fill up a bladder for real adventures and even when it's fairly mucky, I get by with bottles because I find I drink much more water that way. Also, water bottles' squirting function comes in handy from time to time. But between my camera, tools, and spare clothes, a pack of some sort is the most convenient way to carry my crap.
Through the fall, winter, and spring last year, I broke with my usual tradition of running a weatherproof pack for the moister months in favour of the CPV. Sometimes I thought ahead and stored my stuff in a second drybag inside and when I didn't ,my spare duds were drenched. There's nothing quite like swapping your cold, soggy gloves for the fresh pair of equally cold, soggy gloves that are swimming in your backpack.
In the aftermath of a recent fishing expedition, where I caught a sopping wad of wet backup clothing, I'd finally had enough and I pulled my trusty weatherproof Acre pack off the wall. The Chase needed a solid baking soda-soak to de-stink anyways. It was in emptying the Chase and removing the back protector that I got to thinking.
Camelbak actually sells the Impact Protector Panel on its own for 50 USD | 65 CAD and while they state it's "designed specifically to be used with select CamelBak hydration packs" most bladders are a uniform shape. Sure enough, it zips right into my weatherproof pack in place of a bladder. And yes, it's just over 200-grams of added weight on top of already wearing a pack, but it makes my camera more comfortable and the added confidence makes it a worthwhile addition.
I'm one of a grand total of three folks I know that rides with a back protector, and most of my riding friends have sworn off backpacks for all but the most epic days, but I'm glad the option exists and stoked that it's compatible with my favourite weatherproof rolltop pack.