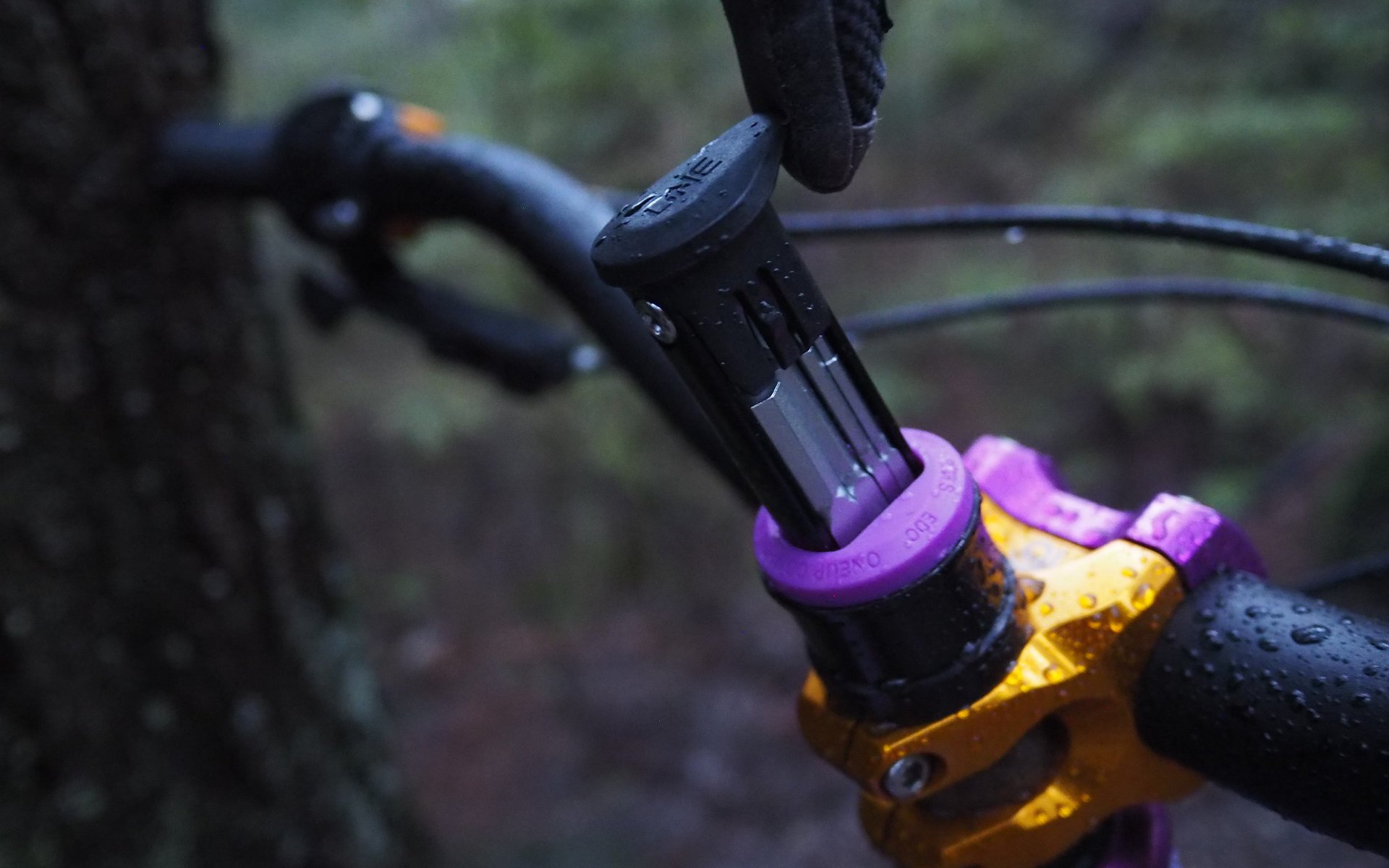 REVIEW
OneUp EDC Lite Tool
Magnificent Marketing
If OneUp's EDC Lite tool was an absolute piece of sh*t, they would still own the crown for the single greatest product launch video of all time. Make that, videos. They were all good. The first I saw was Brenda's Bench by Miranda Miller. I laughed. Then Jesse Melamed installing his EDC Lite while riding. WTF? All those years of that beyond-boring mechanic-challenge at Interbike and they never thought to have the wrenches riding bikes whilst working on said bikes to spice things up.
I'm guessing it's the cost of insurance that's keeping OneUp from giving away an EDC Lite tool every month to the most creative install video that's submitted. I'd watch all the good ones.
Once I finished the awesome product release and had a tool in my hands, it was obvious the EDC Lite had another thing going for it. It's decidedly not a piece of sh*t. Actually, EDC Lite is beautifully simple to install and use. I mean, technically you can install it while riding - and the system uses the same multi-tool as the more complex steerer-tube-threading EDC tool.
Some folks will lament the lack of a chain breaker with the EDC Lite, but I think the design more than makes up for the inconvenience of having to stash one elsewhere. I actually still ride with a larger, individual, 5mm and 6mm hex for bigger jobs but for 99% of the stuff that comes up on the trail, the EDC Lite is a winner. It's ridiculously easy to install and deploy, stores quietly and securely and it sells for less than half the price of the excellent, Bontrager BITS system which adds a chain breaker.
The only stash-tool system I've used that provides the leverage to do every job on my bikes is the Wolf Tooth EnCase. I love to use the EnCase system for more in-depth repairs, but in the dark or with cold hands fidgeting with the various bits is a lot less pleasant than the ultra-fast grab-and-go EDC tool. I've used it most commonly for adjusting a crooked stem or cockpit controls.
Install is bone simple and the only tool you'll need to add is a hammer. It's nice to have a proper long 4mm hex key to tighten down my headset but it can be done with the EDC tool itself. It's a lovely example of keeping things simple and deriving a great result. I've had no issue with my headset coming loose, despite the plastic preloader, and that's a nice sign of quality. I like it much more than the original EDC concept. So much that I'm going to buy an extra 15 USD carrier to use the original EDC multi-tool I have on another bicycle.
I plan to keep using the tool regularly and will report back if anything comes up. OneUp has a lot more information and photos of all six colours of the EDC Lite posted on their site.