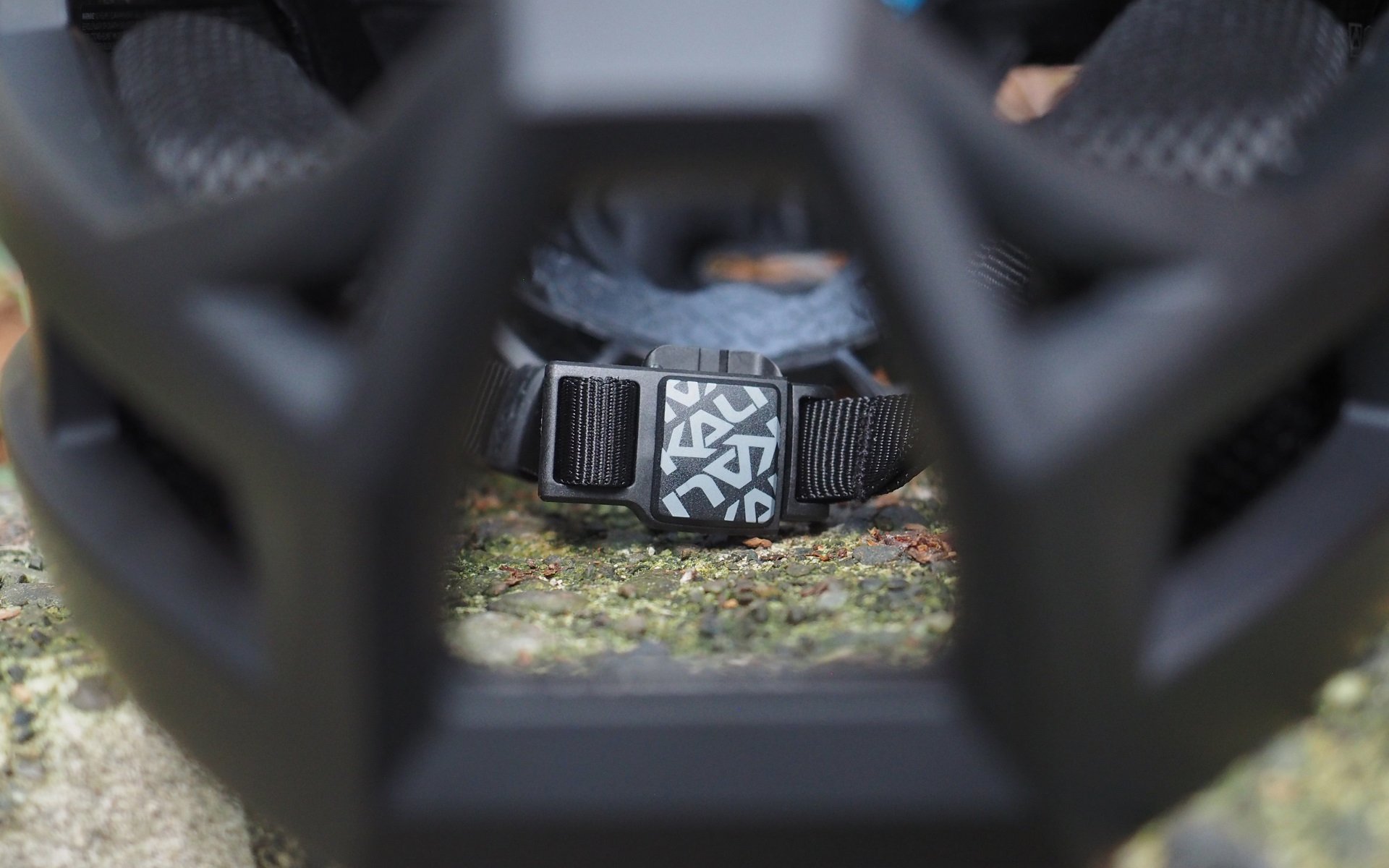 EDITORIAL
Things Put Aside, For When I Can Ride (Part 1)
Projects
I have an original Acre Hauser pack in blue that my wife bought me as a gift the year they were released. It used to show up pretty much any time I was in a photo on NSMB but a couple years back one of the straps failed fantastically in a crash and it's been living in a box ever since. I know I could have sent it back to Mission/Acre and they would have replaced it or repaired it, but it made way more sense to me to have it fixed locally. Or, rather, to leave it in a box and occasionally think about having it fixed locally. It's currently with the good folks at HMPL being repaired, and it's one of a handful of projects I'm keen to take onto the trails once my Achilles has full function and fortitude.
Over the next few months, (many months? hopefully less than a year!) I'm going to share a few projects or products that are helping keep my fire alive. Gear really needs to be ridden to be tested, so most will be my own projects as opposed to anything I'm testing. There are however, a few exceptions, like my Kali Invader 2.0 helmet that I've Gollumed away for a riding day.
---
7Mesh Guardian Weatherproof Vest
If this waterproof vest looks a bit familiar, that's because it started life as the first generation 7Mesh Guardian jacket I reviewed in the fall of 2017. It's easily the best jacket I've owned but after years of regular use on and off the bike the sleeves in particular were getting a bit ratty.
About six months ago, my previous weatherproof vest, up-cycled from a red Gore jacket that never really fit me, finally crapped out and I missed it immediately. I was wearing it more than any piece of rain gear I've owned and was keen to try it combined with the RaceFace Conspiracy jersey and a merino base layer for my ultimate rainy day riding gear. Then I put a big slash in my Guardian sleeve being an idiot (never wear your high-end shell in your workshop, even for a few minutes) and 7Mesh received some fresh jacket inventory.
I bought myself a new 7Mesh Skypilot jacket in a sweet cloudy grey colour that they could have called 'Dave Smith's Perfect-Day Grey' and I dropped my used Guardian off with my friend Sherry at Sateen Alterations, who disarmed my last vest. It was completed a week after my Achilles ruptured. Yeah, serendipity.
I've been wearing my new Guardian vest almost every day. We've had a lot of grey days where it might rain and it's perfect for crutching around on those days. It's also a great layering piece on colder days when I'm wearing a warm sweater and just need some wind-blocking for my core. So far it's seen twice as many days of action as the Skypilot. But, it really does have a purpose that's unrealized at the moment. Keeping some super sweaty dude (that's me) comfortable on dank and drizzly days in the mountains riding my bicycle.
I assume the reason that companies like 7Mesh don't offer weatherproof vests is because they believe they'd be a hard sell to riders. I'm not talking about the 'water resistant' windproof, or at least windproof front, vests that roadies use, but rather a proper weatherproof jacket without sleeves. I don't know how they'd ever catch on without more riders having the opportunity to try one but the way they combine a comfortable core with better mobility, quiet performance, and the best breathability is awesome.
Like Close Your Eyes & Cut Your Bars, if you have a weatherproof jacket nearing the end of its life that you're replacing anyway, consider hacking the sleeves off and taking it for a few rides. I think you'll be impressed on the right days and if you run hot like me I think you'll find most days short of a deluge are the right days.
---
Kali Invader 2.0
This Invader 2.0 full-face arrived the day after I ruptured my Achilles but I've waited two years for this lid and I'm holding on to it harder than an e-bike cable change. If you're having a hard time discerning what that level of resistance looks like, here's a helpful pictorial representation from Cam's last experience. Why did it take two years? Apparently I'm not the only one who thinks an ultra-breathable fixed-chin bar full-face is a brilliant idea and between demand and pandemic-production they've been sold out consistently.
Under 700grams with a chin bar that passes motorcycle testing standards, adjustable via a retention system and swappable pad sets, Fidlock magnetic closure, and, it fits my head. The vents are huge and for shuttle or park riding I'd still choose a full-on full-face helmet, but for the trail riding I do on the North Shore I'm hoping this is the mix of protection and comfort that best balances my needs. Other than wearing it around the house to get a sense of it, and my daughter snapping some photos of me wearing it, it's going to be a while before I can include it in a follow up to Where Have All The Chin Bars Gone? but I'm hoping for many rides in this 225 USD | 285 CAD helmet. More information at Kali Helmets.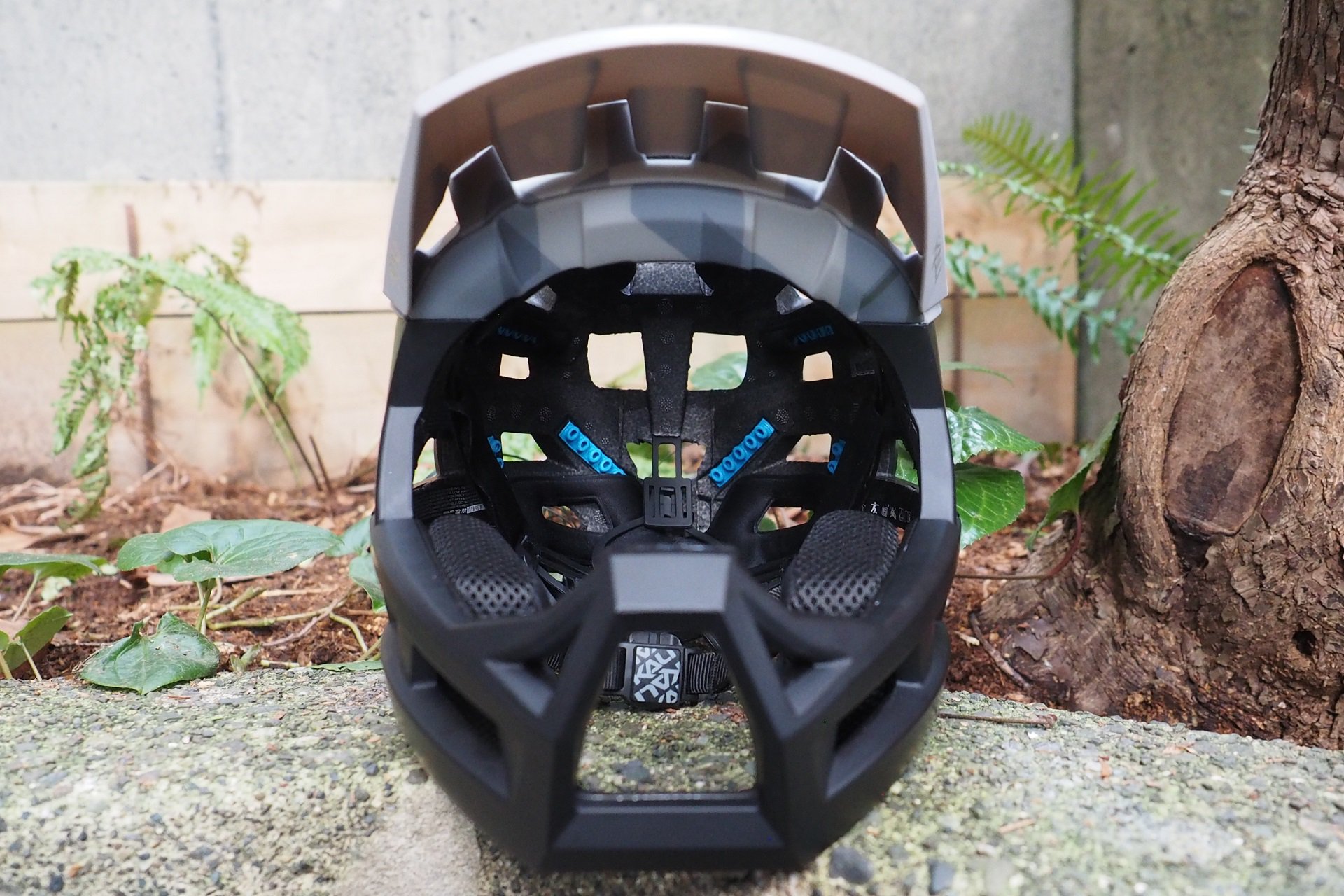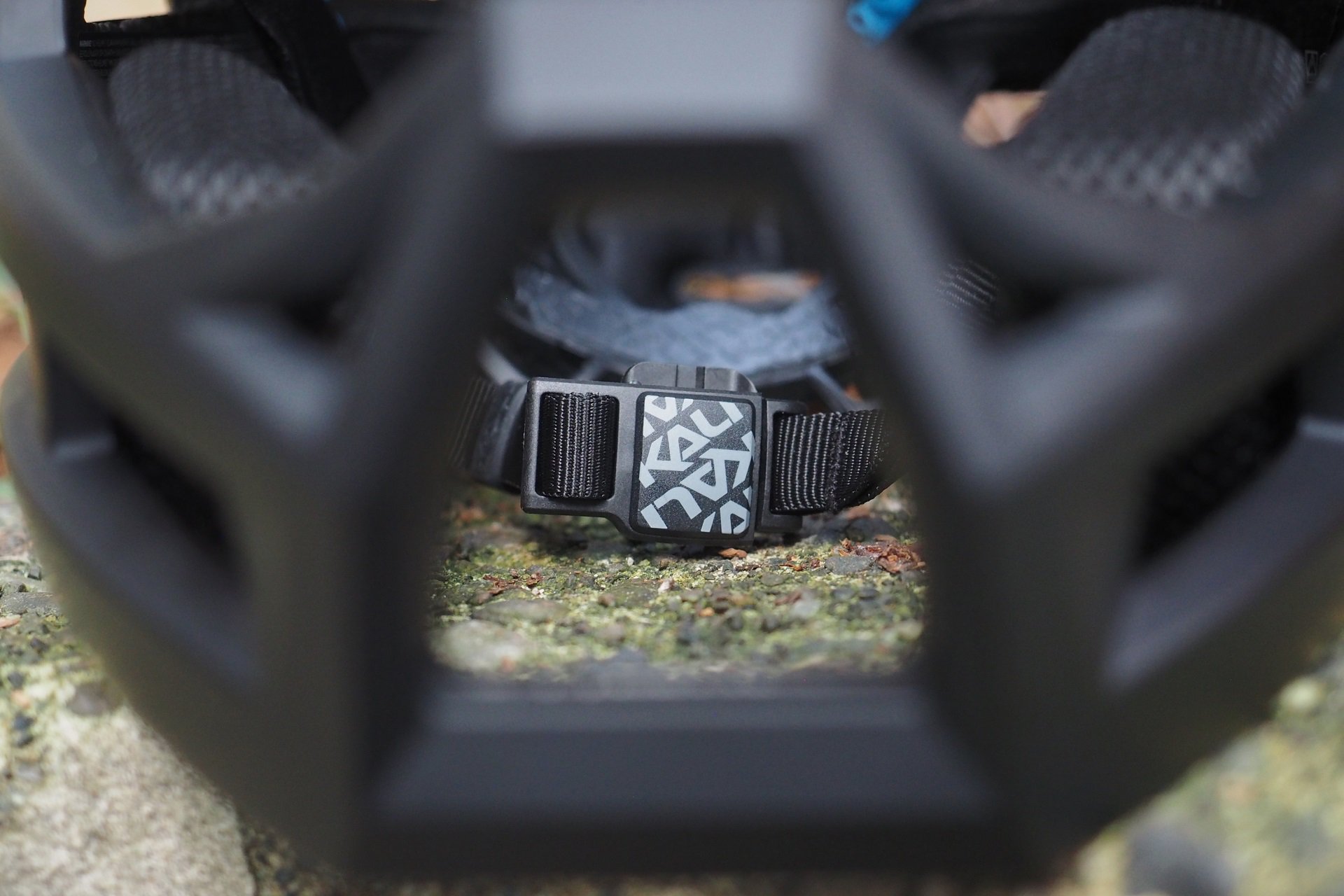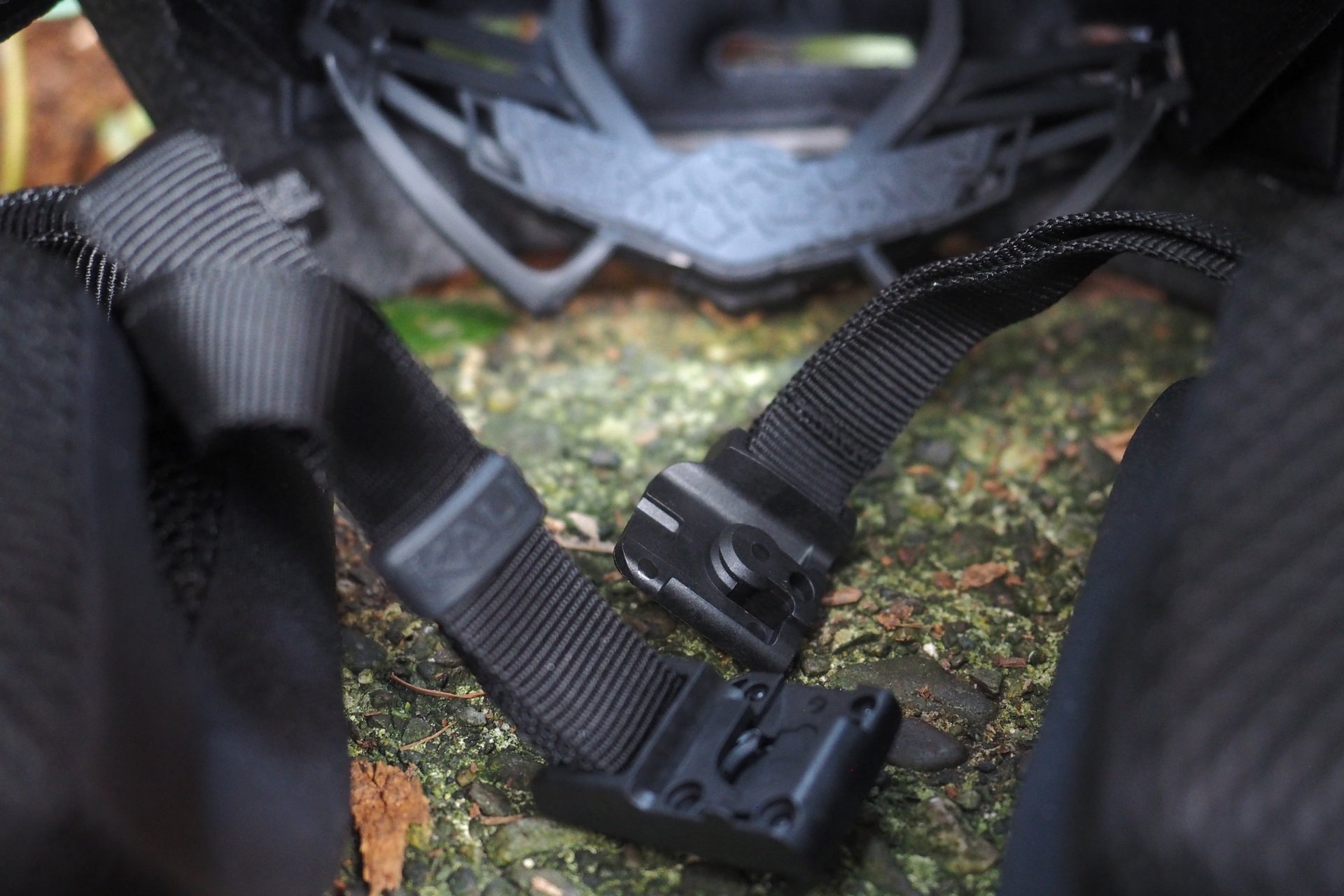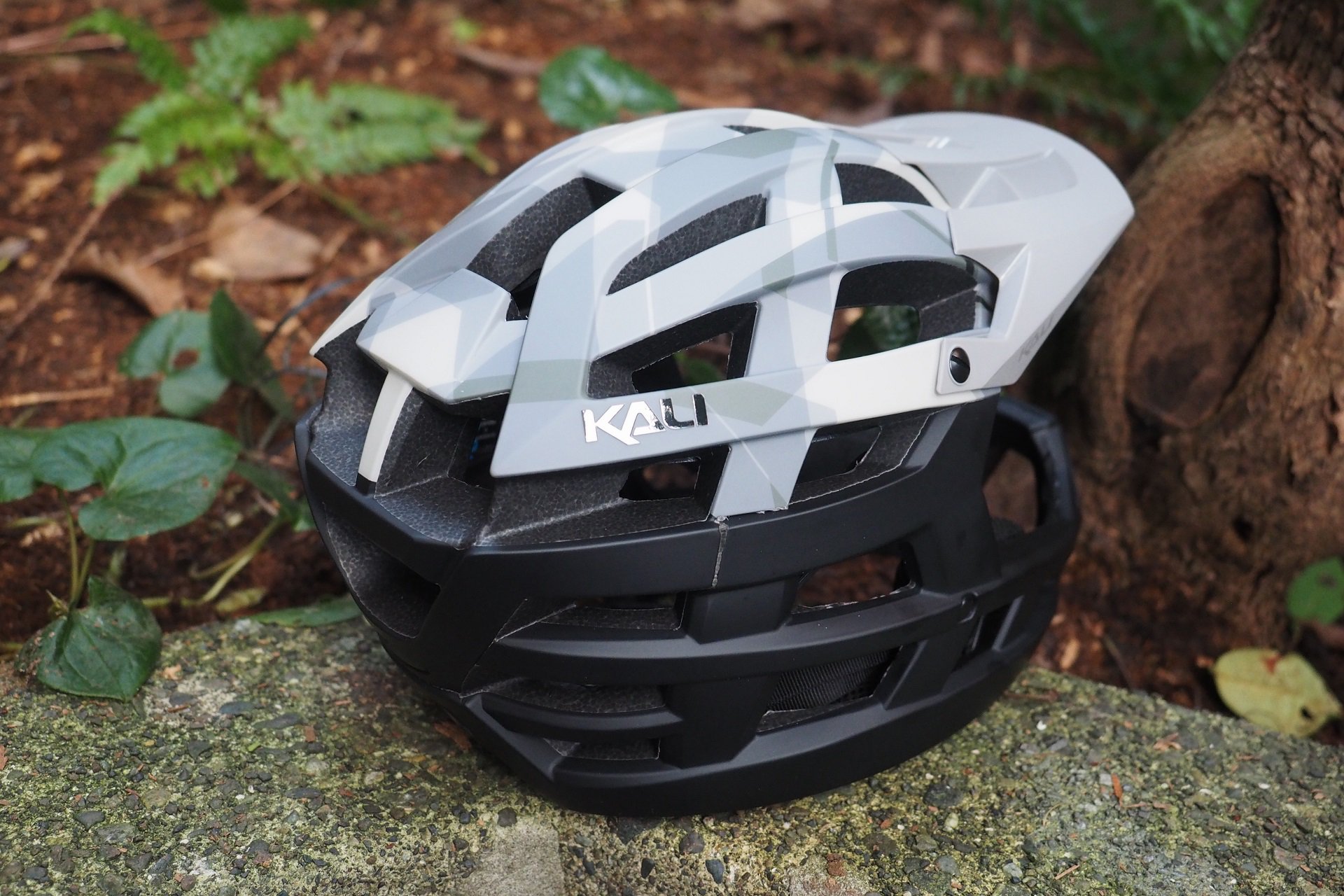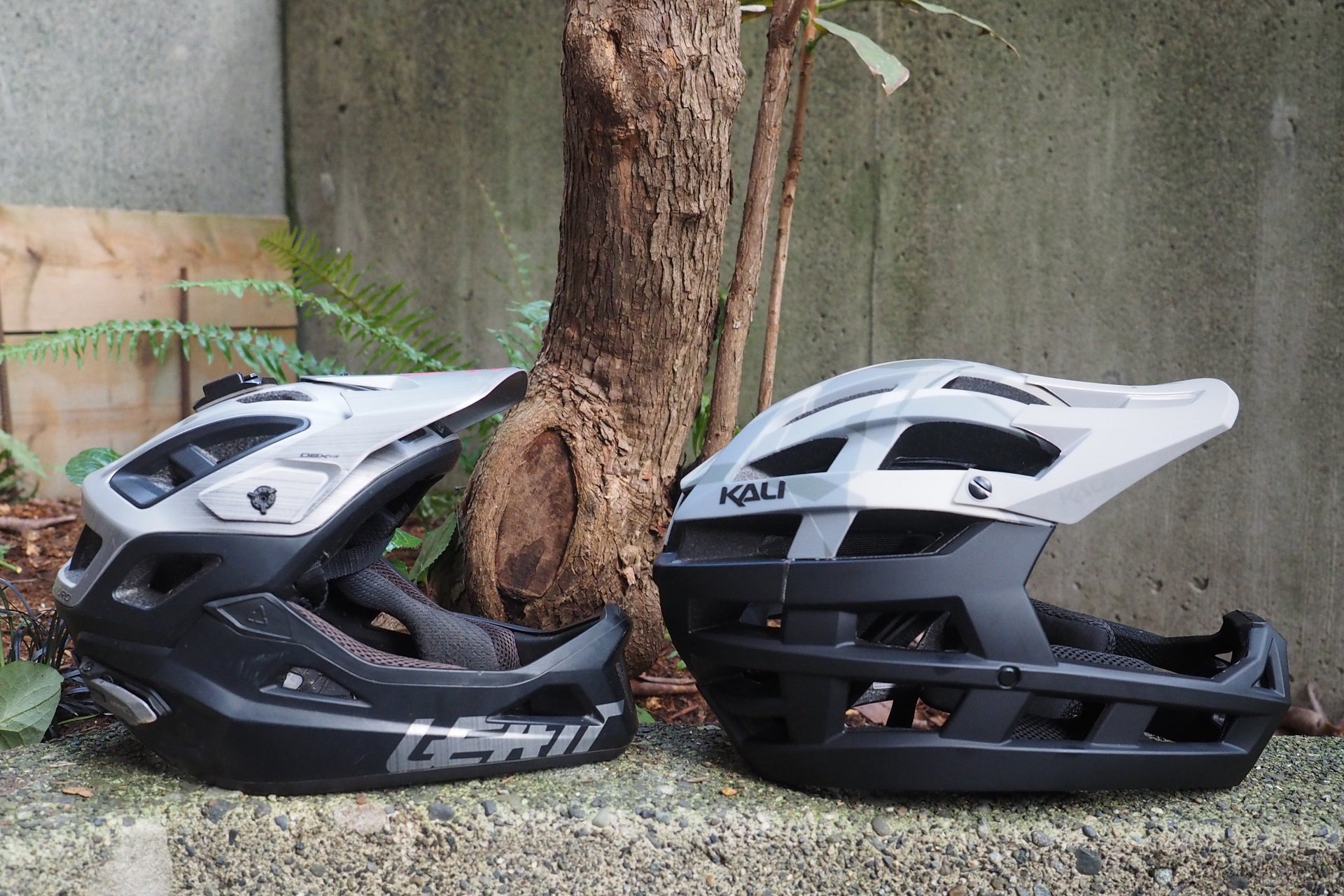 ---
Fresh Kicks
For the significant majority of my years mountain biking, I clipped into my pedals. For over a year before my injury, I didn't clip in once, as part of my unplanned 365 Day Flat Pedal Challenge. I've tried a quite a few combos and I lean towards maximum mechanical grip with sticky enough rubber soles to keep my feet on the pedals on the greasiest days, but without impairing my ability to move my feet when they're in the wrong spot. My baseline combination has become the North Shore Billet Daemon combined with the most basic Crankbrothers Stamp lace-up shoe.
The shape of the NSB pedal and their custom pins bite hard. The Crankbrothers Match rubber sole is sticky enough without any of the wear issues that come with some of the stickier shoes I've tried. Still, whether I'm riding clipped or on flats, my shoes only seem to last so long. I don't know if it's the single speeding or just my generally heightened level of hackedness but I trash my shoes. If something is going to be a baseline, it has to be available to A/B test, so I ordered a fresh set of Stamp's. I know this is starting to sound like a theme, but they were available a week after I started learning to navigate my not-to-code-steep staircase in a walking boot. The trail gods obviously have a sense of humour.
Projects Deux
I've been thinking about used bike a lot lately (thanks to everyone who's already contacted me about Min-Maxing Their Ride) and between vesting my Guardian jacket and getting my old favourite backpack fixed, I've started thinking about used riding gear. Have you ever bought used cycling gear? Shoes ridden a couple times or a waterproof jacket that didn't suit the first owner after a few rides, months, of riding, or maybe even years in a closet? What about a helmet with a couple of rides, but no crashes on it?
I have some friends who have wardrobes full of cycling clothing they don't use. Maybe they've changed sizes or maybe they just found a piece that they love way more and I'm wondering if that stuff actually has potential to earn them a few bucks and make getting into some of the best gear less expensive for newer riders or folks on a budget. I'm the oldest child, but growing up I wore hand-me-downs from the neighbourhood, so I may have an abnormally open view to it. It's a line of inquiry I'd like to hit in the future.