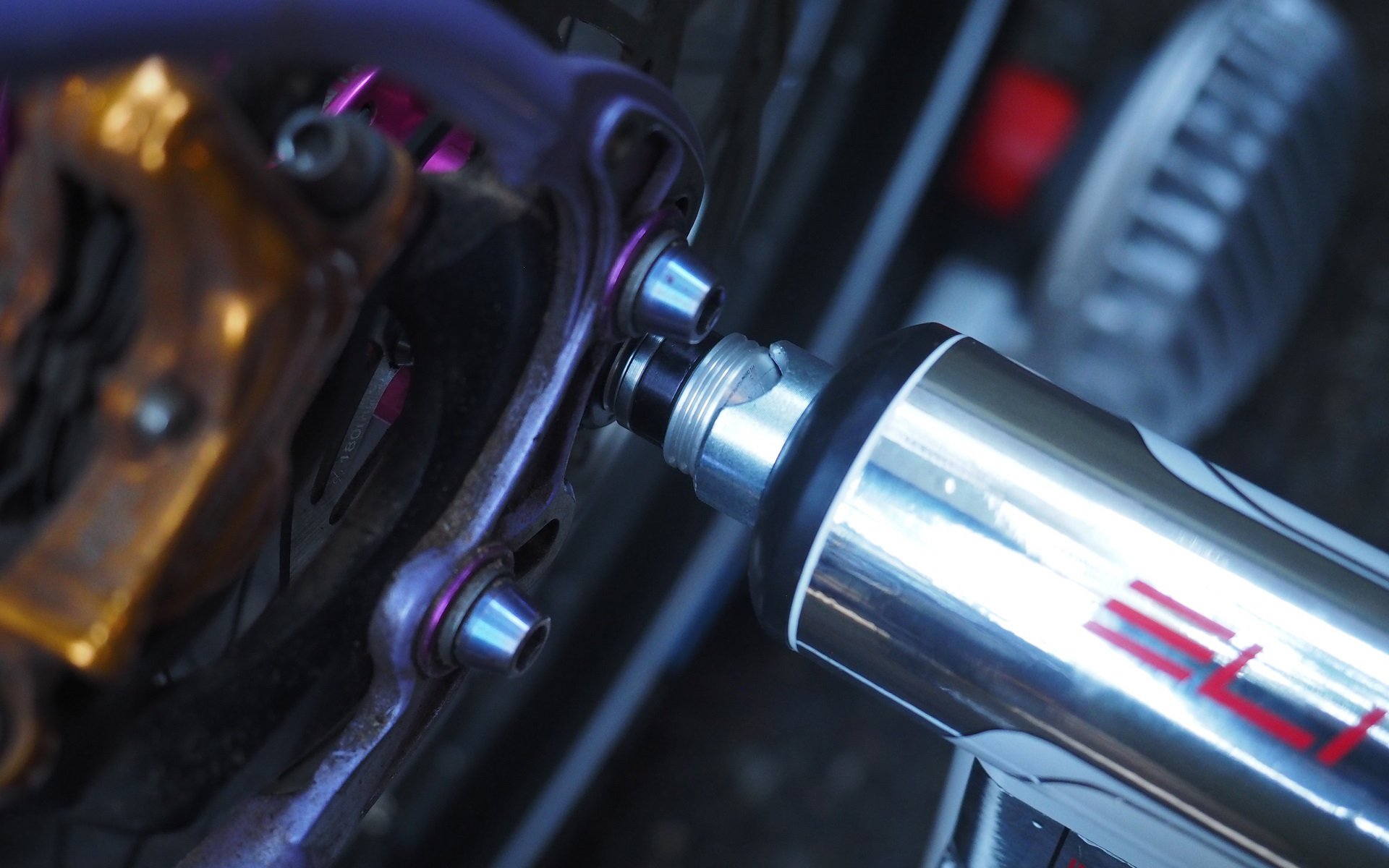 EDITORIAL | RE-REVIEW
Serendipity & Wolf Tooth's Axle Trainer-Adapters
Ugh.
I loathe riding stationary bicycles. Even the thought of my own beloved bicycle attached to some rudely stamp'd resistance unit makes me want to write an entire tragedy that, given the subject matter, could only feature at a local fringe festival or perhaps an 18+ theatre. I've bought and flipped more trainers than I'd ever admit to, sold on the promise of easily earned fitness forgetting the self-abusive boredom that I clearly blocked out from my last bout of blasé pedal priming. Hey, if it's your cuppa, have at it, but you won't catch me in the act of Zwifting.
Imagine then my overwhelming sense of joy when my physio told me the absolute best thing I could do at this stage of my Achilles rehab is to ride a stationary bike. The only thing that's worse than riding your own bike on a trainer at home is riding one of those ill-fitting, poorly maintained, spin bikes at a gym, so I decided I would purchase a trainer and a slick tire and then at least I could ride my Waltworks. On flat ground. In one spot. Ugh.
I had zero interest in anything that plugs in, charges, or wants to know my WiFi password and ELITE trainers are supported locally so I pulled the trigger on one of their basic fluid trainers. The next thing I did was go online and check the owners manual to make certain that there was no disclaimer saying I couldn't ride the thing outside, uncovered, in the next atmospheric river. I may have to ride a stationary bike but I'm sure as sh*t not riding it inside. Also, they open wide enough to swallow a Boost-148 axle, with thru-axle adapters, sans complaint. I don't think you're getting a Super Boost-157 rear end in there.
It was in the final act of buying my trainer that I realized the accidental brilliance of my bicycle setup. When I sold my Alpine Trail, I swapped the axle from my Waltworks and kept the Wolf Tooth axle I'd been running on my Marin. I like the little replaceable nub that sticks out a bit to protect my frame, and the fact that it's anodized purple, of course, gets me a bit hot. It's been pointed out to me that it's a bit silly on my single speed which has big bolts protruding from the swinging dropouts and no corresponding protection on the drive side where my derailleur's missing, but hear me out. One, anodized purple. Two, I think I'm conditioned to always protect my rear derailleur, even when I don't have one, because I more regularly scrape the backend of the non-drive side of my bike compared to the drive side.
After much digging through random parts bins, some blue language, more digging, conferring with my child, more blue language, and finally a frantic round of toolbox drawer opening, I managed to locate the trainer-adapter axle ends that Wolf Tooth makes for the axle. As you guessed, they were in a very safe place where I absolutely would not toss, I mean lose, them. It took at grand total of 1-minute to get them installed. The trainer requires a little bit of assembly, but the longest part of the whole setup process was recycling the cardboard box the trainer came in.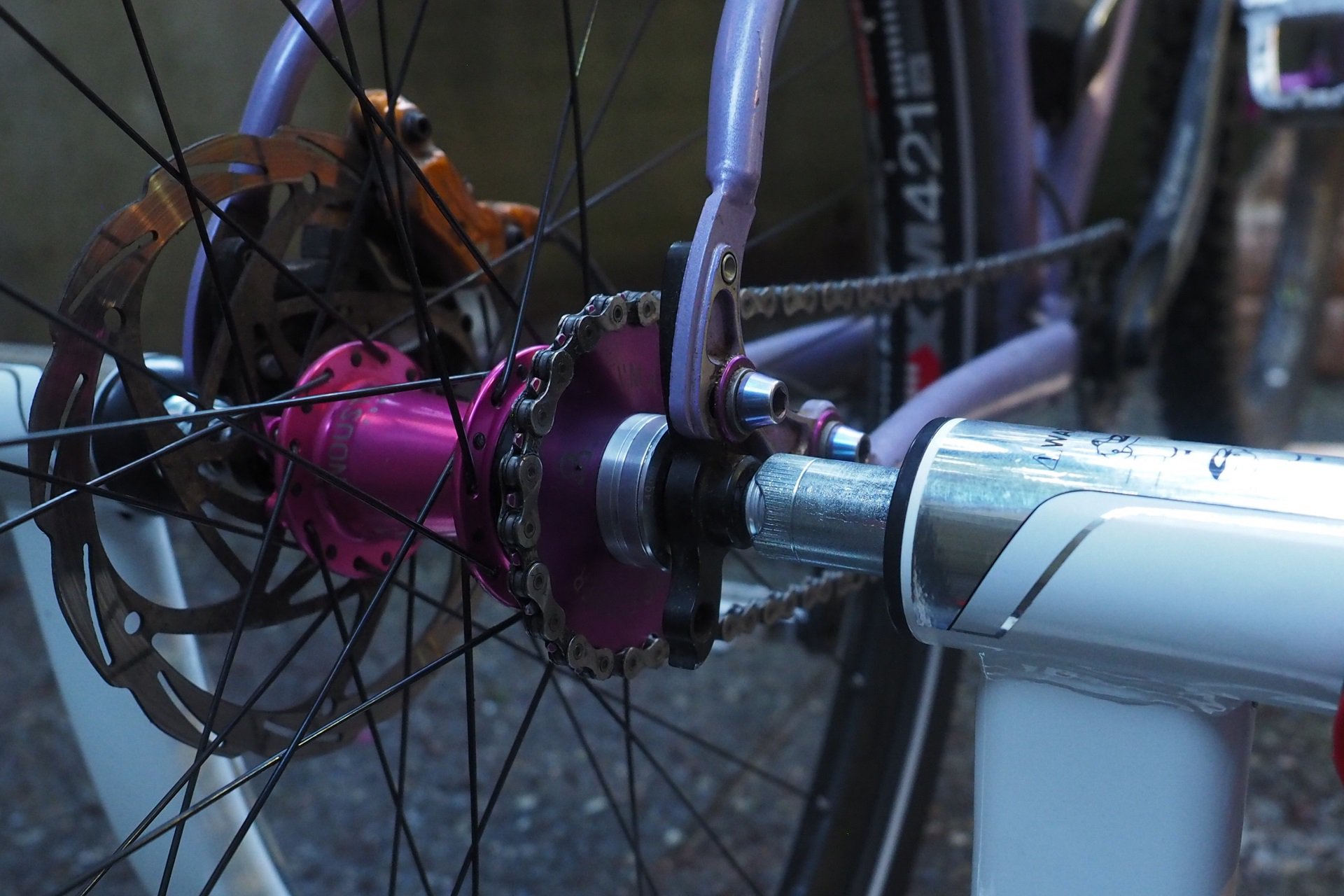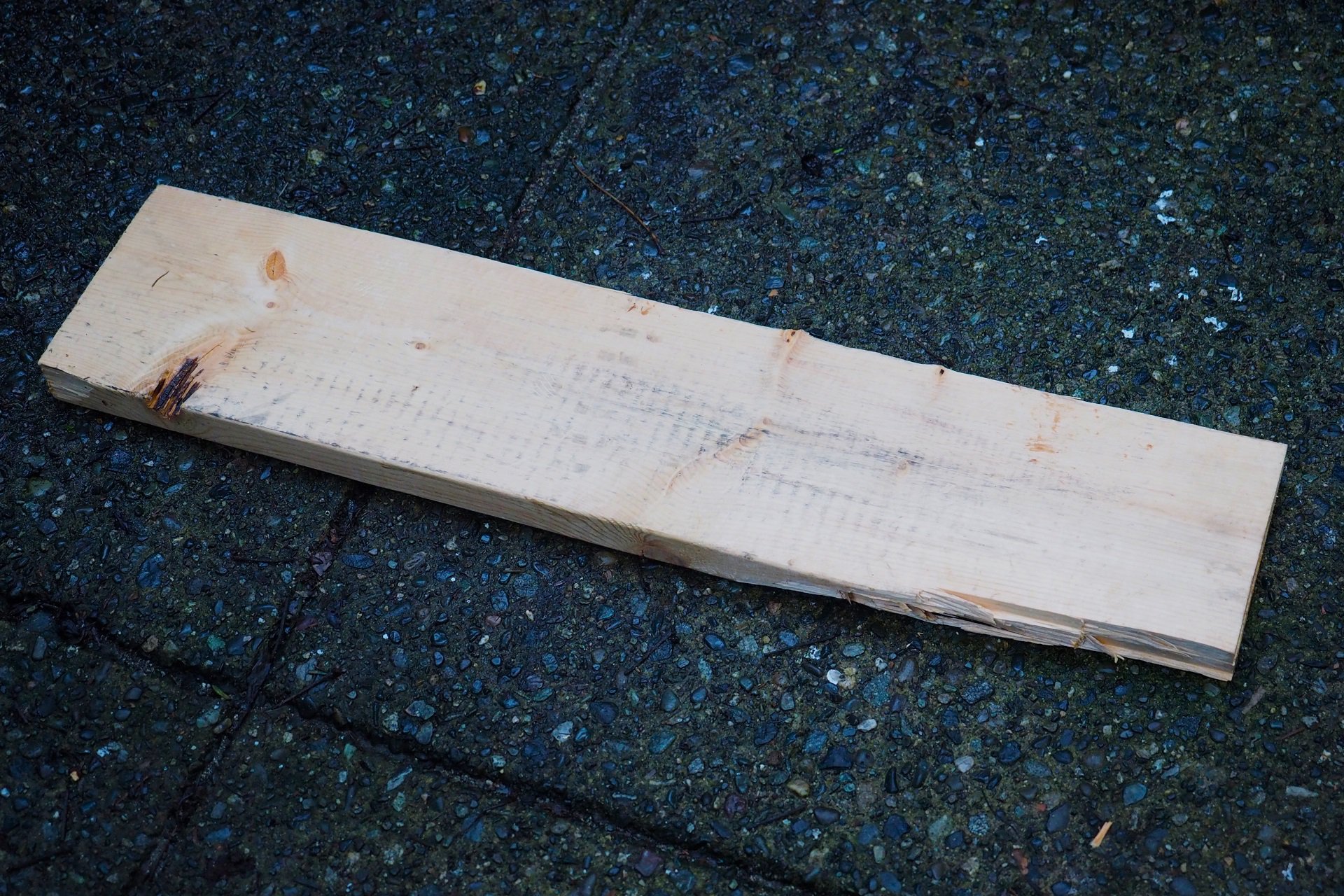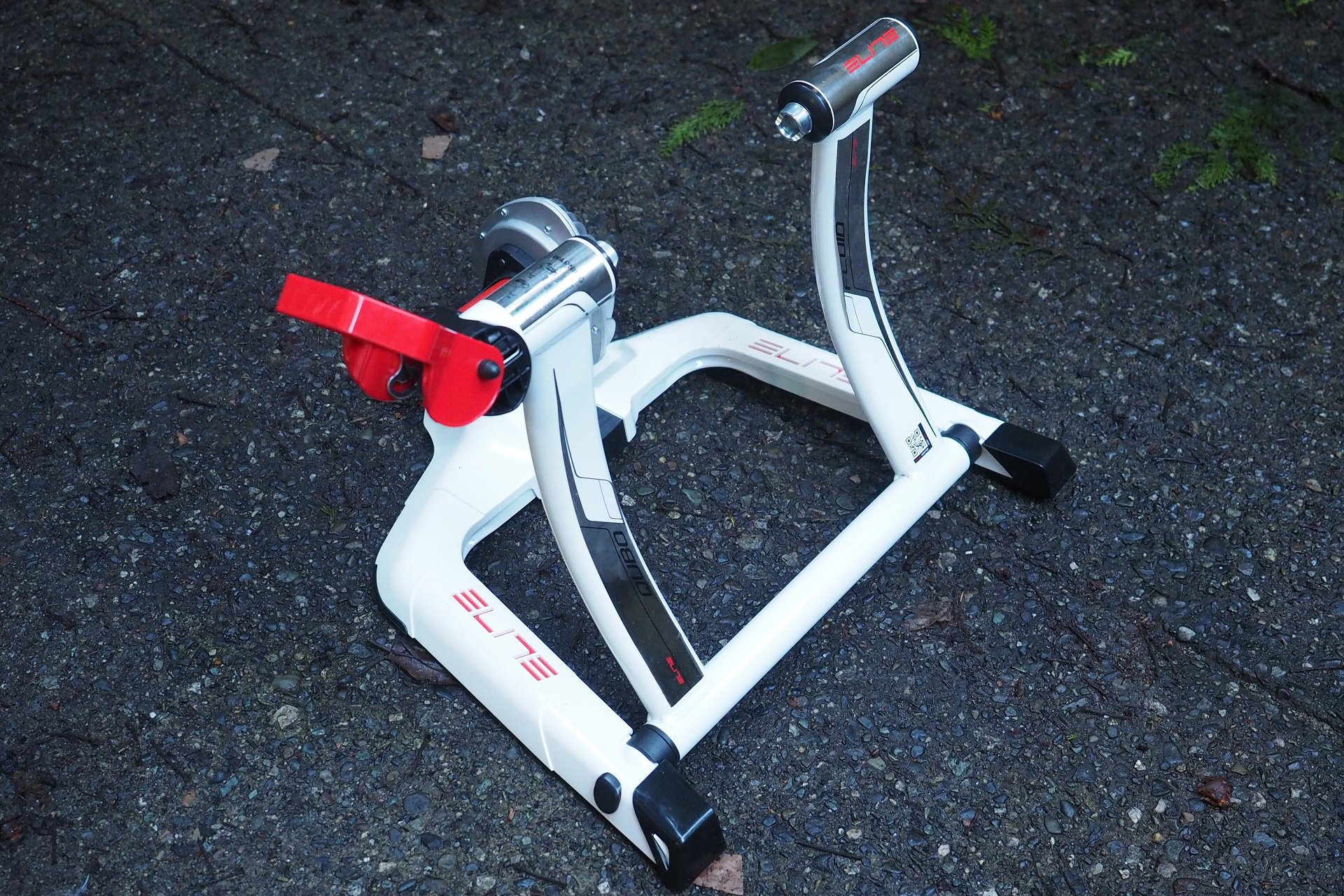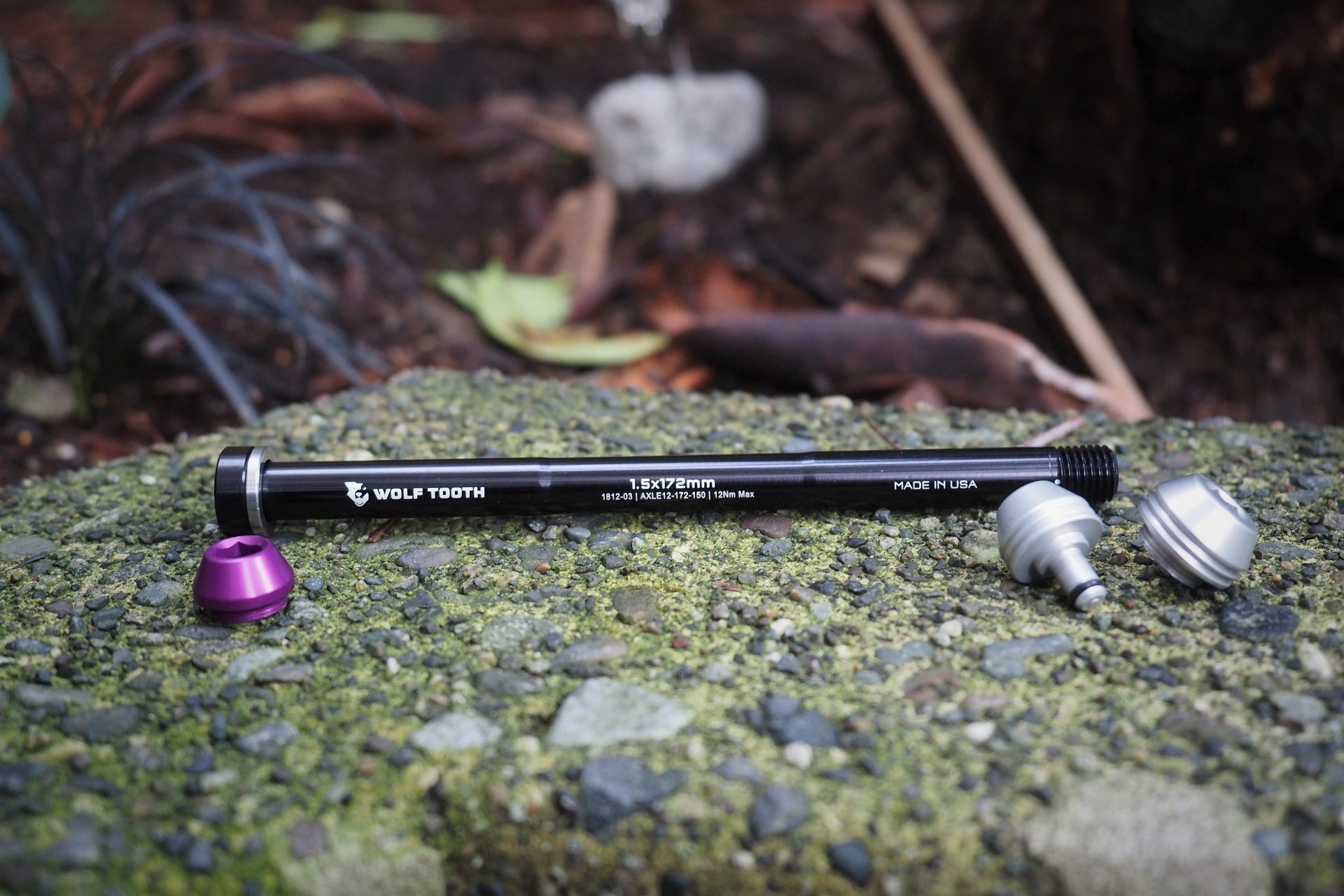 I don't know that anyone makes a hard rubber trainer-tire that fits a proper wide mountain bike rim, but I picked up a basic Schwalbe commuter tire than I can easily rehome once my trainer days are over. Between riding outside and ELITE's claims about their magical tire wear, and noise, decreasing 'Elastogel' polyurethane roller I decided it'll work fine. It's still a loud enough noise to summon the local racoon population to see what's dying but I just put Jungle Boogie on repeat and spin it to win it.
At any rate, it dawned on me that I would have never, ever, bought a rear axle previously based on its ability to be easily adapted to a stationary trainer but the plug and play nature of these adapters is a solid win. If spending some time off the mountain bike really is a matter of when, not if, then I'd even go as far as to say that if you're on the MB-1 program and in the market for a rear axle anyway, this is the one. Likewise, if you genuinely enjoy riding in one spot, having a second wheel with a slick ready to roll and swapping the ends on this axle will have you rolling fairly quickly. Even once I'm back doing a bit of XC riding, I can swap a cog or cassette and the rear wheel in a couple minutes max if I need to keep spinning on the trainer. Not bad.
For more information on the Wolf Tooth Axle setup check out my 2019 Review, or hit Wolf Tooth. Axles are 52 CAD, a fresh (optional) purple (or other colour) axle cap is 13 CAD, and a pair of axle adapters will run you 26 CAD.