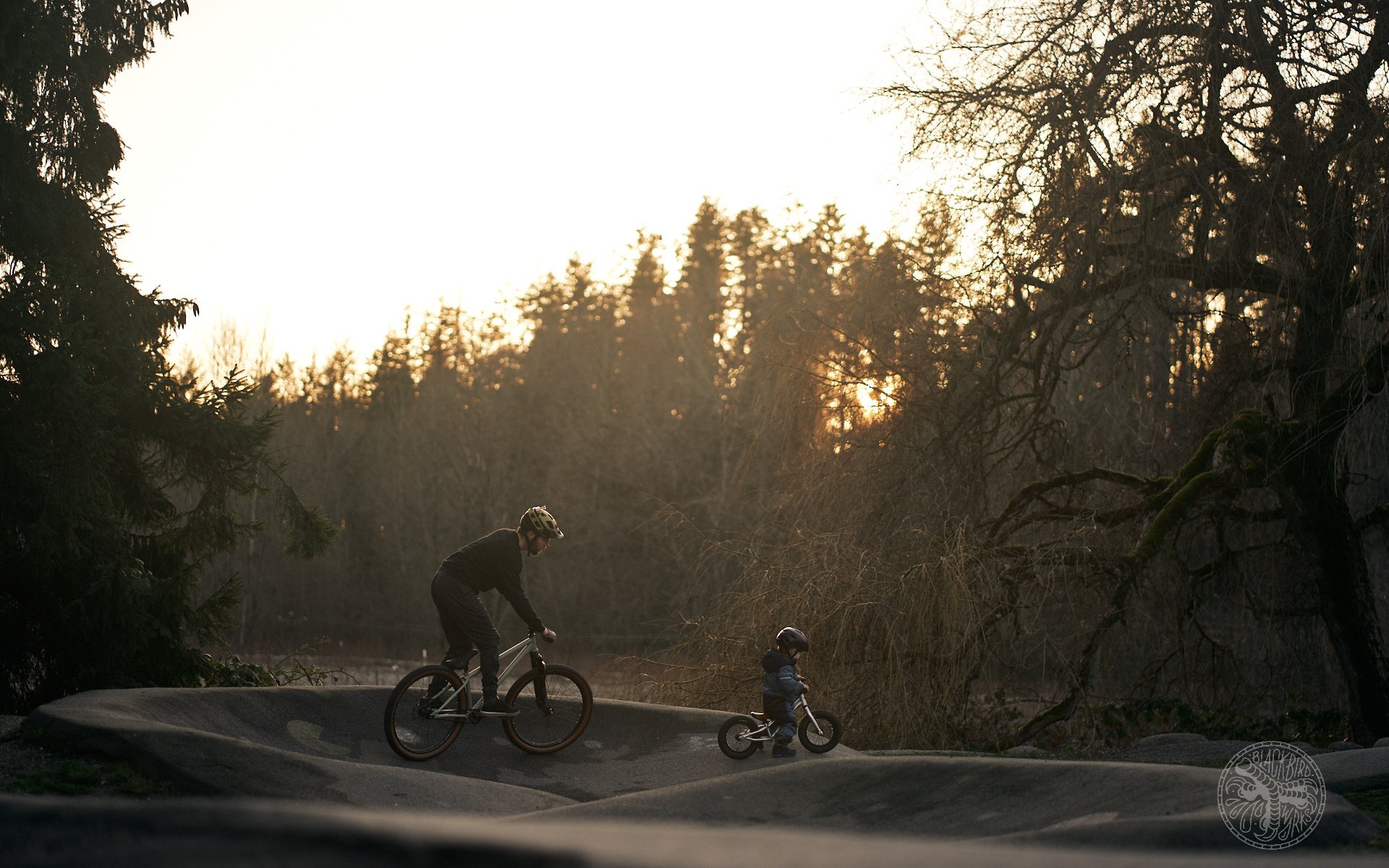 Oh god not another _________country article
Dadcountry
I'm here to tell you that when you become a parent, your bike riding habits will change. You'll have friends who will tell you this isn't true; they've either completely forgotten what life was like before, they don't have kids, or they're lying.
Like all things parenting, the process ebbs and flows as snack and nap times evolve, how much of a disaster your kid is that particular hour/day/weekend/month, how exhausted you are, and how accommodating your partner is feeling. But, overall, expect less time to ride. Hopefully if you're thinking of becoming a parent – or are already on the path – this isn't a shocking revelation.
I'd also bet that you're like me and hoping your progeny will like bikes, but trying VERY, VERY hard to not force it. We spend a lot of time on bikes as a family; they're our primary mode of transportation around the city. Fortunately this high exposure led to a kid who (so far) loves riding bikes. The upshot here is now I've got a bit of that lost riding time "back", although my new Dadcountry* rig perhaps doesn't look like what you'd expect. It's not a gravel bike, it's not a downcountry bike, it's not a Darco, and it doesn't have a motor.
*I'm using the term Dadcountry here because: I'm a dad, it sounds kind of like the much maligned 'downcountry', and would abbreviate to DC. But hopefully this piece should apply to all parents regardless of gender.
Before we get into the nitty gritty of why a dad would get a bike designed for cool kids, some folks are probably wondering how to get their child to ride and it's an important part of why. I don't have the answer to how to get your kid to ride, but I can explain our journey and maybe you can glean something from it. I'd note none of this is a recommendation, and you can and should exercise your best judgement on when to try anything; consult both guidelines from major medical associations like the AAP and manufacturers, and always wear a helmet.
Perhaps most importantly, let the kid lead – there's always next week or next year to try bikes again. If I've learned anything from parenting, it's how true the adage "the only constant in life is change" is. For reference at the time of writing, A is about 2.5.
Bicycles are a big theme around our house – not just as recreation but as utilitarian transportation. On top of mountain bikes, I commute on a gravel bike, there's an e-cargo bike, and another step-through urban e-commuter. As such, A was in a trailer early on; first with 3 block trips to the park to crawl around on a blanket, building up to present day where 20 kilometer plus round trips on the weekend* are common, even here in the hills of North Vancouver.
There's pros and cons to using a trailer; it's bulky, heavy, can be difficult to navigate obstacles, and is so painful to pull up hills without e-assist. And in the wise words of Morgan Taylor, "It's not an 'if' you'll roll it, it's 'when'." The upshot is inside is dry, wind-free, has built in roll protection, has space to bring toddler accoutrements (of which there are always a lot), and it's full of snacks and toys. While I do plan on getting a kid seat this summer for convenience on some journeys the trailer has been invaluable and will stay in the family until he outgrows it.
*We're more constrained by the lack of safe routes than the number of electrons or will to go farther abroad. If you're opposed to protected, separated bike infrastructure (probably because you're a strong, confident rider), you can f*** right off. Tow a baby or toddler around to get groceries for a little while and see how your perspective changes.
The next step for us involves a thank you to @TheBikeDads for loaning us a Mac-Ride. There's a couple different options for shotgun-style seating (Andrew reviewed the similar Kids Ride Shotgun Pro); my main recommendation here would be that no matter which brand you choose, don't get the "pinches your frame with giant bolts for attachment" style, the extra cost to save your frame, being able to swap bikes easily, and just remove it in 30 seconds in general is money well spent.
We started with short, smooth rides when A was around 18 months of age and my Santa Cruz Tallboy earned the title "Gigglefactory 3000" as it became his first real foray into riding bikes. Eventually, we were doing 15 kilometer loops; unsurprisingly we had the best success on flowier trails, and he learned to lean, what bumps feel like, and what going fast and slow feels like. While we've largely phased this riding out, I know plenty of parents with three and four year olds still getting out there on a shotgun setup. I can also see it coming back into use as we spend more time mountain biking as way to portage between sections that are un-run-bike-able (it turns out that 29'ers may roll over roots and holes pretty well, but 12" wheels don't.)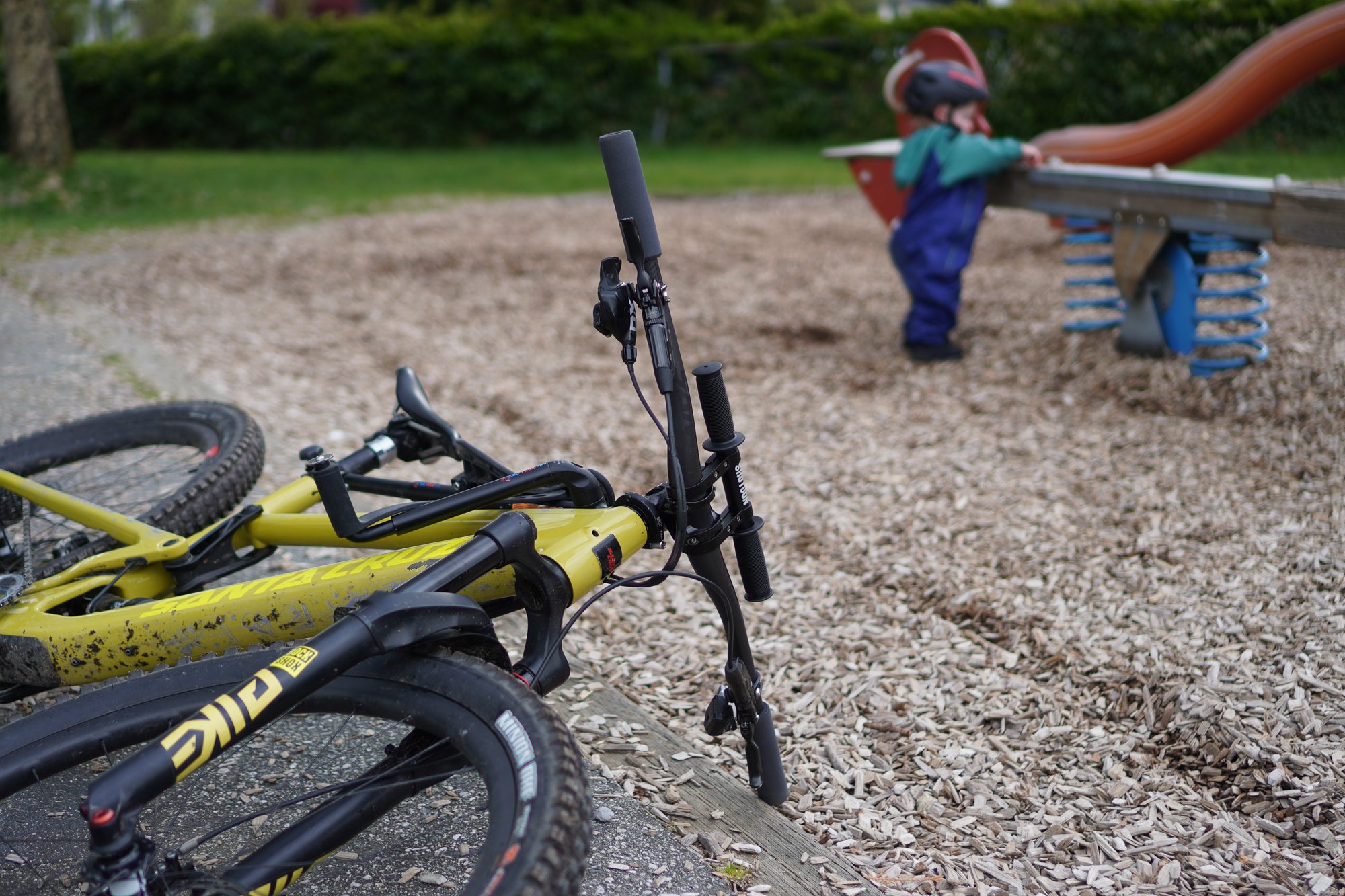 Everyone has a first bike, right? Long before I knew he'd need it, I picked up an Early Rider run bike that sat in the corner by the door (These are hard to get in Canada, as they don't have a distributor). My theory here was so "A" would be "acclimated" to it; he'd occasionally knock it over, spin the tires, get bored, and move on. Every now and again, we'd ask if he wanted to ride it, and the answer was generally a steadfast "NO".
Until one day, when I got back from a rare ride in Squamish (Remember what I said about ride windows getting short? Squamish is suddenly 10x farther away than It used to be), a switch flipped inside his tiny 21-month-old brain and BOOM. All we wanted to do that day was gingerly walk our bike up and down the alleyway. And from that point onward he's on a run bike more days than he's not; pumptrack, to and from daycare, alleyway cruising, BMX "racing", and increasingly out on the trails.
It wasn't long after A started riding regularly I decided I'd need a new bike to "keep up" with him, and hell, maybe tricks aren't just for kids and I could relearn some of the ones I could do 20 years ago? Worst case scenario; I knew spending time riding pumptrack would be good for my mountain biking. Best case scenario; maybe I'd get back to dropping into bowls and hitting proper dirt jumps. Let's go through the Evil Faction II to touch on a couple points before you go and hit the local Facebook Marketplace buy and sell group (or better yet, your local bike shop) once you've finished this article and are inspired.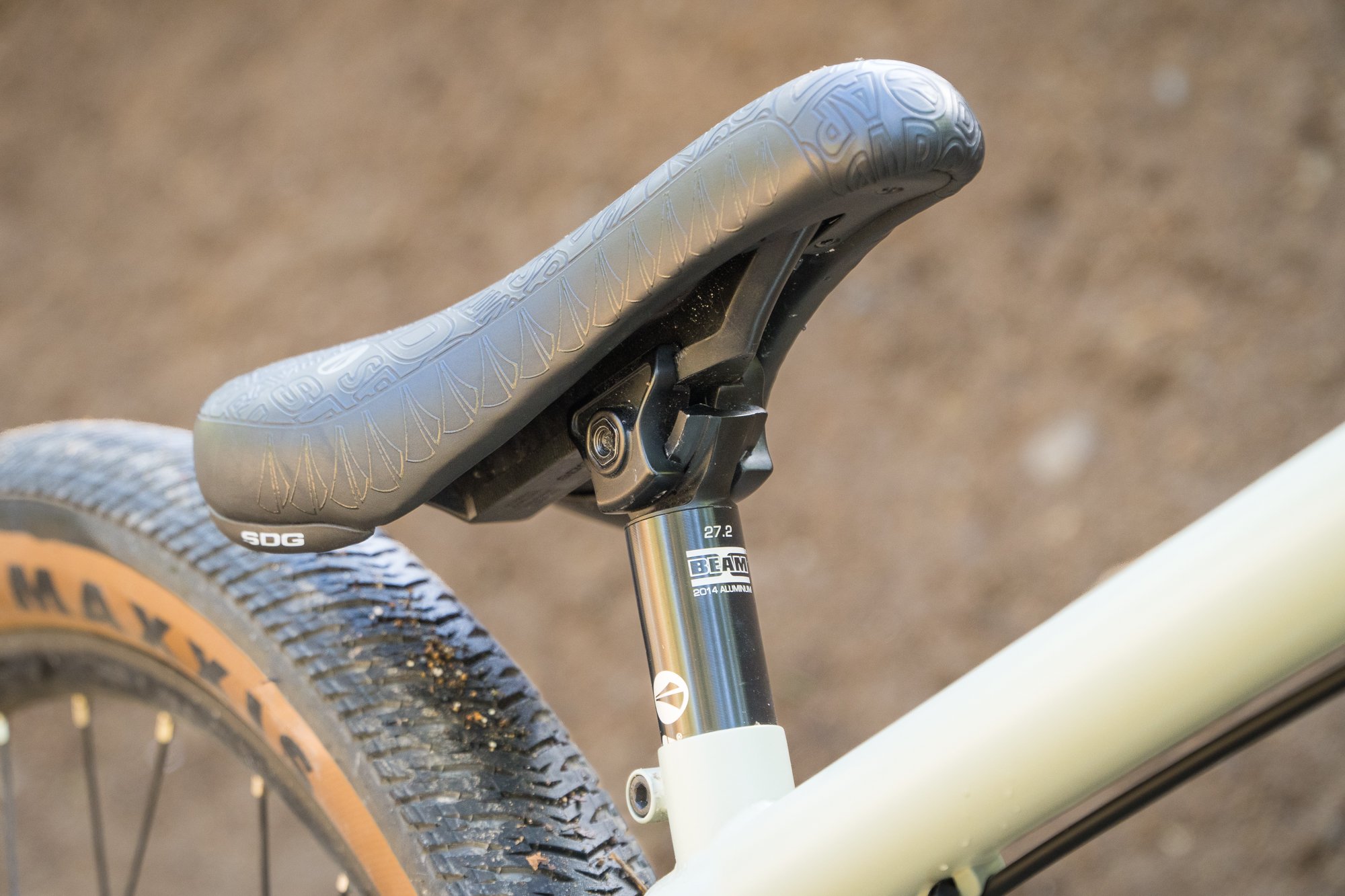 Nowadays, you'll find me at one of a couple local pumptracks, multiple days a week with A, doing less riding than toddler helping but having a blast. As any parent knows, snack time is essential, and this means sometimes Dad gets to do a couple laps.
While I'm not good by any stretch of the imagination, even in a few short months it's easy to feel and measure progression at the pump track; while mountain biking it may be hard to tell if you're improving, it's impossible to hide at the pumptrack; you're pulling gaps you weren't before or you're not, and there's nothing like repetition for practice. Made a mistake in a corner mountain biking? Maybe you'll see that corner in a week. Made a mistake at the pumptrack? You can see that corner again in 15 seconds. And again. And again, until you get it right, are too tired, or "someone" ran out of Cheerios.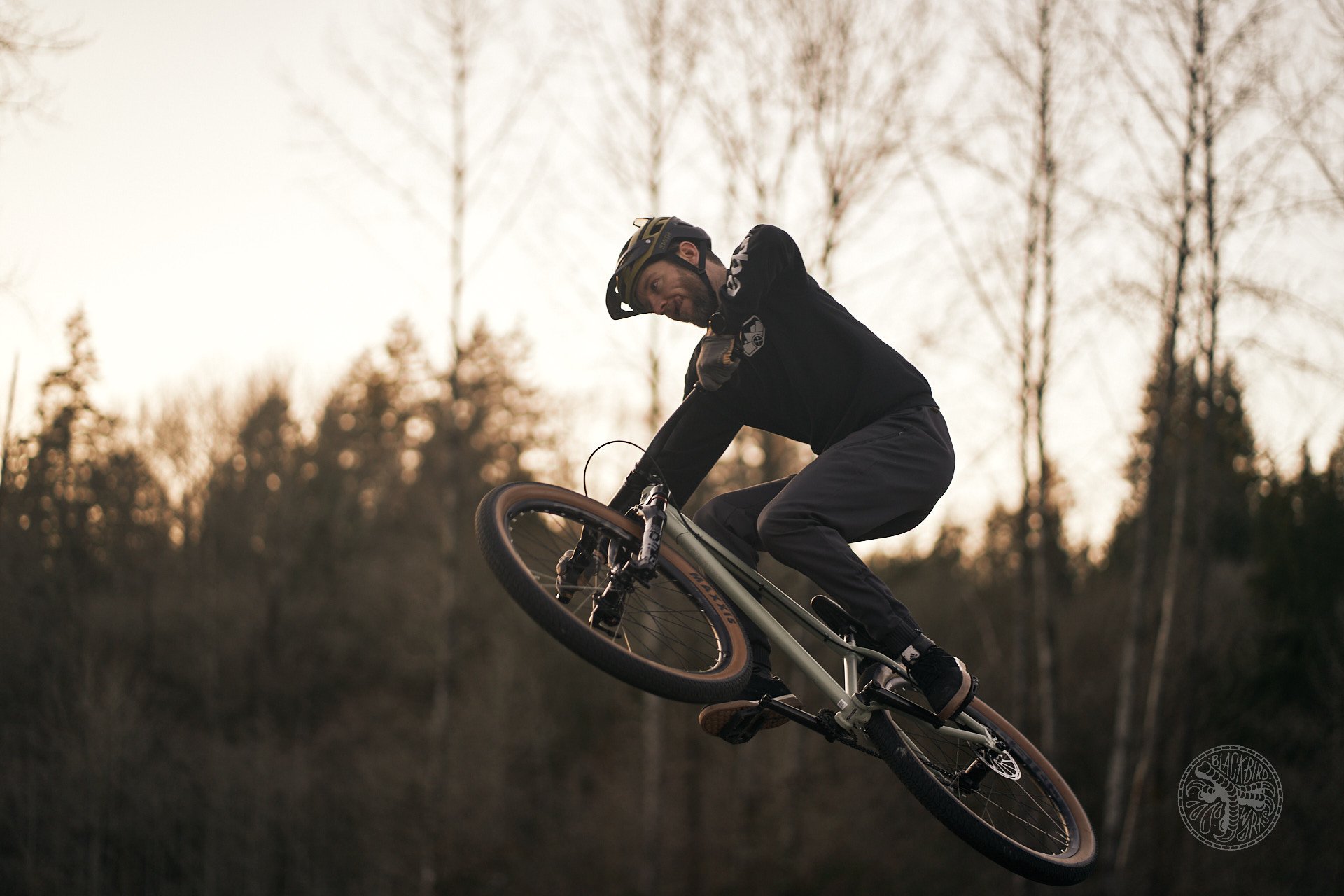 It's important to note here that this experience doesn't require a dirt jumper. You can go have loads of fun on your current bike, if you live in the real world where space and money are inevitable constraints. You could also do this on a 20" and save loads of space.
Or get creative, get together with a few other parents and split one. There's no way you're doing laps more than 15% of the time you're at the pumptrack anyway; it's exhausting. There's also a used market here; dirt jumpers haven't changed appreciably in decades, so as long as it's something with a serviceable fork and marginally operable brake, you'll be fine. Or go all in and get something like this EVIL, the same lack of change means this is the dirt jumper I got in 2022, and that I plan on having in 2032.
This spring I've set a goal to go dirt jumping once a month; A isn't ready to ride at our local spot yet, but even sneaking down for 30 minutes at lunch occasionally will pay dividends for me on the trail. Dirt jumps are another place where repetition is the name of the game, and there's no way to hide your mistakes. It's a use-it-or-lose-it skill I lost at least 15 years ago. We'll see if it's one you can get back.
In short, I'm excited about this bike. There's a joy in a simple machine on seemingly simple features. It's enabled me to share something directly with him as he grows in a way that standing around or running alongside doesn't, and I think it makes him more excited to go ride when he can ride with me.
This isn't going to be any kind of "review" in the traditional sense. What can I say about a dirt jumper, when my last proper experience was eons ago? The idea here is that this is the first in a series; we'll revisit Dadcountry again in a few months for an update, and we'll talk about that Kids Ride Shotgun bike some of you have inevitably spotted very soon.
But I also want to hear your experiences, tips, and questions! Are you apprehensive about anything? How long did you use a shotgun seat? Are you my friend who now has a Chromag Monk and a BMX race bike? What brand did you find that makes the smallest gloves? And who out there has a solution to my gearing issue?