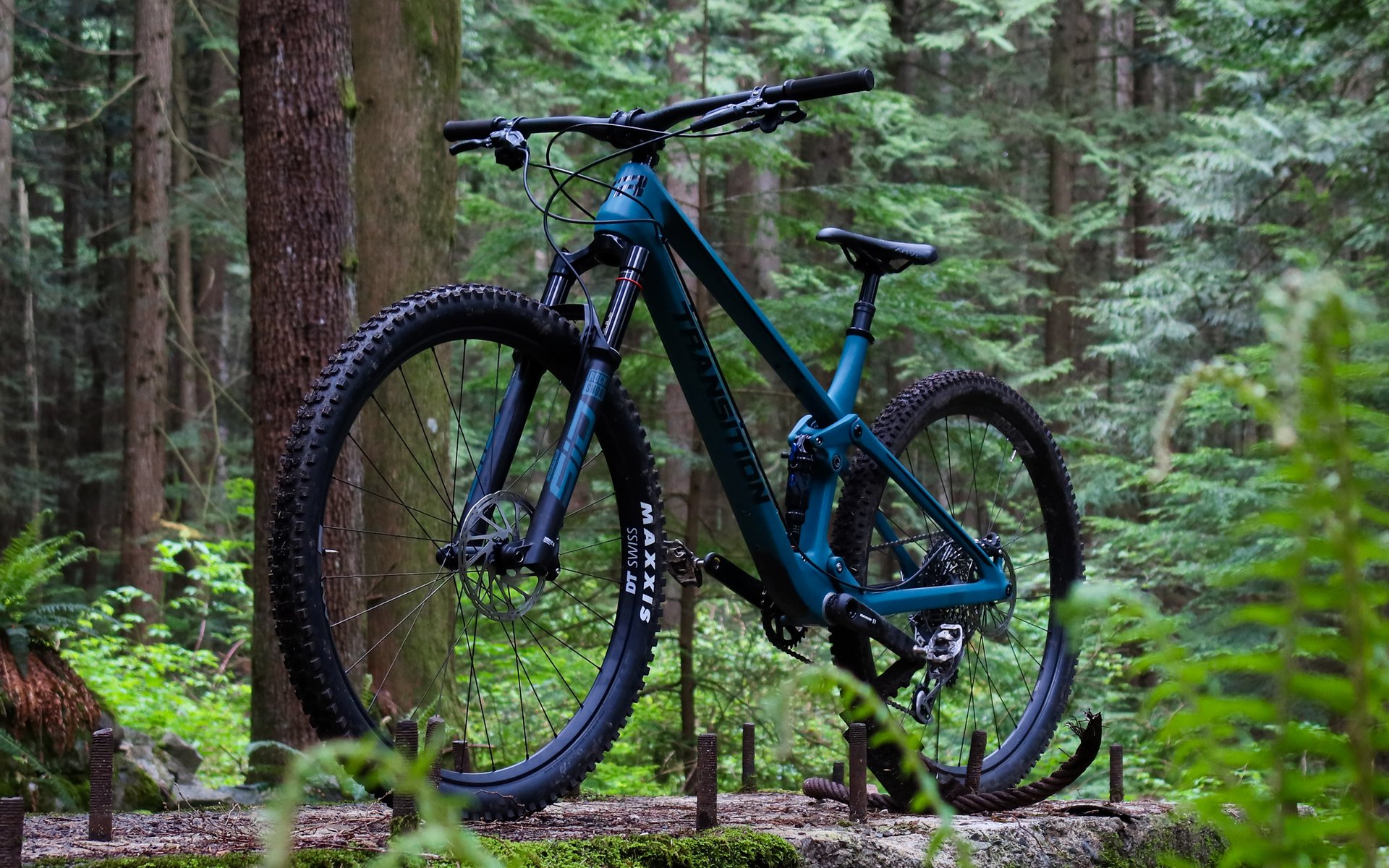 REVIEW
2021 Transition Spur Ridden on the Shore
Let's just get it out of the way: downcountry. That's the last time you're going to see that word in this review. This bike isn't it. Welcome to the world Transition calls all-country. I'm going with Slack-C.
There's a pile of 29" wheeled, 120mm travel bikes out there with aggressive geometry equipped with everything from 130mm Pikes to Fox 34s and 36s: the Santa Cruz Tallboy, Evil Following, Yeti SB130. There's another pile of 120mm bikes sporting a Rockshox SiD or Fox 32 and geometry that quite frankly terrifies me. Proper XC bikes. The Transition Spur finds a thin line between the two: 120mm at both ends, 25.5lbs*, and geometry more aggressive than enduro bikes from 3 years ago. As far as I can tell, it's the slackest bike on the market with a SiD (inevitably, someone in the comments will point me at some obscure Estonian brand that proves this wrong UPDATE: I wrote this before the new Guerrilla Gravity Trail Pistol SL was released, so now it's a tie). At first glance, the Spur is a departure in many respects for Transition, a brand built here in the PNW by aggressive riders making what they wanted to ride. Until now they've generally made aggressive bikes designed to huck, smash, and cause mayhem. Even their shorter travel platforms like the Smuggler are a bit overkill for much of the world: big tires, big brakes, and bigger forks than much of the competition. The Spur is the shortest travel, full suspension bike in the Transition lineup, falling somewhere below the 140mm/120mm f/r Smuggler.
So can this svelte machine attract new customers, while staying true to Transition's Engineered to Party slogan?
*this large review bike, w/o pedals
Use Case and Ethos
I rode the Spur for a few weeks, and then had a chat with Lars Sternberg; someone far above average at bicycles, heavily involved in the bike's 4-year development process, and marketing guru for Transition Bicycles. It was long, interesting, and really cemented a lot of my thoughts about the bike.
In Lars' words, it hearkens back to the NORBA days where you brought one bike to race the weekend. There'd be an XC race on Saturday, and maybe you'd change tires for the DH race Sunday. Mountain bikes were.... mountain bikes. There was none of the genrefication or bike niches we work so hard to define today. Maybe you even tried to hop your way though the trials course on it. The Spur is for everything.
And yes - this bike is for non-typical Transition customers. But also, it's for all their regular customers, too.
Frame Details & Geometry
The new Transition design language looks fantastic. Gone are the curved tubes and rounded corners, replaced with sharp radiuses, angles, and a much more modern look. This took entirely new manufacturing processes covered by Pete in his rundown of the new Sentinel. It comes in black-ish, and this matte color. Which is…. green? teal?
As you'd expect, it's got Transiton's GiddyUp suspension out back, although missing a pivot and relying on a flex-stay instead of a dedicated (and heavier) bushing or bearing. Listed weight for a medium frame is 2.45kg; for comparison this is roughly 300g lighter than my personal Rocky Mountain Instinct BC, and 600g heavier than the recently announced featherweight Specialized Epic EVO.
There's a load of well thought out details. The frame is angleset compatible, fits 2.4" tires, and while the derailleur has fully guided internal housing, the rear brake hose is fully external. The top tube gives massive standover, and there's tonnes of insertion room for long-travel droppers if that's your jam. A threaded BB and molded chainstay and downtube protection add weight and functionality. If you insist, you can reduce the rear shock stroke and take the bike down to 100mm. I have zero idea why you'd want to do this.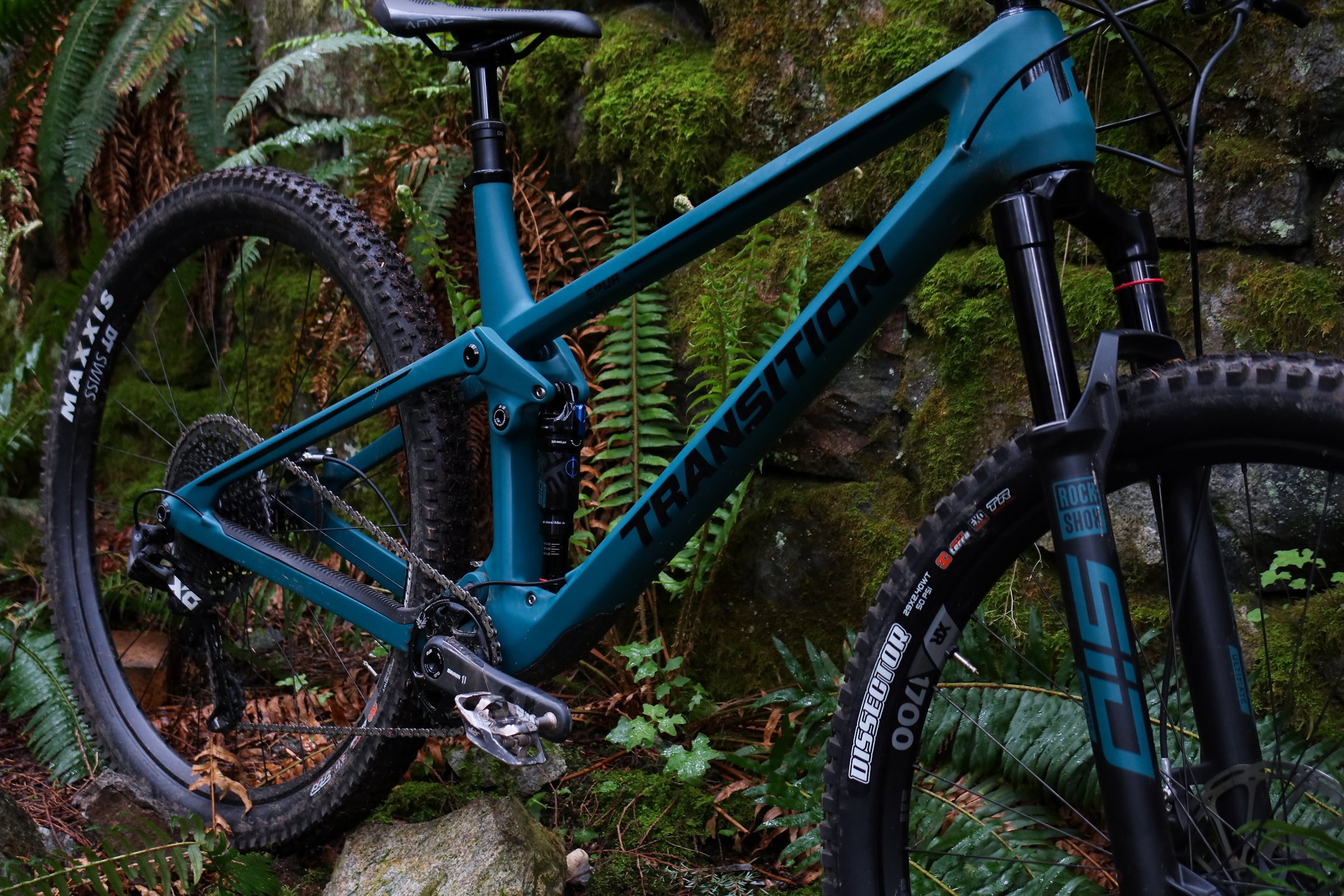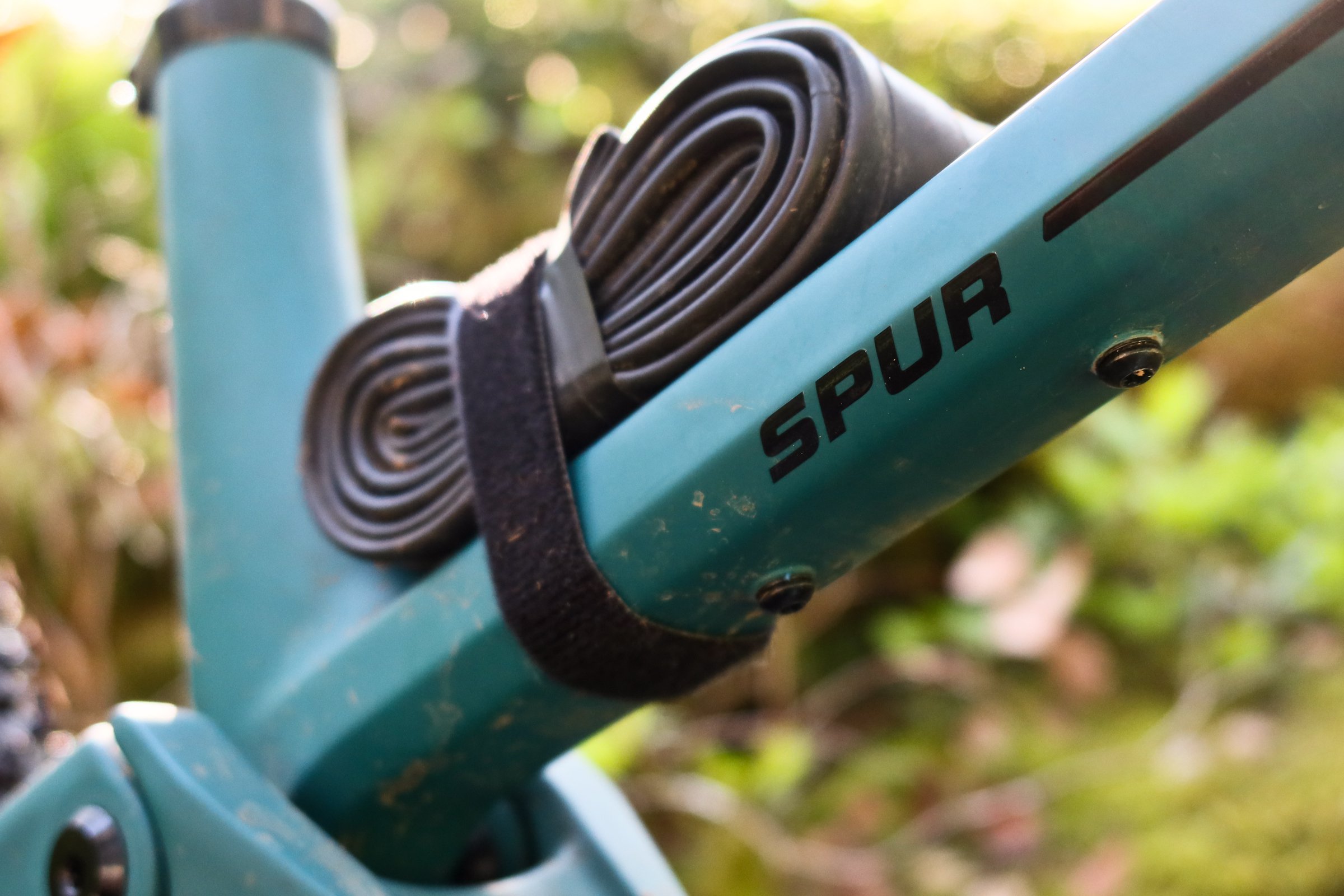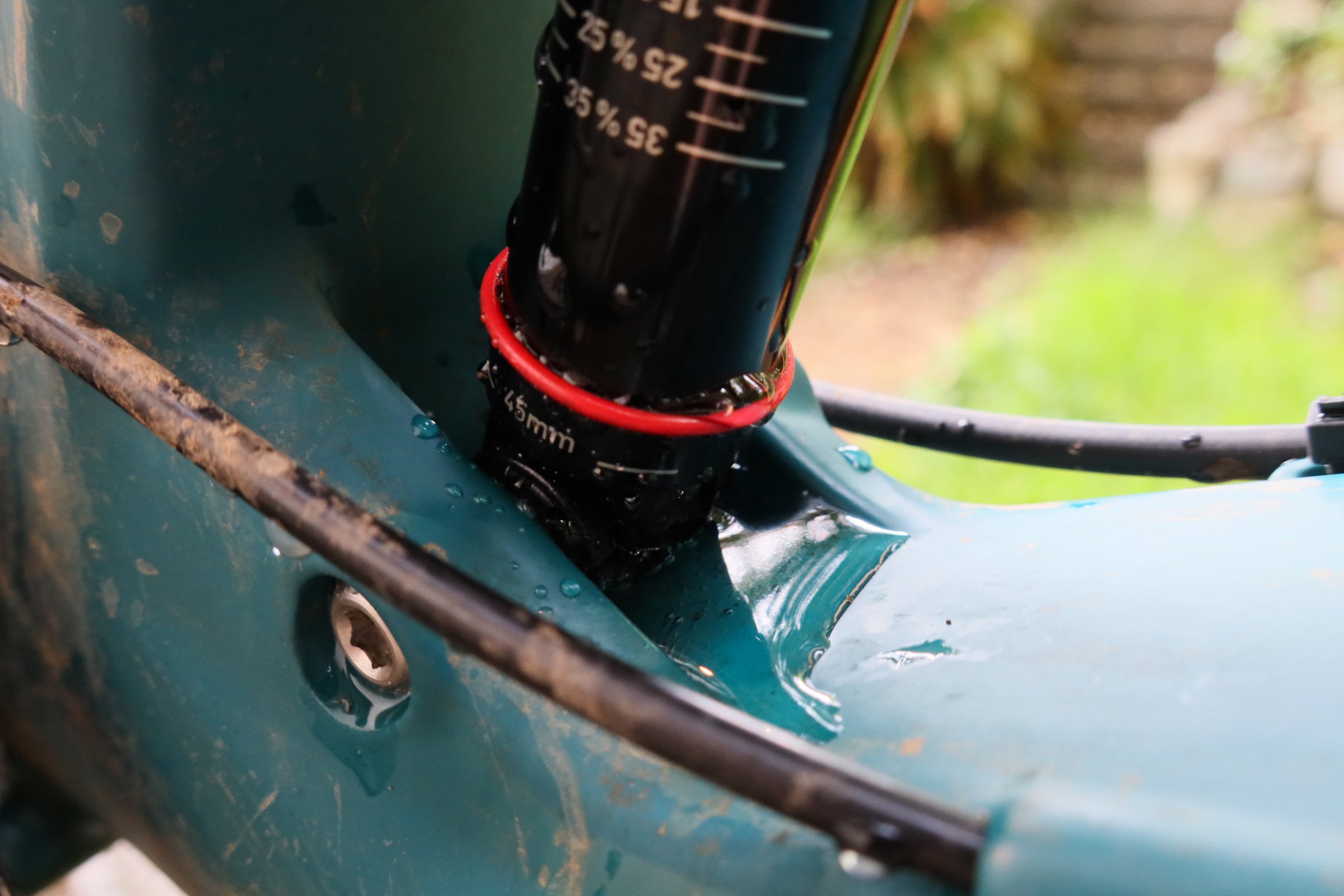 The geometry is all modern, and all Transition. It is, to be cliché, long, low, and slack - for a 120mm bike.
Setup was simple. Recommended sag is 25-35% as it is on most of Transition's GiddyUp bikes - I've settled in right around 30%. Ten minutes of faffing in the carport to get sag sorted and controls in a starting position, five minutes on the RockShox website plugging in serial numbers and base PSI find a starting point for damper settings, tubes were swapped out for the included sealant, and we were off.
There are four components that make the Spur's intentions clear: fork, shock, front tire, and rear tire. All three complete bikes come with a 120mm SiD up front and a SiDluxe rear shock. This fork/shock combination weigh less than a 130mm Pike, combined. There's a Maxxis Dissector up front and a Rekon out back; both EXO MaxxTerra. I'm not going to review a bike based on tires, cockpit, or saddle - these are all personal and regional choices. Many/most riders will change these items throughout the life of the bike. But, they speak to what the bike was designed to do. Clearly, this bike is meant to be get up hills in a hurry.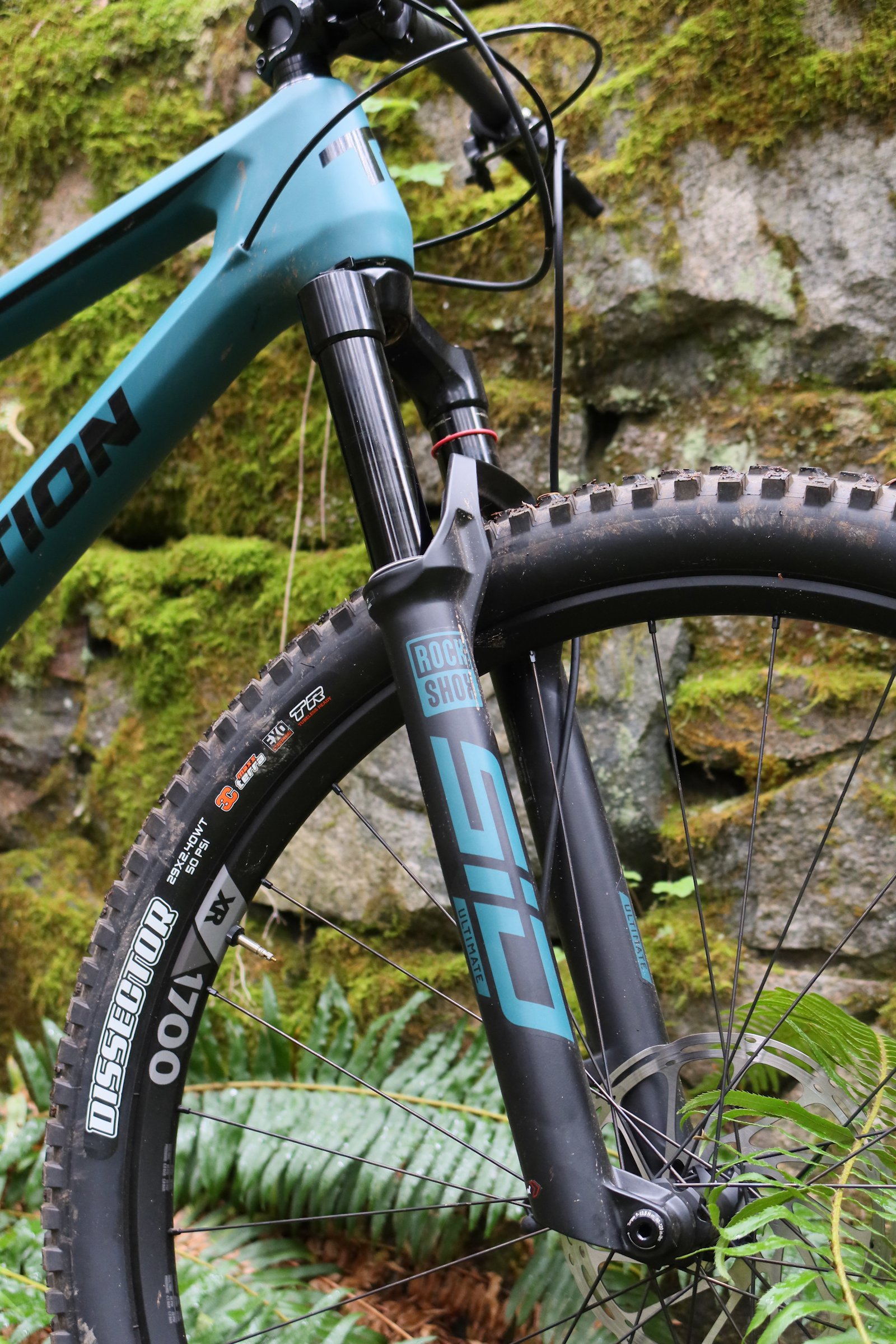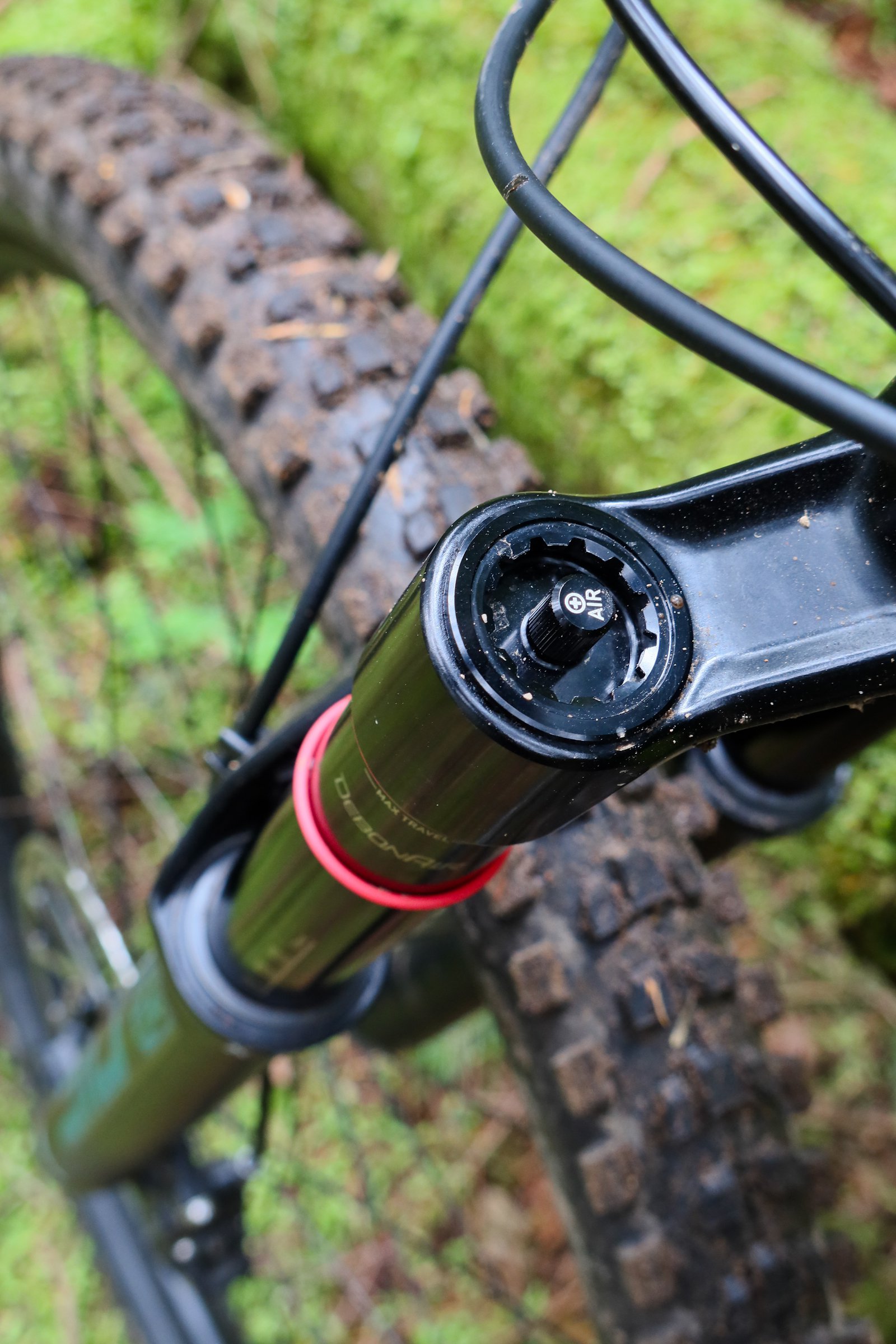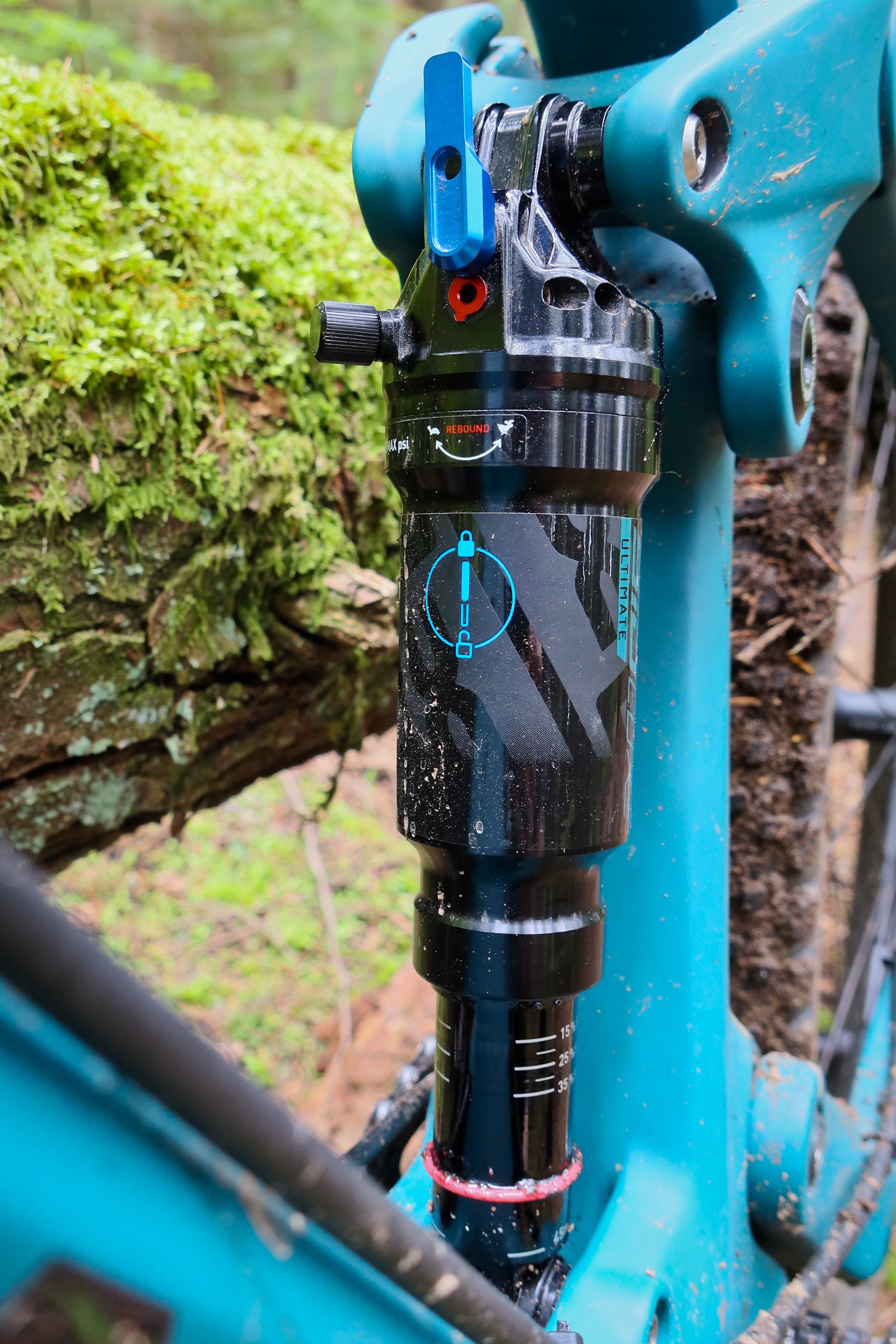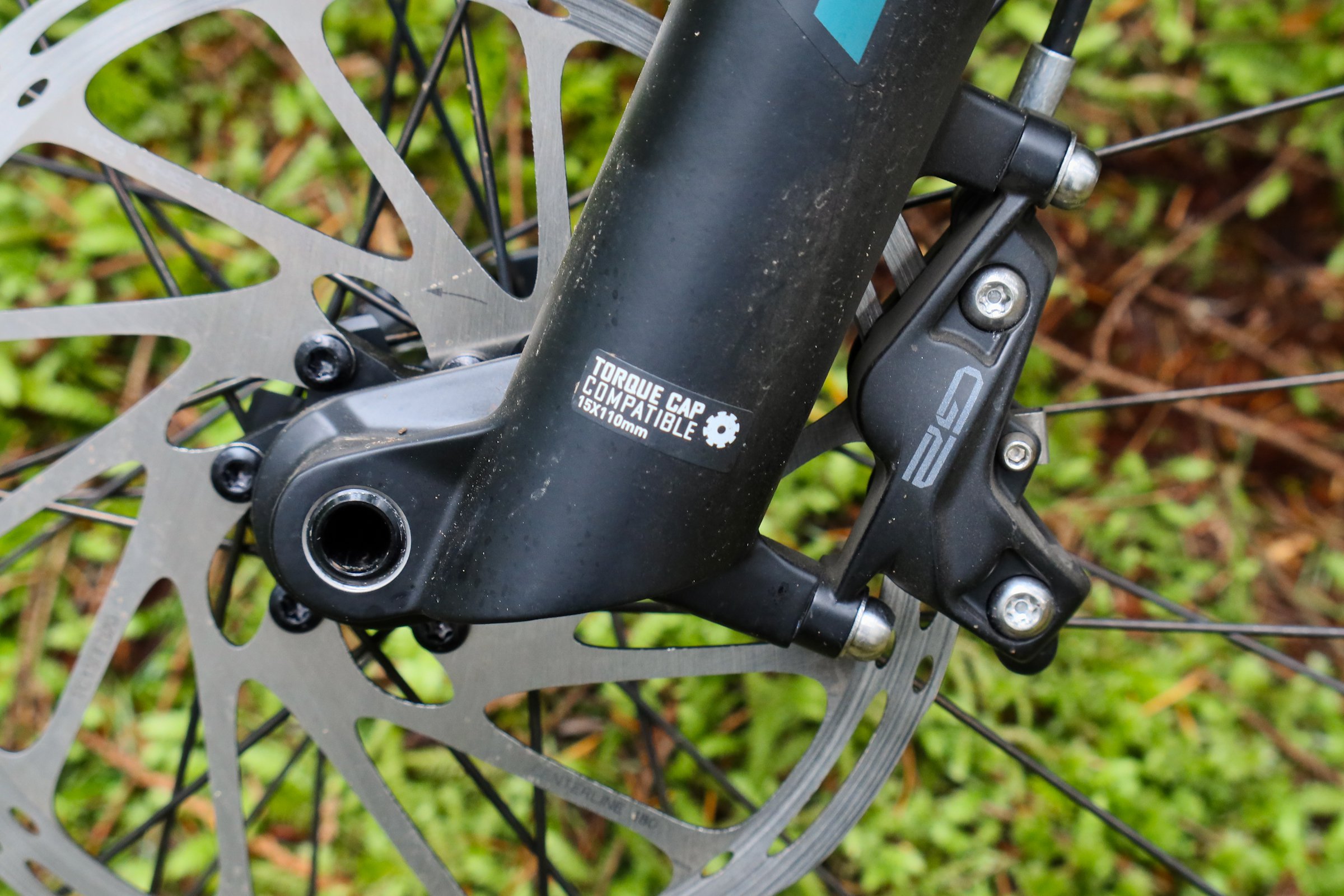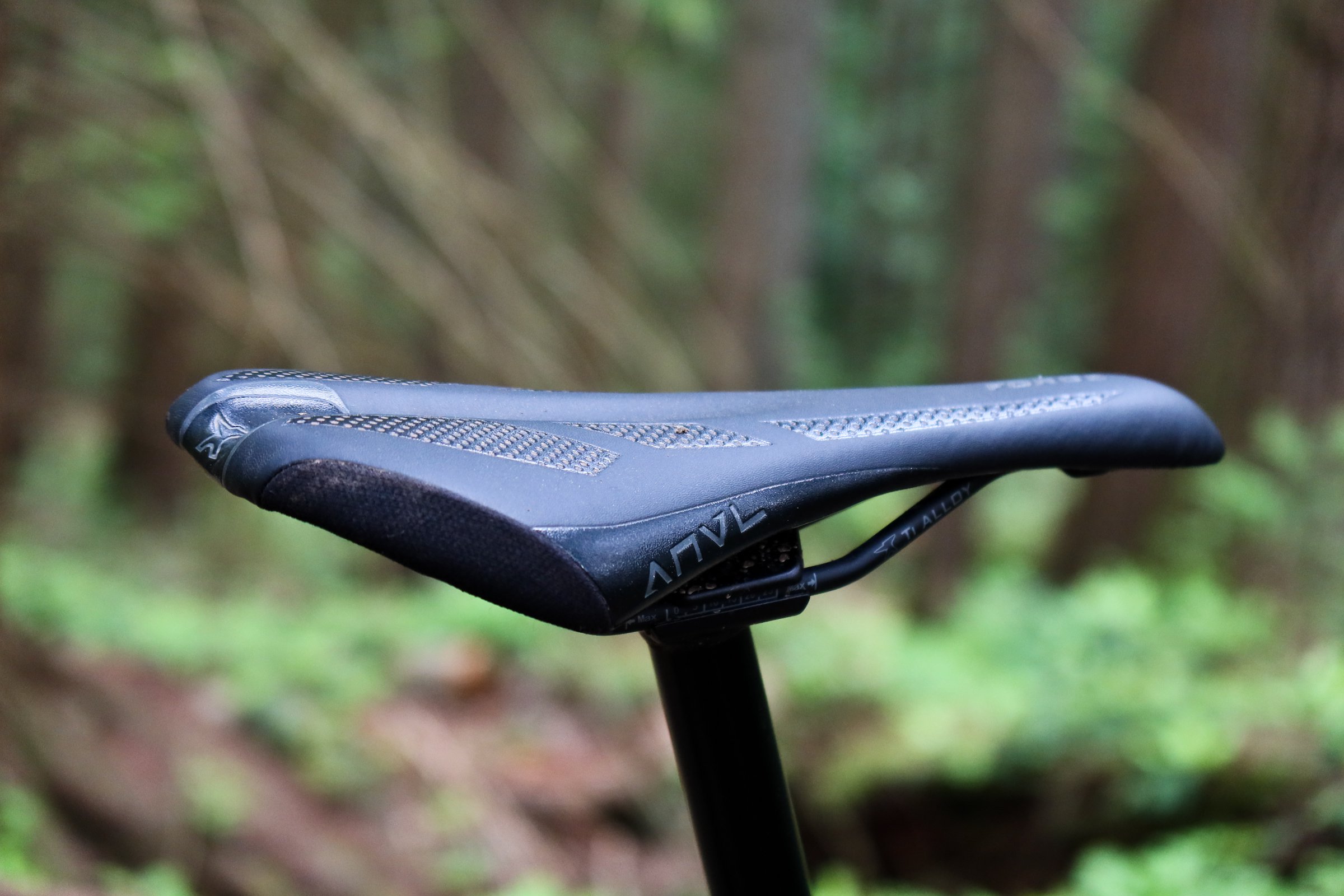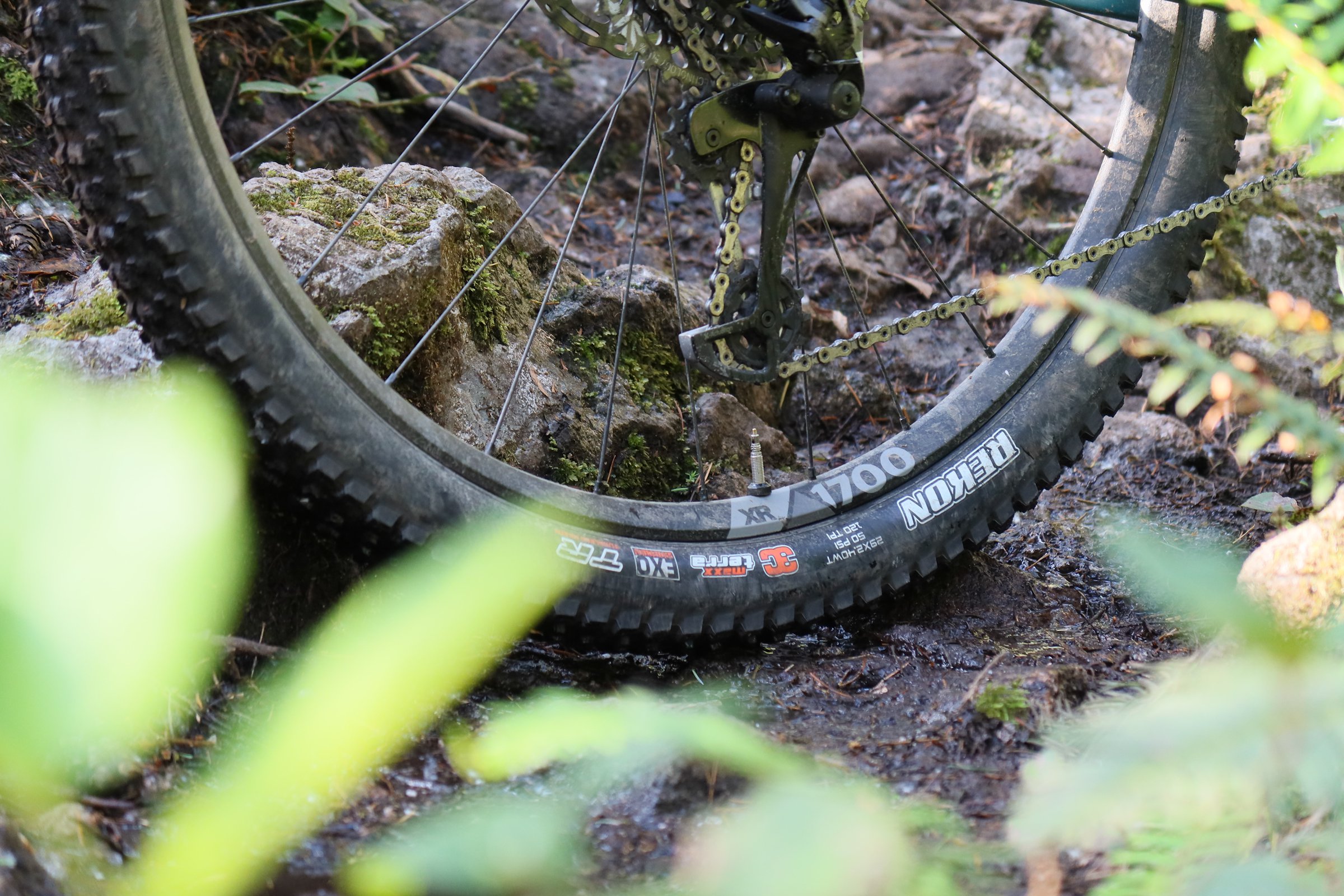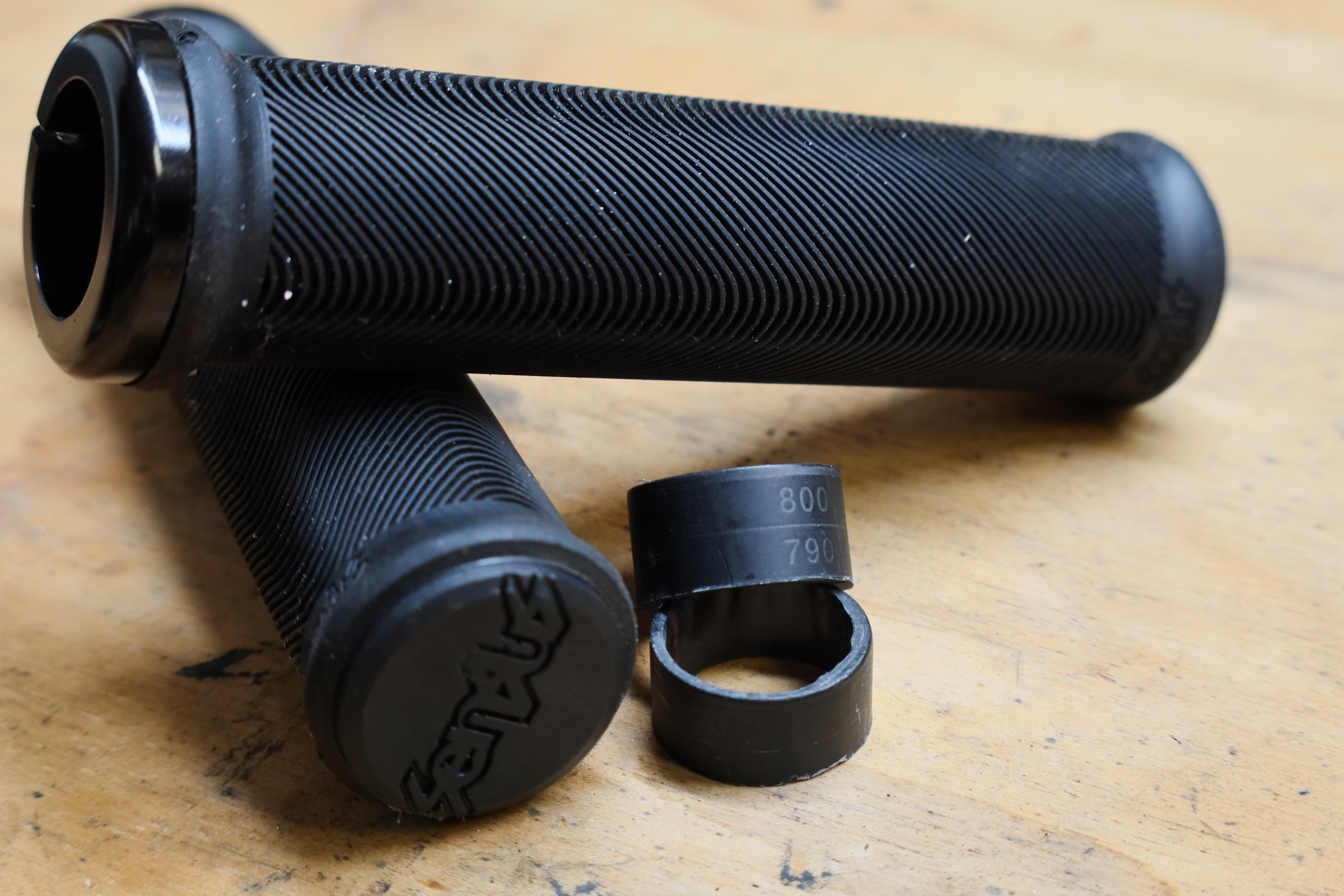 Riding the Spur
As you'd expect from a lightweight 120mm machine shod with fast rubber, the Spur has meant new PRs on pretty much every climb it's been up. It's not XC race geometry and the front end will wander a touch when the grade gets really ugly, but the moderately long rear center and overall wheelbase helps keep your weight centered, without being particularly detrimental on tight switchbacks. If there's a limiting factor for technical climbing other than my skill and fitness, it was the Rekon's traction (the SiDluxe's climb switch is irrelevant unless you're on a paved road. It's a lockout).
If there's a downside to how this bike climbs, it's that it really encourages uphill flogging. I find myself digging deep into the pain cave for no reason other than the bike spurring me on.
Staying true to its Transition roots, the Spur descends a couple of brackets above its weight class, but it does have limits. Out of the box on the Shore it's limited by rubber; you'll run out of tires before you run out of geometry, suspension, or brakes. So, I changed the rubber. And oh boy did we start having a party.
A 120mm bike is never going to be a full enduro/DH smasher; you're not headed full speed into the rocks. It's a bike that rewards line choice and precision. Often the easiest way through rough trail is off the ground, and the bike is happy to oblige. At full tilt, there's not a huge margin for mistakes. But the geometry and suspension performance are such that as long as you remember what bike you're on, it'll take almost anything you can throw at it: steep, deep, and nasty. But... carefully. You don't have enough travel for unlimited traction. You also don't have the brakes to take advantage of it even if you did: the SRAM G2 is an improvement over the Guide. They're basically the same price and weight as Codes. Just get Codes.
In anything less than than super nasty terrain, the Spur is in its element. On my home trails of Mt Seymour (and Fromme), the Spur is also comfortable. It's snappy, poppy, and lively; natural doubles and pulls you've never noticed on XC trails suddenly appear. Familiar corners show up at alarming speed, and it teleports from one side of the trail to the other. The SiD, SiDluxe, and rear suspension kinematics all provide good progression (~30% out back) and ramp up giving reasonable small bump sensitivity and avoiding harsh bottom-outs. While the dampers are tiny and the rear shock will fade on long chatter-filled descents, I've been very impressed with the shock and fork.
Conclusions
Overall, the Spur has been a blast. This really is a well-rounded bike with no characteristics that are outliers. The geometry, layup, and components all work together. It's not an overly stiff bike, but it's not unsettling, and sometimes feels like traction. It's got cute dampers, but they work well with the weight and layup of the bike. It's not all about weight either, with burlier components where you'd want them.
As for the one bike NORBA weekend quiver? I'd absolutely pick this thing to race any kind of technical XC. NIMBY, Back 40, BCBR; this is your bike. With a wheelset change and some brakes, you could race a lot of enduro courses. And while I wouldn't race most downhills on it, the bike is capable enough to ride all but the gnarliest courses, albeit carefully. (And as a reformed, mediocre trials rider I guess it's better than what we were riding in 1998).
I thought this bike was for a different, new Transtion customer, and that's true. But I think it appeals to their standard base as well; I'm not unique as an aging, ex-downhiller who still enjoys some gnar, but also wants to pedal. If you're someone who looked at the numbers and spec on this bike and thought, "that sounds really cool", you're correct. Buy one.
I'm going to be hanging on to this bike through the summer. Expect some modification to the spec, some other review parts, some big adventures, and lots of fun. And maybe even a comparison with another new and popular model in the same category.