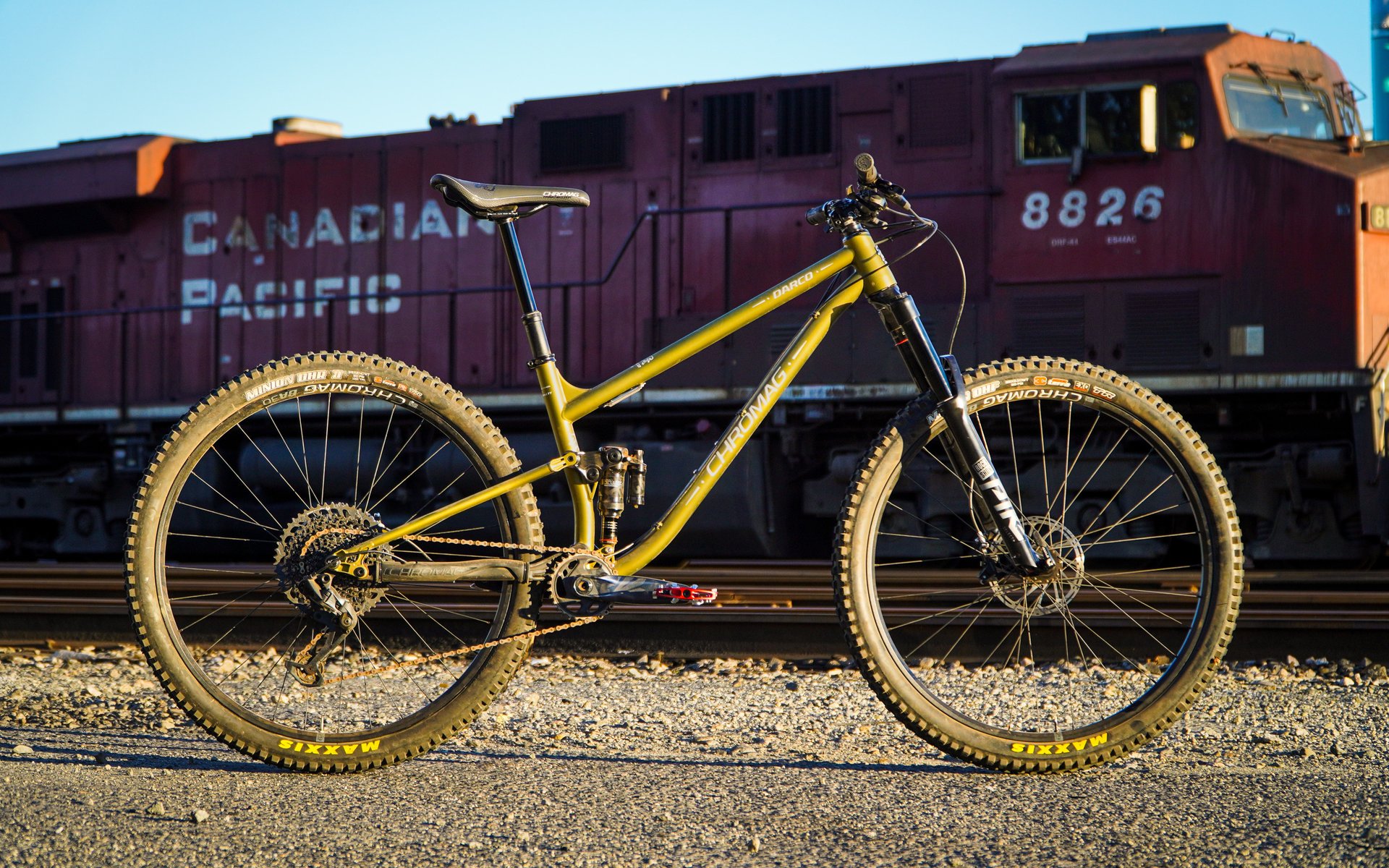 FIRST IMPRESSIONS
Chromag Darco
Some small bike brands might require an introduction – Chromag isn't one of them. Over two decades the Whistler, BC-based brand has become legendary, cranking out aggressive steel hardtails designed for folks charging hard in gnarly terrain. If you've ever spent time in the Sea to Sky region, or seen photos, it can be a bit rugged around here; its not what most people would think of as hardtail terrain. That hasn't stopped Chromag (or its riders) from pushing geometry and what's possible on classic double diamonds. There's been the odd foray into lighter weight hardtails (I wouldn't call them XC), and even a still-functioning full suspension prototype a decade ago, but the reality is they've never strayed far from the path, for long.
*If you haven't read AJ's Behind the Brand piece on Chromag, take a pause to go do so now. And then when you're back, have a gander at the more recent Makers piece here.
Chromag was founded on a bike built for the terrain and riding style of the founder Ian Ritz. Now, there's an entire office full of hard charging men and women, selling an array of componentry, soft goods, and the ever-present lineup of steel hardtails where you can pick your country of origin – Canada or Taiwan. They're carved a niche as the epitome of cool, even if most people don't actually want to ride a hardtail.
Enter the Darco.
In many ways the Darco is what you'd expect from Chromag in 2022 – 150mm Rock Shox Pike up front, 64-degree head tube angle, 78-degree seat tube angle, threaded bb in a chromoly triangle, UDH hanger, 29" wheels, and "perfect for the type of terrain we have in the Sea to Sky, steep climbs and steeper descents." It's only once you get to the aluminum Horst link attached to the seat tube that things diverge from standard Chromag fare. This link drives a 165x45mm RockShox Super Deluxe Ultimate and gives the Darco 120mm of rear travel through an aluminum seatstay and chainstay. Given the close ties between SRAM and Chromag, it's no surprise to see all complete options adorned solely with bits from the Chicago-based manufacturer striking a good balance of functionality, weight, and cost. Any component that doesn't say SRAM, RockShox, or Maxxis comes from Chromag's house brand. While people may attempt to disparage house brands like Bontrager or Roval, I'd say no one is complaining their bike is adorned in Chromag. Value-wise, a $6,850 full suspension bike doesn't seem wildly inappropriate; it's worth noting that the Darcos Chromag is selling now on their website are made in Taiwan. In true Chromag fashion, there was an early batch of 30 bikes sold to select customers earlier this year welded by Brad Howlett on Vancouver Island.
If you want to get deep into the weeds with kinematics, the thesis behind the bike, exploded views of the pivot system, and all the FAQ you could want, have a look here.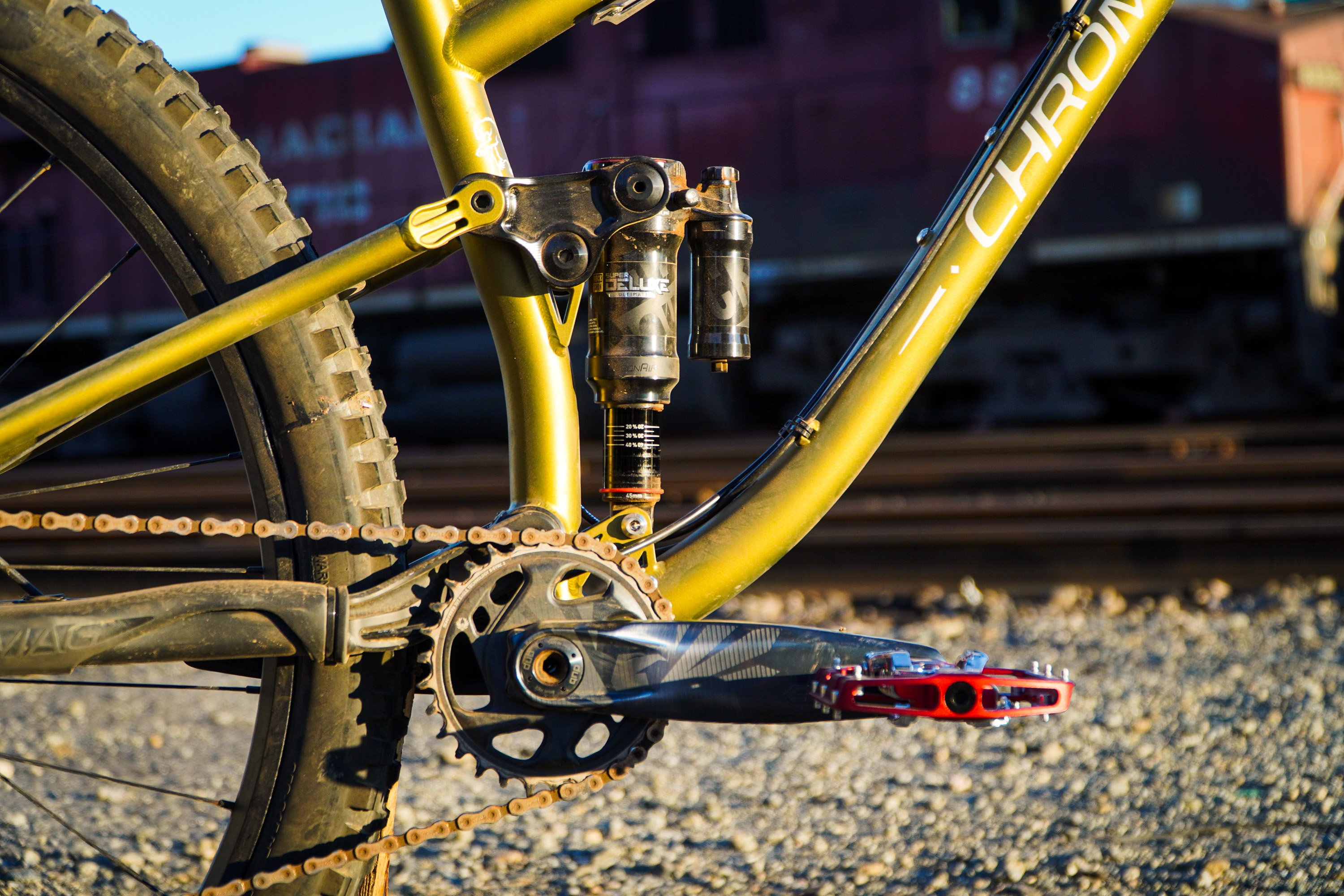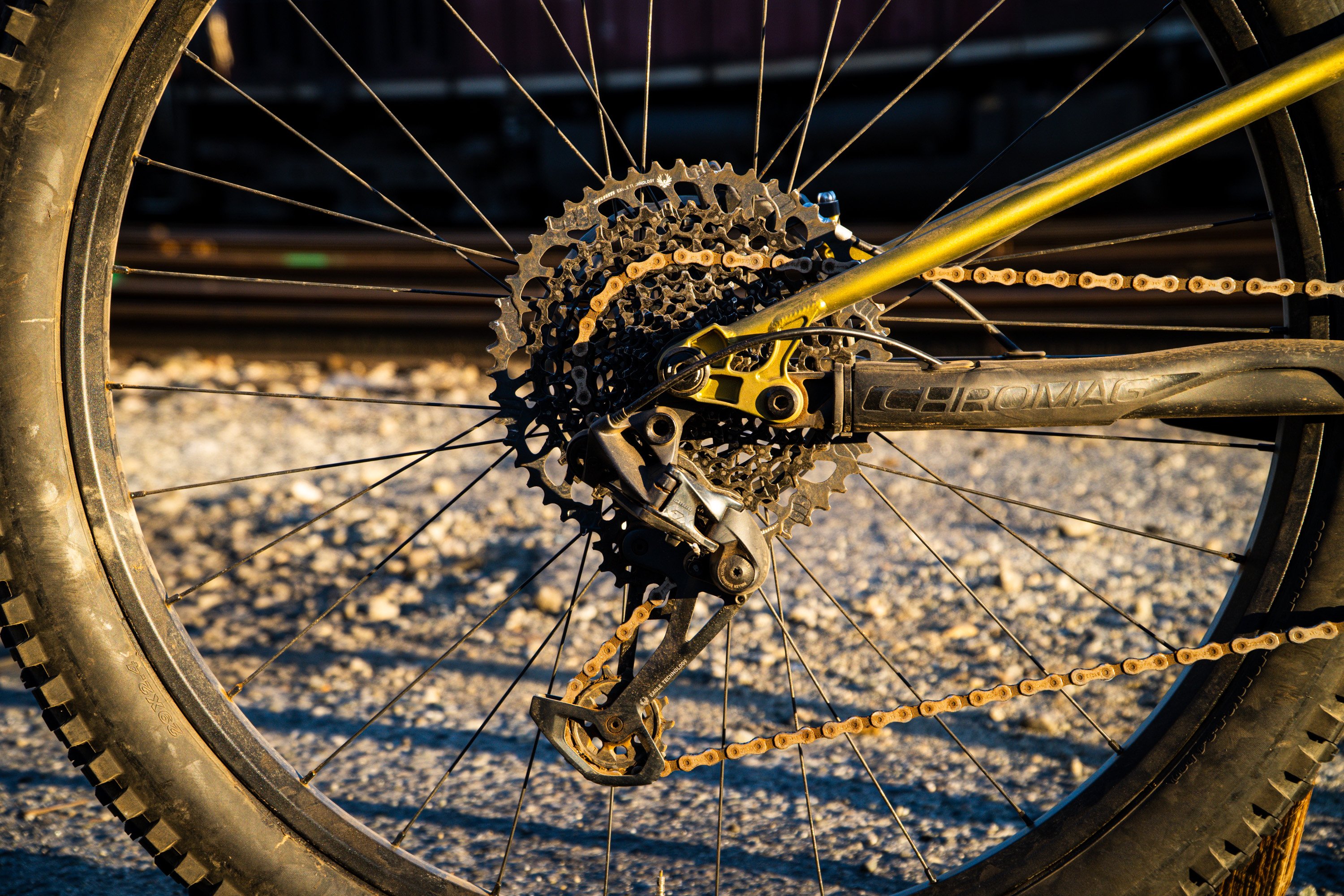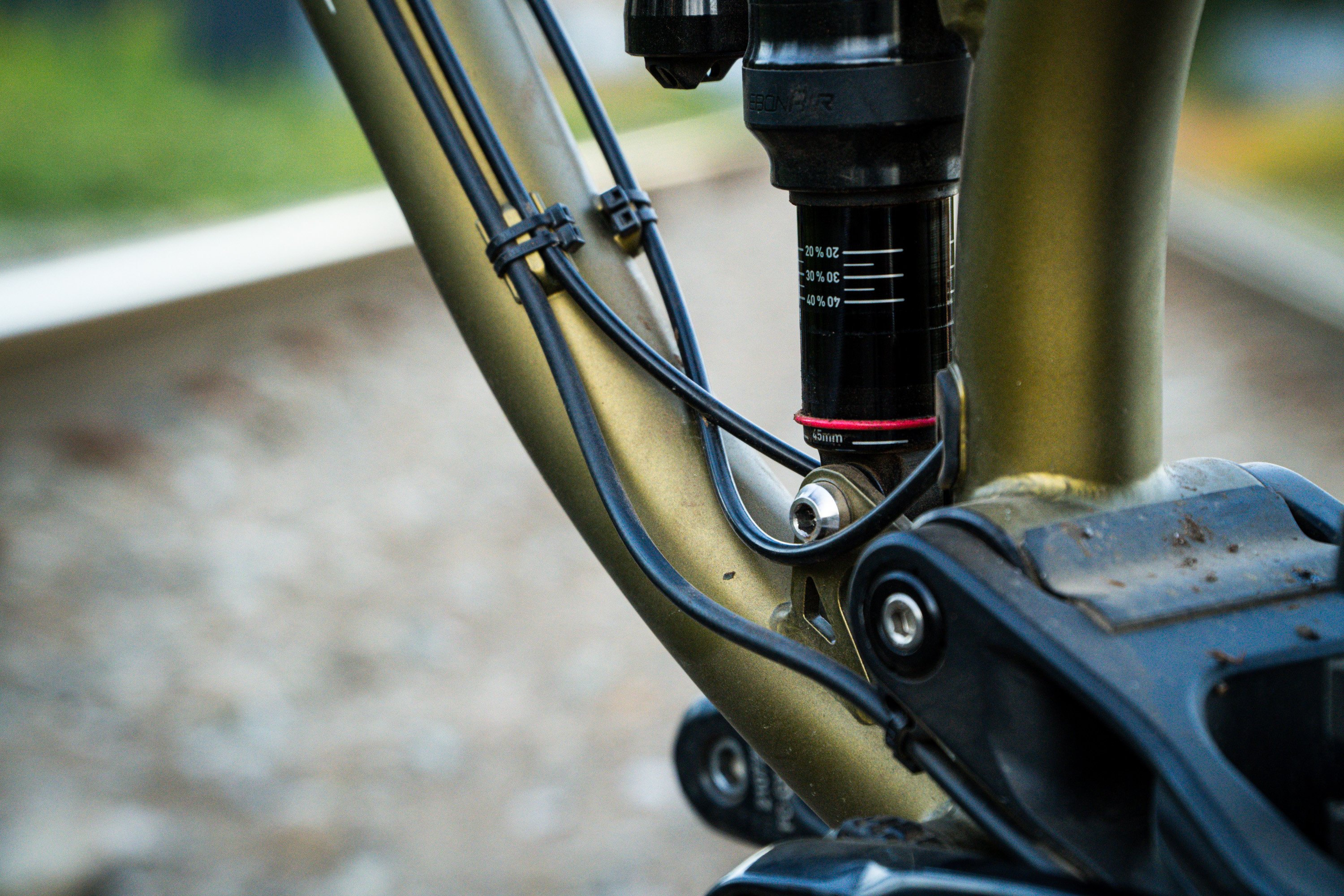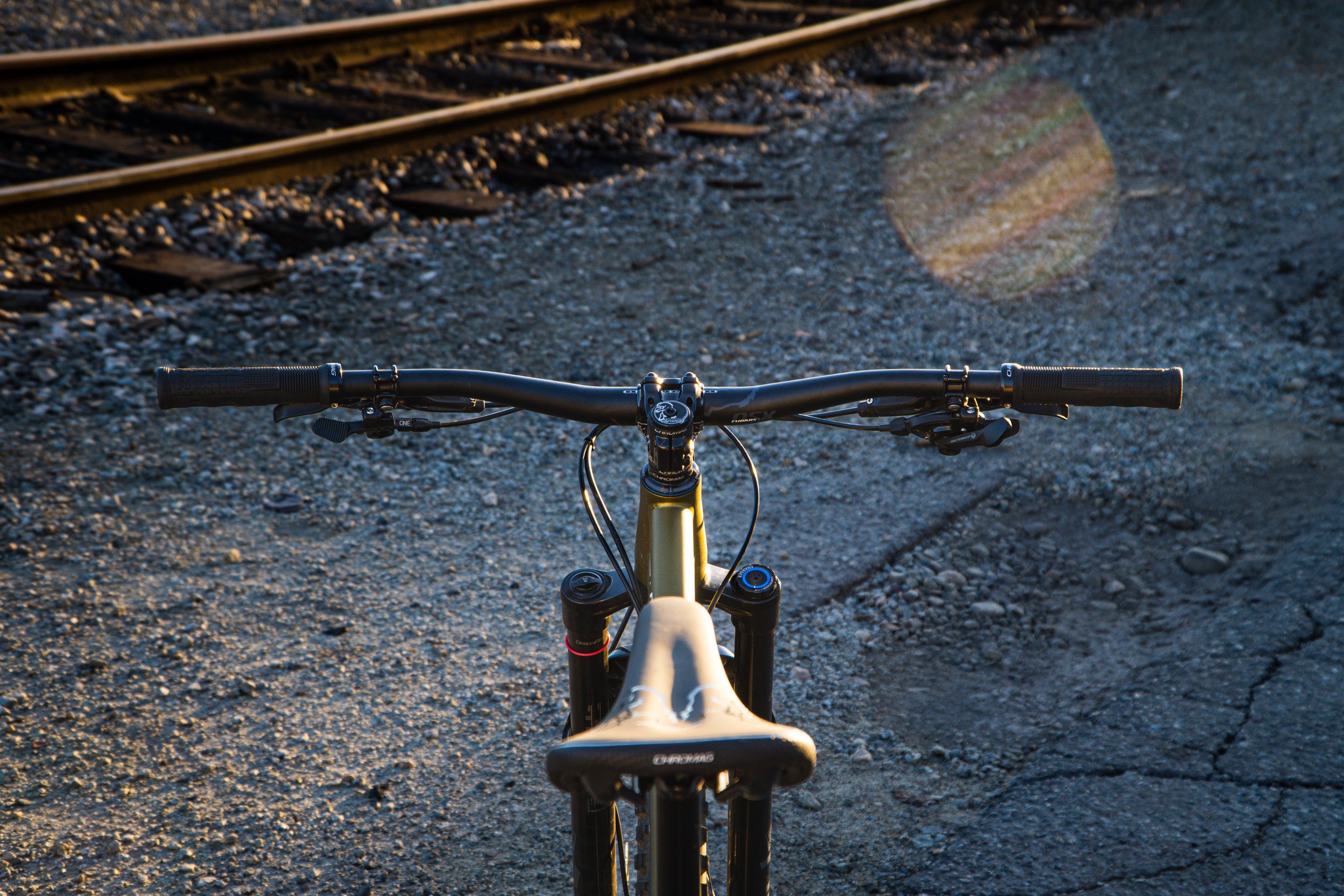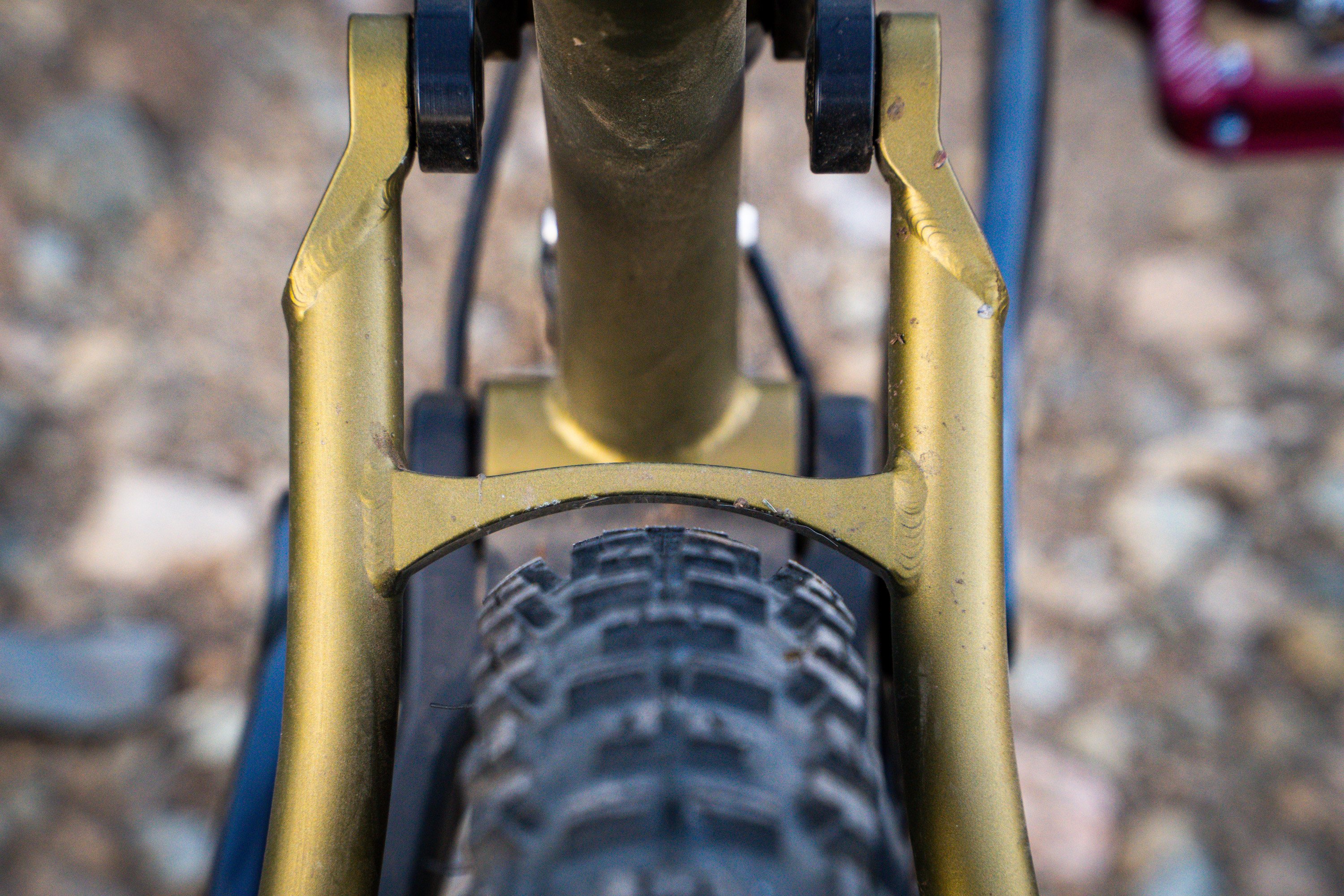 Riding the Darco
One of the upsides to working with NSMB is the opportunity to ride a wide variety of bikes – not just bikes I write about, but often once someone else has finished up with a bike, I'll steal it for a cheeky ride or five. What this means in practical terms is that I'm quite comfortable hopping on an unfamiliar bike and getting it to a happy setup in a ride or two. I struggled on the Darco – getting the rear suspension somewhere that felt right took longer than usual. Somewhere around ride five, after upping the air pressure to 230 PSI (~20% sag) and the maximum three volume spacers installed, it all started to make sense and work.
I'd note the spec sheet lists two volume spacers as standard; my version had one installed. Had I started at two, I likely would have gotten to a good setup more quickly. The other factor is the difference in setup between the front and rear - you're going for quite different characteristics here, so going for a balanced feel and traditional sag split front/rear won't necessarily work. More on why that is shortly.
Climbing
There's nothing dramatic, or particularly interesting about pedaling up a hill on the Darco. It's got enough suspension to smooth things out a bit and keep traction through technical bits but is firm enough and with has sufficient anti-squat. I was never reaching for a climb switch. The seat tube angle puts you in a position that's comfortable climbing, although it's far enough forward with enough reach that on flatter terrain there's a bit more weight on your shoulders than I prefer. Overall, climbing isn't the Darco's forte – it's not bad, it pedals like a firm 120mm bike - but don't bother trying to set any records. Settle in and spin your way to the top.
Descending
This is where things get significantly more interesting. It's a Chromag; the geometry, front suspension, and build kit encourage hard charging, aggressive riding but also like a Chromag the Darco constantly reminds you how much travel it doesn't have out back. Now, I realize that sounds like a strange thing to say about a full suspension bike when I'm comparing it to hardtails but bear with me here, it's part of why I struggled with initial setup. The Darco rides more like a hardtail than it does a squishy bike, it's snappy, responsive, and the ride can feel harsh if you're thinking about it as an aggressive full suspension bike. If you're charging hard, this bike requires a setup that's built for speed, not comfort. You're using the rear suspension to take the harshest edge off big hits, and dull but not dissipate trail chatter.
Hardtails can be great fun but where they tend to break down for me is high speed rough sections. Rough, steep, janky, and technical are all fine where geometry is more important than suspension. Same on smooth fast trails, if there's significant features or jumps you've lowered your margin of error, but they're great fun. Put rough and speed together, and I struggle with the harshness, braking traction, and everything becomes less fun. To put this in real world terms, Severed D is possibly my least favourite hardtail trail on the Shore (Ok, maybe Ned's Atomic Dustbin is worse). Its fast, not particularly technical, but very rough. On the Darco, Severed is a significantly more enjoyable experience than on an actual hardtail. The bike smooths just enough chatter out to maintain more control, carry more speed, and enjoy the trail more than I would on a hardtail.
Overall, the Chromag Darco is a stable, predictable platform. It's low slung nature combined with longer front end put me in a good riding position where I was comfortable in most terrain. When things get mega gnarly, you need to remember how much suspension you don't have and approach accordingly, but as long as you keep centered and can keep the bike slowed, you'll do fine on almost all terrain. Again like riding a hardtail, when it all comes together, it's a riot. When you're having an off day, there's the creeping thought that perhaps you should just set the bike on fire and walk home.
Comparisons
The Darco is a hard bike to cross shop - in many ways it stands alone, and you already know if it sounds like the bike for you. Perhaps the closest comparable in my recent memory is the Canyon Spectral 125 CF 8, reviewed by Niels here. Many of his reactions and feelings coming to grips with a bike that has a burly front end, aggressive geometry, and short travel rear end apply equally well to the Darco. Initially, I might have thought you'd plunk the Darco into the dreaded 'downcountry' bracket - along with bikes like the Transition Spur, Santa Cruz Tallboy, or Rocky Mountain Element feel vastly different. They share the need to be precise, however smaller forks, lighter wheels/tires, and massively lighter chassis lead to a class of bikes the Darco just doesn't compare with.
Conclusions
Chromag, as a brand, was built on hardtails for hard terrain, and hard people. There was no real business case for the TRL; it was a bike designed specifically for what Ian wanted to ride. The staff count has grown, but they're still following this ethos – 100% focused on their riding, taking Fridays off, and building only the bikes they want to.
More recently, the brand has delved into titanium, an aluminum full suspension kids bike, and now this. The common thread I see here is that the fine men and women behind Chromag are just like the rest of us; we're all aging, evolving. Some of the dirtbags from Whistler in the early 2000s are now ex-dirtbags and want a little something 'extra' over the standard bike – enter titanium. Many have growing shredder kids now – enter the Minor Threat. Many, and perhaps I'm just projecting myself onto Chromag here, are finding the thought of hardtails anymore as just a bit much. A bit too punishing on a body that's seen its fair share of riding, crashes, and beers. Enter the Darco; the hardtail for people getting softer. In my mind, it makes perfect sense as the brand evolves with the riders behind it.
Arguably, if I could change one thing about the Darco, it might be to give it less travel. Embrace the 'soft tail' nature, remove any questions and comparisons to true full suspension bikes, and possibly lighten it up by adding some flex stays and removing some pivots.
So is it a bike for you? Do you want all day comfort on a hardtail? Do you want most of the responsive, snappy hardtail nature with a bit of the edge taken off in the rough bits? Have you always wanted a Chromag, but hardtails just aren't your thing? Is the hardtail in your garage not seeing enough riding these days, because it sounds uncomfortable? If weight isn't a priority for you (as I look in the mirror, it probably shouldn't be, Dad-bod. Maybe skip a couple beers and worry less about what your bike weighs?), and you like a winch/plummet style ride, the Darco could be for you.
The Darco isn't forgiving, but can be rewarding.
Do you want to show up with the most unique, eye-and-question-catching bike on your next group ride, and the steel Darco is too heavy for you? Fortunately, Chromag has you covered there, too. You may have caught this secret prototype on display in the most prominent position imaginable in mountain biking; the SRAM pavilion at Crankworx, but now you can purchase your very own Darco Ti frame and shock for a mere $5,700.
But don't just take it from me - I asked a current Darco LTD owner about his experience thus far.

I've been waiting for Chromag to come out with this bike for a few years, heard a few details early on and was super keen. Got a call asking if I was interested and as I was doing the BCBR this bike was perfect for my riding style. Geometry is spot on for any trail bike but at 120mm travel it is spot on, though being an XL it is very long. It has been absolutely bombproof for the 8 months that I've had it and during the BCBR it was flawless. During the race the bike was kind of a super model as it got a lot of attention, leave it in a rack next to other bikes and it got noticed. - Brian B, Darco LTD owner
So there you have it. The full suspension Chromag has felt something like a flying car or fully autonomous cars; they're always in development, just around the corner, and yet have been perpetually in that state for many years, but it's here now, and it's for sale. Are you buying one? Are you shopping for something else? Are you sticking with your 2015 Rootdown forever? Let us know down in the comments.