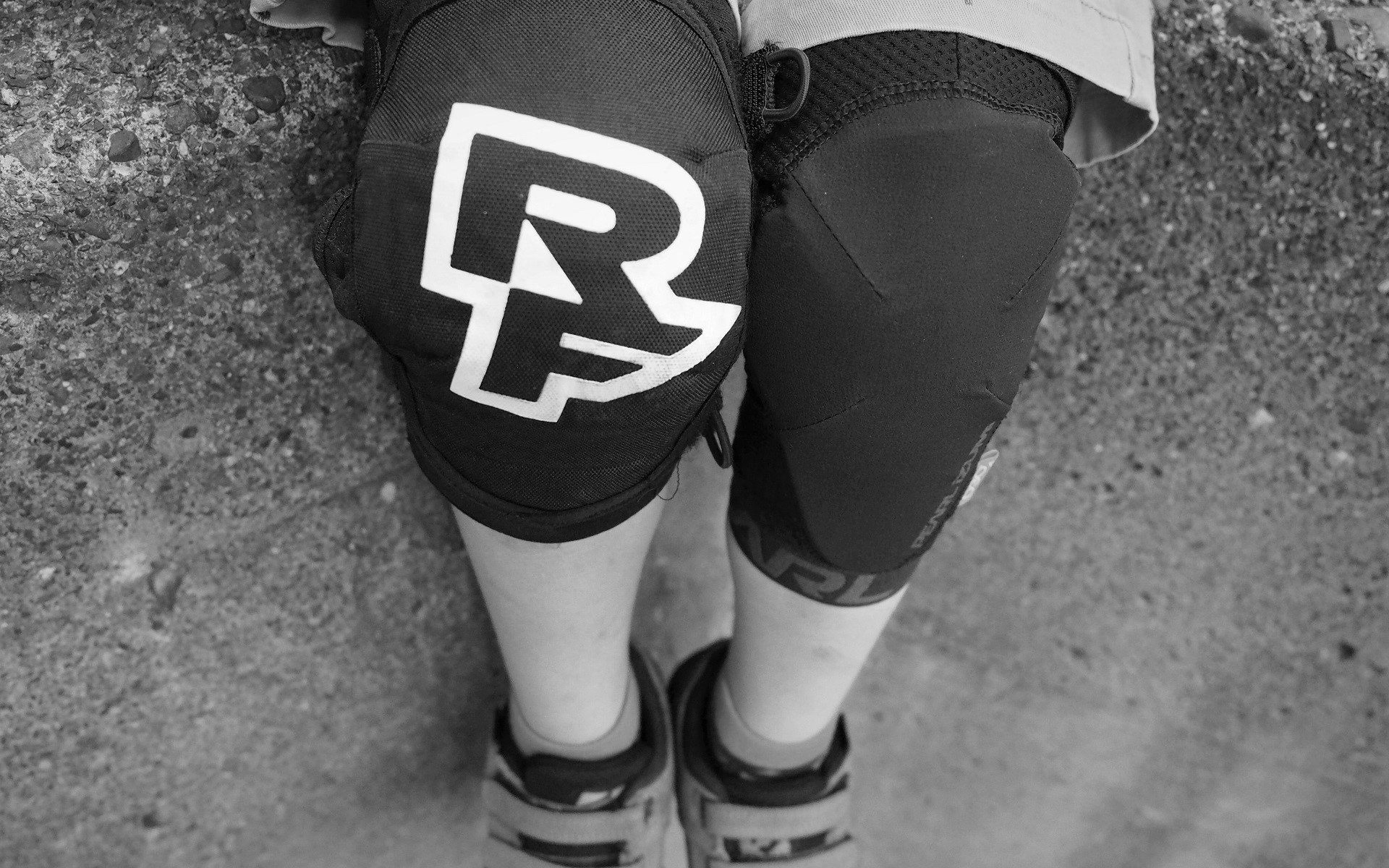 REVIEW | EDITORIAL
A Tale Of Two (Kids') Pad Sets
Crashing v. Riding
The stable of test-writers here at NSMB can be a persnickety bunch, sans doubt. I certainly don't have to look any further than myself for an endless litany of examples. Still, I can quite honestly state that Cam & Pete have never had to bribe me with an ice cream sundae, with chocolate sauce and nuts, just to get me to try on some knee pads and so began this review experience.
Suffice it to say, what was intended to be a mano-a-mano review of two premium D3O options for kids' protective gear started with two flat tires and never recovered from there. My six-year-old took one look at Pearl Izumi's Summit Knee Pads and then gave me a full blast of the exasperated facial expression that usually accompanies requests to tidy her room.
To paraphrase our subsequent conversation, there was simply no way she was intending to go out crashing on North Shore trails wearing those. Particularly when the other option, in the form of Race Face's Sendy knees, has at least twice the padding.
It's a bit bizarre to me because the Pearl Izumi pads I've tested feature plenty of non-Newtonian protective material for the speeds at which my grom is crashing. I should know, until recently she was using my Elevate elbow pads, with a wrap of hockey tape, as knee protection and getting great results. In fact, and I'm getting ahead of myself here if she could change one thing about Race Face's Sendy knees it would be to get another couple inches of extension down her shins to cover the most common pedal-bites the Elevate elbows protected her from.
The Pearl pads look to be of great quality, in line with other P.I. products I've tested. I think if your local version of mountain biking consists of longer, smoother, single-track miles then they could be a fantastic option. Here on the North Shore, whether you're aged 6 or aged 60, any kind of real technical progression is going to involve hitting the deck hard on occasion, combined with more regular minor bails, and better-than-nothing knee warmers are not going to cut it.
I'd know. I have some actual goals to improve my riding this year - you could say I'm inspired by watching my kid - and if I could find a pair of elbow pads that are remotely comfortable to wear and offer decent protection there are certain trails where I'd have them on every ride.
Get Sendy
Whether it's an awkward stall followed by some Princess-Bride action down a steep embankment on the Bridal Path or a full-speed-ahead bucking on John Deer, my grom has gotten these Sendy pads dirty more times than I care to admit. The simple fact is that 20" wheels don't roll over roots or rocks all that well and the angle of attack leads to some very awkward stalls on climbs and some unexpected yard sales on descents.
I don't want to over-attribute increases in confidence to the Race Face armour. That is, I don't want to take away from my kid's accomplishments uphill or downhill. But I think it's fair to say that mountain biking has become more fun since most meetings with the ground have become less painful.
All mountain biking - climbing and descending - has been happening in the Sendy armour since it arrived and, to date, we haven't had to make a single adjustment on the trail. It does take a bit longer to install than other armour my kid has used but we'd both agree it's worth it for the performance. Now, I should be clear. If Race Face could come up with a way to create the same level of retention and comfort while making it easier for miss independent to put on her own pads that would garner four thumbs up from this duo.
Anyone outfitting kids for mountain biking will tell you that it can be an expensive activity. Check out my choice 3.5 upgrades for your grom if you want to follow my thinking. This is especially true if your grom is going to ride year-round in North Vancouver, where greasy trails and wet & cold weather necessitate rain gear and good brakes and tires.
I jumped on that particular tangent because relative to Chromag pedals, 50 CAD seat post quick releases, and kid-bike tubeless conversions I imagine that spending on good protective gear is a much easier pill for most parents to swallow. These Sendy pads run 64 USD | 85 CAD for the knees and 52 USD | 70 CAD for the elbows and we're working hard to get that down to pennies a ride not to mention the value they deliver in terms of confidence.
For comparison's sake, the Pearl Izumi Summit pads run 50 USD | 80 CAD and the elbows are 40 USD | 65 CAD. I'll note again the P.I. has done a great job in terms of the quality of their pads and if your grom isn't crashing onto rocks and roots every time you turn your head or riding in a particularly hot climate, then these could absolutely be a winning armour choice. In my kid's case, for where we're riding, they would have been a poor investment, followed up by expenditure on an additional set of armor.
I do hope that, once the world is back on its regular axis, we can head down to Bellingham for an exciting day dodging an electric orchestra of stinging nettles, checking out the wildflowers, and enjoying some all-day singletrack riding and I absolutely envision taking the Summit pads along for the event.
Is Sendy the only great pad setup for groms? Surely not. Most brands of mountain bicycle armour have a kids line and, anecdotally for sure, most parents seem to match their groms in terms of the brands they're wearing.
Other than adding a bit of length to the knees and maybe making them a touch easier for self-install my wee one has zero complaints about the Race Face armour and I'll back that up. She's certainly spending a lot more time sliding on the ground than I have in any armour I've tested and I admit that I'm suddenly more than a little curious about the Race Face Roam knees, which use a similar retention setup, for myself.
For the kids' armour-curious, there's more information on the Sendy knees and elbows at RaceFace and on the Summit kids' lineup at Pearl Izumi. Armour is highly personal but at the end of the day it's there to keep us riding and perhaps to instill confidence that will help us progress. That's no different for kids than it is for adults. I'd love to hear what works for your kid(s) in the comments below.