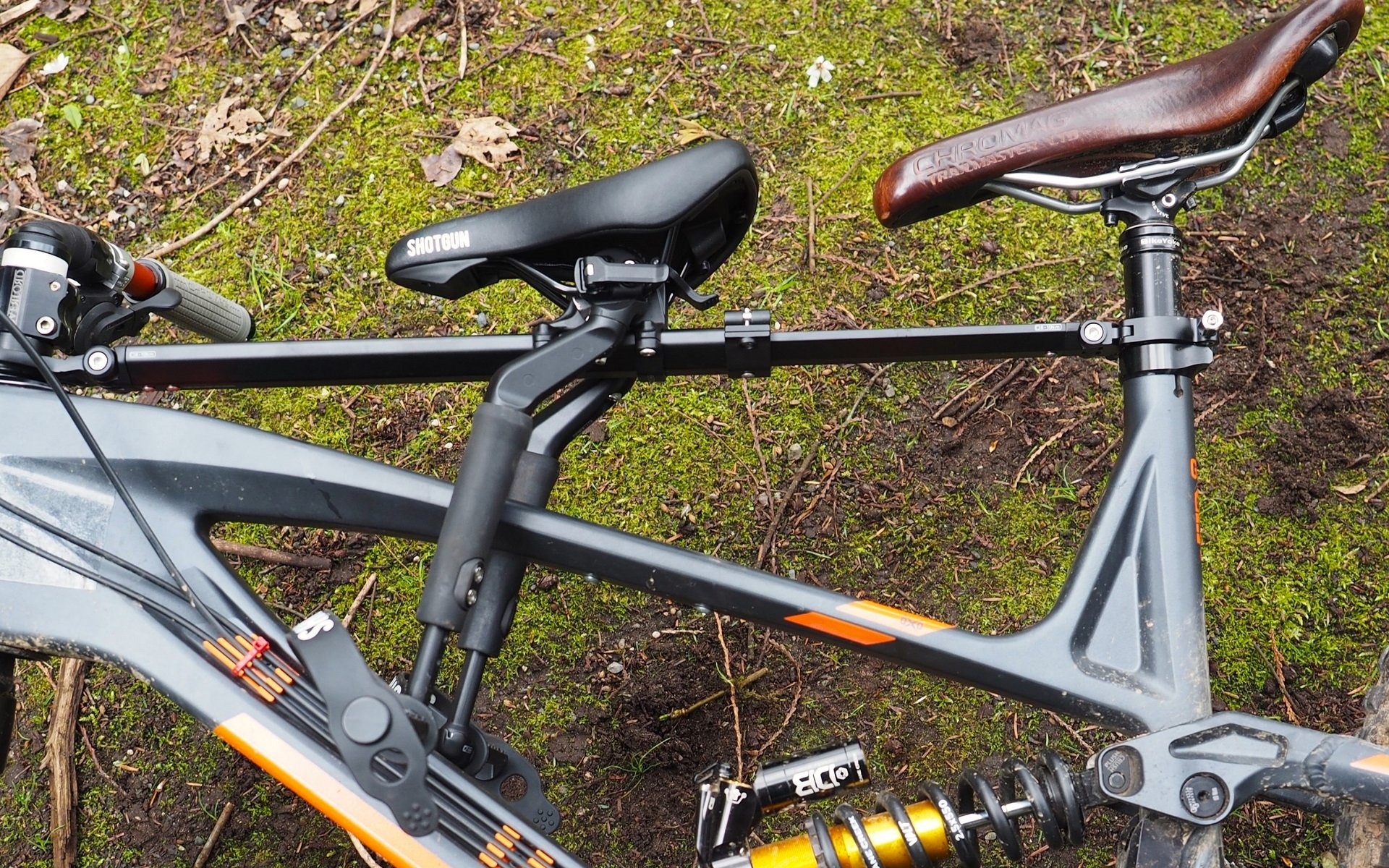 REVIEW
The Kids Ride Shotgun Pro Saddle System
Kids Ride Shotgun Pro
I have mixed emotions about having reviewed the first generation Kids Ride Shotgun saddle system. My daughter and I loved it. Loved it. But even with my size large bike frame we were on the very cusp of usability and it was hard not to lament that we hadn't jumped on a similar kids-forward cycling experience sooner. It's probably why I'm the Barney Stinson of telling every parent and grandparent I know who mountain bikes to get one. There is no setting too inappropriate or out of context to bring up how AWESOME the KRS is and ignoring me just results in me doubling down on the conversation.
The new Kids Ride Shotgun Pro, doesn't change anything about the riding experience. It uses a much cleaner mounting system that's easier to remove and install, and run on multiple bikes while removing any frame contact which could damage their carbon frame. It looks like a much more polished, high-end product and that shouldn't be surprising since it also costs 100 CAD more. You can still buy the KRS saddle I reviewed in 2019 for 220 CAD. This new KRS Pro saddle will run you 325 CAD. If you're going to be removing and reinstalling it frequently or running it on multiple bikes then I'll say right now it's worth the extra c-note if you can afford it. If a front mounted kids' seat is a luxury you're stretching into, doing these things with the original unit is time consuming rather than difficult, and people I've talked to have said the resale value has been excellent. Min-maxing my bicycle budget, if I had to choose between a Kids Ride Shotgun saddle and having a dropper post on my mountain bike I would have picked the KRS every day.
My child is no longer KRS-sized, and I don't own an expensive carbon fibre mountain bike to mount the KRS Pro saddle on, so I've borrowed these things for the purpose of talking about this product. The quality appears to be superb to me, but my friend Aaron - who's kid and bike I borrowed for these photos - is going to use it for a while and then in the future Cam is going to use it with his niece, and I think at some point in the distant future it would be cool to do a follow-up because I feel this thing is going to survive a lot of kids. The saddle is swappable to any standard unit out there, and beyond that, Kids Ride Shotgun does a good job of stocking spare parts.
KRS also sells a couple of handlebar systems if you want to spend some more money and get fancy, or hide the signs that you take a small child mountain biking from your friends. There's a regular bolt-on system for 50 CAD and there's a Pro QR system for 90 CAD. KRS says: "the shotgun bars provide a warmer alternative for little hands, and stop your co-pilot from playing with your gears, brakes and dropper post!" I just taped my handlebars with a bit of roadie bar tape - which is what Aaron has done here as well - and told my kid not to hit the shifter, dropper, or brake levers unless I asked her too. It worked awesome. She loved shifting. If you're on the KRS site looking to drop a few more bucks, the weatherproof hip pack is rad and gets lots of compliments on the trail. I also love Shred Til Bed.
I was going to say I've yet to meet a parent who advocates strongly for the add-on handlebar but our own Cooper 'Shore-Country' Quinn messaged me before this piece went live to say he loves them. Specifically, how they create a more upright riding position. I'll admit I haven't ridden a KRS setup with one as wee as his, so take my recommendation to spend the bar money elsewhere as one side of a debate.
From the moment I opened the box it was immediately apparent how much KRS stepped up the manufacturing compared to the initial product. From mounting the saddle to adjusting the pegs for leg length, there is not an adjustment that hasn't been cleaned up significantly. The front clamp and leg length adjustments require a hex key, removing a bolt and sliding the post, while most of the other assembly is performed tool-free using quick releases. The kit includes two of the proprietary headset spacers needed to mount the system, so a household with more bikes will need to purchase extra spacers at 14 CAD per unit.
In terms of fitment concerns, the rear mounting clamp for the Pro system's rail doesn't require space between the frame and dropper post seal head in order to clamp to your seat post but it is rubber lined so it's possible to clamp it to your seat tube if there's some frame proud above the top tube but below your saddle clamp. You need to have enough steerer tube to run a spacer under your stem as well, either swapping out an existing headset spacer or moving your stem up. If you're managing a frame with proprietary bullsh*t going on at the steerer tube you're currently covered with adapters for Trek Knock Block frames and the Scott-Syncros 1.5 system but for any other 'unique' setups you'll want to contact KRS directly.
KRS Installation
The most technical part of a KRS Pro installation is swapping out a headset spacer. As long as your OneUp EDC Lite tool housing hasn't decided it's now one with your steerer tube this is a quick job. If it's in there proper you can use the mini-tool inserted with the bits folded out to create some leverage to twist it or I've also had luck wiggling it out with Knipex pliers before. I only mention it because it's come up once or twice when I've needed to remove a fork in the shop. Once the stem is off you simply swap a stock headset spacer for the KRS Pro unit. If you don't have any spacers under your stem but have them above then you can swap things around although this will change your riding position a bit. If you're not certain you have enough steerer tube I'd recommend seeing your local bike mechanic for assistance; there's likely a lower clamp-height stem that will get you there if necessary.
Once the headset spacer is installed, mount the slider on your frame. The next tricky part is deciding what height to set the foot pegs at. It's helpful to have a second adult for this part of the process so the bike is upright with the grom on the saddle while you play with the leg extension. All told the installation of the KRS Pro probably takes less time than installing the included front fender - at least assuming you trim the Zip-Ties cleanly.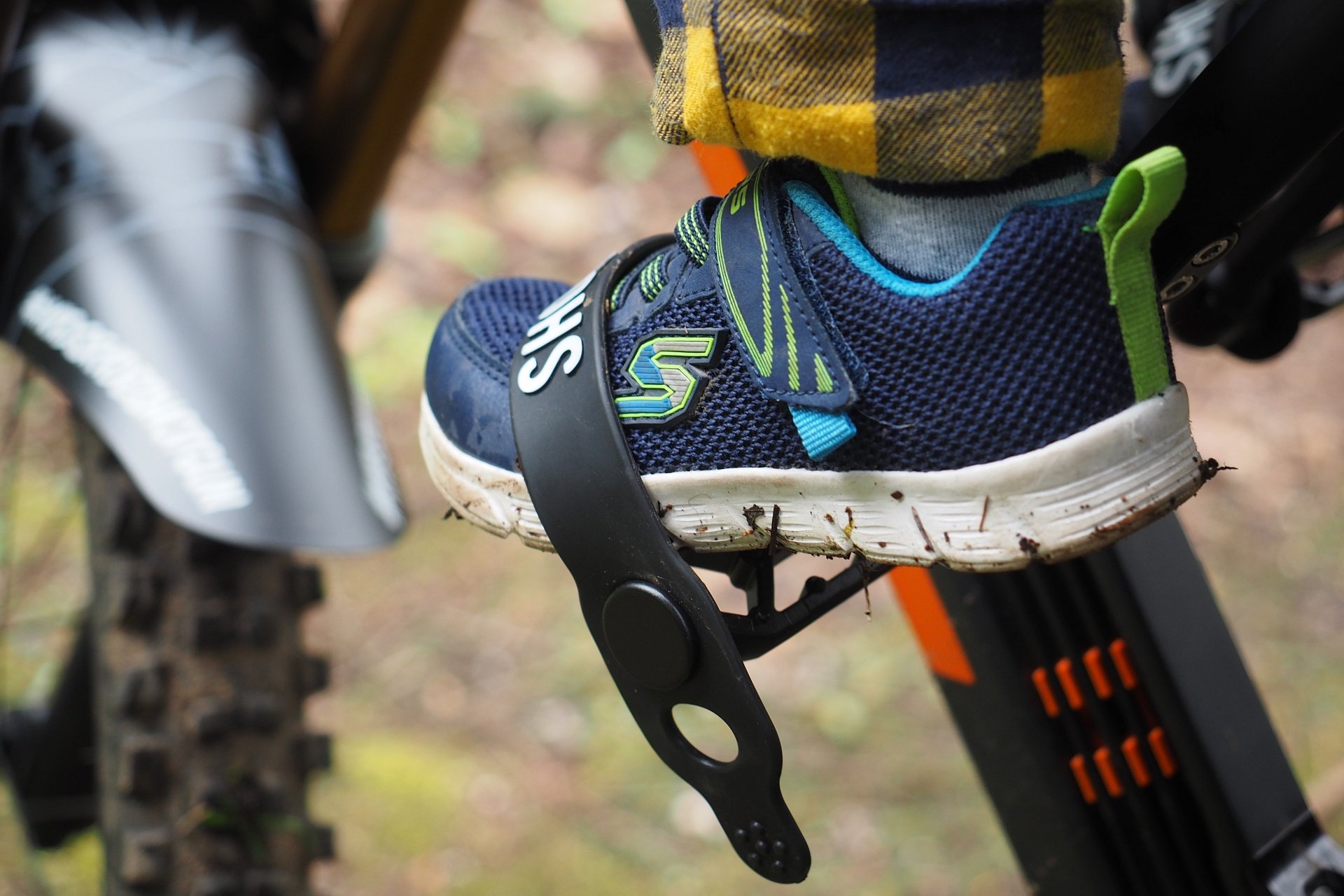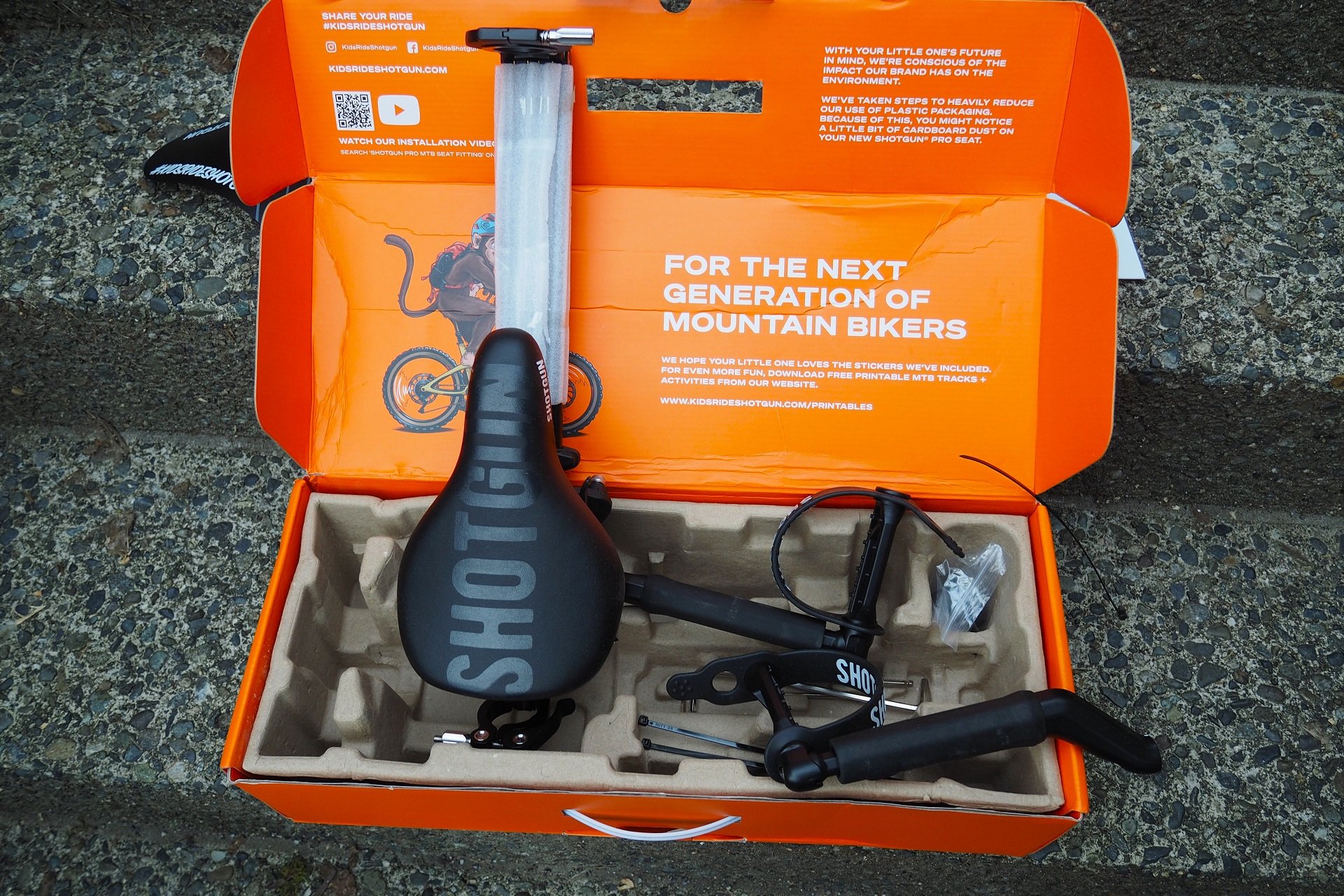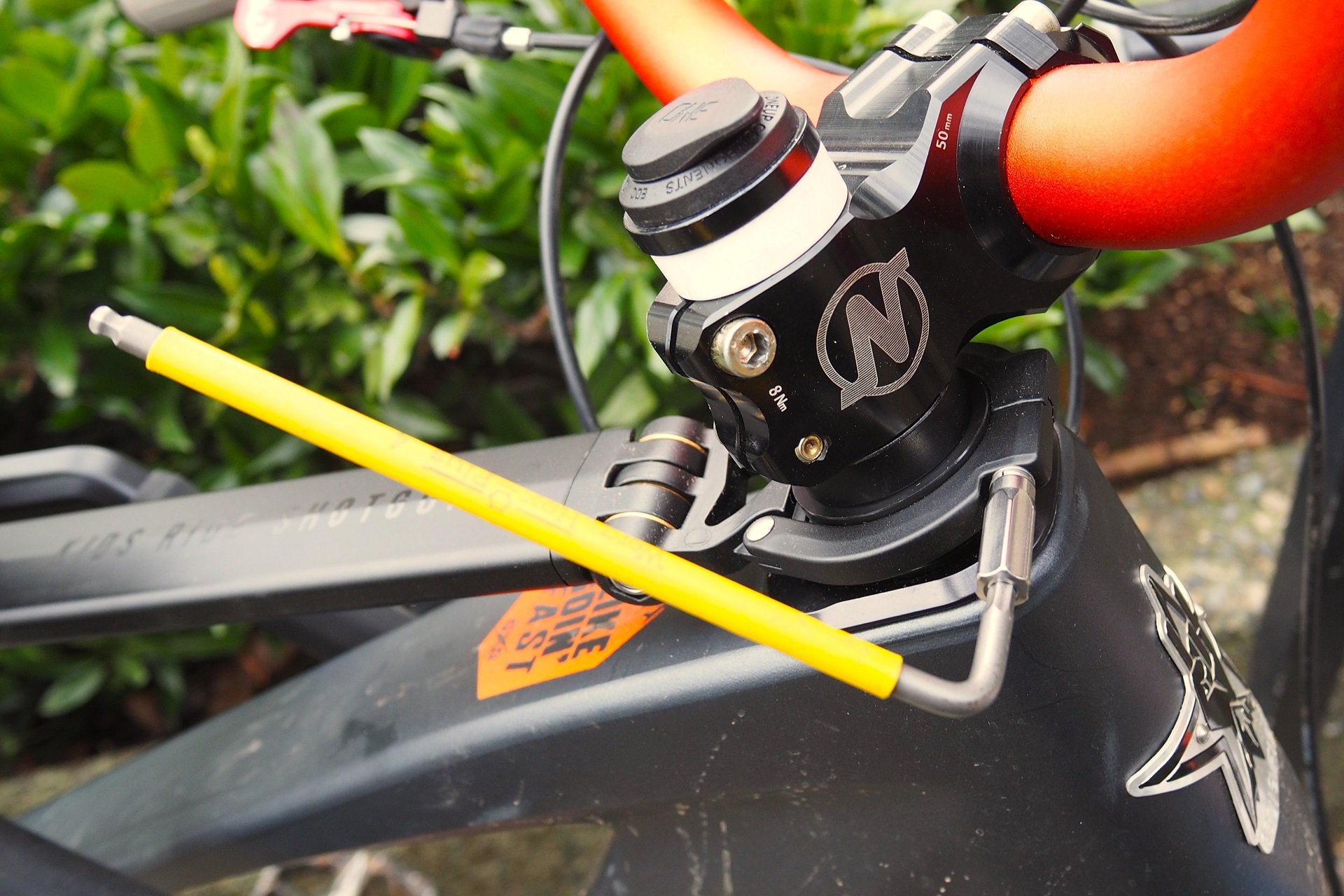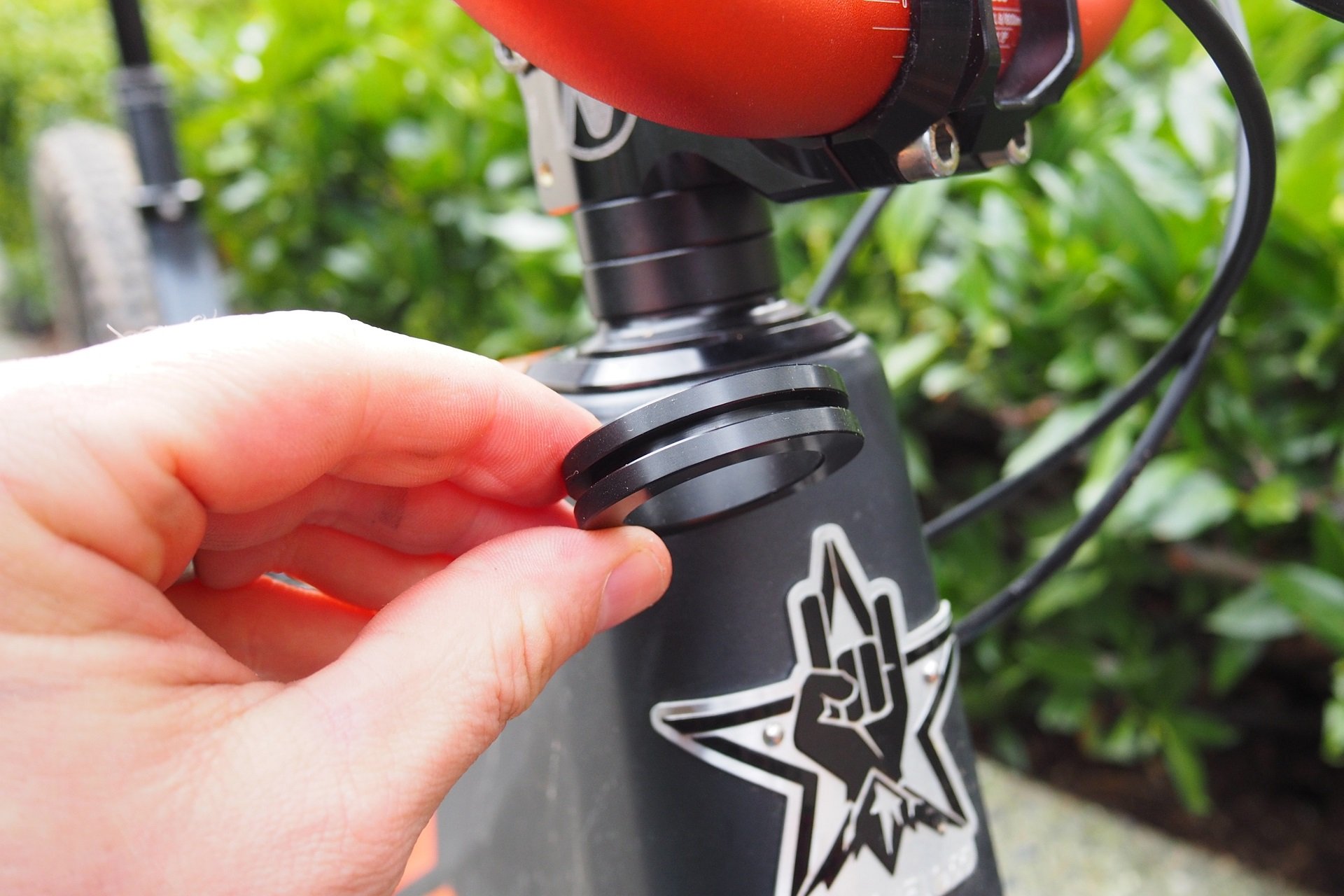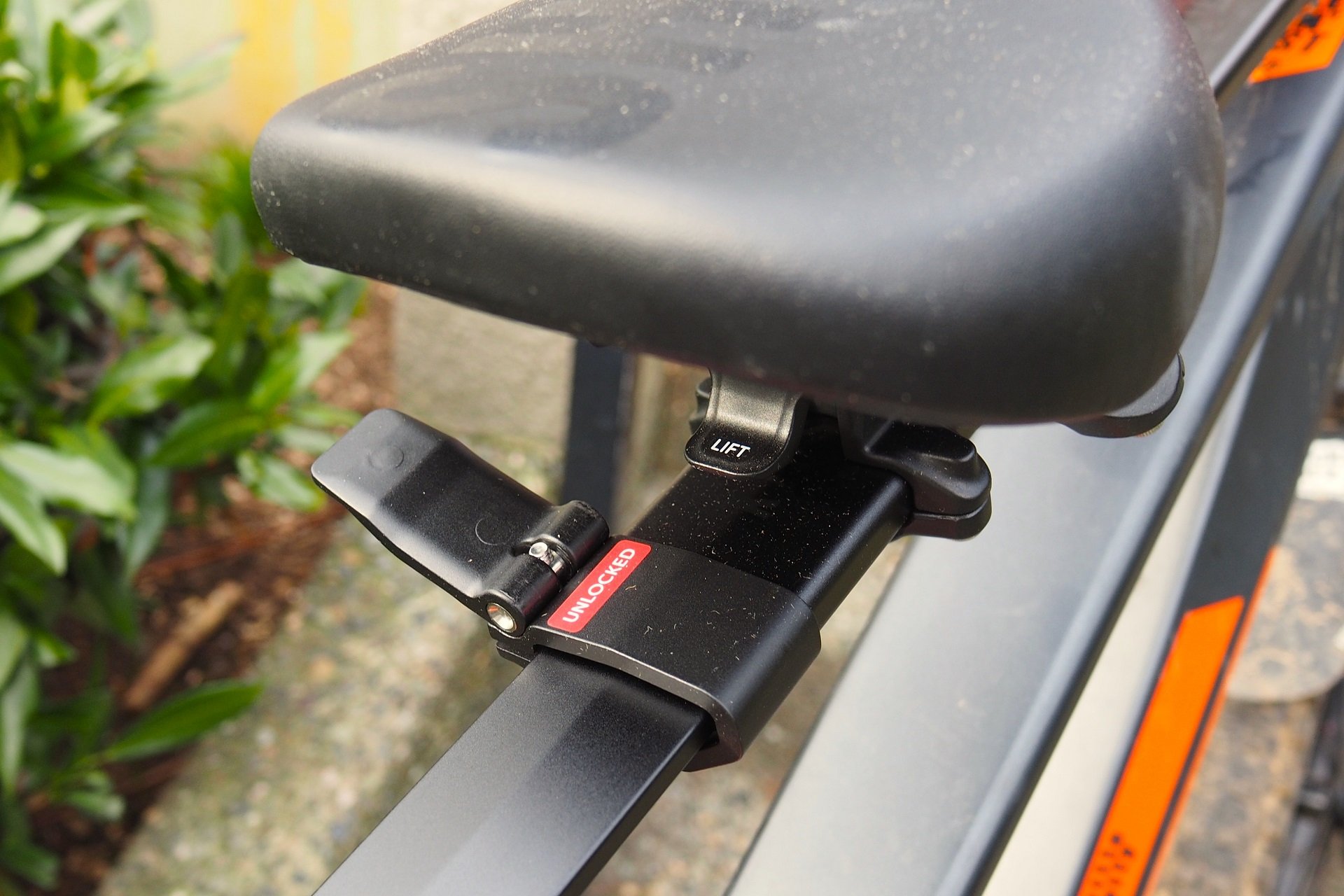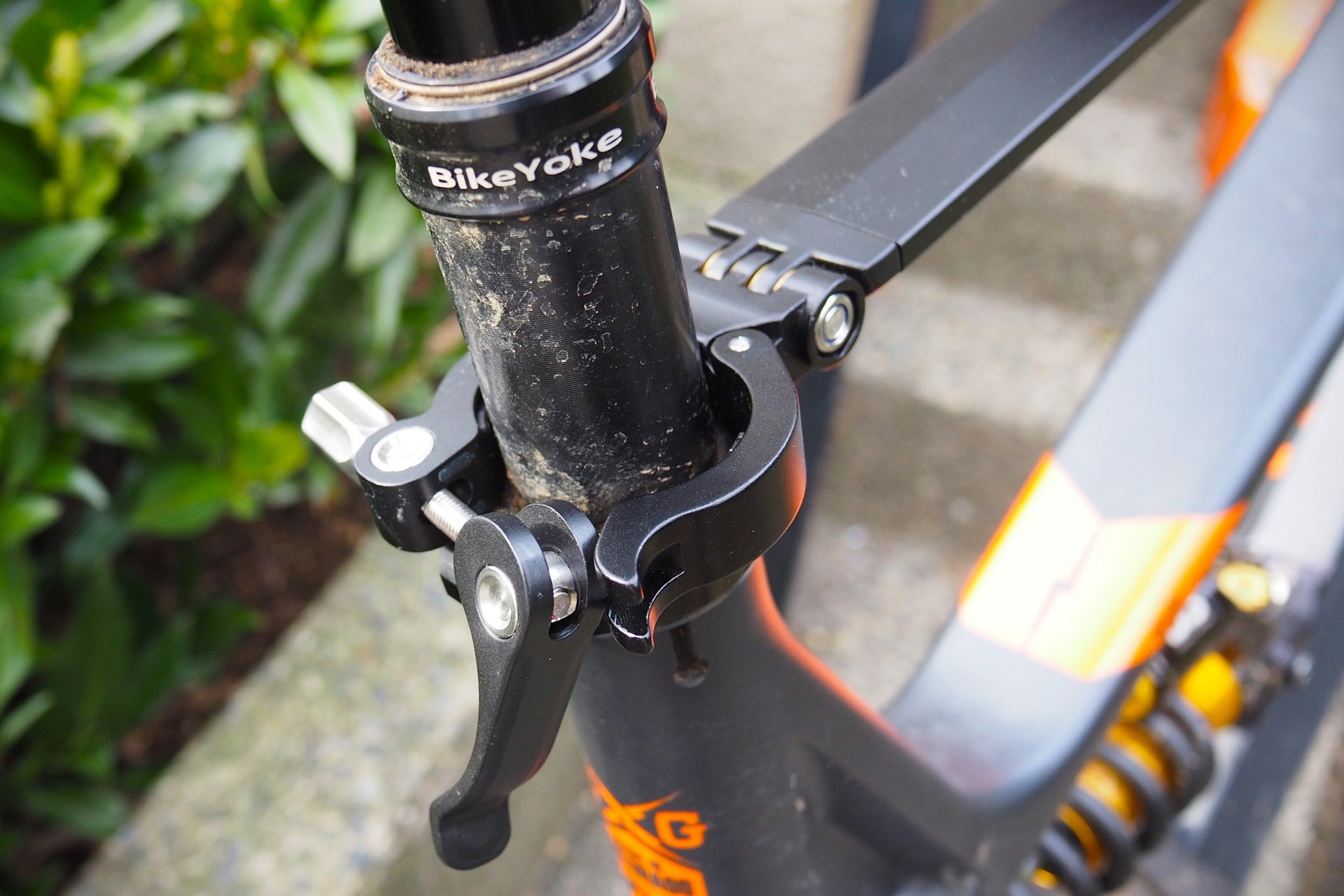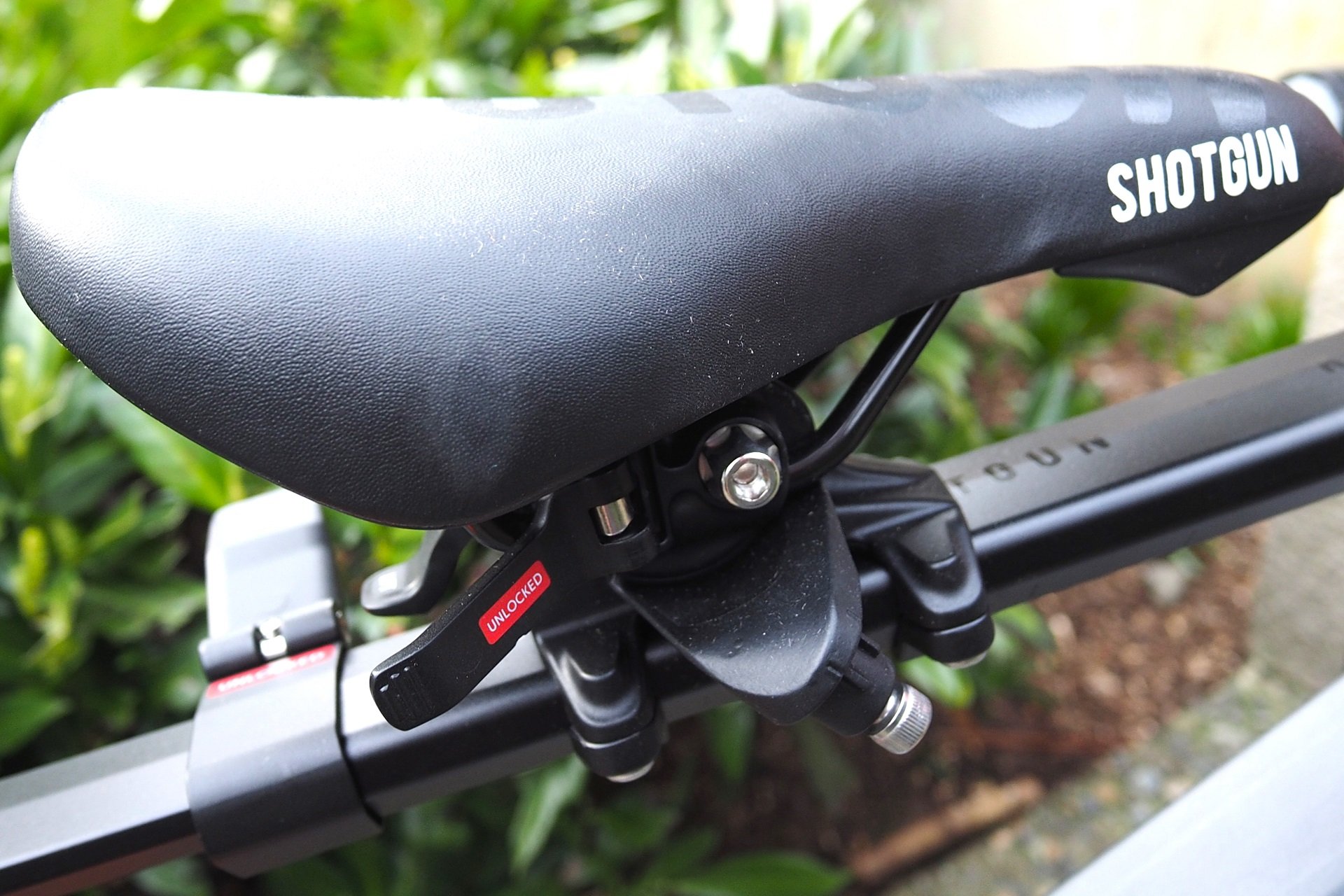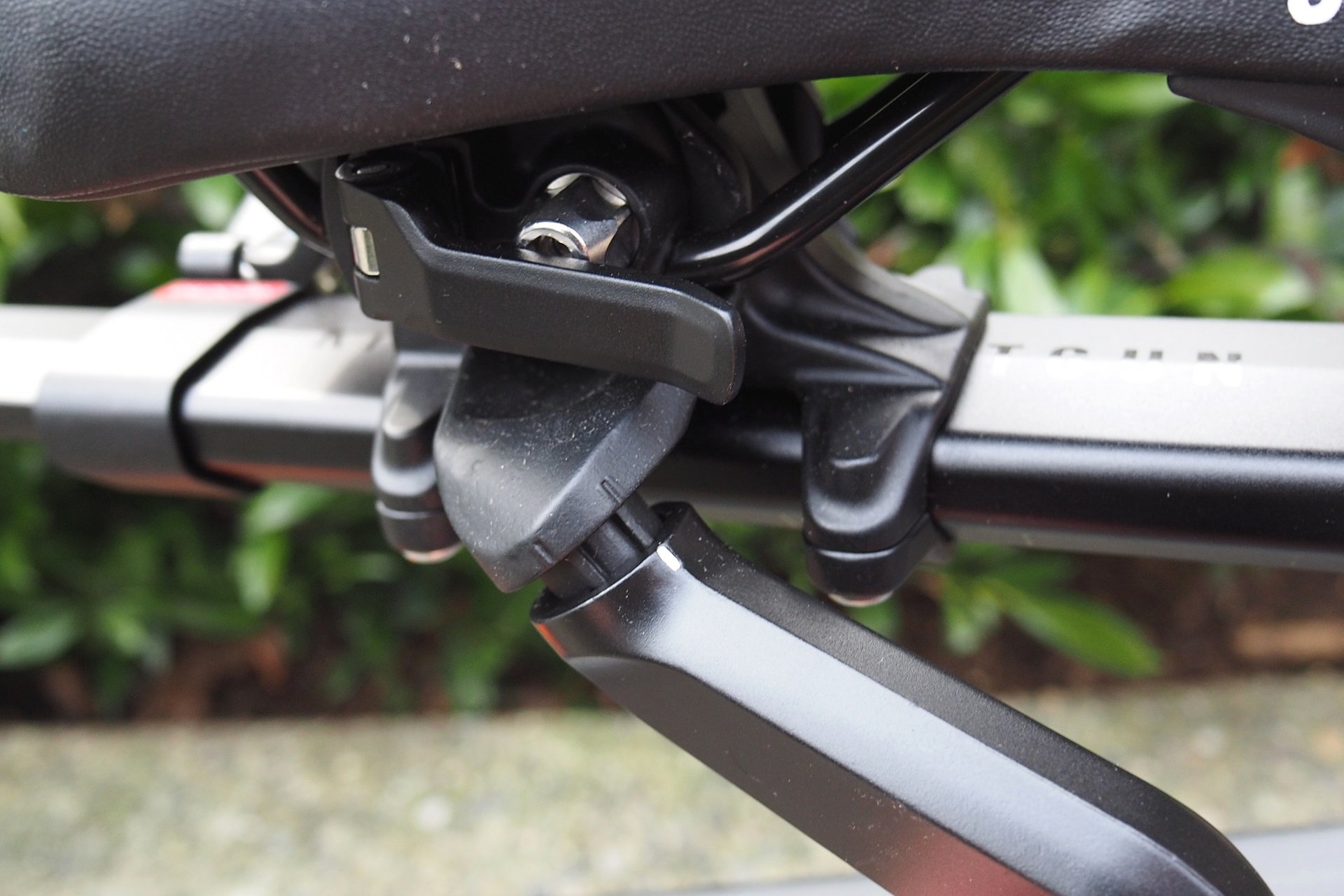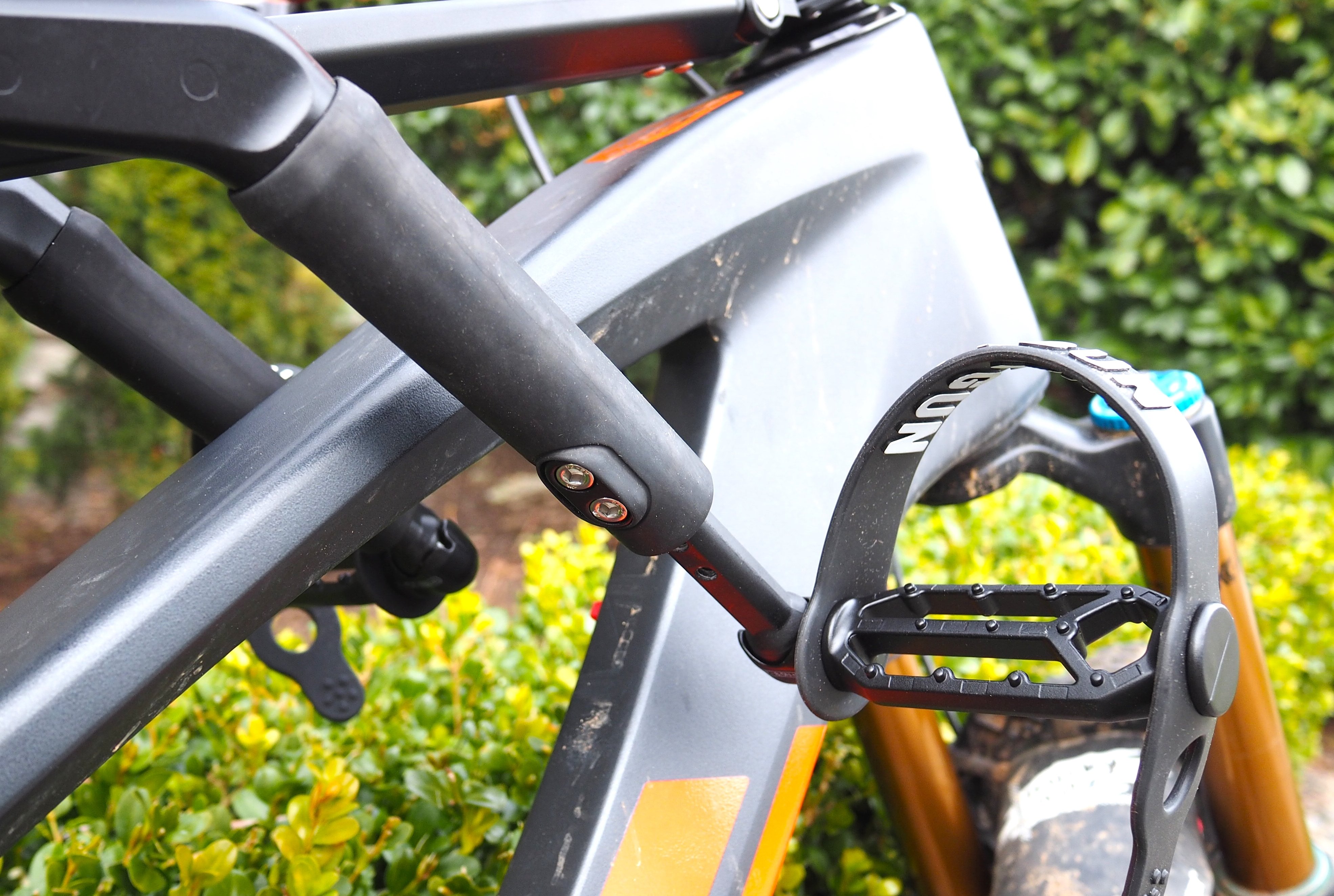 As with every part on your bike, it should go without saying that the bolts on the KRS Pro should be routinely checked for tightness. Other than that, I don't anticipate any maintenance needs. Buying used, in the future, the whole KRS Pro system can be torn down to the bare bolts, cleaned, and reassembled. As mentioned, all the small parts are available separately and in kits, so performing a full refresh is a choose your own adventure. I'd like to come back to the system a few kids down the road and see what, if anything, actually needs to be replaced. Just from wear and tear I can see needing to replace the saddle and the straps for the foot pegs.
From a marketing perspective I think it would be neat if Kids Ride Shotgun followed some of these saddle systems through multiple kids in a family and even through multiple families as they're sold or passed on. I met a kid last year riding a heavily upgraded ten-year-old Kona Kula 24" that had been re-sold so many times that his dad couldn't guess how many kids had owned it. It would make a really neat story if it was possible to trace it back to when it was new on a shop floor.
Guerrilla Gravity (GG) Aside
I was about thirty two seconds into writing up the KRS Pro saddle when it occurred to me that folks would probably be interested in a more thorough look at Aaron's GG Smash. It's a cool rig with some parts you don't see every day like a the Velocity front rim (made in the USA), a min-maxed drivetrain, and Shiguras done the right way. If you are interested, here's more information about Aaron's rig.
Kids Ride Shotgun Now
I've enjoyed experiencing every age of my kid's progression and I'm not one of those parents generally lamenting the passage of time, but I admit every time I see a kid and their parent out enjoying a behind-the-bars cycling experience, like KRS delivers, I get an aggressive case of FOMO. I do caution that said experience is different for every kid and parent. I know some who will only go on pavement or very light trails and I'll never forget stories of my friend Rick and his son hucking the stair case into their backyard or seeing them launch off the sidewalk down into the original home of SuspensionWerx.
My daughter and I tapped at doing laps of High School Trail on Seymour and spinning through Circuit 8 in the demonstration forest. It was helpful to get her going with mountain biking, and those are two of the first trails she rode on her own bike as well. I've talked to some parents who are planning to get a bit more aggressive than that and others who can't envision going off the gravel and I want to say if you keep it light and make it about your grom I think you'll both have a lot of fun.
While the system changes how your bike handles, it's easy to adapt. If your rear shock has some kind of pedal platform that's not a complete lock-out then you'll probably use it. I've heard a range of experiences in terms of riders adding air pressure to their forks and increasing damping and other riders who change nothing and just go ride. I've even talked to one fellow who added pressure front and rear to account for his kid and then ended up preferring the firmer setup for kid-free riding too. Be prepared to play with your settings, or don't and just go ride; you're not exactly going to be schralping at maximum velocity on trails you're barely comfortable on.
The KRS Pro saddle system looks like a couple of others, including the popular Mac Ride saddle system, and in turn they all look like a better-supported universal bike rack adapter with a seat and some stirrups attached to it. It's the most logical design for the most universal fitment. Many riders will be able to justify paying a bit more for the KRS Pro based on the increased adjustability over other systems, especially saddle position and tilt if you're mounting it on smaller frames. Functionally it's the nicest system currently made. But best answer to which kids-forward system you purchase is: Yes, you should purchase a kids-forward saddle system.
If you have a grom, or grandgrom, who's right-sized for a KRS Pro system, and it's in your budget, get one. From the standpoint of someone who has installed both, the 325 CAD KRS Pro wins over the 200 CAD KRS on absolutely every metric except for price. Even factoring the extra one-time effort of installing the proprietary headset spacer, assuming no one is going to have a dedicated Kids Ride Shotgun setup, you will never regret buying the KRS Pro when it comes time to fire it on or off for a ride. I'd go as far as to say that when people have the chance to open both boxes, the Pro will outsell the original system so many times over that even with the $100 difference it will be the only option in short order.
There's more information at Kids Ride Shotgun, and, of course, whatever system you buy I'm certain it will pay for itself in smiles.