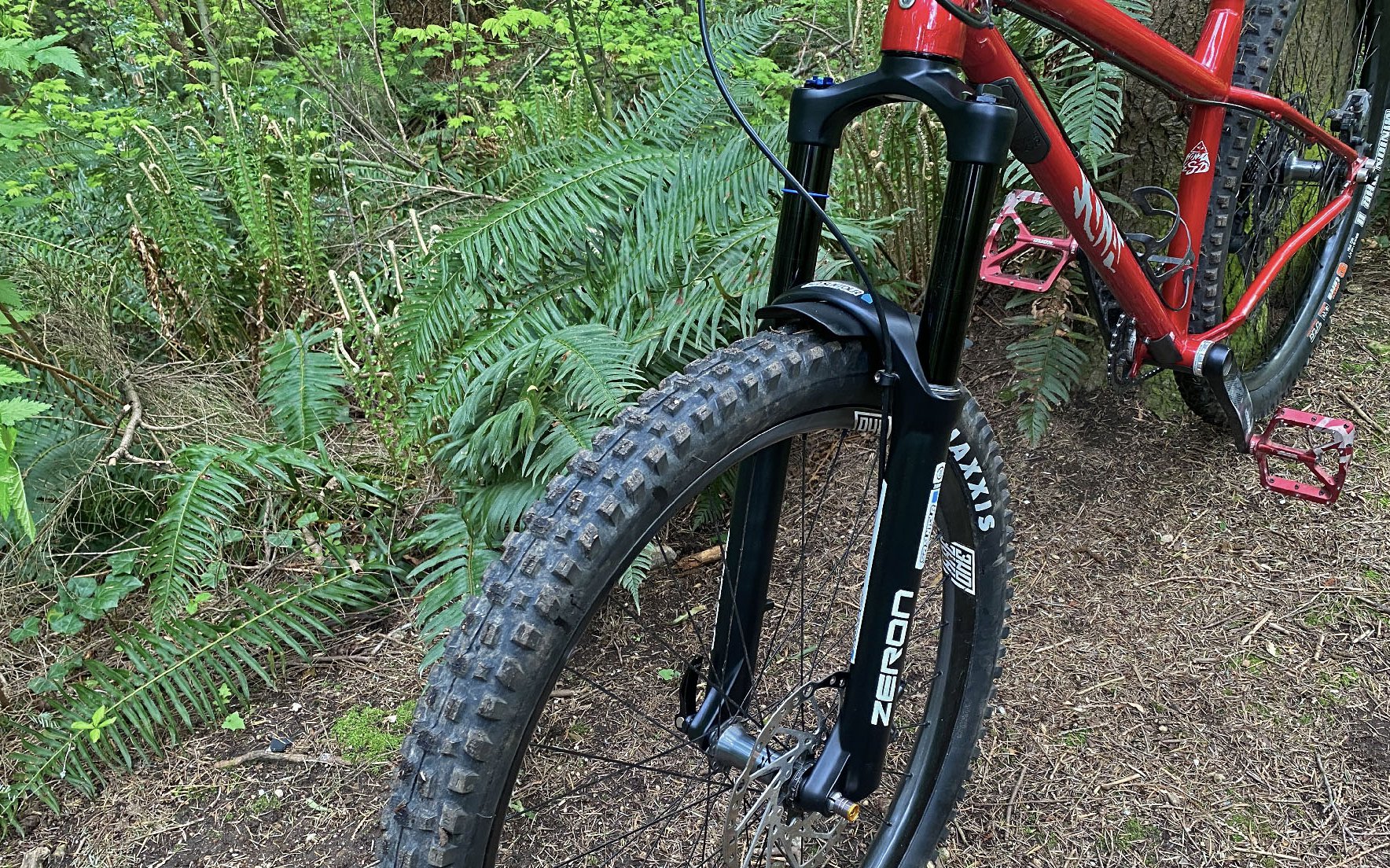 Review
SR Suntour's Zeron Fork - Bargain Coil Goodness
For a few years now it has seemed like the big guns would be bringing out a coil-sprung, long-travel, single-crown fork. Fox has sort of done that by using the Marzocchi name with the Z1 Coil, but I haven't yet seen anything under the Rockshox or Fox Shox banners. Now I'm starting to wonder if they will ever come, and I hope they do. Coil forks are simple, smooth, reliable, and relatively inexpensive to manufacture and maintain. The absence of seals to keep air in the proper chambers means stiction is reduced, particularly off the top of the stroke. Forks sprung with a steel spring are not particularly sensitive to altitude, and are much less fussy about temperature (but you may need to speed up the rebound damping). You never have to check your air pressure and a spring's linear rate provides the sort of plushness air forks can only hiss about.
When I caught wind of SR Suntour's Zeron coil, thanks to Andrew Major's recommendation, I was keen immediately. With a retail price of 676 CAD/550 USD, it comes in well under the Z1 at 1049 CAD/776 USD. They are different beasts to be sure however; the Zeron can be had in 130, 140, or 150mm of travel while the Z1 coil 29 is either 150, 160, or 170mm, adjustable with spacers. Beyond that the damper in the Zeron is a simple sealed unit while the Z1 ships with Fox's effective and reliable Grip damper, the Z1 has 36mm stanchions, vs. 35 for the Zeron, and the Zeron is actually about 100g lighter. Probably the biggest difference however is that the compression damping is adjustable on the Z1, and while there are detentes in the Zeron's 'Lock Out' lever, it seems to be primarily on or off.
I set up a perfect storm for the mild-mannered, no-nonsense, dentist-repelling, Zeron. First of all, I was mounting it on my Kona Honzo ESD hardtail, so good rear suspension kinematics wouldn't help smooth any rough edges. Secondly, I was putting it back-to-back with one of the best forks currently available, a Fox 36 Float Factory GRIP 2. And C, the final trap I was setting for the Zeron, was mounting it subsequent to an over-forking scenario. The Honzo ESD, which ships with a 150mm Marzocchi Bomber Z1 Air, got bumped up to 170mm up front with the 36 Factory, and the Zeron is only 150mm. Really it wasn't a fair fight, despite the Zeron's wound steel secret.
The Zeron arrived with three springs; a 140 and a pair of 150s, rated firm and soft. With the firm installed, I mounted the fork, adjusted the rebound in about 100 seconds, made sure the compression was open, and pointed it toward the trails. The Zeron did have minor leg up and that was a rider who had already suffered through the first semester of the hardtail refresher course and was re-gaining the confidence to ride like it's 1992. The element of hardtailing I'm appreciating most is how imperative it is to ride with the best technique I've got. You can be sloppy and survive on a long travel enduro sled, but the cold steel mistress will never allow such behaviour to go unpunished. The ESD distills my fermented focus into Everclear and leaves me no choice but to ride clean.
I'd been taking a hiatus from the hardtail before installing the Zeron but after the first pedal stroke I was glad to be back. Once I started rolling downhill, the weirdest thing was how little I noticed. There was no excessive noise, the mid stroke-support was pleasingly solid, and the fork moved effortlessly off the top of the travel, and at any time an impact was felt. The part that pleased me most about the seemingly dialled setup, was the fact that it had taken well under five minutes to accomplish. On more sophisticated suspension products it's generally several rides at least before I manage anything resembling a sweet spot.
About the best compliment I could give the Zeron is that I couldn't have been much happier. I never once wished for the Marzocchi Z1 or the Fox 36, despite both being excellent, high-performing platforms, and the 36 having several more adjustments and 20mm more travel. One thing to consider however is that I rode the ESD in 36 mode on more challenging terrain. For the last two weeks of my Zeron test period I was quarantined because a family member tested positive for COVID-19. Everything worked out in the end, the illness was mild and none of the rest of us caught the virus, but my riding options narrowed significantly. As part of our quarantine we were allowed to go for walks, particularly when our dog was involved. My dog 'walking' was performed while riding mountain bike trails, and in particular, trails that aren't in heavy rotation for most riders to keep encounters at an anti-social distance. Beyond that I was staying close to home so Mount Fromme was in, but Boogie Man on Seymour and Fifth Horseman on Cypress, were out. The amplitude of moves and the magnitude of impacts on either of those trails is a level up from the Fromme trails I was riding, despite more than enough challenging technical terrain.
The first attributes that struck me were suppleness and support. The Zeron was riding at a generous height but moving easily into its travel when larger impacts occurred. And despite feeling like the spring rate was perfect for my weight and riding, I never seemed able to find the bottom. In fact after many rides I seemed to have another 10mm of travel yet to be exploited. In a perfect world this is the setup I'd like because that unused travel could come in handy when things go haywire. It's harder to run an air fork with this much reserve travel because the progressive nature of the air spring can make the ride too harsh.
130-140-150mm internal travel settings (ships at 140mm)
Requires spring kit to increase or decrease travel ($30 or so)
Coil spring design
Lockout
Rebound adjustable
Preload adjustable
Forged aluminum crown
Integrated front fender
35mm A6000 black anodized stanchion
15x110mm Q-LOC32 Boost through axle
Lower chassis made of magnesium
Steerer tube AL7050 1.5-1 1/8" CTS
Note: 15x110mm QLOC32 included
Fender included
29 x 2.4" tire compatible (2.6 works fine in my experience)
Weight 2485g
2 year limited manufacturing warranty
Axle to Crown for 29 set at 140mm travel = 560mm
Fork offset for 29 = 51mm
This is one of those times when I don't have much else to report. The Zeron is capable, smooth and plush on bumps both small and large (or at least as large as I've attempted), it's sturdy and well constructed, and while the adjustments are few, I was easily able to find a very well balanced ride. I will however have more to say when I receive the slightly fancier, but still reasonably priced (600 USD) AION35 BOOST RC PCS 15QLC 29/27.5+ and I compare the two back to back.
Head here for more on the SR Suntour Zeron BOOST LO R 15QLC 29