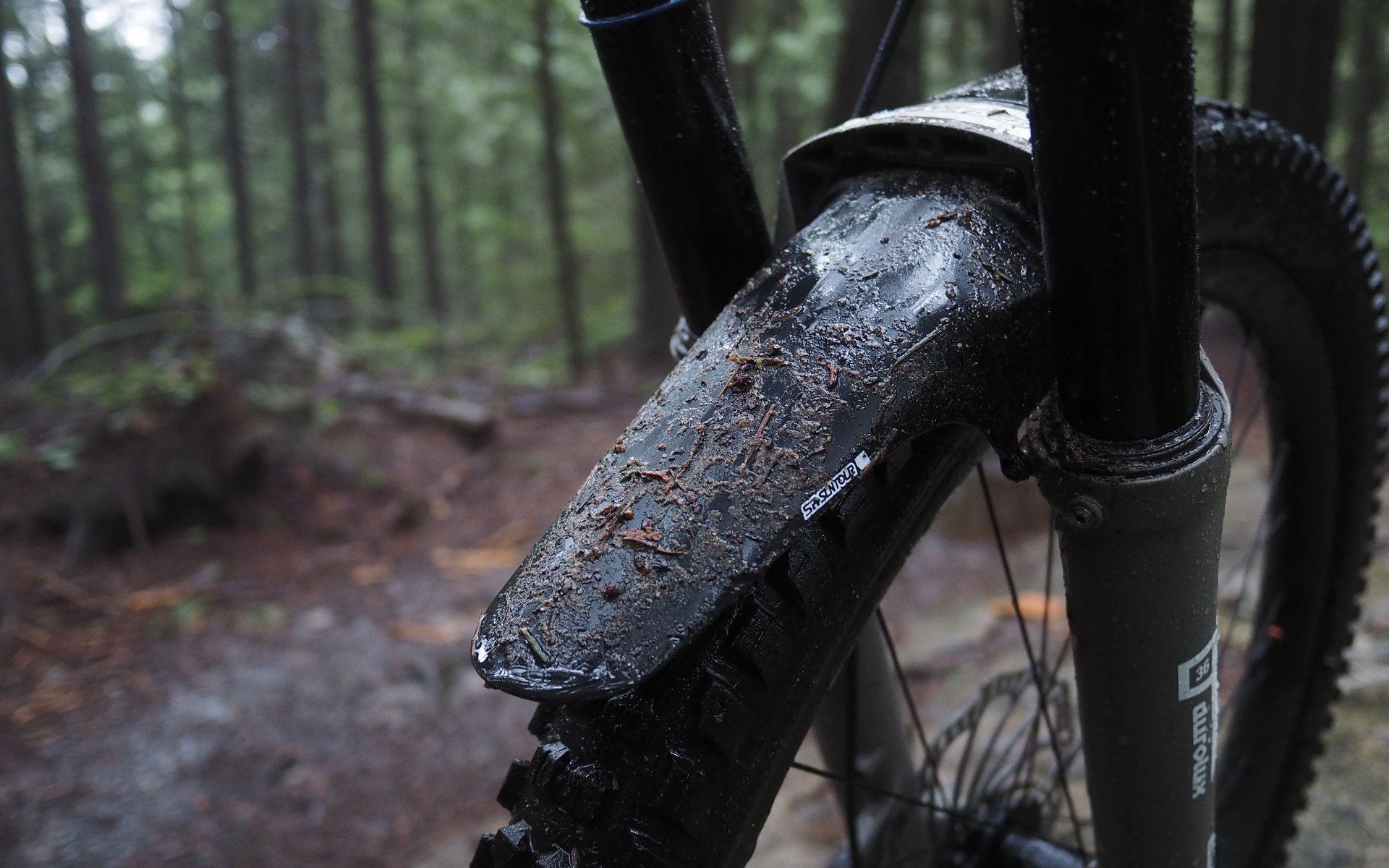 REVIEW
SR Suntour Durolux 36 Boost EQ Fork
Durolux 36 EQ
"Initially suppler, notably smoother, and significantly quieter than the last generation," is a solid summation of my first impression of the new EQ air spring version of SR Suntour's Durolux fork. I've ridden every generation of SR Suntour Durolux from the not-quite-ready-for-prime-time damper and air system of the first 26" models, to the farting damper of the original R2C2 cartridge in the 27" fork I tested for NSMB that was otherwise good for the money. I continue to be very impressed with the older air spring 29" model with their PCS damper, and the EQ carries forward that chassis and damper with a new self-balancing air spring in place of the previous model's coil negative spring.
Including the first 34mm stanchion Auron RC2 29er forks, this is the fourth high performance fork from SR Suntour on which I have spent significant hours, and it reflects a steady evolution as the performance gap shrinks and the price gap grows. It's one thing to review a budget-minded product within its price bracket, but I'm happy to compare this Durolux 36 EQ to forks that are significantly more expensive.
Yes, I'm no Miranda Miller or Jesse Melamed when it comes to shredding trails. And no, I don't begrudge anyone spending more if they have the scratch - I'm right there with you lusting after an Öhlins RXF 36, Formula Nero, or EXT ERA. I love the boldest, best, and most beautiful bicycle products as much as the next nerd, but I can't leave my passion for min-maxing alone. Comparing SRP pricing, the only fork I see that makes a case to challenge this Durolux for features & chassis v. price is the Manitou Mezzer Expert. I haven't however actually ridden one; I'm only extrapolating from my experience with the Mezzer Pro.
This Durolux is highly tuneable, easy to service, and has an excellent stiffness profile thanks to the very robust uppers* with beefy stanchions and a very sturdy hollow forged crown. I went from a begrudging, I-guess-that-makes-sense attitude about the quick release fork axle, to accepting that the simple system works very well while omitting unneccessary parts and complexity from the magnesium lowers.
*CSU or Crown Steerer Unit
Going back to the Mezzer Pro for a moment, the Durolux brings similar stiffness to a product that is 200 grams heavier and 200 dollars less expensive. SR Suntour's fork likes to ride a bit deeper in its travel, where the IRT spring system on the Manitou stands tall. The Durolux is the easier fork to set up for the person who isn't going to take the time to bracket their settings. This largely comes down to the EQ Air Spring.
EQ Air Spring
SR Suntour is one of the only companies that did coil negative springs right. Off the top of my head there's also, specifically, the 2014 Fox 40 Float. When I say right I'm referring to offering multiple negative spring rates to tune the initial performance of the air spring. In Suntour's case, they also made the coil negative springs readily available at low cost so there really was a limited barrier to trying multiple rates.
While singing the praises of this EQ fork the other day, I was reminded by a friend that I initially poo-pooed Suntour's move away from coil negative springs. I still very much miss the ease and low cost of lowering the older versions of these forks. However, for the rider who is going to run the fork at one of the EQ's available travel lengths, (150mm, 160mm, or 170mm) the new air spring is smoother both off the top and through the stroke while at the same time being easier to set up.*
*easier because there's no need to swap between SR Suntour's four available negative spring rates
I've covered SR Suntour's air systems with both an EQ teardown and a teardown of the previous generation, so I won't dive too far down those rabbit holes. I'd say both systems are equally easy to take apart and clean, but I'll give the edge to the new EQ air system in terms of how quick and easy it is to get everything looking sorted. It's also much simpler in practice once all the parts are laid out.
Thanks to the combination of generous 29 x 2.8 tire clearance, price, the excellent performance, and easy DIY home service, a lowered Durolux has long been my go-to fork, which includes running them at 100mm and 120mm travel. I hope demand is such that in the future Suntour will release more air shaft options. That is most likely an empty dream though as the only reason most riders would choose a Durolux over Suntour's shorter travel options is tire clearance, and rubber bigger than 2.6" seems to be dead in the water, especially in a 29" wheel format. Previously, the Durolux RC2 has been my one fork for everything from 100mm to 170mm travel with a 2.5" tire all the way up to a 2.8" Vigilante on an i40 rim.
I've only ridden this fork at 170mm travel, so I can't comment on how the air spring feels at 160mm or 150mm but I suspect that, like other forks with a similar layout, it works great. I've played around with running more sag (~25%), more volume spacers and less sag (~20%), and fewer volume spacers and I've found setups that work well for me both ways. Bracketing a window in there that works well is going to be straightforward for most anyone. I've ridden the Banshee Titan with the fork both ways, attempting to match both a 2021 Fox Float X2 and Suntour's own TriAir. With the TriAir, I'm running the bike much higher in its travel and I will probably go down from two volume spacers to one because I have so much travel in reserve.
SR Suntour has continued to march along with their QSP (Quick Service Product) philosophy and the spacer swap only takes a couple of minutes: let out the air, remove the top cap, remove or add a spacer, reinstall, pump air in again. If you don't think you can do it, I promise with the right tool (in my case a set of Knipex pliers) you can easily learn. Tuning your fork's air volume unlocks performance in a way that changing only air pressure does not.
The other way to keep any fork sliding smoothly is to do a quick lower service at or even before 50 hours of riding. Most folks I meet seem to think of fork maintenance as a necessary evil but there's no expensive add-on that makes a tired fork feel better than just pulling the lowers, cleaning them out with some ISO, and re-lubing them. In the case of the Durolux EQ you can either stick with running grease (Slickoleum is the way to go) or running <10ml of Fox 20w Gold oil in each side like me. Running the Fox Gold means a little more cleanup at service time but I notice the fork runs smoothly for longer between services.
Again, there are no special tools needed here. I do it at home rather than the shop so it's just a hex-key set, Knipex pliers, and a hammer (I use a plastic one). Once I need a full rebuild, including a damper service, I book the forks in at SuspensionWerx for a full service and fresh seals, but I will say that the RC2-PCS damper is very resilient and the seals hold up well with a semi-frequent clean and lube. This particular fork has a lot of hours on it with nothing but basic patio maintenance.
Chassis Notes
Going straight back to the first 26" versions, the Durolux has always had a stout chassis. Not light by any means, though the increasingly aggressive single crowns on the market are closing that gap. It's stiff enough that many of SR Suntour's supported Enduro racers choose to fork-down to their 35mm Auron chassis which drops weight while still maintaining a line.
Here, the massive hollow-forged crown ties two heavy-duty stanchions together with a beefy steerer tube, with a lot of crown overlap, for a robust upper assembly. It resists the flexing and binding that has become an increasing issue with lighter forks combined with very slack head tube angles and, as I've noted in the past, the crown steerer units (CSU) have a very good reputation for creak-free performance to the extent that it's one of the only forks I'd consider buying used*.
*Assuming I had a solid understanding of the condition of the fork.
Remove the lowers from the fork, take out the axle, and give them a twist and they are not as stiff as lowers on some other forks. After some of the exchanges about dual crown forks in the comments on Your Next Bike: 2023 Edition, I have to wonder if this isn't the ideal layout in the spirit of dual crown forks like the Dorado or Boxxer. A bit of flex in the lowers to keep the wheel tracking but a very robust upper to resist binding flex when pounding down less-steep trails with a very slack head tube angle.
I'm not a good enough, fast enough, or perceptive enough rider to be the right person to test the theory, but I'd love to read that person's comparison of a fork that derives much of its chassis stiffness from the lowers vs. the uppers. I feel strongly that in a blind test, maybe with an identical damper and spring system, the Durolux chassis would rate very high on most riders' lists compared to any other single crown on the market - with any stanchion size.
Continuing with the chassis theme for a minute, I think the EQ air spring is good enough and that Suntour's 35mm and 36mm chassis is prevalent enough that it's surprising that no damper hop-ups are available for the forks. Many of these forks are shipping as original equipment on lower priced bikes and do not have the RC2-PCS damper installed and in the case of the Durolux, it's getting increasing e~bike spec where the heavier bike and sometimes much heavier rider could benefit from custom tuning options of say, an Avalanche open bath damper.
I continue to be happy with the performance of the RC2-PCS damper, which I run very open, but having had awesome experiences with Avy dampers in the past, I'd love to try one on this fork.
Evolution
I've been asked to compare the Manitou Mezzer Pro to the SR Suntour Durolux EQ and I usually default to the simple explanation that, while inhabiting similar Enduro ecosystems and similar use cases, they are two completely different animals. The IRT-equipped Mezzer is more complicated to bracket settings thanks to the additional air spring which carries both an increased risk of a sub-optimal setup as well as the increased potential reward of a more dialed setup. The Mezzer rides much higher in its travel while also maintaining excellent traction, which should equate to a faster setup for many riders where the Durolux has a plusher feel even when running less sag.
My experience reinforces why a 'Try It At Home' opportunity, whether delivered through partner shops or consumer direct, is such a great idea for some riders. Dialling in the settings on the EQ fork is lightning fast, so for an intermediate or generously advanced-intermediate rider like myself who couldn't give a shake about brand names, this is an easy, money-saving choice.
There is one place that the Mezzer eats the Durolux's lunch and that's in the graphics department. Whether it's a less-is-more graphic design like RockShox uses on the new Zeb or the simple and classic Manitou logos running down the legs of the Mezzer, I think a graphics upgrade would certainly sell more forks in the aftermarket.
I'm no marketing or design expert but I'd start by eliminating the white hot-patch on the arch and then I'd find a more subtle way to tie in the SR Suntour logo on the lowers. Uniform bike silhouettes, like what Santa Cruz has done from their Tallboy to their Megatower, suggest that actually differentiating the model names out in the wild isn't important at all. It's much more important that a product is easily identifiable as yours.
That said, I really like the new grey lowers on this EQ, and SR has done a great job with their boxed crown and fender so I don't think it would be a huge deal to upgrade the appearance of the forks from a graphics perspective. It makes no difference towards whether I'd buy a fork or not but I do know that even for folks who claim it doesn't matter, this is the deal-breaker and it may be the next step in SR Suntour's market acceptance.
There are folks who will benefit by running a boutique fork like an Öhlins RXF 36, Formula Selva, or a PUSHed RockShox Lyrik, in terms of riding speed and bump absorption. There are also riders who won't benefit on the trail from running one of those platforms but who will derive an intrinsic delight from them nonetheless, and I wouldn't begrudge their joy-of-ownership. But, if your stretch budget for a new fork is 800 USD, then chances are that this Durolux EQ is going to bring everything you need to the trail. I haven't ridden a better fork for the money, including SR Suntour's previous generation products. If you're living stateside, they also have some of the friendliest and most helpful service around at their Envelo service center. I have yet to communicate with anyone who didn't provide a great interaction whether looking for small parts, sourcing complete products, or having service done.
Performance-wise, the Durolux has come a long way from showing a lot of potential when I reviewed one in 2016 to today when I can recommend it to at least 95% of riders. For that extra 5%, I think even the fastest rider and most discerning fork-snob would be beyond happy with the abilities if the chassis and EQ air spring could be combined with a boutique damper like the aforementioned Avalanche open bath.
The more chances I've had to play with the new-new of the top-end options from the market-leading suspension brands, the more confused I am that I'm not seeing more aftermarket demand for these forks on the trail. Especially since I hear endless remarks about how expensive this sport has become, particularly at the upper end of the performance curve where the Durolux EQ plays.