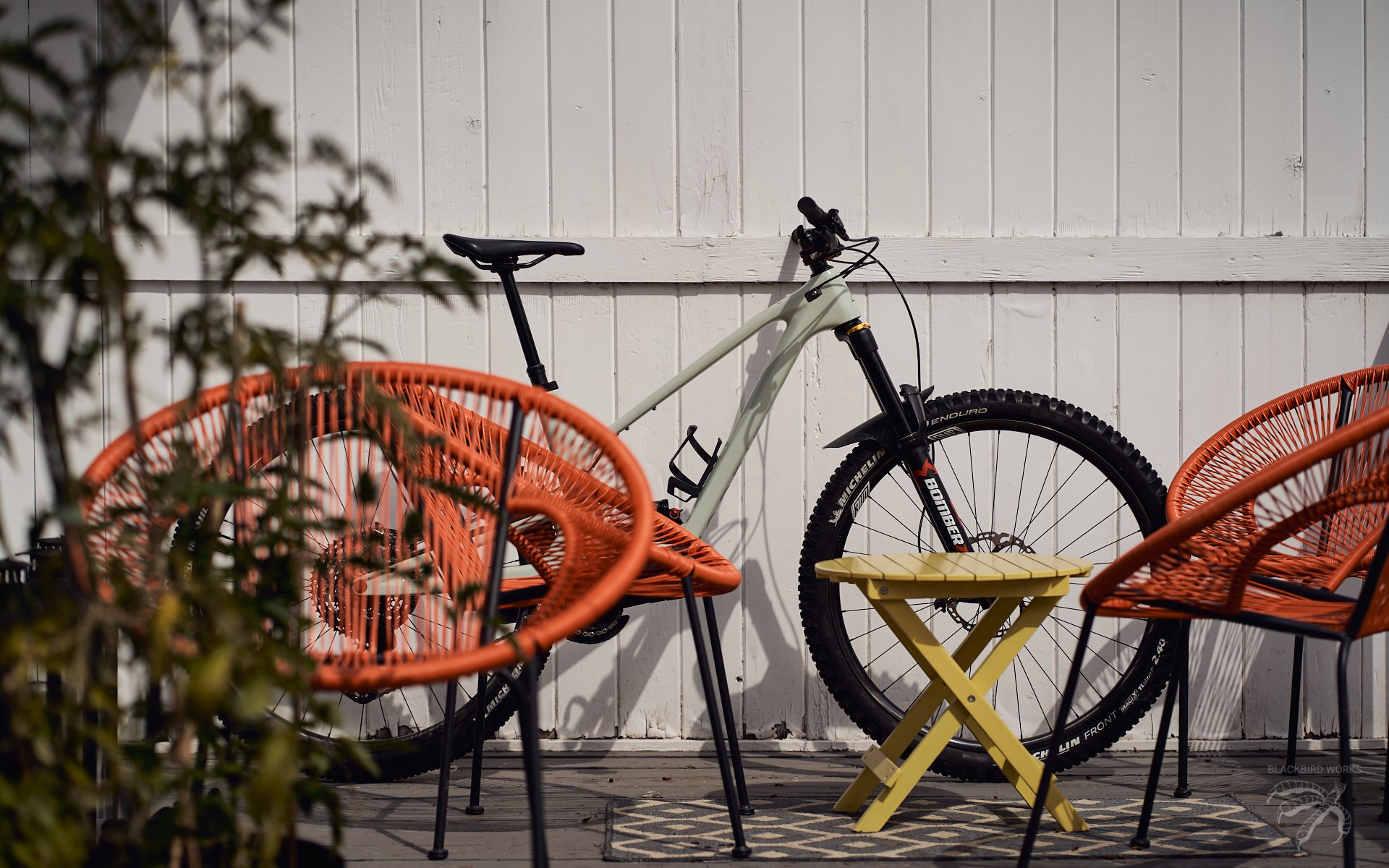 Chapter 2: Fork with a lot to prove
Marzocchi Bomber Z1 Coil 29" 160mm
Set it and Forget it
The Bomber Z1 platform sprung on to the scene in 1997 with a burly fork that was lightyears ahead of its contemporary competitors. Coil sprung and reliable out of the box for years to come, it became hard charging riders' favorite in no time. Fast forward 23 years and the latest version of the Z1 has retained its heavy hitting DNA.
This Bomber is built around the familiar chassis of the Fox 36 platform. If this is a shock, you may have missed the news that Marzocchi was acquired by Fox in 2015. Since that time, the brand has been trying to navigate the tricky balance of incorporating the brand into the Fox family without killing what made Marzocchi an iconic and much-loved suspension brand.
The fork has unique-to-Marzocchi lowers that display the angry-looking M-shaped arch. The arch not only provides fantastic tire clearance but is also significantly meaner looking than its 2021 fox 36 and 38 cousins. It does however lack a proper fender-mounting interface, a big design flaw in today's market.
As I mentioned in Forbidden Druid Multi Part Review, I am evaluating the 160mm version of this fork, which is what you will receive from the factory if you get the 29er option. The 29" version comes from the factory set at 160mm. There is however a spacer combination stored above and below the coil that quickly lowers the travel to 150mm or raises it to 170mm. Opting for the 44mm offset version to comply with the Druid's specifications, I chose the BLUE MEDIUM spring for my 160 lbs riding weight. I also asked for the GREEN FIRM coil to potentially go up a rate, cause you know, I ride hard and stuff.. *eye roll
Setting up the fork takes no time. With Marzocchi/FOX's excellent and simple GRIP Damper providing an infinite compression adjustment and effective and easy to set rebound, I left things pretty much wide open.
Preload adjustment was set to 1 full turn from open just to load the spring unit enough to prevent rattling. Compression never made it past 1/4 turn because PLUSH! and rebound was set at 4-5 clicks from undamped. The spring never rattled and non of the dials needed any fiddling. How exciting is this for a fork review?
The Grip damper just works. It is a proven platform and provides very good recovery on repetitive medium sized hits. The fork never gets overwhelmed. You don't have to compromise between small hit plushness and big hit ramp up. Nose heavy landings? not a problem.
How does it work on the Forbidden Druid?
A serious long travel bike fork seems a little out of place on a "trail bike" like the 130mm Druid. The frame is designed around a 140-150mm fork, so 160mm option didn't seem too much off the mark. The active and stable rear end called for a fork to match. I wanted to make the Druid a mini DH bike that pedals.
The front end generates traction through the greasiest conditions. No matter where you are in the sag, the linearly increasing support is predictable and forgiving. Hands are less fatigued and vision is less shaky. 2550 grams (5.6 lbs) of traction factory up front won't shave weight but the benefits are obvious.
So how did the spring swap go?
Well not great. The firmer spring felt way too harsh unless I was giving it the absolute beans. Which is not a place I can comfortably ride all day long. I would however swap it in if and when the Bike parks open. Higher speeds and bigger hits could require a front end that sags less and is ready for more misjudged landings.
I can't say i've noticed a harsh bottom-out on the Medium Spring, which is surprising considering the lack of ramp-up with coil. But If i were to slap this fork on say a Rocky Mountain Slayer I would up the spring rate for all the 'huck-to-falt' riding.
In Conclusion...
A bird whispered in my ear that the new FOX Grip 2 damper slides right into these forks, potentially turning them into the best fork ever created. I am reaching out to FOX to see if this is possible. Having ridden many of the high-end forks on the market, I don't see the Marzocchi Bomber Z1 as a budget alternative. Performance compares very well to the premium forks. It required minimal fiddling and delivers a low maintenance option for your long travel steed.