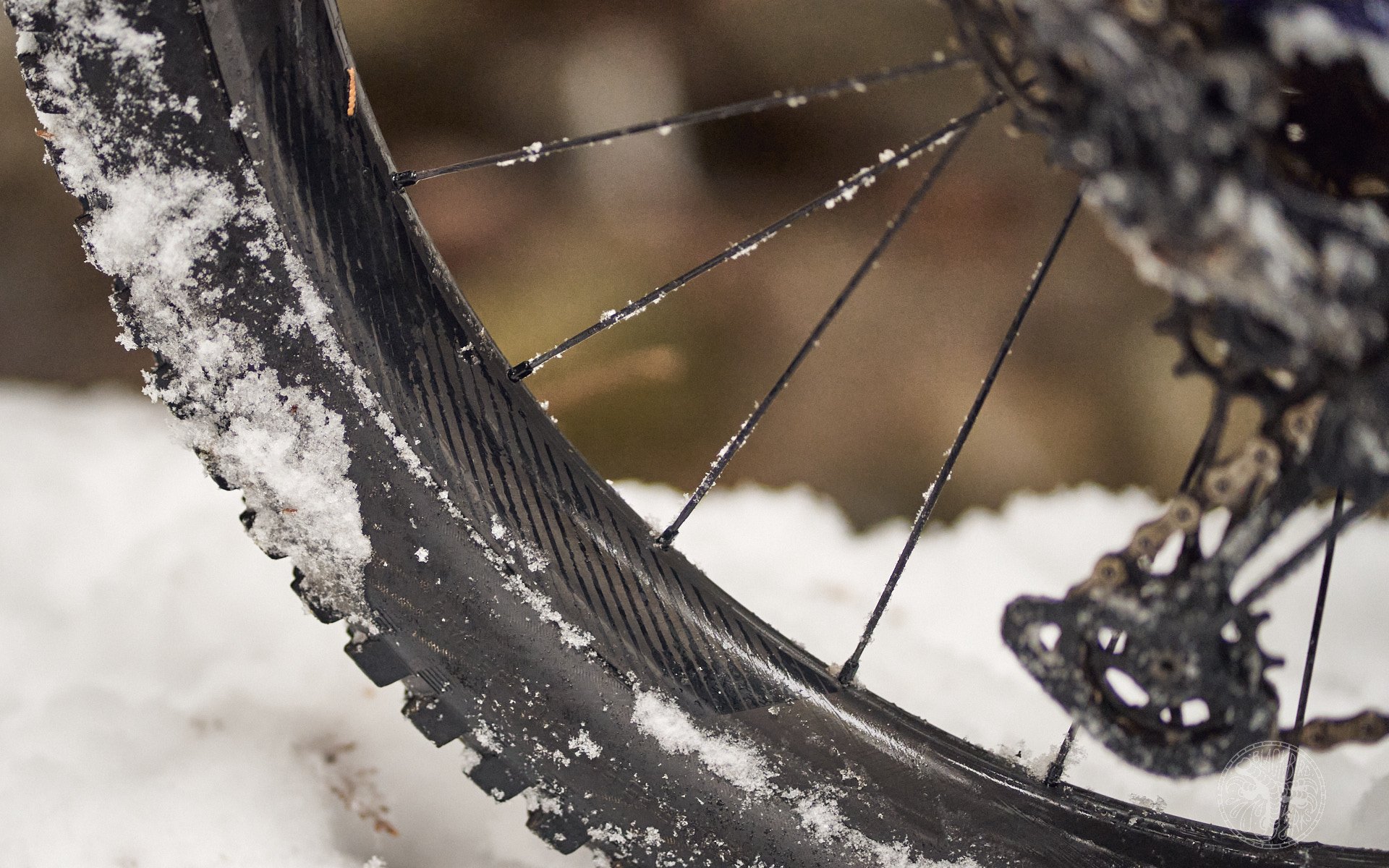 Wheelset Review
Reynolds Blacklabel Enduro Carbon Wheelset
In 2016, Reynolds released the Blacklabel Enduro wheelset, right around the time the carbon-wheeled arms race ratcheted skyward. Reynolds holds 70 years of carbon manufacturing experience under their belt so building an enduro and DH-specific wheelset, prioritizing strength and low weight. was in their wheelhouse.
During this time, many other brands manufactured light and strong carbon wheels, but reports of overly stiff ride characteristics (lack of compliance) sent engineers back to the drawing board, to revise carbon layup and rim profiles for a less jarring experience. My suspicion is that Reynolds deciphered the compliance/ride quality code early on, which may explain why the Blacklabel Enduro wheelset still spins today.
It seems the enduro race field is split 50/50 between running carbon and alloy wheels. Carbon is insanely strong and provides great riding characteristics, but once damaged, they are as good as dead. Alloy is far more forgiving in terms of failure and repair. A rim replacement (following EWS rules) commands a 5 min time penalty or DNF. With that in mind, The Pivot Factory Racing team piloted the Blacklabel Enduro wheelset through the entire 2022 EWS season without a single wheel failure.* Impressive. Let's dive in and see what's going on with these wheels.
*Some teams that run carbon wheels replace them before every event for a little insurance since, unlike aluminum, it's impossible to tell if a carbon rim is near failure. - Ed.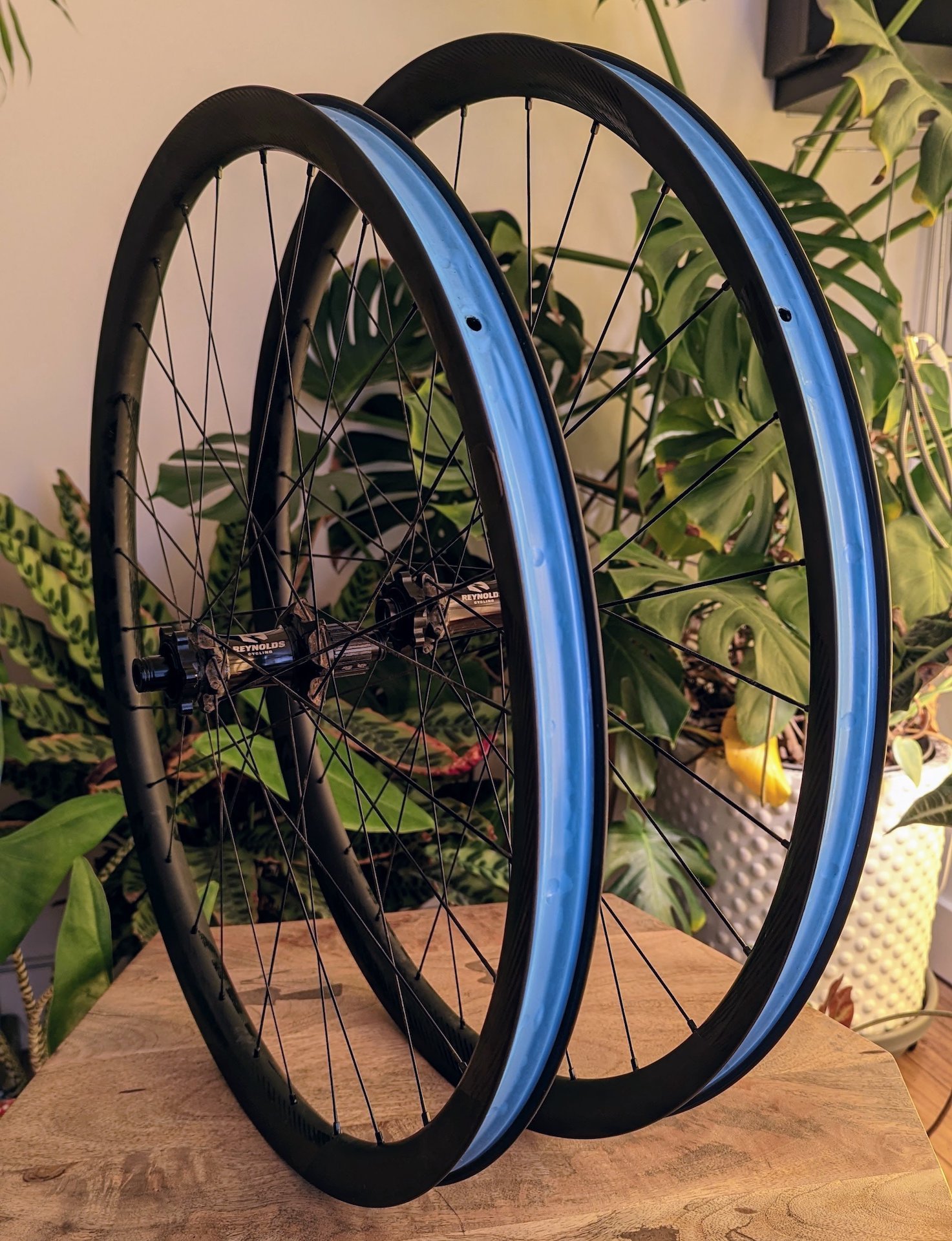 Blacklabel 289/287
Reynolds sent a Blacklabel 289 Enduro front (29") and 287 (27.5") rear to build a mullet/mixed wheelset. Individual wheels aren't available directly through the Reynolds website, but retailers should be able to order a mixed wheel setup through the Reynolds distributor. To be clear, the 289 and 287 setup is the same, minus the obvious rear wheel size.
It's worth noting how burly these wheels are. From what I can tell, differences between the Blacklabel Enduro and DH is that Enduro employs 28 spokes with alloy nipples, while the DH version uses 32 spokes and brass nipples. The DH version shares the same rim, though it's purported to be built with Impact Dispersion Matrix (IDM), a resin and carbon layup which deadens impacts.
From the outside of the wheel working inward, let's start with talking about the MR5 rim. The Mountain Rim 5 denotes five aspects of the rim using varied thickness of carbon layup; the spoke face, nipple bed, sidewall, tire channel and rim bead. This balances thicker zones for impact/stress protection and thinner areas for weight reduction and flex pattern tuning.
The rim has a deep profile (29mm) and is noticeably asymmetric, allowing spoke tension to stay even between sides, which theoretically leads to a stronger wheel. The outer width is 34mm, with internal width coming in at 28mm. The beautiful raw carbon forms a hookless bead for the tire. Rim tape was flawlessly applied from factory.
The 28 bladed Sapim CX-Ray spokes tie the wheel together in a near-silent, bougie aero fashion. Sapim claims the CX-Ray is one of the strongest spokes on the market, while being nearly as light as titanium. Laced in a 3 cross straight pull configuration, the bladed spokes eliminate the common stress riser of J bend spokes. The stiffness of the MD5 rim combined with high tensile strength of bladed spokes makes me feel relatively confident of the 28H configuration, and gives some compliance over a 32H in the ride feel department.
Some straight-pull offset wheelsets use the same spoke length on either side, easing in spoke replacement. The Blacklabel Enduro wheels sport a 2mm length difference per side on the front wheel, 1mm on the rear - which some wheelbuilders may accept as fine for interchangeability. The deep-dish profile of the MD5 rim may handle the extra spoke length and not compromise rim tape integrity. Nonetheless, It's a good idea to order some spare spokes of the longer length and chuck them in the toolbox, in the event of a broken spoke. Bladed straight pull spokes of a precise length could also be hard to find on a road trip, or away from your LBS. Reynolds excellent tech manual allows quick access to spoke dimensions, amongst other technical information.
The hubs are interesting, as Reynolds commissioned Industry 9 to build a Hydra with a proprietary shell in a straight pull/centerlock setup. It looks like a skinnier shelled I9 Hydra without the threads in the spoke holes. It's still a Hydra though, spinning smoothly and singing proudly with 690 points of engagement. Riders can facilitate any cassette standard, as XD, Microspline and HG freehub bodies are available.
In the event of a rim breaking, Reynolds Blacklabel wheels (and all Reynolds carbon wheels) are covered by a limited lifetime warranty. Within the first two years of ownership, all wheel components (other than hub/rim tape) will be replaced and re-laced by Reynolds at no cost to the consumer. After two years, the rim will still be replaced for free, minus consumables (spokes/nipples/labour). All hub warranty issues would presumably be taken care of by Industry 9.
These burly enduro hoops weigh in at 1740g, with rim tape and a little dirt I wasn't able to scrub off. Blacklabel Enduro advertised weight is 1735g for the 29", and 1660g for the 27.5, on paper averaging 1698g for the mixed pair. A 42g discrepancy northward isn't huge, and I'm okay with that - I'll skip an extra beer after the ride (yeah right!).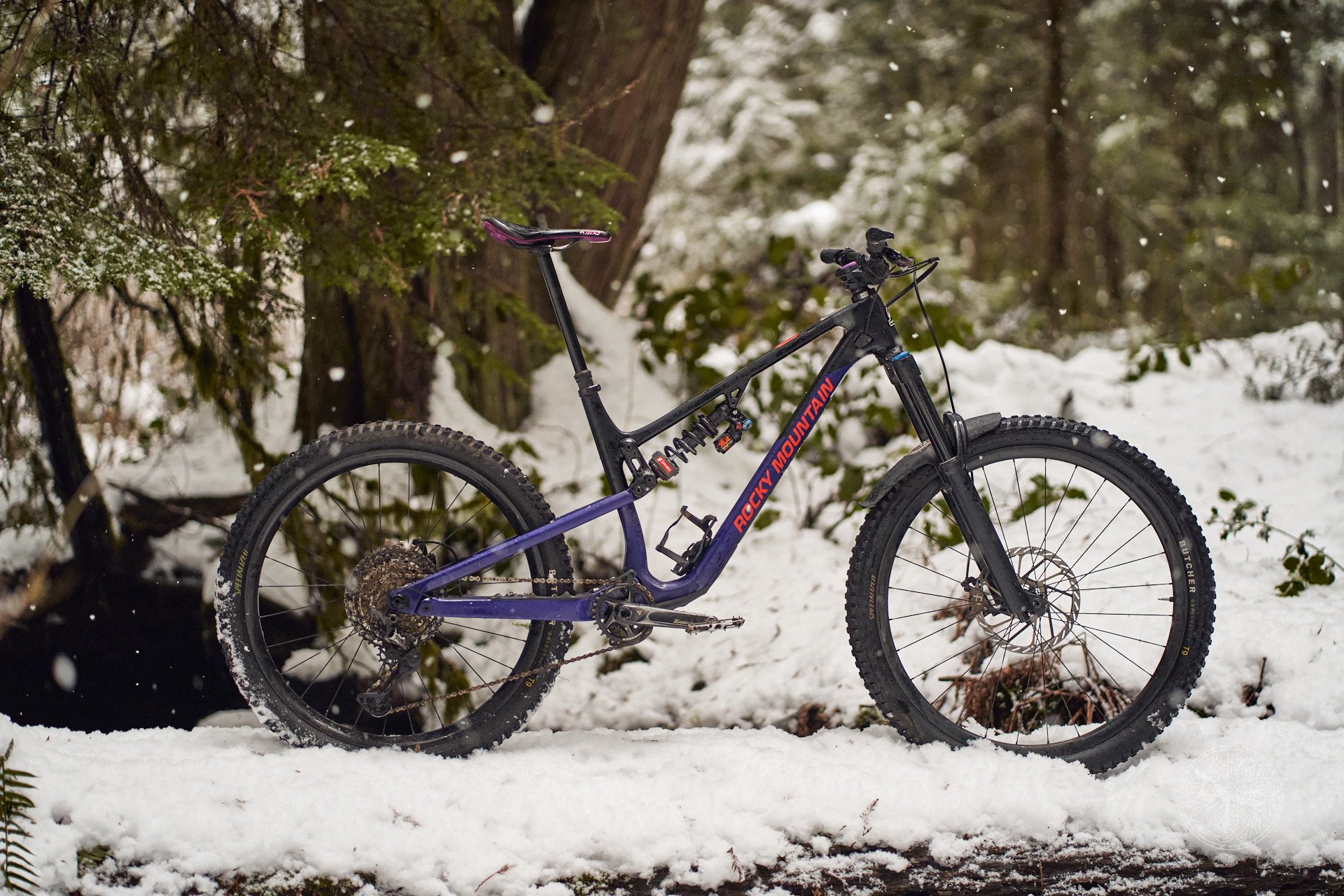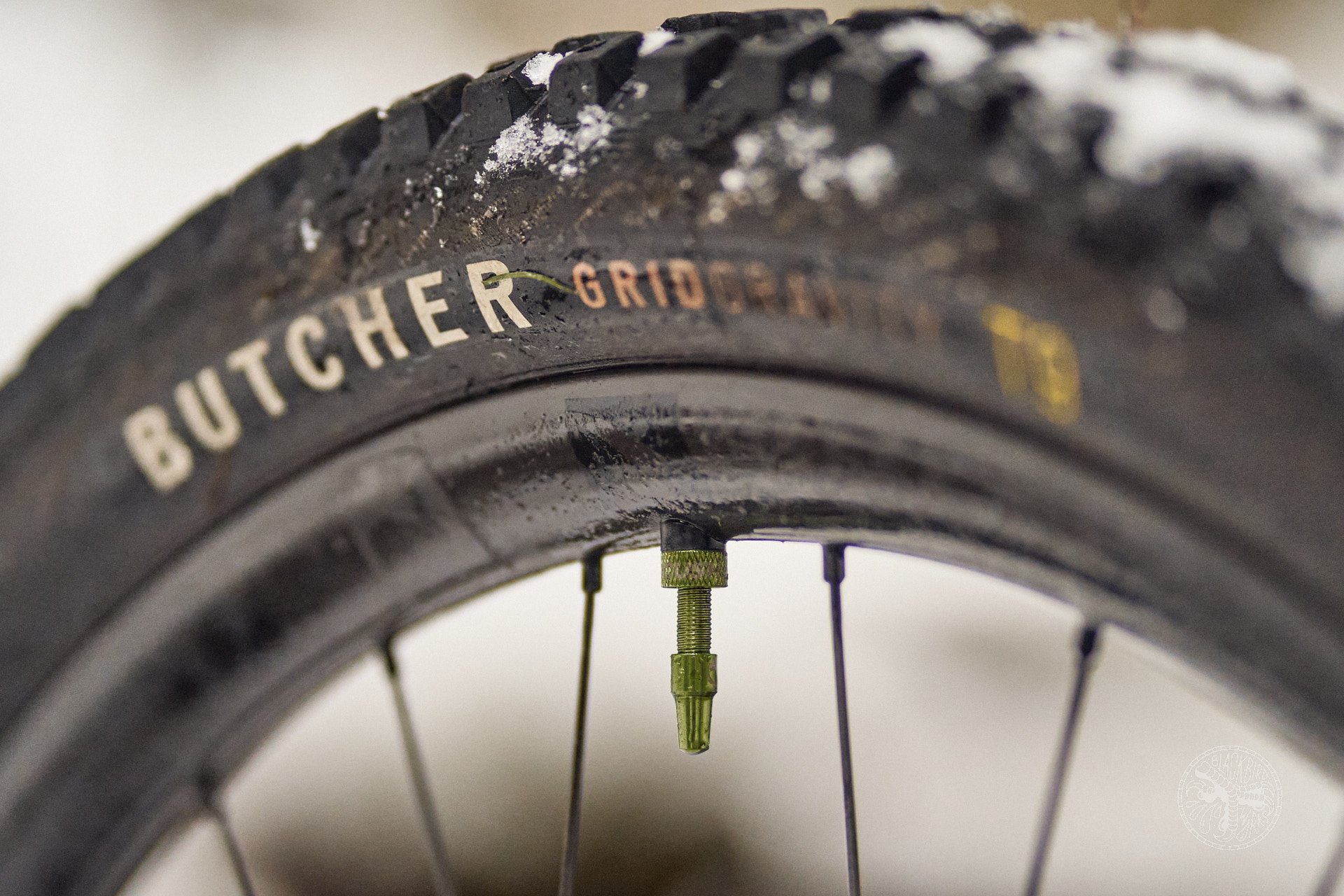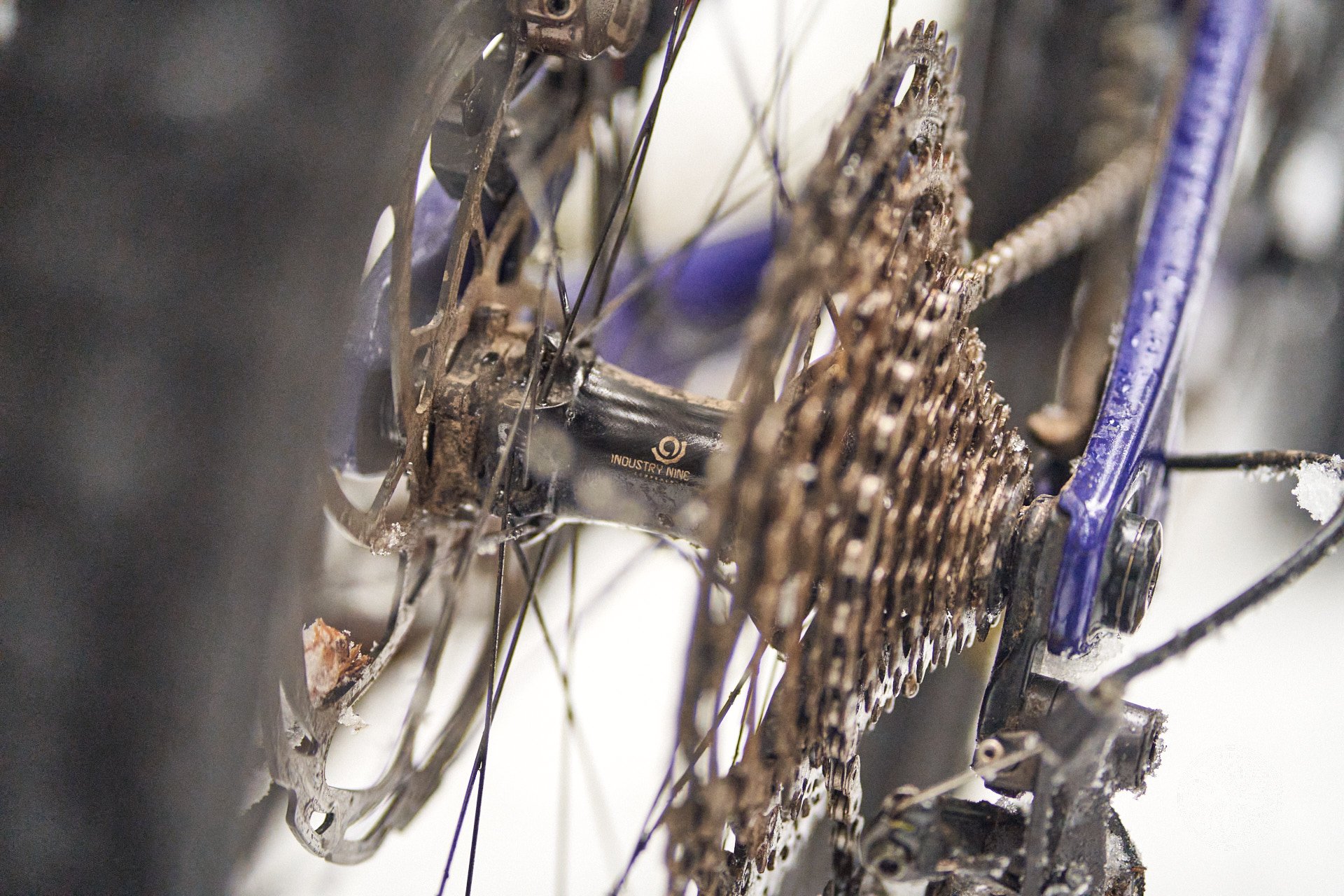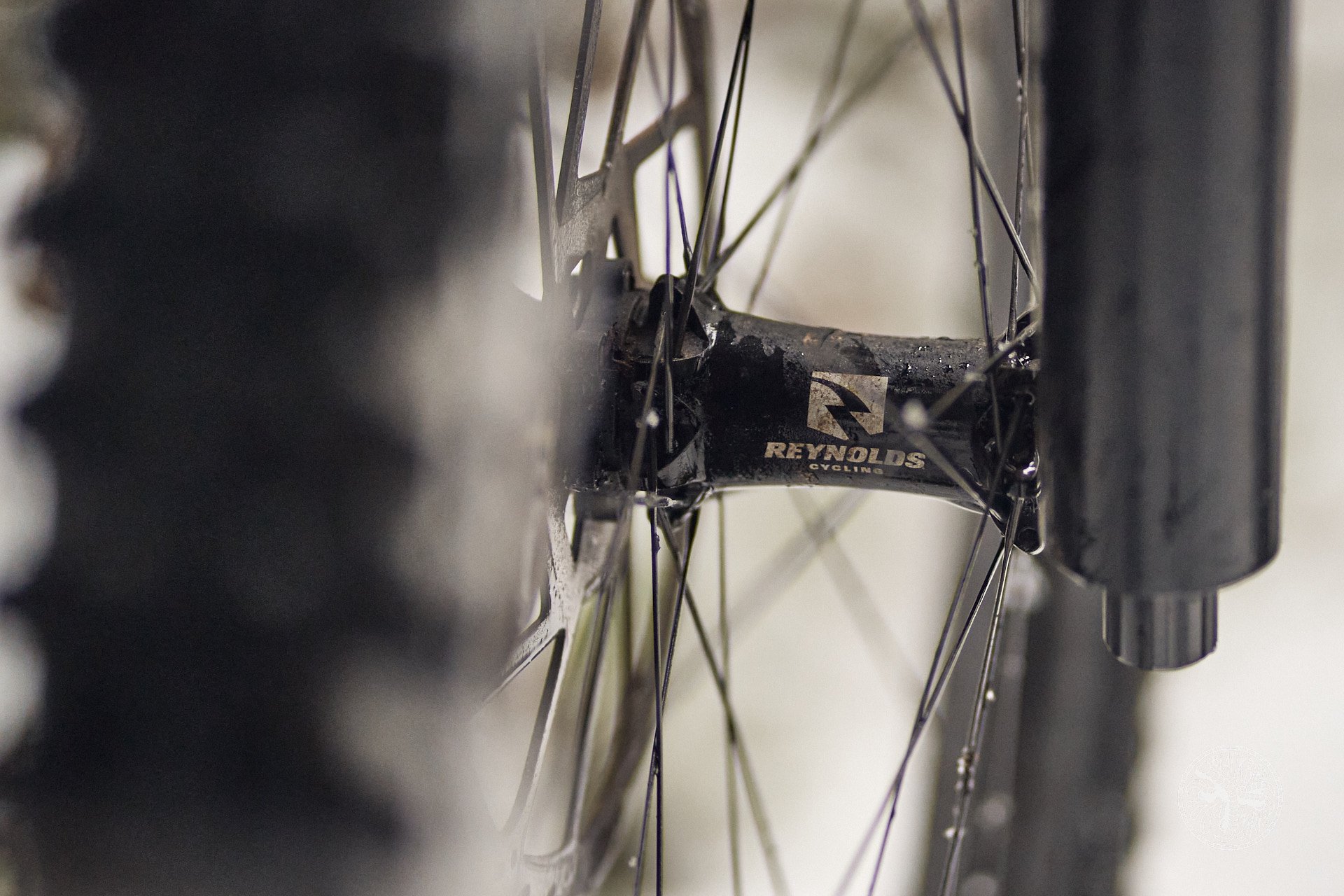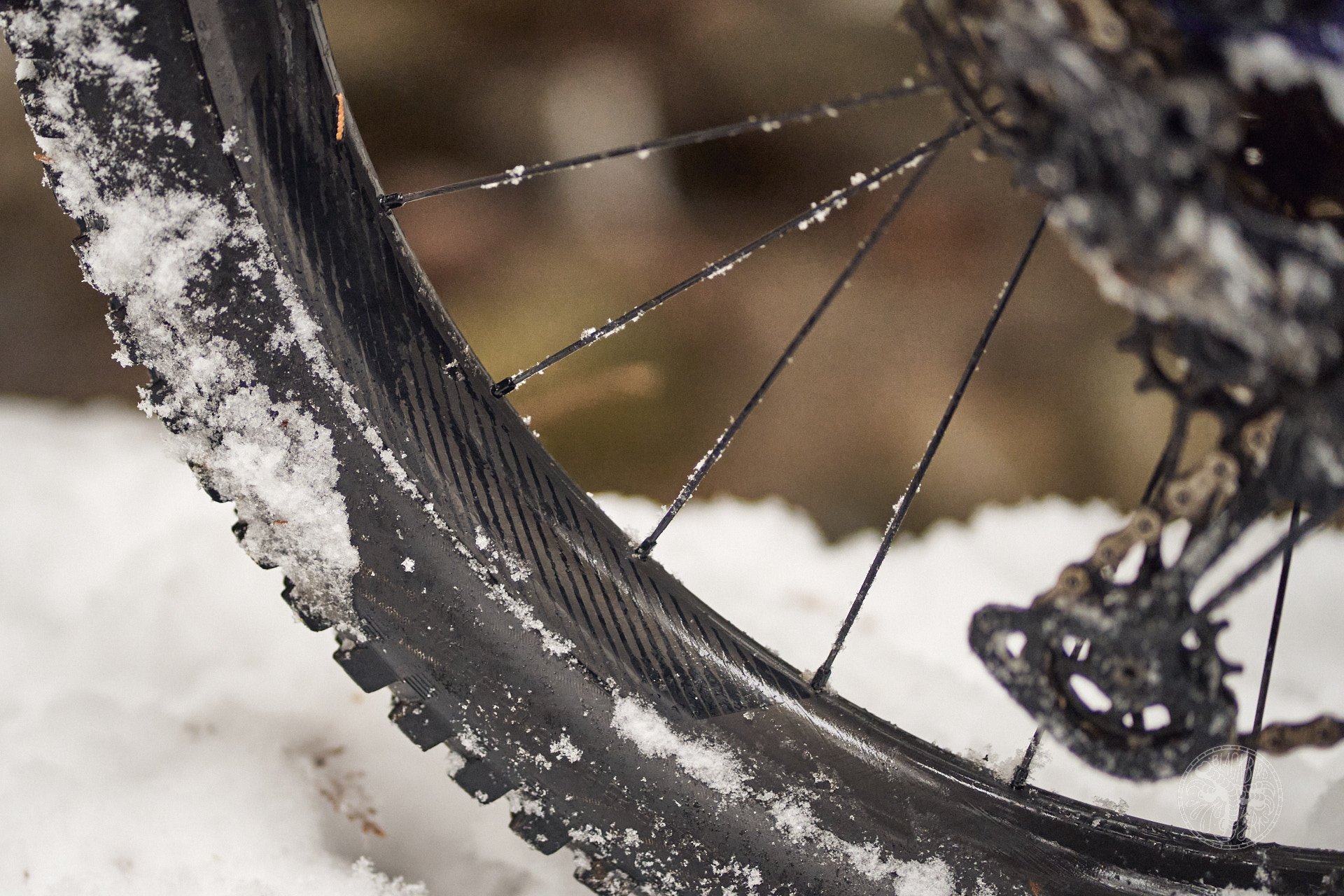 Setup
I'm not too hard on wheels, and for the past few years, alloy hoops have lived on my test rig. They're at least 50% through their life cycle. Since the Blacklabel Enduro wheelset arrived at the dawn of 2023, I've been trying my best to thrash the hell out of them. They've barely winced.
Unboxing the wheels, it's immediately apparent that Reynolds quality control is tight. The carbon rim is flawlessly finished, the anodized black bladed spokes silently scream aero coefficency. The custom Reynolds/I9 Hydra hubset spin like the top in Inception. Black decals adorn the raw carbon are stealthy and unobtrusive. Valve stems are supplied, but I replaced them with ubiquitous green Cushcore valves as I run inserts frequently. An offset valve washer would be a welcome addition to what arrives in the box, and were sourced at a local bike shop to the tune of $1 each.
Most enduro tires are optimized for 30mm internal width - and I can't say I noticed any difference in tire profile with the 28mm internal rim width. I mounted up Specialized Butcher T9 Gravity tires with slight coaxing from a tire lever, which inflated quickly and held air without issue.
I picked up some Ibis Ashima centerlock adaptors, and was surprised by how tight the tolerance is between splines - likely good as leverage from a 220mm/200mm rotor setup is high. This is my first centerlock setup, and while I'm slightly opposed to the idea due to the ubiquity of a 6 bolt setup, the adaptor allows the best of both worlds without using a dedicated centerlock rotor - which could be hard to find while on a road trip, etc.
Ride Impressions
A few mechanical/consumable issues presented themselves within the first few rides. I'll knock on wood while typing this but I had my first flat in years after impacting a shitty, toothy rock on the exit of a slab. The tire deflated instantaneously, with an audible crack. I thought I torched the rim, but there was zero sign of damage and it remained perfectly true. I also destroyed a spoke, or maybe the spoke destroyed a stick in a kamikaze manner - who knows. The alloy nipple stayed put so spoke replacement was easy.
Initially, ride quality felt very firm, but the traction was afforded more by the tread, vs. casing deforming at lower pressures. Tire pressure variables aside, I felt the increase in lateral wheel stiffness immediately. My long-term test rig is a Rocky Mountain Altitude C70 and the rear end stiffness is not flexy but not overly stiff, either. The rear wheel became easier to precisely place. Hitting a familiar trail with newly refreshed bermed corners, the wheels load up eagerly and snap out the exit, accelerating toward the next golden dirt catch. I've not heard the spokes whine through g-outs or in corners.
Precise line choice is paramount to succeeding through the tech-gnar of spicier Shore trails, which the Blacklabel Enduro imparts with high confidence. Grip on off-camber lines is immediate. I feared the high profile of the rim could lend to a harsh ride quality, but that's not been the case so far. Trail chatter is slightly more noticeable than a lower pressure/alloy wheel setup. I can convince myself the sprightly wheels keep inertia moving forward with less deflection and energy sap from rollers and janky compressions. They make me want to try lily-padding every trail feature, and ride with more spark - though I'm sure it won't be long until I get spanked with that attitude.
Durability has been flawless. The rims have stayed straight as an arrow, even after a nasty rear case, feeling the suspension completely bottom out with a sickening crack. They show zero signs of damage, or loose spokes.
I9 Hydra's 690 points of engagement are welcomed on techy climbs and ratcheting over flat jank. I've been shuttling a lot too, and I wonder if the high engagement pluses outweigh the extra pedal kickback, which I have felt to a small degree. It'll be interesting to return to a lower engagement hub and see how ye olde test mule Altitude reacts. Out of the box, the Enduro bearings in the Hydra are silky smooth and seemingly turn! Turn! Turn! (RIP Crosby) forever!
Conclusion
Reynolds has built a top-tier carbon wheelset with nary an expense spared. It's been around in various size and hub iterations for nearly seven years. Since then, there's been much innovation in carbon compliance and longevity. The Blacklabel Enduro is a strong-ass, precise & light race-worthy wheelset. They live in the higher price zone at $2350 CAD, but there's not much left to be desired on these hoops, despite having standardised spokes, and a 6-bolt rotor mount on my wish list.
With routine tensioning, servicing bearings, and maintaining centerlock torque values, the Reynolds Blacklabel Enduro wheelsetshould spin straight for quite a long time.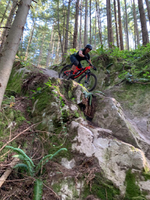 Graham Driedger
Age - 35
Height - 182cm/6ft
Weight - 92kg/205lb
Ape Index - 1.035
Inseam - 32"/81cm
Trail I've been stoked on lately - Pleasure Trail, Lower Digger
Bar Width - 780-800mm
Preferred Reach - 470-500mm