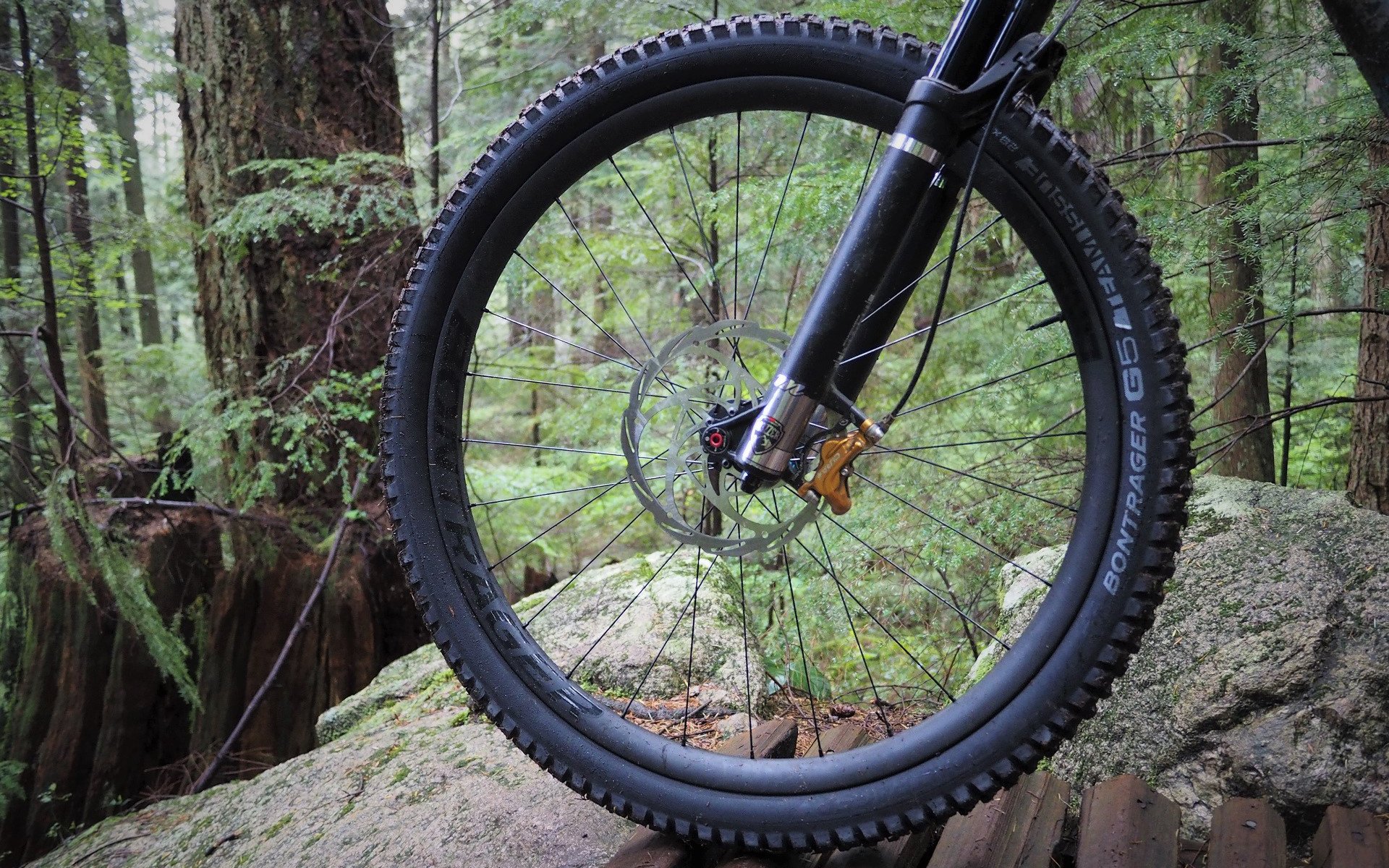 REVIEW
Bontrager Line Elite Carbon Wheels
Line Elite Carbon
I would argue, fairly passionately, that there have been excellent options for mountain bike wheels going back over twenty years, to the first time a Chris King, DT Swiss star-ratchet, or Profile Racing rear hub was laced into a Mavic D521 or D321 rim. That's probably why I don't get that jazzed about the latest and greatest wheels whether they feature a carbon or aluminum rim.
A bit of extra stiffness, a small chunk less weight, dent-proofing for those that don't run inserts, and potentially less frequent wheel destruction, again for those that don't run inserts; I totally understand the allure of carbon hoops and I regularly have, and appreciate, the discussion justifying the extra up-front cost for a pair. That could be jumping up a spec level to have them included with a bike* or buying a pair of wheels aftermarket.
*for example jumping from a Trek Slash 9.7 to 9.8
Here I'm looking specifically at the Bontrager Line Elite OCLV carbon wheels. They come on a few different models of bike from Trek, and they're available aftermarket for a very reasonable 900 USD for the pair. Trek doesn't claim they are the second-coming a la WaveCell, but they do claim these budget carbon wheels sport "best-in-class impact strength, durability, and resistance to pinch flats."
The Line Elite wheels check-in at 1890 grams for the pair, have J-bend spokes - for the win - and feature Trek's 54-tooth, 108-point, 6-pawl, 3.3° hub setup out-back. The front hub is 'just' a front hub and gets the job done with no fuss. It's all tied to their carbon hoops that feature a massive (4.6mm) hook wall to absorb a beating and a 2-year NQA guarantee against brutal smashage and a lifetime warranty against defects in manufacturing.
I covered a lot more information about the wide (internal width 29mm) and shallow (depth 27mm) in my first look piece on these hoops. The rims themselves are a touch heavier, for the same durability, as Bontrager's higher-end, higher-priced, Line Pro wheels but they share the same hub guts for the obvious win at 900 USD and a small 130-gram penalty. Plus the Line Pro wheels use direct pull spokes, instead of J-bends, so they'd be a non-starter for plenty of folks I know anyways.
It's a Bontrager mountain bike wheel so of course,there are only 28x spokes per wheel. I've never heard a good argument for socially distancing the stainless steel wires that tie the whole bike together, and would prefer 32x spokes myself, but Trek has been building wheels this way for long enough that it's probably not valid to complain much about my squad of spokes being down four.
Rimposter Syndrome
I'm confident in my ability to trash an aluminum rim. I haven't owned a wheel, pre-inserts, that didn't have a few dents pulled out of it, so it would still air up tubeless. Even running fairly high air pressure, even trying not to ride like a hack, even though my wheels are generally on the ground, said damage was inevitable.
Running heavier-duty rubber, or more air pressure, lessens the number and gravity of the dentification I experience but I've only found two ways to eliminate it. One is running CushCore inserts, front and rear, in my aluminum rims and the other option is switching to carbon.
I really like the damped ride quality of CushCore, especially on my hardtail, but for folks who don't, or more commonly, don't like the extra rolling weight and unsprung mass, high-quality carbon rims are the only solution. For someone who is relatively hard on wheels and isn't going to run inserts, a set of carbon rims (even more expensive carbon rims than I'm looking at here) could certainly pay for themselves over time just in the cost of replacement rims and wheel builds.
It's this scenario where I start to feel a tinge of imposter syndrome when I'm testing wheels. Aside from my first pair of ENVE hoops, where the rear detonated spectacularly on the back of my XC-bike, I haven't had a carbon rim fail. These are scratched and worn-looking but the rims themselves just keep on rolling down the trail straight-and-true. I've run XC and DH tires on them, predominantly on my 6" full suspension bike but also on my single speed, and I've had low enough air pressure to ding the rims a fair few times. I recently put a spoke wrench on them and the rear was happy for a couple of small part-turns. This was very minor for how long I've been on the wheels, even compared to my own aluminum wheels with inserts, which have required much more maintenance.
When I previously tested Reynolds' Blacklabel carbon rims, I rode my bike down Ned's - a trail that's notorious for eating rims - purposely choosing bad lines enough times that my, fairly fresh-looking, tires were bleeding sealant out the sidewalls and the wheels were still good-to-go. I'm confident I would have written off an aluminum rim, doing the same bad riding and I think I can say the same about the Line Elite rims here.
While I can't talk first-hand about the durability of the rims versus large drops or DH racer-speeds through rock gardens, I am confident of the amount of abuse I've put into the hub guts themselves. As with the Line Comp wheels I tested previously, the solid engagement of the 2x3-pawl, 54t, drive system works great in delivering a very quick 3.3° engagement. The bearings are easy to access so a higher-quality setup could be installed at the first full hub service, and otherwise, there shouldn't be a lot to say here.
There shouldn't be but, over the last month I have started to get an occasional loud release noise from the rear hub. There's no resistance felt at all through my pedals, it's simply audible. I've taken the hub apart and inspected the pawls and drive ring and I don't see any wear or damage. I've ridden it on two bikes with three different drivetrain setups and it's been the same in all cases. It is not an issue I experienced with the Line Comp wheels.
I reached out to a couple of Trek-Bontrager dealers I know well and they told me they've seen more hub warranty requests this year than last, per units sold, and that if it becomes more than a once-every-few-rides sound or if the hub actually starts sticking, then that's something that would absolutely be covered under warranty. These fellows are headed back into NSMB.com's carbon-wheel test pool so I'm certain we'll have an opportunity for a future update if anything does come of the noise in the future.
That F'ING Rim Strip
I'm just going to take the lazy route and quote myself here before I talk about what has changed:
"In general, my experience with Bontrager's rubber rim strip has been good but I know more than a few experienced bike-wrenchers that have tossed them and I have also had a singular experience that almost resulted in tire (and rim) fire. It's a double-edged sword as the rim strip absolutely aids with tubeless inflation when it's not helping the neighbourhood kids learn an exciting new arrangement of curse words.
The worst part is that there seem to be two categories of riders. Either they've never had a problem and these rim strips are endlessly awesome or there's an abject refusal to work on bikes with Bontrager rims because one of these strips may be involved. I left them in for this round and have already had the tires on and off a few times with no issues."
It turns out that I've never really had an issue with the rubber Bontrager rim strips using their own tires - SE4, XR4, G5. But I ended up mangling a nearly-new non-Bontrager DH-tire during this round of testing, simply because I wanted to swap it to another wheel. I suddenly joined the club of folks that have a simmering hatred for Bontrager's rubber rim strips, and it's a club that where membership is hard f***ing earned let me tell you.
After trying every single other trick I could think of, after wailing away with a hammer and CushCore BeadDropper trying to break the bead of the tire away from the rim strip, I had to get positively medieval and ended up writing off a $100 tire in the process. I can barely imagine what I would have done if there had also been any kind of insert inside the tire.
If you buy a set of these wheels, aftermarket or with your bike, I'd recommend pulling the rubber rim strips and replacing them with tape - Stan's, Gorilla, etc - right away. It's that or potentially rueing the day spending way too much time getting a tire off, hopefully without damaging the tire. Or, for those who aren't super-handy with bikes, getting in the queue at the local bike shop for an overworked mechanic to charge you a project rate to remove a tire. I don't know about other locales, but things are already really picking up on the North Shore. In peak season that could mean missing more than a few rides because of an inane rubber strip.
If And Then
I think the best argument for the most durable carbon rims out there is for those who don't love the extra rolling weight and ride damping that most volume-heavy inserts bring. Combined with even heavy DH tires, the Line Elite is faster uphill, and lighter weight, than a CushCore setup for the equivalent application.
There's also that great upfront argument that the large hook wall will save money in the long run. In addition to making the Line carbon rims very durable themselves, the big smooth bead should also protect tires. At 900 USD for the wheelset and looking at the price of tires these days I think that's an increasingly magnificent reason to go carbon.
I'm a bit disappointed that Bontrager doesn't sell the Line Comp carbon rims on their own. Even if it was just in the 28h pattern, it would be nice to be able to lace the rims up to other hubs whether it's bombproof Chris Kings or instant engaging Industry Nine Hydra. That's not to say that the stock Bontrager hubs haven't been excellent for me, they have. It's just that a rear hub is the one place on my bike I'll always drop more coin to maximize performance and reliability, and, if I'm being honest, bling factor. I'm also untrendy enough to wish that Bontrager did an i35 rim option instead of just the i29, though I've run tires up to 2.6" with no complaints about their profile.
The ride quality is as good as any other carbon wheels that I've spent hours on and the 3.3° is more than fast enough for the vast majority of riders. 900 USD is very reasonable for a pair of good carbon wheels. The fact that they're guaranteed durable for two years after purchase, warrantied for life against defects, and available with all three hub driver standards, just adds to the value.* I don't notice any large stiffness gains compared to my own handbuilt, aluminum-rimmed, hoops, which is actually a validation.
*shipping with XD but HG and MS can be ordered
If I wasn't running inserts in my personal rims, I would be running carbon wheels. If I was running carbon wheels I think the Line Elite wheels make a very strong argument for me to choose them.