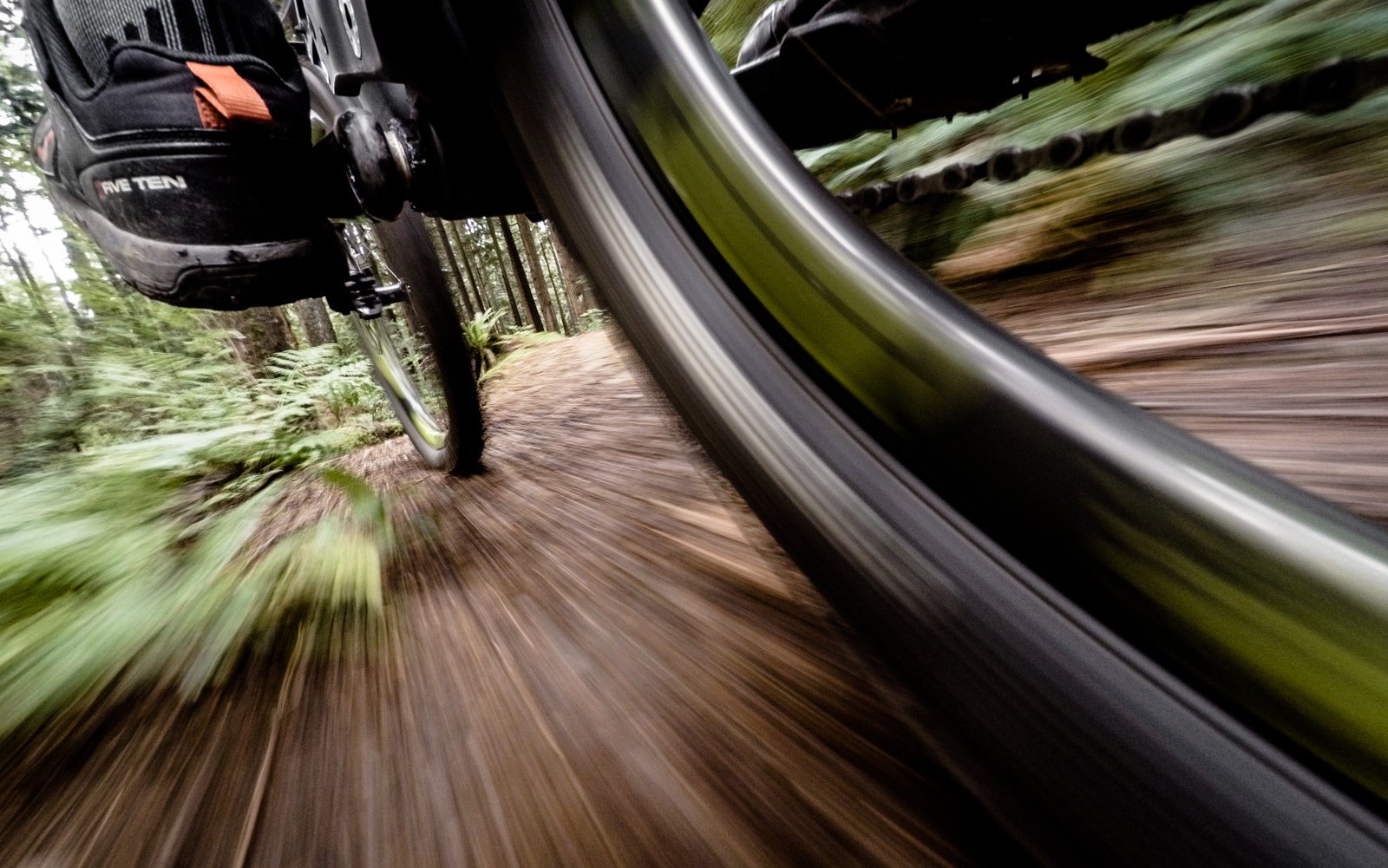 Editorial
Why Would Anyone Buy Carbon Wheels?*
I should start this by coming clean; I have a carbon fetish. I'm powerless to the pull of carbon frames, bars, cranks and brake levers. Even stem caps. Rims are a tougher sell to many but despite their exorbitant cost and several other issues (some related below) carbon rims make sense on several levels. The 6th element on the periodic table that is common to all known life, seems like the right material for the job. Carbon is a key component in graphite, diamond and graphene (the strongest material known) and it's plentiful, so how can it not be the right stuff?
*Originally published in Dec. 2017
There were some seizures and growing pains in the early history of carbon hoops, including exploding sidewalls, melting rims (this still happens), bone shaking stiffness and bait and switch lifetime warranties, but lately it seems things are starting to settle. Quality, performance, and consistency have all been on the rise. The two factors we'd like to see spiraling downwards, weight and price, have sadly remained relatively constant.
Part of this infatuation relates to my experience. Thus far the wheels I have ridden have been very good. I've had one compressor-related failure while encouraging a tire to seat on an ENVE rim (huge explosion with sealant everywhere) but otherwise the performance and reliability have been excellent. Carbon is particularly good at staying true and round because unlike aluminum, carbon structures have no memory; rims don't strain to keep a circular shape because they have been laid up as circles from the beginning. Aluminum rims begin as long straight extrusions that are bent into a circular shape, often four at a time. If you have ever potato-chipped a rim you have experienced a rim trying to claw back to its unbent form. The counterpoint is that often, you can smash an aluminum rim back into rideable shape. Even one that looks like a Pringle.
Jesse Melamed discovered the limitations of carbon rims earlier this year when a failure cost him an overall win in Madeira. Jeff Bryson, Team Rocky Mtn Urge mechanic for Jesse and Remi Gauvin tells the story:

We started the season on carbon rims this year only because they (Jesse and Remi) had ridden the same wheelsets the prior year and had no issues all season. When Jesse's rim blew up on the 7th stage of EWS Madeira with a 24 second lead, all the EWS mechanics (Polar Bear - Team Yeti, Mark M - Factory GT and Mateo - Jerome Clementz) reminded me "that's what carbon does." We are now on Aluminum with Cushcore. Aluminum shows its abuse and is cheaper to rebuild. Most of the mechanics make their riders ride aluminum. Rear for sure - Jeff Bryson
Of course at the EWS level most riders and mechanics aren't paying a penny for their parts, and aluminum rims can be replaced frequently so there is no issue dealing with the usual afflictions of dents, flat spots and wobble that plague aluminum rims in abusive relationships. Jeff's point that aluminum doesn't conceal issues is particularly important for racers at the top level. The one team that has had no issues with carbon rims is Specialized because they apparently start with fresh ones ever race.
So the jury is still deliberating about carbo loading for this application. For riders who put less monumental demands on their wheels, the advantages of carbon are more easily identified. You have to have strong opinions if you are going to pour your life savings into building wheels out of carbon so I asked Dustin Adams, once Canada's top downhiller and now the proprietor of We Are One Composites, a Kamloops based startup making carbon rims here in Canada, what he felt the advantages of carbon hoops are:

The main advantage is an increase in wheel Stiffness for the same or lower weight compared to an aluminum rim. With the main advantage being the increased lateral stiffness for better tracking, improved steering feel, better cornering. The Radial stiffness is also increased, but we have engineered our rim profile and layup to minimize this increase, so it doesn't have a harsh to ride feel. - Dustin Adams, We Are One Composites
I posed the same question to Nic McCrae, the carbon engineer behind Santa Cruz's recently released Reserve Wheels.

Carbon rims won't deform unless they break, which keeps your wheels dished and true way better than an alloy rim. Also, the extra stiffness makes for a more predictable and precise ride. And especially with wide rims, it keeps the wheel light. They're expensive, can't lie about that, but a properly made carbon rim will last forever, is as close as feasible to a maintenance-free wheel, and give you a lot of bang for the buck. - Nic McCrae, Santa Cruz Bikes
It's an expensive day when you hit something too hard or too sharp with your fine carbonium hoops. e*thirteen's rims on their own range from US$499-$549 while a similar aluminum version is $79. Carbon frames are certainly more expensive than aluminum but not almost 7 times more expensive, so putting some thought into your buying decision is essential. But what makes carbon rims so pricy? Again Nic McCrae had some info for me:


Two main factors here: raw material cost and because they are hand-made. Carbon prepreg's cost is in the tens of dollars per pound, while aluminum is the single digit $/lb. It takes over an hour to lay-up a rim in the layup tool, even using the semi-automated equipment SCB developed, and then it needs over an hour in a heat press, demolding, deflashing, drilling, finishing, etc. Many many man-hours per carbon rim, opposed to minutes to form and weld an aluminum rim. Nic McCrae, Santa Cruz Bikes
There are some pros and cons. No shocker here. A few more factors are that tubeless works better with the hookless bead of carbon rims (fewer burps) and the accuracy of the structure means you are more likely to get a good seal from the beginning. Because carbon doesn't sustain dents or flat spots the seal is again going to have better integrity.
So they are light and strong and low maintenance. The bad news is that when they do fail, as they did for Jesse, it's often catastrophic. The short history of carbon rims reminds me of the first round of compact florescent bulbs. Dumb consumers like me were told they would last 20,000 hours and so we paid a premium. Unfortunately that was bullshit. I had a dozen that didn't last a year because of course they hadn't actually tested them for the predicted lifespan; that answer was pulled directly out the marketing departments asses.
When Easton launched their Haven Carbon wheel program they came with a sweet lifetime no questions asked warranty. Unfortunately that warranty was cancelled when RaceFace purchased Easton. No amount of testing is going to prepare rims for every real world situation and the only way to know with certainty how a product will perform for consumers is to have thousands of riders push them to the limit.
Should you buy carbon-rimmed wheels? If you are on a tight budget the answer is no for me. If you are fussy about your wheels being round and true you might consider learning to build wheels. It's not that hard and lacing is easy if you re-use spokes (just tape the new rim to the old one and transfer the spokes over one at a time). You are going to spend between $1000 and $2500 for your carbon wheels in American dollars. You can get a really nice aluminum wheelset for $500 and replace the rims several times before getting anywhere near the price of the cheapest carbon set.
Another reason to avoid carbon is ever-changing standards. Anybody who threw down for an expensive set of non-Boost 650b wheels is unlikely to look back fondly on that purchase. And it's even worse for anyone who picked up a 26" set.
If you happen to be someone who is content to throw money at mountain bike gear then I highly recommend getting down with some hand laid rims. Many riders find them virtually maintenance free because they resist any deformation until they reach the breaking point. The regular truing required of aluminum wheels rarely needs to be performed in my experience. Another positive is the compliance built into recently released carbon rims. Lately I have ridden Mavic's XA Pro Carbon, e*thirteen's TRSr SL and Santa Cruz's Reserve wheels and they share excellent lateral rigidity (no newsflash here) but they also provide impressive compliance leading to improved comfort and grip.
A proviso in all this for me is that I am vastly more comfortable on wheels that retail for over 3k Canadian with Cushcore inserts between my carbon and the earth's bony bits. If it was only the peace of mind protection provides that would be one thing but the performance advantages of Cushcore make it automatic for me.
I'd like to be able to tell you that my tea leaves indicate standards are going to settle down and that carbon rims currently being produced are going to outperform the previous generation by several parsecs (a country mile isn't enough). Anecdotally at least I have a degree of confidence about the latter statement but I wouldn't bet much on standards levelling out, so think carefully before blowing a pay check on wheels for your bicycle.