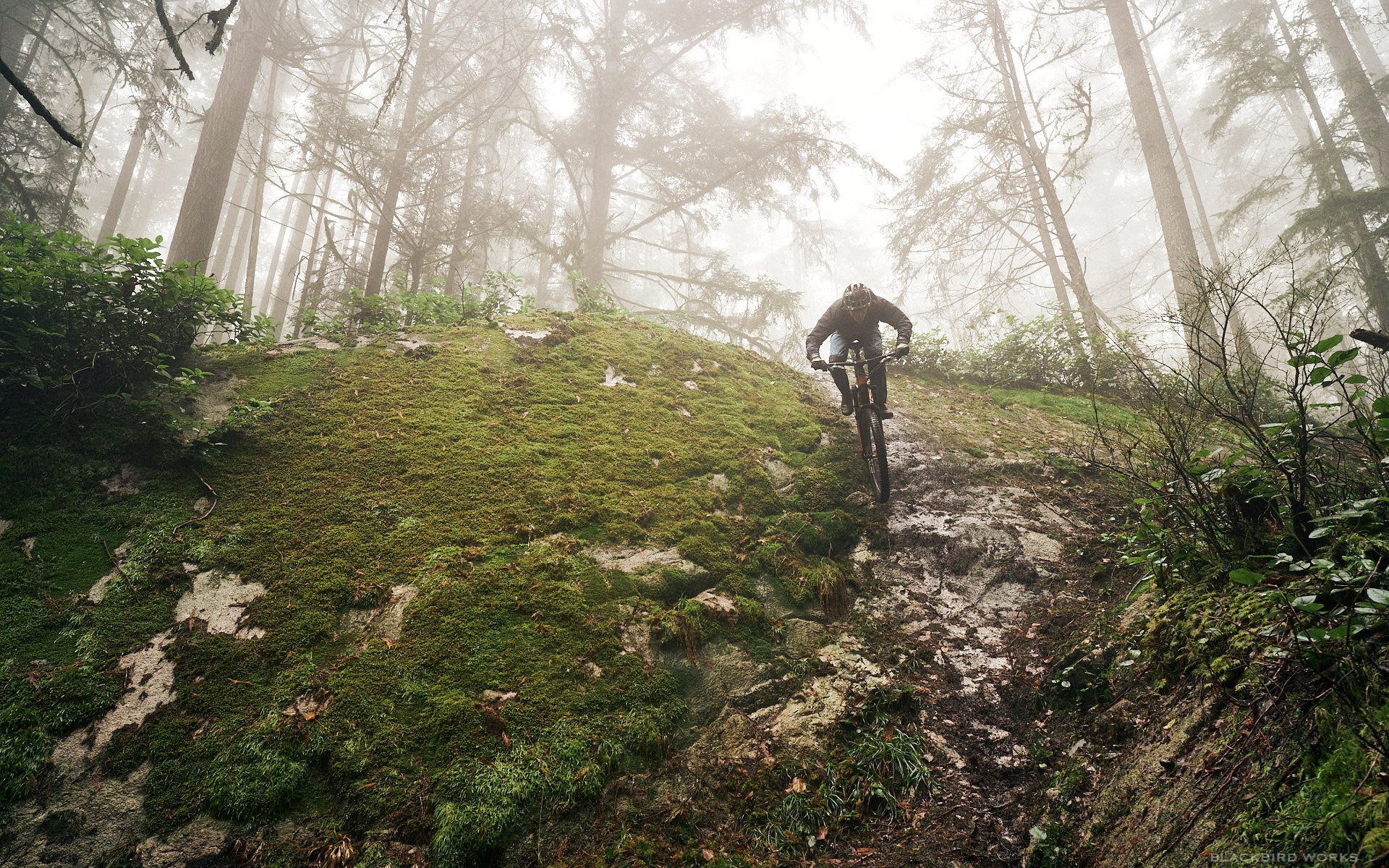 LONG TERM BLUDGEONING
A Year of Shore on ENVE M630 Trail Wheels
Brief wheel tests that say anything meaningful about strength and longevity are a challenge, unless you get 'lucky' and damage a wheel early, in a way that gives you insight about their relative robustitude. An example would be if you were to get squirrely and smash a wheel into a sharp, helmet-sized rock and discover your wheel is broken but not so badly that you can't get home, while the magnitude of the impact would have folded most wheels like cocktail umbrellas. That sort of insight. In fact I knew it was time to wrap up this review when I had a similar mishap, which I will describe below. That's a long-winded way of saying, I knew all along I wanted to do a very long term test on these wheels to be able to give some informed insight into their ability to take a shit-kicking over 8 or 10 dog years.
ENVE, as a pioneer of carbon wheel technology, remained a class leader for a long time, and their wheels continue to attract praise from riders and media. The marketplace has evolved quite dramatically however, and competition in the carbon wheel market has become fierce. Crankbrothers, WeAreOne, Roval, Bontrager, Noble, Reserve and SRAM are but seven competitors making good products and sometimes for prices even small town dentists can appreciate. For some riders, ENVE's reputation has been less than stellar, because of the stiffness of some early wheels, and a run that had some structural issues,. Those days are long gone and those stories are fading fast, but until recently ENVE has continued to live up to the expectation of exclusively producing carbon wheels at the upper end of the premium wheel market.
The recent AM line is the first effort by ENVE to lower the barrier to entry with a base price of 1600 USD a pair, but those aren't the wheels we are talking about here; these are the creme de la carbon, M630 wheels with DT Swiss 240s hubs. To give you an idea of how long I've been riding these wheels, ENVE no longer offers DT Swiss hubs or DT Swiss spokes, and these wheels are made with both. If you were to order these today, your wheels would be built with Sapim CX Ray spokes, which also have an excellent reputation, and your hub choices are Chris King or two different models of Industry 9. Thoughtful and sensible details are that both front and rear wheel use the same two spoke lengths, with 28 spokes per wheel, and are only built with commonly-found J-bend spokes.
ENVE M630 Features
28 Sapim CX Ray bladed spokes front and rear
30mm inner rim width
38.5mm outer rim width
4mm wide 'hookless bead flat protection'
2.3-2.5 mm tire width recommended
26.5mm rim depth
Rim weight (29) 383g
Wheelset weight as tested 1600g w/rim strips and valves
Warranty and Cost
It's hard to say what is a comparably-priced hub, because Chris King likely adds to the price, while I9 may be a little less expensive, but these wheels start for 2550 USD. That's 3072 CAD now that our dollar has inched upward some. As you'd expect, you get a warranty for this kind of money, but unlike some competitors, this one expires after five years, in terms of what is usually called 'manufacturers' defects.' In return you get lifetime free replacement of the busted product, whether your rim is smashed while riding or is crushed by an elephant, but you'll be on the hook for shipping and labour. The details seem pretty reasonable to me, and it's much better than trying to convince a customer service person you were 'just riding along.'
Weight Class, Technology and Intended Use
Most of the time I find myself with a crew riding heavier wheels than this, but I haven't broken a burly carbon wheel in the saddle thus far,* so I reasoned it would be a more useful test if I went down a weight class.** I like to ride challenging terrain, and lately I've been pushing that needle farther than I have previously, riding moves I used to avoid and doing it all at a less embarrassing pace. All this means my previous rationale for getting lighter wheels has less legitimacy, but a compensating factor is that I still generally weigh around 160lbs/72.5kg.
*I had an early ENVE rim break while seating a tire with my compressor, sending sealant everywhere, deafening me, and shooting the presta adapter into the ceiling like a bullet
**I extended this idea further with Specialized's Roval Control Carbon XC wheels but they will continue on a smaller bike
Often rim manufacturers identify the intended use of a set of wheels by the travel of the bike, and trail wheels often get a sub 150mm rating, but I was riding them on both the Trek Slash, with 170/160mm of travel and the Yeti SB150 with 170/150 front and rear respectively. I wasn't using the right bike and I wasn't riding the right trails, because I was trying to pack several years of abuse into a tighter schedule. I think you get the idea by this point. I rode these wheels in every season, with several different tires and with and without inserts and I was never trying to avoid breaking them.
ENVE's M series boasts a lot of technology and innovation. ENVE were the first hookless bead rims I encountered and now the beads are nice and wide (4mm) to reduce pinch flats. The carbon layup is directional and uses 'Tuned' construction, meaning the layup of each wheel is specific to the discipline it's aimed at, which makes sense. The M6, unlike the M7 or M9, does not have the flat-preventing protective strip, which doubles as the ultimate rim strip, but these came with already installed strips, unlike some earlier models I encountered. The triangular silhouette from the early wheels remains but the wheels were rumoured to have a much more compliant ride.
Despite the deep cross section, the 30mm inner width and the 4mm bead wall thickness, the front wheel weighed 720g while the rear was 880 on my scale with an XD driver, and inclusive of rim strips and valves, for a wheelset total of 1600g, which is very light indeed for wheels ridden on some of the steepest and most challenging trails in North and 'West Vancouver.
On The Trail
Out of the gate I realized these weren't anything like the EDGE composites wheels I first tried on a Santa Cruz V10 in Whistler in 2010, They retain much of the precision but none of the harsh trail feel. I'd say they are a little less compliant than the WeAreOne Factions I've also ridden a lot in the last couple of years but the M6s are perhaps slightly snappier and more torsionally stiff, albeit these were very fine margins.
Out of the gate I rode these without inserts and generally at around 19/21 PSI front and rear respectively, although I dropped it lower with larger volume rubber (and with inserts). The lively feel was most noticeable with this set up, but I've come to prefer riding with inserts, because of increased flat prevention and rim protection, but mostly for trail feel, low pressure control and sidewall support, along with the run-flat protection offered by some models. After running regular tubeless, I used Tannus inserts on these wheels, and then Octamousse inserts of two different thicknesses and densities.* I've mostly been on Maxxis DHR II 29x2.6 in EXO casings but I'm currently running a Specialized Butcher T9 2.5 in the rear with a Grid casing.
*I'm close but not yet ready to say more about Octamousse, but I wouldn't talk you out of buying them
Every time I return from a ride I give my wheels a spin. In the age of carbon it's unusual to discover an out of true rim, but certainly not unheard of, and most of the wheels I've ridden recently have required the occasional touch up. Not the M6s though. If they are less true than the day they arrived, it is so minor that it's imperceptible when I spin the wheel and use my finger nail as a gauge. This is true for both front and rear wheels, but the rear's condition is particularly remarkable considering the recent mishap.
After a long day of laps on Cypress, I talked Mike Wallace into doing a short push up to the bottom of Roach Hit to hit a step down that is followed by a sequence of gaps that lead into a fast DH section. Until this year I rode around this line but on my fourth time through I was feeling pretty confident. A little too confident it turns out, which seems to be a recurring theme. I went a little slow and too far left on the step down, which is perhaps 6' by 12' or so, and rear wheel-cased the gap sickeningly. An interesting aspect of Octamousse inserts is that they deaden impact noise less than others so it's still possible to hear a loud clack. This one however was next level in both volume and impact magnitude, and I was sure I had sustained damage and likely destroyed the rim. Still, I had to keep my speed up for the next three gaps so, after a very brief mental assessment, I decided to keep going, thinking the next impacts would deliver a fatal blow, or the rim would fail on the way there. The second move went smoothly, but while I came up short on the third, I managed to clear the final gapper by adding a couple of pedal strokes. When I stopped and looked down, expecting to see broken spokes and a mortally wounded rim, there was nothing. The punctured tire was getting soft as expected but the rim appeared to be fine. I assumed I'd find at least a crack when I got home but closer inspection revealed no damage at all aside from the tire. And, as mentioned above, the wheel was still perfectly true. At that moment the M6s were worth every U.S. dollar and even felt like a bit of a bargain. I was pretty happy about the Octamousse as well, but I'm still not ready to talk about those.*
*see above
Other Considerations
Enve uses a unique lacing system that places the nipples inside the rim, meaning you can only replace a spoke or true the wheel with the tire removed. In the age of tubes this would have been no big deal, but it's a right pain in the ass now. I haven't broken any spokes on this wheel but I have on other ENVEs in the past and it makes me very unhappy.
Tire mounting was reasonable but removal reminded me why my affection for ENVE's perfectly flat hookless bead is tempered some. My tires skills have really ramped up recently because of all of the testing and swapping I've been doing, and while inserts add complexity and difficulty, I was feeling prepared. Unfortunately the M6 had other ideas and it took me at least 15 minutes to remove the tire. Mounting however was relatively quick and easy and nothing like some of the epic battles I've had with ENVE rims in the past.
It's been quite some time since I've spent a lot of time on a set of DT Swiss 240 hubs, and they have held up very well in every type of crappy weather with no attention from me. I love how easy it is to swap out the driver body, the 36 engagement points is just about right for me (54 is an optional 'upgrade'), and they have proven to be light and strong. My experience with the 6-year-old pair on my wife's well-used Juliana has been even more impressive and I plan to do a teardown article on both in the coming months.
To Sum Up
Much of what I learned on the M630s can be extrapolated to the M7 or M9 series, for riders who are either heavier, harder on wheels or both. AJ's review of the M730s will also be helpful, but if like me, you can wrestle a weight class down, these are like a secret weapon; light enough for a long day of pedalling, snappy out of corners, able to hold a rough line without beating you up, and remarkably adept at staying true over months of inhumane treatment.
I've enjoyed riding ENVE's M630s much more than I expected to. The weight makes them incredible for getting up the mountain, I've grown to have next-level confidence in their ability to accept punishment, and the precision provided by their torsional stiffness matches well with a burly fork like the Rock Shox Zeb forks I've been riding recently. All this with a relatively compliant ride that doesn't leave me feeling beaten up after long days in the saddle. The cost however, will give many riders pause.
By riding a little too timidly and coming up short, I managed to have the bit of luck I referred to in the beginning, without smashing myself in the process. And while I'm not advocating these wheels for all-mountain or 'enduro' use for everyone (and neither is ENVE), they meet my particular needs perfectly. So while this started out as an experiment, I personally wouldn't hesitate to choose these wheels for my own use on a more permanent basis.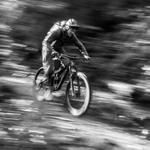 Cam McRae
Height - 6'/183cm (mostly legs)
Weight - 170lbs/77kg
Inseam - 34"/86cm
Ape Index - 0.986
Age - 56
Trail I've been stoked on lately - Boogieman
Bar Width - 760mm
Preferred Reach - 485-500mm (longer with 27.5 wheels than 29)