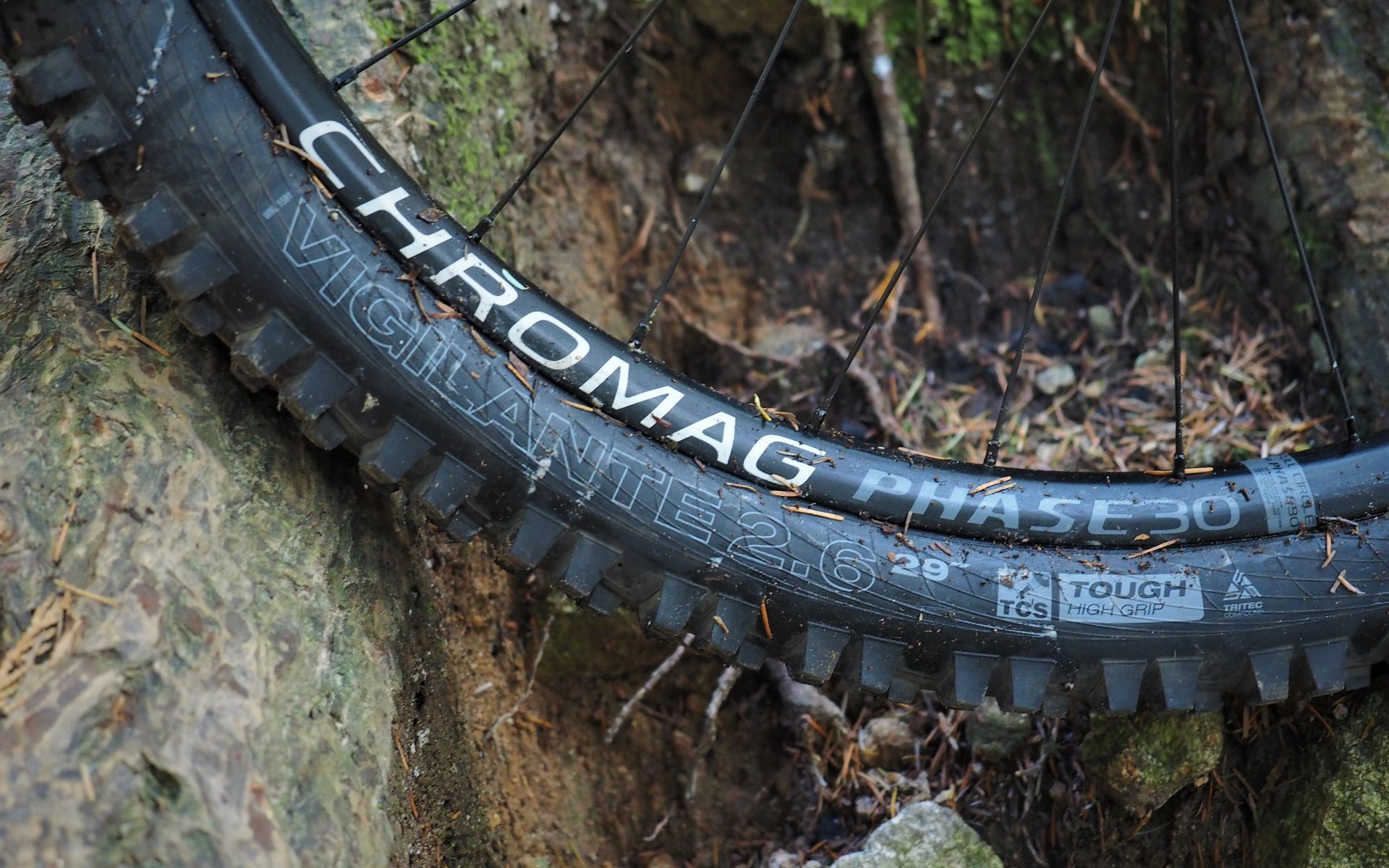 Long Term Review
Chromag Phase30 Wheels
Prophecy
Compared to the plethora of sweet carbon options on the market today aluminum rims simply aren't as cool, they aren't as stiff, and yep - they will dent. And while denting an aluminum rim is certainly a more predictable failure mode than I've experienced with carbon, there are oodles of folks who will claim that their carbon wheels have saved them bags of money in the long term versus the cost of replacement aluminum hoops and wheel builds. It's a seductive conversation, especially for the weight-conscious rider.
But hang on, what if a company were to put a lot of effort into choosing their internal structure and material to optimize the balance between stiffness, compliance, and durability, and add a degree of dent resistance? The Whistler brand makes a strong argument for aluminum with their welded and ground 'fusion-welded' joint, their uniquely reinforced bead walls, directional spoke bed, and an extruded and formed shape. They also made them look sweet and plastered on a Chromag logo!
We tested Chromag's trail-rated, 510 gram, Phase30 29'er rims and besides one dent that Trevor endowed early in testing, after burping some air out of his rear tire, they held up through a solid year of rim-kicking. I have to take some responsibility for said dent. After all, I did jinx the whole review by wondering aloud in my first look why the Whistler-based brand didn't spec their 100 gram heavier BA30 rim in the rear given the local terrain.
Suffice it to say that I'm impressed that after all the times the rims are sporting a single blemish, but a Phase30 for the front and BA30 rear would have made for a nice talking point on min-maxing weight distribution and it's always nice to have a hook.
From a tech perspective, Chromag's 'fusion welded' process sounds very similar to the chemical process that Velocity USA uses to ensure an overlapped joint that's stronger than the rest of the, perfectly aligned, rim. I also have yet to break a spoke in a Velocity or WTB rim with angled drilling and the Phase30's are the same story so I think there's something to taking that extra manufacturing step.
I'd love to see rims in a rainbow of other Chromag colours as much as the next rider, but the finish on the black rims, boring though they may be, has held up fantastically. Besides, rims really are a wear item so why not invest in some colourful hubs-for-life that'll wear black shoes nicely?
Phase Two
I started the test process and then handed the wheels over to Trevor for the full trashing. This was for a combination of reasons in that I was already committed to testing some other rims, I don't own a bike that uses SRAM's XD driver, and also I found the 10° crank rotation between engagement points to be an excessive amount of float where Trevor found it to be totally to his liking.
Trevor's a faster rider than I am and he noticed some unwanted rear wheel flex compared to the carbon Rovals that were stock on the Specialized Enduro. This was specifically when fighting to hold a line "railing turns." The trade-off was a smoother overall ride which goes to show just how stiff the Roval wheels are when we're talking about a long travel bike with top-end suspension, front & rear, and big meat.
The rims never needed to be tensioned, including after Trevor dented the rear, and the hub wasn't serviced after the initial teardown to sneak a peek inside. The bearings all spin true and there's no reason to think Trevor can't just keep hammering away on them. It should probably come as no surprise these days, but on these rims, we tried a variety of tires and they all aired up tubeless using a floor pump.
Chromag has three different rims in the Goldilocks i30 internal that most riders prefer. The Phase30 and BA30 rims are both available in 27" and 29" sizes for 133 CAD (about 95 USD). For those that don't need the durability of a welded rim, they also have a much less expensive Ally pinned version that shares the same i30 width and robust beadwall but loses the directional spoke drilling. It comes in 26", 27", and 29" for 70 CAD (about 50 USD).
I'd be beyond curious to know if running a BA30 out back would have saved us from the one dent that Trevor managed to put in the rims but either way, I think it's an impressive outcome after over a year of riding. There are a lot of good aluminum rims out there at various prices and we think Chromag's Phase30 and BA30 are worth looking at for any rider who's decided to go aluminum.