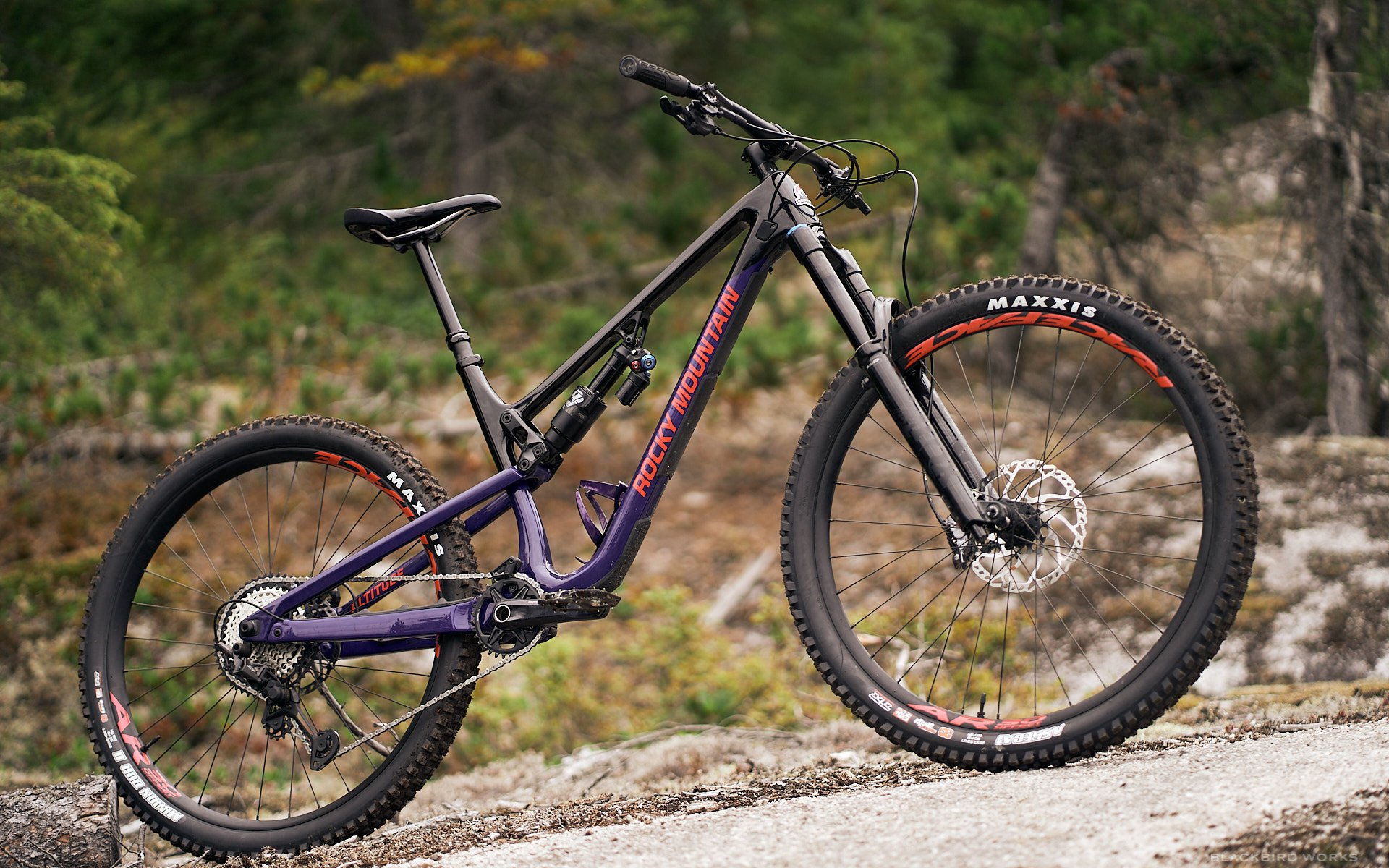 FIRST IMPRESSIONS REVIEW
2021 Rocky Mountain Altitude C70
The Rocky Mountain Altitude has been a mainstay of the brand's coastal B.C. DNA since 1991. The model has run the gamut of of the mountain bike spectrum but the 2021 Altitude is Rocky Mountain's refined 170mm front/160 mm rear travel platform dedicated to pushing enduro race speeds and to aggressive trail smashing.
The Altitude's geometry has been revised, but not to the limit of the current geometry arms race for the slackest/longest/most progressive. RM's four-bar Smoothlink suspension kinematics also get a refresh for better small bump compliance, mid stroke support, and end stroke progression. A custom shock tune accompanies each individual frame size.
The previous generation of Altitude handled the 27.5" wheel size, with the Instinct taking care of the 29" category. Considering Rocky Mountain's enduro athletes have chosen 29" wheels due to increasing race speeds and rolling ease, the Altitude now wears the badge of a 160mm travel enduro-focused bike, eliminating the Instinct BC. There are four size options, with small frames sporting 27.5" wheels, medium affording the option of 27.5" or 29", and large and XL sizes rocking only 29" wagon wheels.
Frame Features
Smoothlink 4 bar suspension platform
Ride-9 flip chip suspension/geometry adjustment
Sealed bearing eyelet at shock mount
Updated tubing profile for front triangle stiffness
10mm fore/aft chainstay length adjustment via flippable dropout
Tube in tube internal housing guides
Molded shuttle guard, downtube and noise-cancelling chainstay protectors
Swingarm mounted "Canadarm", with OneUp V2 top chainguide
Modular shock mount for potential suspension kinematic updates (only on carbon models)
Dual bearings at seatstay and chainstay pivots
Max rear tire size is 2.6"
Max chainring size is 34t, minimum 30t.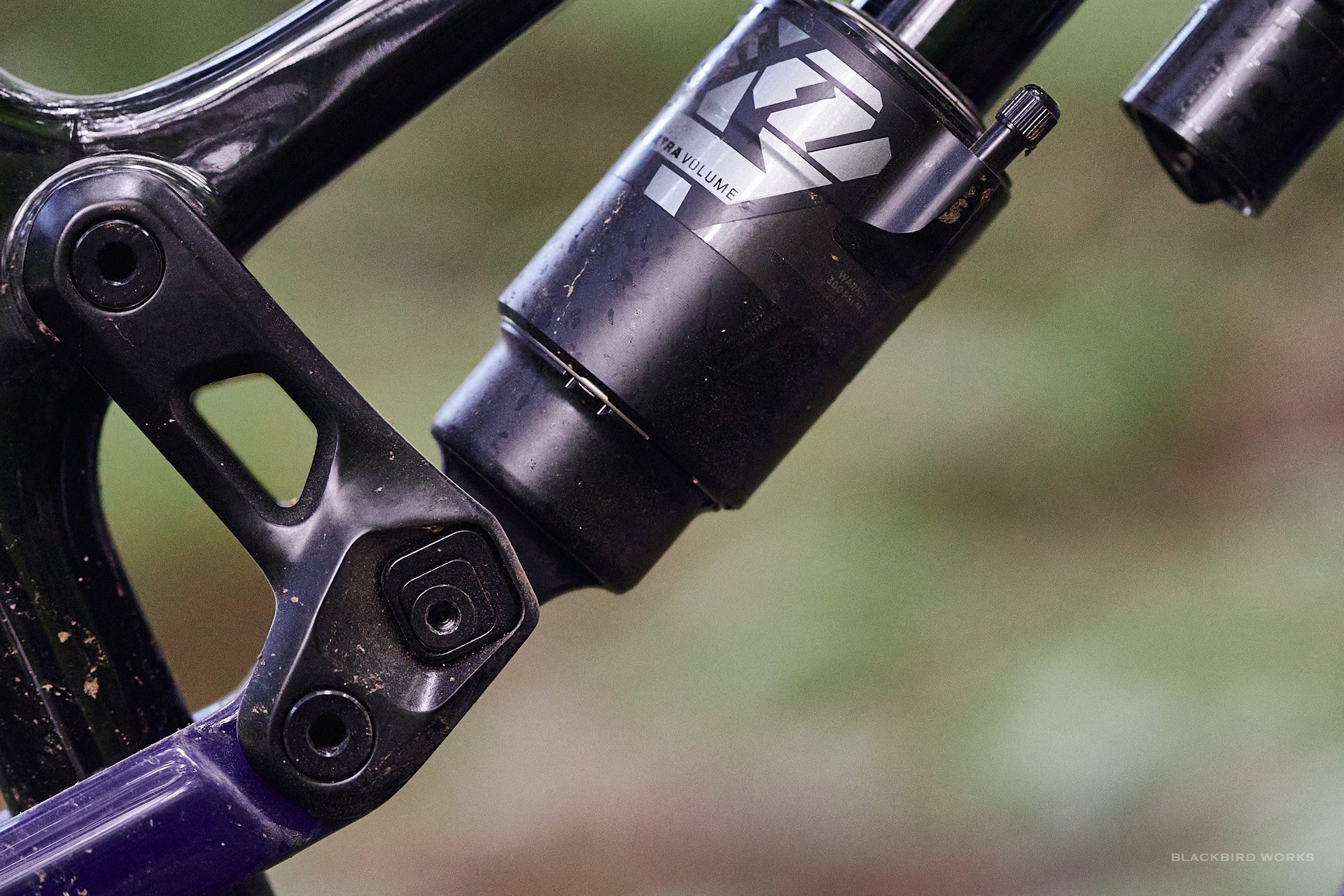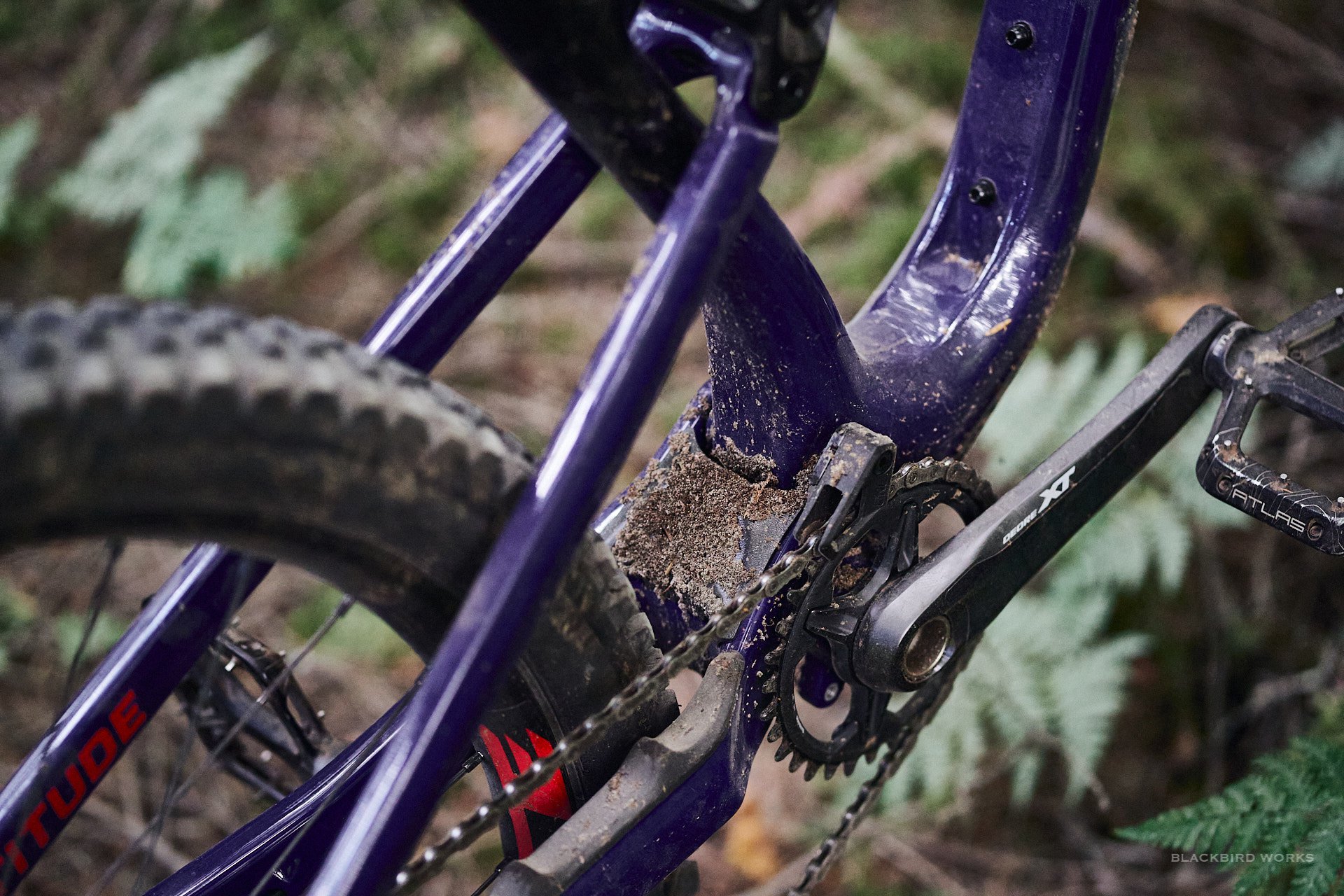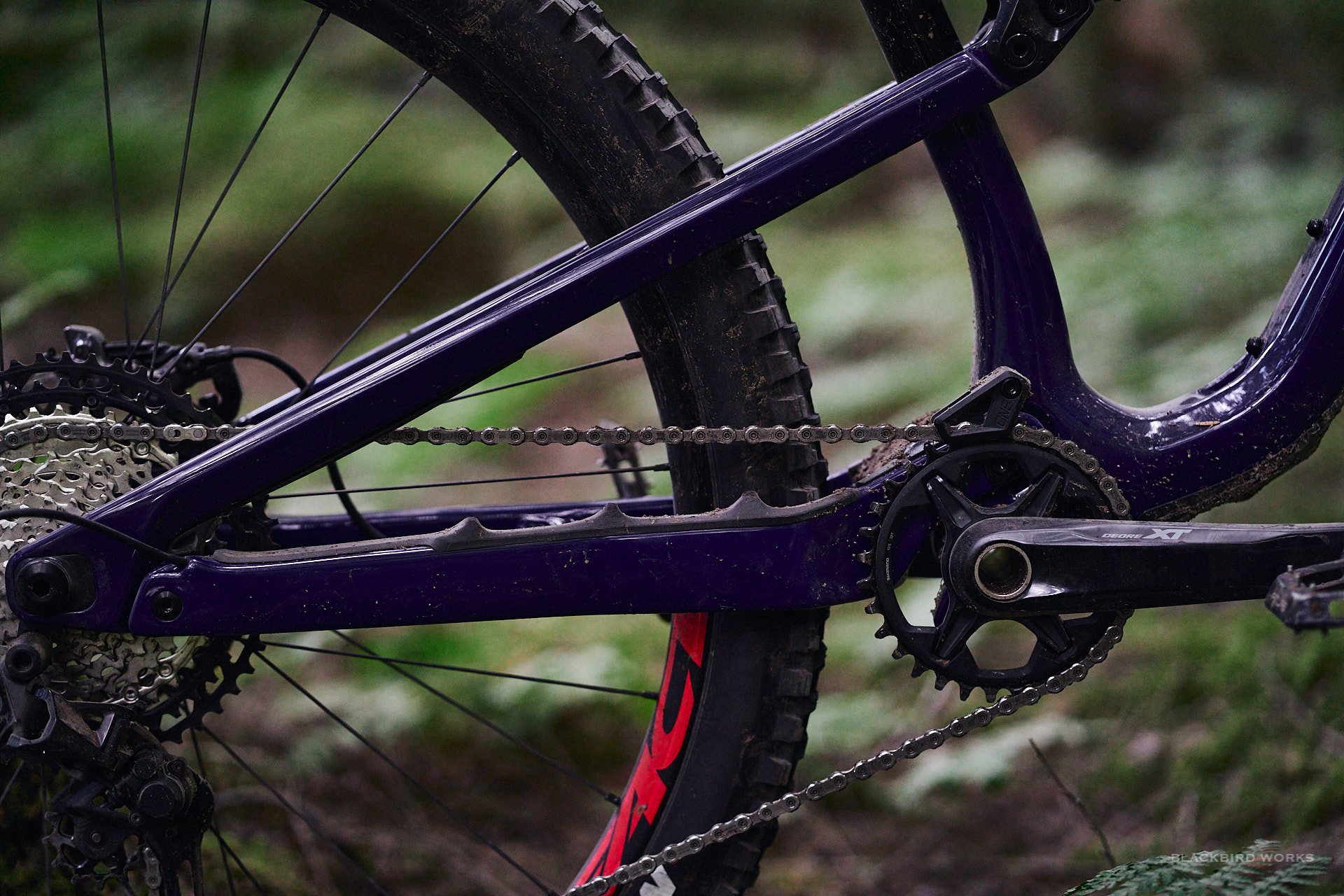 Geometry
The 2021 Altitude hops on the geometry progression train, but doesn't go overboard. After discussing numbers with Rocky Mountain's product manager Ken Perras, he is adamant that there is a line that can be potentially crossed with current bicycle geometry. With reach and wheelbase numbers swelling, head tube angles becoming more slack, a rider could become a passenger instead of a pilot. The 2021 Altitude keeps these metrics in check, with the large/slack numbers evolving as follows:
Head tube angle slackens 1.5°, from 65.9° to 64.4°
Reach increases 20mm from 454mm to 474mm
Seat tube angle increases from 74.4° to 75.4°
Wheelbase grows 36mm, from 1213mm to 1249mm
2021 Rocky Mountain Altitude Model Range
The 2021 Altitude has a nice selection of models, with three alloy builds, (A30, A50, A70), and five carbon (C50, C70, C70 Coil, C90 Rally & C99). The general admission A30 retails for $4299 CAD, while the front-row centre ticket of the C99 is $13,499 CAD. All models get you to the same show, but are further refined as the price ascends.
I'll be riding the Altitude Carbon 70. The size large C70 hits the NSMB scale at 14.4kg/31.8lbs without pedals, and retails for $8499 CAD.
Rocky Mountain Altitude C70 Test Build Highlights
| | |
| --- | --- |
| Fork | Fox Performance Elite 170mm |
| Shock | Fox X2 Performance |
| Brakes | Shimano XT Trail M8100, 200/180mm rotors |
| Drivetrain | Shimano XT M8100 12 speed |
| Cranks | Shimano XT M8100, 170mm |
| Wheels | Raceface AR 30 on DT Swiss 370/Rocky Mountain sealed bearing hubs |
| Front Tire | Maxxis Assegai 2.5 Exo+ Maxx Grip |
| Rear Tire | Maxxis Minion DHR2 2.5 Exo+ Maxx Terra |
| Dropper Post | Raceface Turbine R (by Fox) 175mm drop |
| Handlebar | Raceface Turbine R, 780mm |
| Stem | Rocky Mountain 35AM, 40mm reach |
| Grips | Ergon GE1 Evo |
| Saddle | WTB Volt Race 142 |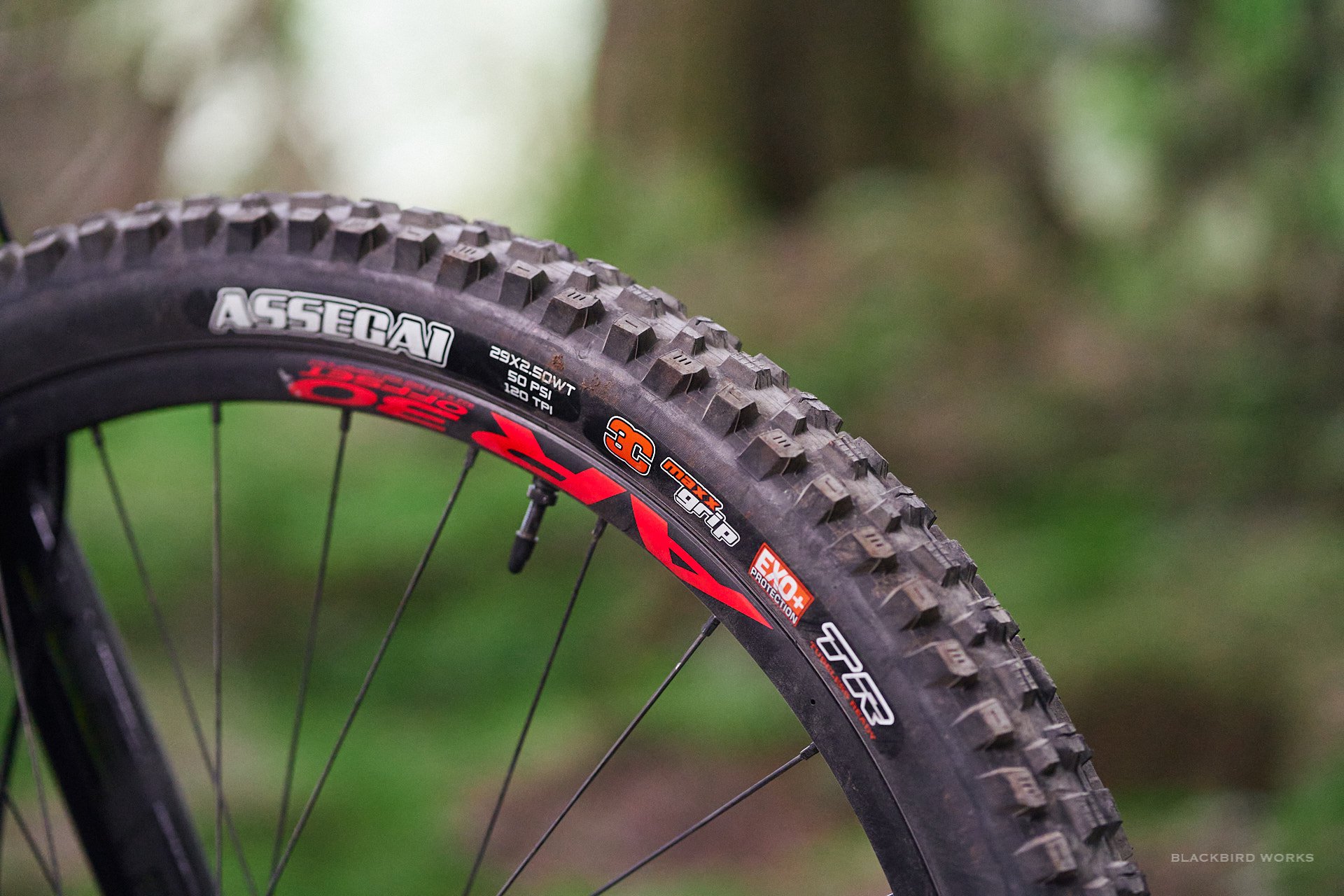 Rocky Mountain Altitude C70 Build Notes
Rocky Mountain's attention to detail on parts is impressive; many small details have been pored over meticulously. Echoing Tim Coleman's assessment of the Slayer, I'd agree with him that there isn't much, if anything, that I'd swap out for personal preference. The Ergon GE1 Evo grips are very comfy in all the right spots. I'm picky about my saddle, usually preferring the Chromag Trailmaster, but the WTB Volt Race is also a contender for my new favourite seat. The alloy Raceface Turbine R handlebar is a smooth change from stiff carbon 35mm bars. Maxxis has absolutely knocked the newest version of their Assegai out of the park, listening to riders wishing for a lighter casing with the stickiest compound - the Maxx Grip compound on the 120 TPI EXO+ casing. Considering riders regularly wear out rear tires more quickly than front, Rocky specs a more robust compound Maxx Terra Minion DHR2 EXO+ in the back.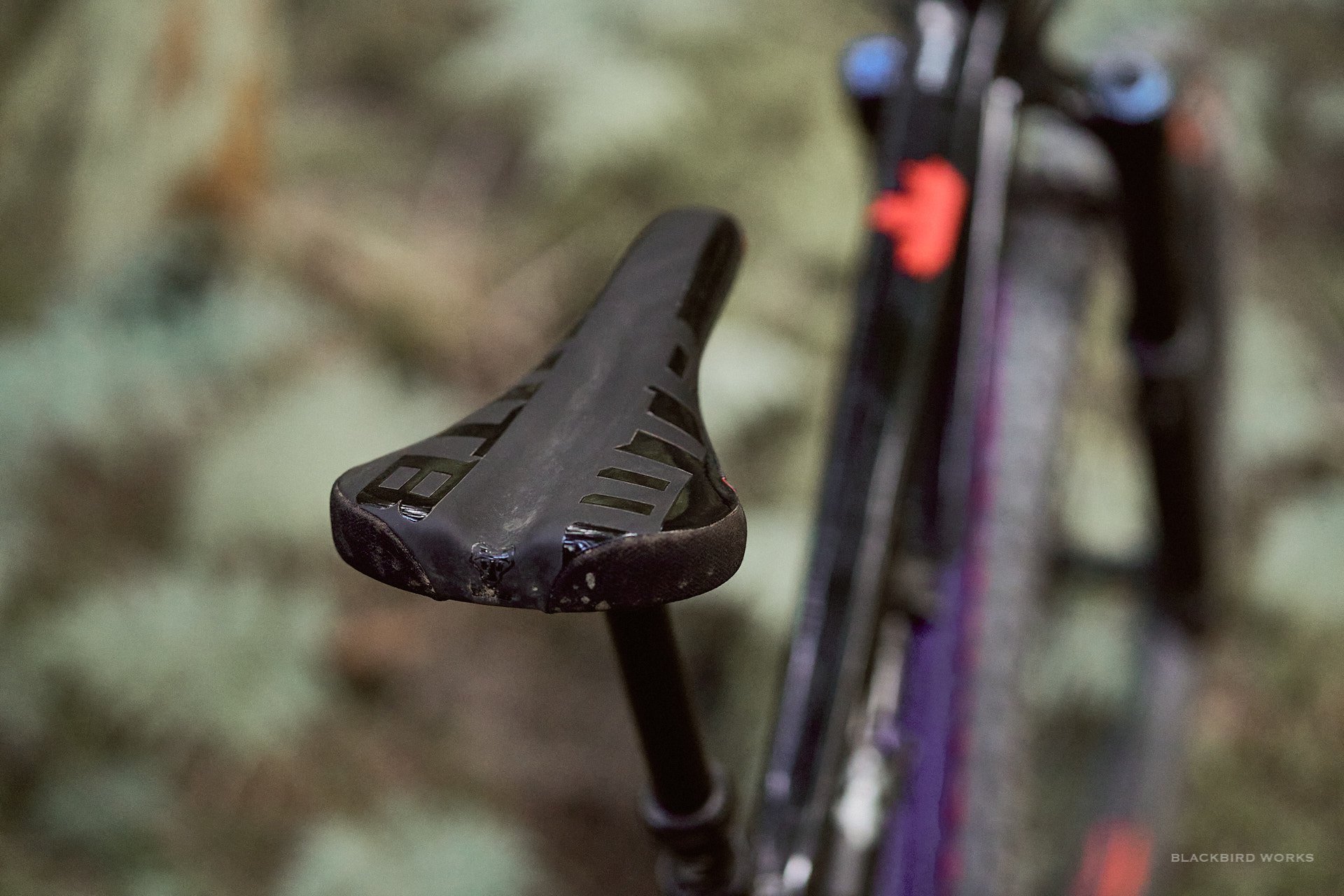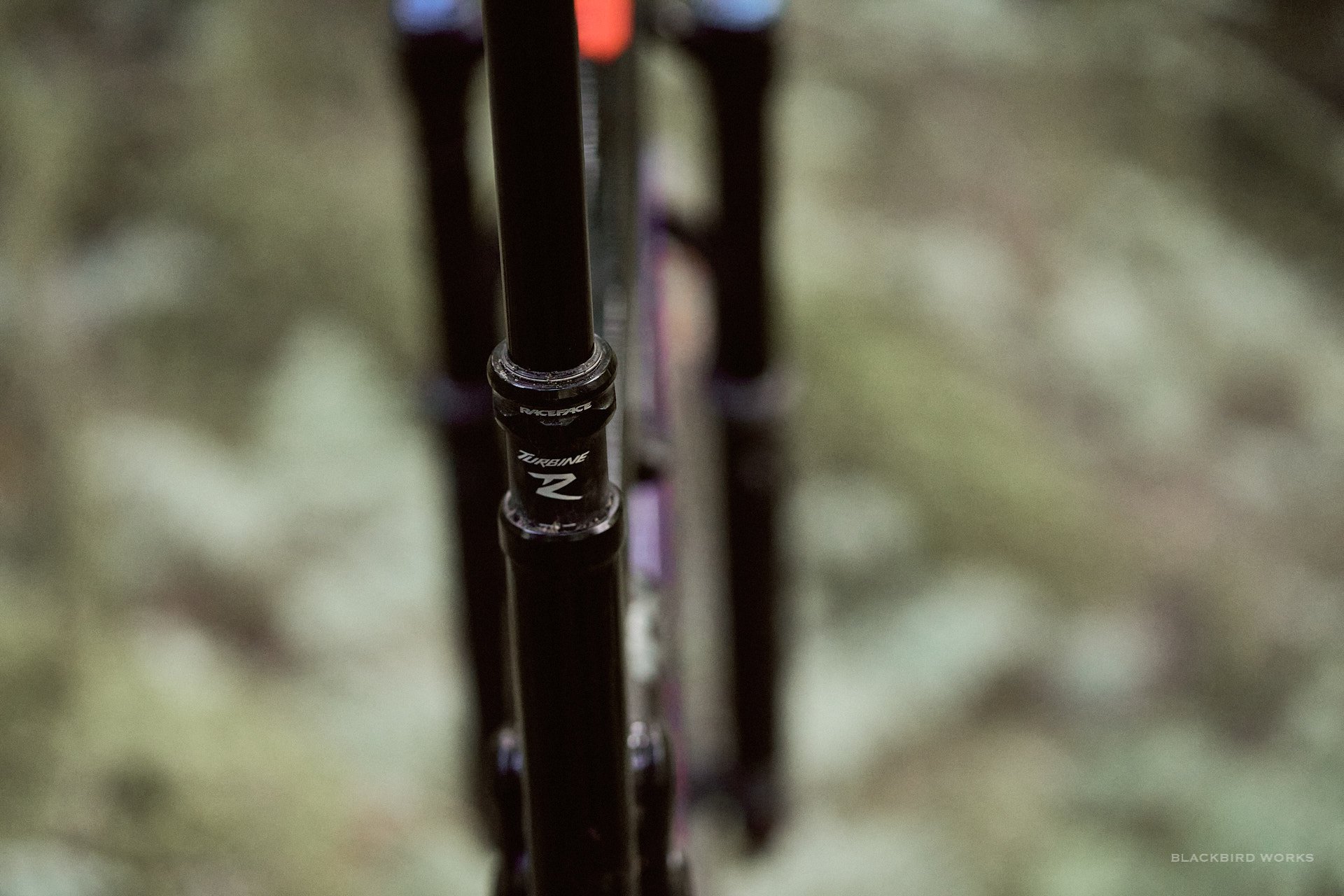 ---
Climbing/Pedalling
The Rocky Mountain Altitude is an enduro and heavy-duty trail bike, focused on pinning it down the mountain. While it usually doesn't figure on the time sheet, enduro racing also requires an immense amount of climbing. Fortunately, the Altitude in no pig on the ups. Following geometry trends (for the better), Rocky has steepened the Altitude's seat angle from their previous enduro bikes. This shifts one's weight over the bottom bracket, shortening the feel of the front end, allowing for a more central and comfortable climbing position, while properly weighting the front end.
The Altitude steadily winches up punchy climbs, providing maximum traction with minimal bobbing. There is a climb switch on the Fox X2 Performance shock, which ramps up low-speed compression. I'll use this for longer fire-road-style climbs to extract every iota of forward energy, or on loose climbs requiring one to mash through mush, searching for the next island of positive traction. The X2 is so supple in its stroke, I've yet to experience a climb where flicking the climbing switch on has drastically reduced traction.
Descending
Rocky Mountain's chemistry blends an agile, popping plow that can snake into tight steeps and blast through chunder - all while being comfy in the air. The Altitude also carries speed well through flatter terrain, whether it floats over the top of rocks and roots, or uses them as transitions to pump through and gain speed. North Shore conditions are currently dry, and I'm excited to see how the Altitude handles the fall grease. And, while my ride impressions are limited, I feel like I'm getting back on lines I haven't hit for a quite some time. Some doors are getting unlocked in my own riding progression, unexpectedly ramping up later in the season. I'm damn happy to be hitting these features on the new Altitude, to understand the depth of its capabilities. Future days on the Altitude will hopefully reveal more cheat codes I can use to unlock scary lines, whether I'm earning them while pedaling through jank or catching a leisurely shuttle. Time will tell.
For more on the new Altitude, head to bikes.com or check the press release and video here.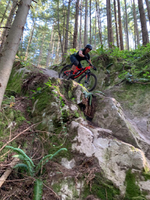 Graham Driedger
Age - 35
Height - 182cm/6ft
Weight - 92kg/205lb
Ape Index - 1.035
Inseam - 32"/81cm
Trail I've been stoked on lately - Pleasure Trail, Lower Digger
Bar Width - 780-800mm
Preferred Reach - 470-500mm