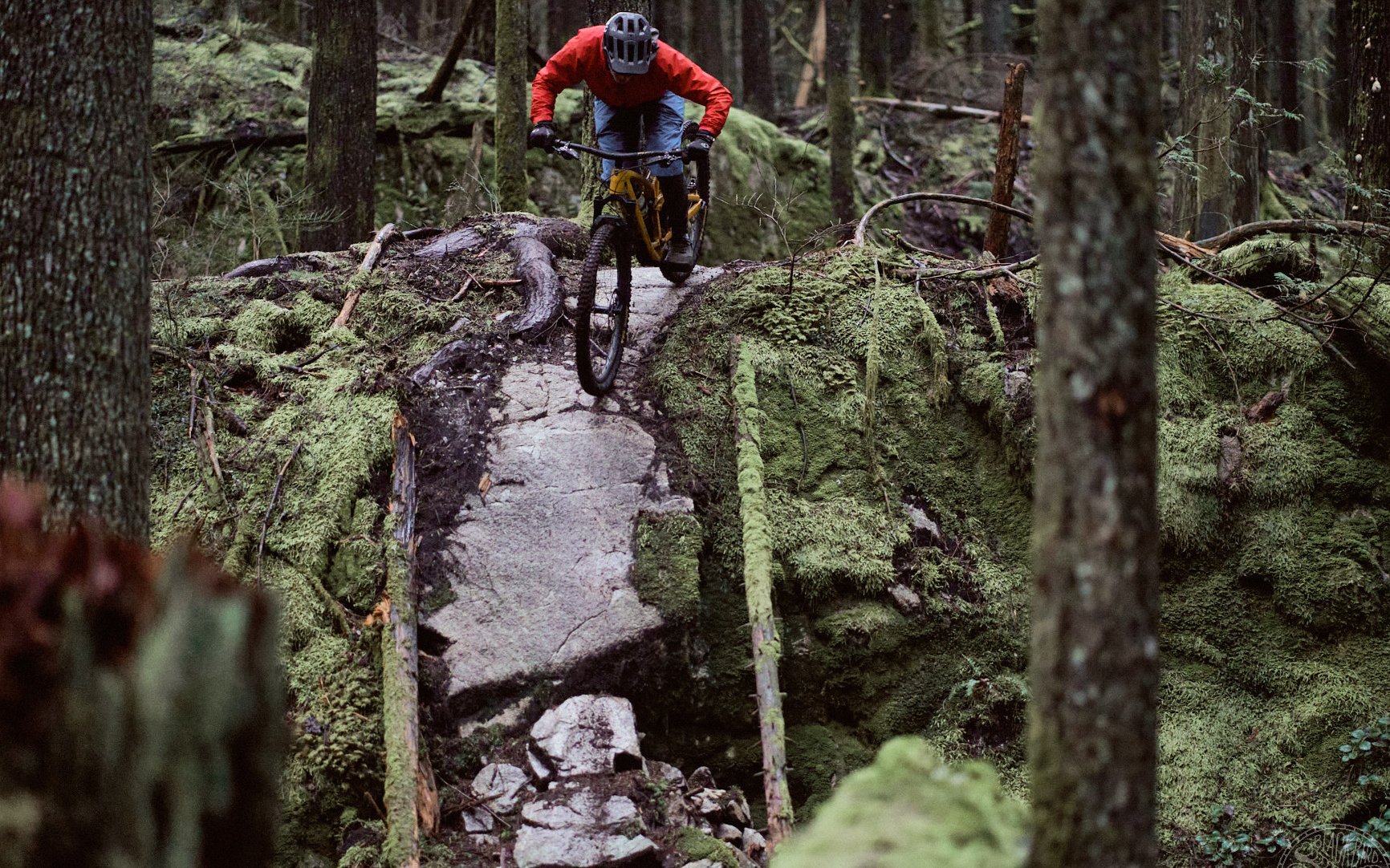 Long Term Review
2023 Trek Fuel EXe 9.9 XX1 AXS (with corrections/additions)
Unlike some folks, I like surprises. Moments of shock and wonder are harder won in the age of the internet. On top of our over-exposure to images and videos that make us gasp, we are often told by marketers that EVERYTHING is amazing, which is a foolproof recipe for disappointment. The Fuel EXe has bucked that trend and continued to surprise me, but not just the electricified elements of the bike. When I'm riding it downhill, there is nothing about the feeling that suggests I'm on an eMTB. It feels like a regular bike. Actually that's not true. It feels like an extremely well-sorted, fast and capable regular bike.
If you missed my launch article, I got into a lot of the details about the bike there, and in particular the remarkable TQ motor that runs smoothly most of the time,* provides power as naturally as any eMTB I've ridden, and is as quiet as a ninja in a library.
*more on that below
I did a ride the other day with a bunch of buddies and the majority were on bikes with 170 mm of travel front and rear or more. Somebody commented on me being on a bike with 160/150 mms of travel, which is what I'd thought much earlier, before I had any info about the bike. In fact it is 150/140 but I double-checked that to be sure when I got home - because at times that doesn't seem possible. We rode some very rowdy trails and I was totally happy on the Fuel EXe, including on one of the fastest trails we ride regularly.* It's peppered with bumps and repeated hits and it's a trail I often struggle with on any bike, unless my suspension, and my fork in particular, has the damping set up perfectly. Yesterday I managed to stay with a hard-riding buddy on a Specialized Enduro for the whole trail - and the Exe felt great.
*Most North Shore trails aren't fast at all, so my suspension is rarely set up for speed, and particularly high velocity trails with frequent and repeated high intensity impacts.
CH- CH- CH- Changes
I have made two significant swaps on the bike and one of them has made a huge difference to the DH performance. The fine folks at Obsession:Bikes swapped out the Bontrager SE5 tires for some Continental Kryptotal tires and added Cushcore at the same time.* The results were immediate and spectacular. I had more cornering confidence, better braking control in low grip situations and I was carrying more speed and even a little bravado. The SE5s just didn't cut it in the wet I'm afraid but the Kryptotals have been excellent in every situation thus far, and Cushcore takes them to the next level. Unless you live in Arizona, or somewhere similarly dry and loose, I'd be swapping out the tires on day one. If you saw my first impressions review, you may recall that one factor in the crash that led to some frame damage (more on that below) was slippery rubber (the other factor was the rider).
*The mechanics went to war with this set up because of the narrow channels in the plastic Bontrager TLR rim strips. In fact they ripped them out and used tape because it's such a challenging combo. My recommendation would be to do the same so you aren't stuck doing an impossible flat repair a long way from home.
All Those Batteries
For the second time since I've had the Fuel (about 10 months) I've had to swap the batteries in SRAM's wiz components; Tyrewiz, which monitors your tire pressure, both with a flashing indicator light and a bluetooth connection to your phone, and Airwiz, which does the same for your front and rear suspension pressures. And while I have ridden the bike a lot, it has been sporadic, with other test bikes and products taking up my time as well. And TBF, I replaced the original batteries with cheapos off Amazon (in my defence, they had lots of stars). Swapping them isn't that much of a big deal (see below for details), but it isn't nothing either and my to do list is already pretty strained.
What is NBD to some, might be for others, so I should dig in a little. The battery cover for Airwiz on the Rock Shox Super Deluxe Ultimate rear shock requires a tiny Torx T6 tool. I happened to have a T6 bit in a new kit I purchased to work on my car, and it also fit in a Topeak mini ratchet I use regularly. With a larger tool, which means virtually any other tool, I would have had to remove the top shock mounts to access the rear-most bolt on the cover. On the fork side, there are three tiny Phillips bolts (or possibly JIS?) you need to remove to access the battery. Be careful about choosing the right tool here, because sometimes a larger tool seats better for a smaller fitting because of the angle, depth, and taper of the slots, as was the case for me. I had no trouble here but I was sure to be very careful.
The batteries for TyreWiz are an easy tool-free swap in theory, but one has been a little finicky as well. On my recent battery swap, the carrier for the dead battery on the rear unit fell out with the battery when removed. I struggled to get it to fit in perfectly afterwards and wasn't able to get it to power up until I came back to it with more time the following day.
The upside of these monitors is, in theory at least, when you are ready to jump on your bike, at a glance you can confirm the lights are blinking green to know your tire and suspension pressures are within range, or check your phone to get the actual PSI reading. I usually check all of my pressures before every ride so this can be a real time saver. Once I had changed the batteries however, I had to re-pair the components which was as trouble free and simple as bluetooth components normally are(!)
I haven't yet had to swap the CR2032 coin cell battery in any AXS controller, and some of my components have been in service for more than two years. Since I've swapped to SRAM Transmission on the Fuel Exe, the current batteries have only been in there for three trouble-free months.
CORRECTIONS HERE
The one area this bike doesn't have a battery is a little unusual; the AXS rear derailleur (since swapped to AXS Transmission I am currently testing). Instead, the battery is hard-wired to the main battery. Strangely, I haven't noticed this mentioned in any marketing material, or even on the website. I haven't completely emptied the battery on a ride but I have jumped on and attempted to shift with the power off. The unresponsive derailleur made me think I'd forgotten to check my AXS battery and I felt a thud in my gut thinking my ride was ruined.
NOTE: I have since been informed that the battery is programmed to keep enough power in reserve for 300 shifts. I have yet to verify this and try it myself but I plan to do so.
Fortunately, for this model at least, there is a temporary solution to the problem of powerlessness, assuming one of your other power sources still has some charge. You can pull the battery out of the AXS post and put it on your derailleur temporarily, if you have some way of securing the dangling AXS wired interface to your bike so it doesn't destroy itself or the paint on your bike (a zip tie seems to work passably). This is a pretty big miss to me because this is a bike that pedals quite well without any added watts. I've climbed some decent hills on the bike in meat-mode and lived to tell the tale, even with heavy tires and Cushcore.
NOTE: I also initially thought the batter was required to use the bike, but it turns out there is a piece that I wasn't provided that allows you to do this. You'll have to sort out your rear derailleur for this model, because it definitely won't work with no battery installed but losing a nice chunk of weight could make this a great regular bike to pedal as normal.
The Ride
As I've already mentioned, this is a bike that handles burly terrain better than its travel numbers would suggest. One thing I attribute that to is the balanced and planted suspension feel. I regularly get to the top of moves that should be scary on a bike with 150 and 140mm of travel, and discover they are NBD. These same qualities give the bike cornering composure and maneuverability, at any speed. The place where I generally expect bikes with slightly less travel (than my usual entitlement) to struggle, is at speed where things get chunky. The Fuel EXe bucks that trend and manages rather well in beefy situations, despite the relatively compact 440mm chainstays for all sizes. There is no subsitute for suspension travel but the EXe squeezes more performance than most out of the millimetres its been allotted.
CAN BE MULLETTED!
Like most Trek full suss bikes, the Fuel EXe has a mino link to swap between low and high positions. If you'd like to turn the back into a party, just swap the link to the high position so your BB isn't too low and your head angle isn't too slack (assuming that's even possible!) and apparently you'll be golden. I already found this bike to turn in well and to be nicely maneuverable so I had no desire to make this swap but if it was a little closer to the edge of my reach range it would have been a nice option.
Componentry and Extras
I really like the Integrated BITS tool which has most of the fittings you need to adjust or tighten most of the fittings on your bike, as well as a chain tool. It deploys quickly from the head tube of your bike but stays in place quietly and securely. I was happy with the Bontrager XR Trail Elite, nylon lock-on grips, the Line Pro 30 wheels, and extremely pleased with the RockShox Lyrik Ultimate up front and the Super Deluxe Ultimate RC2 with the Charger 3 damper.
The Motor
I was very impressed with the TQ motor initially, and those warm feelings have mostly become fuzzier after more use. With one exception, the motor has continued in hushed tones and is generally undetectable, both to me, others in the group, or random trail users. For better or worse, most people don't notice I'm on an eMTB on the EXe, and I don't mind keeping up that charade unless I'm asked straight out, or if I pass someone on a climb, when I'll say, "sorry! I'm cheating." Sadly, I don't think it makes either of us feel any better.
The natural power application, which rewards more effort by progressively multiplying your force deep into the power stroke, rather than peaking early like some others, seems to feel even better over time.
One thing I've begun to notice is a bit of lag that is more noticeable than other eMTBs I've ridden. It's not a big deal, but occasionally it's somewhat awkward when the power arrives later than I expect.
Another small issue I've had is a subtle and infrequent shudder under power accompanied by a low rumble that seems to come in slow waves. It's not loud or obtrusive but it feels like something isn't quite right. On my last ride I noticed it on a steep road climb after about five minutes of riding, for a minute or so, and then never again for the duration of the ride. Some rides I don't notice it at all. One thing I heard was that this is a known issue that TQ is going to address with a firmware update. I wondered if there was some service required but none of the documentation I found from Trek or TQ suggests any user serviceability of the motor.
Overall, this engineering marvel has continued to be quiet, smooth, powerful, natural-feeling and reliable. The 50nm of torque is more than enough to get you to the top of the hill in much less time than usual, but not enough to keep up with a full-powered eMTB with 85-108nm, for better or worse depending on your perspective.
I'm hopeful more eMTB motors move to some sort of concentric design in the future - including full power bikes - eliminating the whine most other motors currently produce. Apparently TQ has had something like this for years, pulsing at 120 nm of torque, but it's clearly less refined than the TQ-HPR50 and likely is waiting for an update.
Downsides
Before I dig into this, I want to emphasize that this has been the most trouble-free eMTB I've spent a decent amount of time on. The battery and motor have been flawless in operation (with one small exception I'm about to get to in more detail) and most of the componentry has been similarly cooperative.
I have a couple of component gripes though. I found the saddle to be an absolute ass hatchet. It's a Bontrager Arvada, with austenite (stainless) rails, and 138mm width. That narrow width kept it out of the way while descending but on the way up, my bum wasn't happy. I swapped it out for a WTB Devo w/pickup which is a saddle with a built in handle, designed for eMTBs, and it's a joy to sit upon.
If, like me, you appreciate the longevity, smooth rotation, and reliability of a good headset, you might need to upgrade this already-pricy bike. The headset that comes installed has no visible markers identifying the model or make and the website is similarly mum. I don't recall ever seeing a bike spec. listing that omits the headset entirely but that is the case here. TBF, I haven't had any problems with the headset, but I'm skeptical of anything a company won't put its name on. Trek's house-brand Bontrager wheels, handlebars, grips, saddle, and tires are generally solid and they make for some profitable vertical integration, where most companies have to pay other brands to build those pieces for them. At the very least, this bike should come with a high quality Bontrager-branded headset that the company would like to brag about, rather than saving a few bucks. I'd prefer a Chris King personally, since I haven't encountered anything better, particularly for a bike at this price.
SRAM makes a 200mm dropper post (edit: but not an AXS version) but Trek put a 170 on this bike - on both size large and XL - and it's simply not enough for most taller riders. I prefer 210-220 at this point but 200 would do in a pinch.
I have yet to determine if the aforementioned periodic motor vibration and increased volume is something mechanically wrong or something electronic. At this point there isn't any recommended motor maintenance that either TQ or Trek are willing to trust to consumers - at least according to the documentation I have found and the questions I have asked. The answer I got about this from a Trek engineer, through Travis Ott in marketing, was; "Since you have one of the very first bikes, there's a likelihood of outdated software or a mismatch between battery and motor* causing this. Usually the shudder is coming from the electric motor itself, nothing mechanical. I would recommend a software update, for sure." I haven't yet done a software update, which I assume would be a job for a Trek dealer.
*a software mismatch that is
This wasn't a downside for me but some riders won't appreciate the one-piece bar and stem if the back sweep (7º) and up sweep (6º) aren't perfectly to their liking because there is no way to adjust those. I really liked it and I found the 45mm stem length was Goldilocks for me as well. You can also use the integrated Blendr eyelet to attach either a single or double GoPro-compatible bracket to carry a light, computer, or POV cam, or any two of the three .
Range
I've done some long rides on the Fuel EXe, often keeping the bike mostly in ECO and covering a lot of ground over several hours. Unfortunately I'm not one who generally records my rides, but I did learn that in the lowest setting I had enough juice to go for three or four hours of riding, with a lot of climbing, and I came home with battery to spare. I realized this wasn't good enough information for many people and I recorded a ride up to the top of Mount Fromme from my place near 29th and Lonsdale, and back. Riding this bike with the boost off (but power on so you can shift) is no problem, but I kept the bike in High (tuned to the highest power as well) for the entire ride, up and down, the goal being to use as much battery as possible.
I got home with 21% battery left after covering just shy of 13 km,* having climbed fairly steep singletrack until the 6th switchback and then I continued up the fireroad, working hard in my fashion so the motor was doing it's best as well. As you can see from my ride screenshot above, the computer figured I had 19 km left in Eco, 15 in Mid, and 9 in High. Clearly I didn't have 9 km left climbing in high, at least not on steep singletrack, but I certainly could have completed another decent loop before my coast home. For the riding I have done on this bike, and considering I haven't yet ridden with anyone on a similar bike, the range has been great for me. I know that if I want power for a nice long ride I'll need to manage my boost levels, and I also realize that in a pinch I can just pedal home with the boost off and the power on, so I can use the rear derailleur. If this wasn't enough for me I could purchase the optional 160 wh Range Extenderthat fits in your water bottle cage - for 790 CAD/ 660 USD which weighs 950g.
*North Shore kilometres are like dog years
I did a similar ride yesterday on the Norco Sight VLT, with significantly more off-road climbing and with the 900 wh battery installed, and used only one bar of five.
Who To Ride With
I asked this question in my first impressions article and my answer hasn't changed. This bike seems to be applicable to four categories of rider; those who ride alone and want an eMTB that feels as close as possible to a raw MTB, riders who have enough money to buy any bike that turns their fancy, mountain bikers with friends who also have Fuel EXes or similar smaller-battery, lower-powered eMTBs, or the group of riders who, for whatever reason, want to keep riding with a group of friends who don't ride eMTBs but who are no longer fast and fit enough to keep up to without a power boost.
I have used this bike riding with former elite XC racers, shuttling, and riding solo and it's been well suited to each of those applications. Riding with others on large-battery, full-power eMTBs is a recipe for being left in the dust, particularly on longer rides without the optional supplemental battery.
Apps
There are two apps you can use on either Google or Apple phones with the Fuel EXe; the Trek Central app and the SRAM AXS app. Trek Central will pair with Tyrewiz and Airwiz, but not with other AXS components, while the AXS app will connect with all of them.
In theory this is useful stuff. Once you wake these apps you can monitor your pressures and in the AXS app you can choose what the buttons on the AXS controllers do. You can, for example, have upshifting on the right side and down shifting on the left, using the top buttons, and seatpost actuation on both sides using the lower buttons. There's also the option to allow a long hold on the controller to shift through two, three, or all the cogs at once, unless you are on an eMTB; the app makes it clear that activating the "shift all" mode will void your warranty if you ride an eMTB.
As with most Bluetooth devices I use, these seem to be haunted. An example is that all of the Wiz components, Tyre and Air, hooked up perfectly to the Trek Central app, while I couldn't get the rear TyreWiz to register with the AXS app at all today (or the next day). It also thought the Tyrewizzers were on another bike I had previously entered into the app, despite it not having any pressure monitors.
Meanwhile, the Trek Central app wouldn't save my target pressure after multiple tries and a restart. It would allow me to save, confirm I had saved, and then stick a tongue out and tell me to bugger off when I went to check if it had worked. Again, restarting the app and the phone failed to produce better results. The app also couldn't recognized the Fuel EXe as a real bike, just like Pinocchio. Perhaps the tester we received was pre-production and was left out of the appropriate database, or maybe told too many lies.
That Pricetag
You don't have to be good at math(s) to realize you could purchase more than ten 1650 CAD Trek Roscoe's for the price of one Fuel EXx 9.9 XX1 AXS. In fact it's slightly more than eleven of them. For that you get a lot of expensive bits that push the price of this bike to the stratospheric price of 18,300 CAD/14,000 USD. One example is Tyrewiz. At retail these devices sell for 214 USD per wheel. Airwiz is even more exclusive. Since it was co-developed by Trek and RockShox, and because it's integrated into the fork or shock, you can't currently purchase it unless it comes on a bike you are buying from Trek. That likely adds substantially more to the MSRP than Tyrewiz.
Beyond pressure monitoring, there are some pricy bits included on this bike. The carbon Bontrager RSL Integrated handlebar/stem is 5 bucks shy of 5 hundo Canuck bucks retail or 367 USD. Add the Bontrager Line 30 wheels, the SRAM AXS drivetrain and AXS seatpost and you've got the makings of a comments-under-article gong show.
The sort-of good news is that you don't need to go nearly that deep to get the essence of this bike, which revolves around the TQ motor, the solid geometry, and the excellent suspension performance. The 'base' model at 8400 CAD/ 6500 USDwill save you 9900 CAD or 8400 USD. I haven't ridden the RockShox Gold fork or a recent Deluxe Select+ rear damper, but my suspicion is that they are entirely serviceable in this application.
Final Thoughts
Some of the tech surrounding this bike, mostly the peripherals rather than the motor, battery and internal electronics and switches, remind me a little of my 17-year-old BMW. There are some great ideas and some that seem more like flexes, but, because these are technologies in their infancy, they don't always work as advertised. The apps, the wired derailleur, and the bluetooth connections for the pressure monitors each have some flaws, but none of them are as difficult to sort out or as catastrophic as those in the Bimmer.
Thankfully, the heart of this bike, the motor and battery and associated displays, controls, and connections, have been close to flawless. The bike itself, in terms of geometry, kinematics, and suspension performance also gets very high marks, with a platform that punches above its weight when things get rough thus remaining nimble and precise, while riding more like an un-boosted bike than an eMTB.
There is a lot to love about the motor as well, with its hushed operation, ample power for a light eMTB, and its natural feel. When you add excellent pedalling performance with the boost turned to zero, you have a winning platform. In many ways this feels like a preview of the future of eMTBs as weight comes down.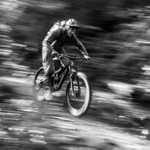 Cam McRae
Height - 6'/183cm (mostly legs)
Weight - 170lbs/77kg
Inseam - 34"/86cm
Ape Index - 0.986
Age - 57
Trail I've been stoked on lately - Boogieman
Bar Width - 760mm
Preferred Reach - 485-500mm (longer with 27.5 wheels than 29)