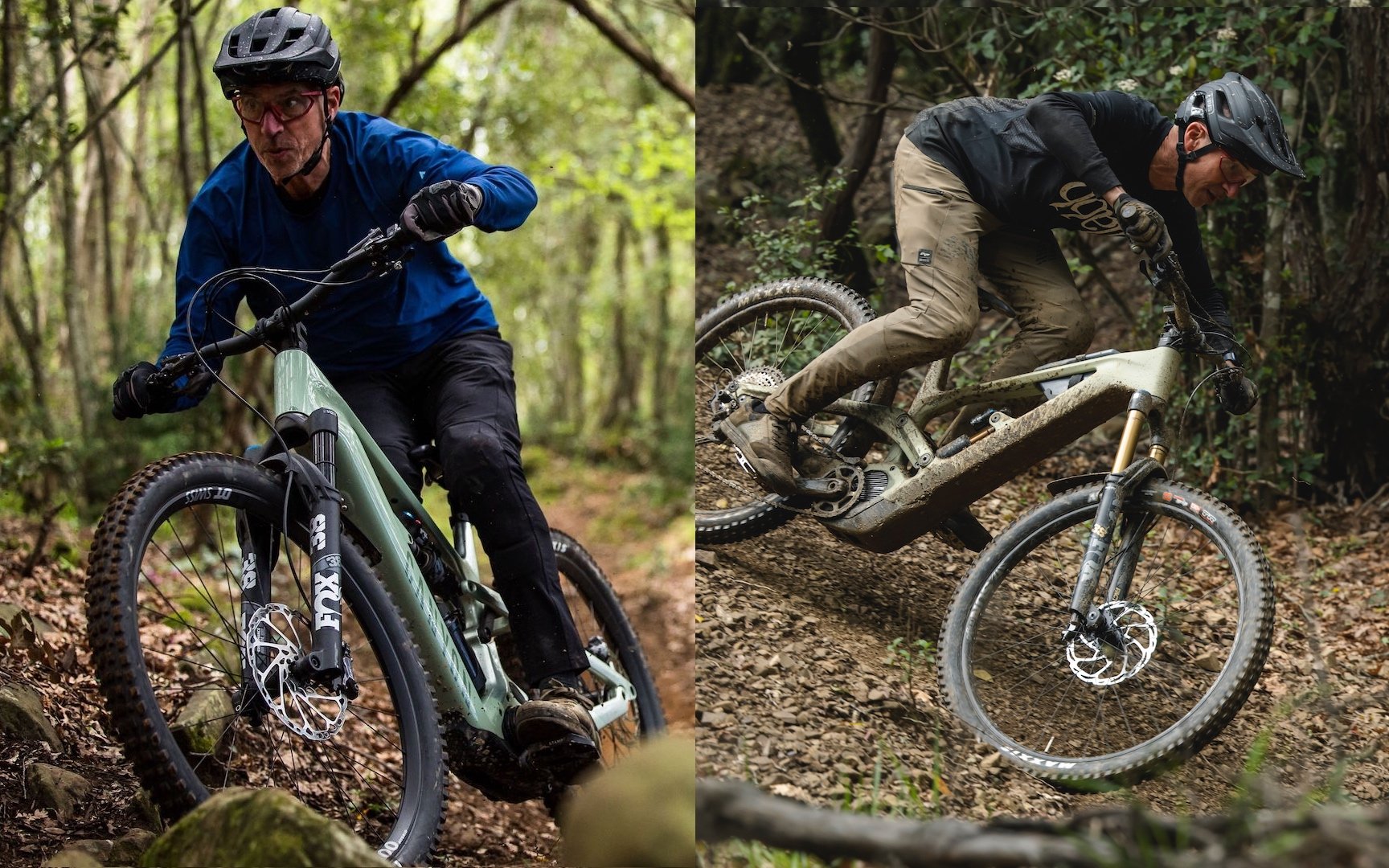 eMTB First Rides
The 2024 Canyon Strive:ON + Torque:ON eMTB
The Strive is Canyon's no-compromise enduro race platform,* but until today, you couldn't buy an eMTB version. The electrified interpretation of enduro racing was launched as an EWS series in 2020 (although there were races before this), and now that the UCI is involved, they call it EDR-E and the series seems to be gaining steam, particularly in Europe. Canyon saw a hole in their eMTB line between the 150 mm travel Spectral:ON and the 180/175 mm Torque:ON and wanted to fill that gap with a thoroughbred competition machine.
*Jesse Melamed however seems to prefer racing the Spectral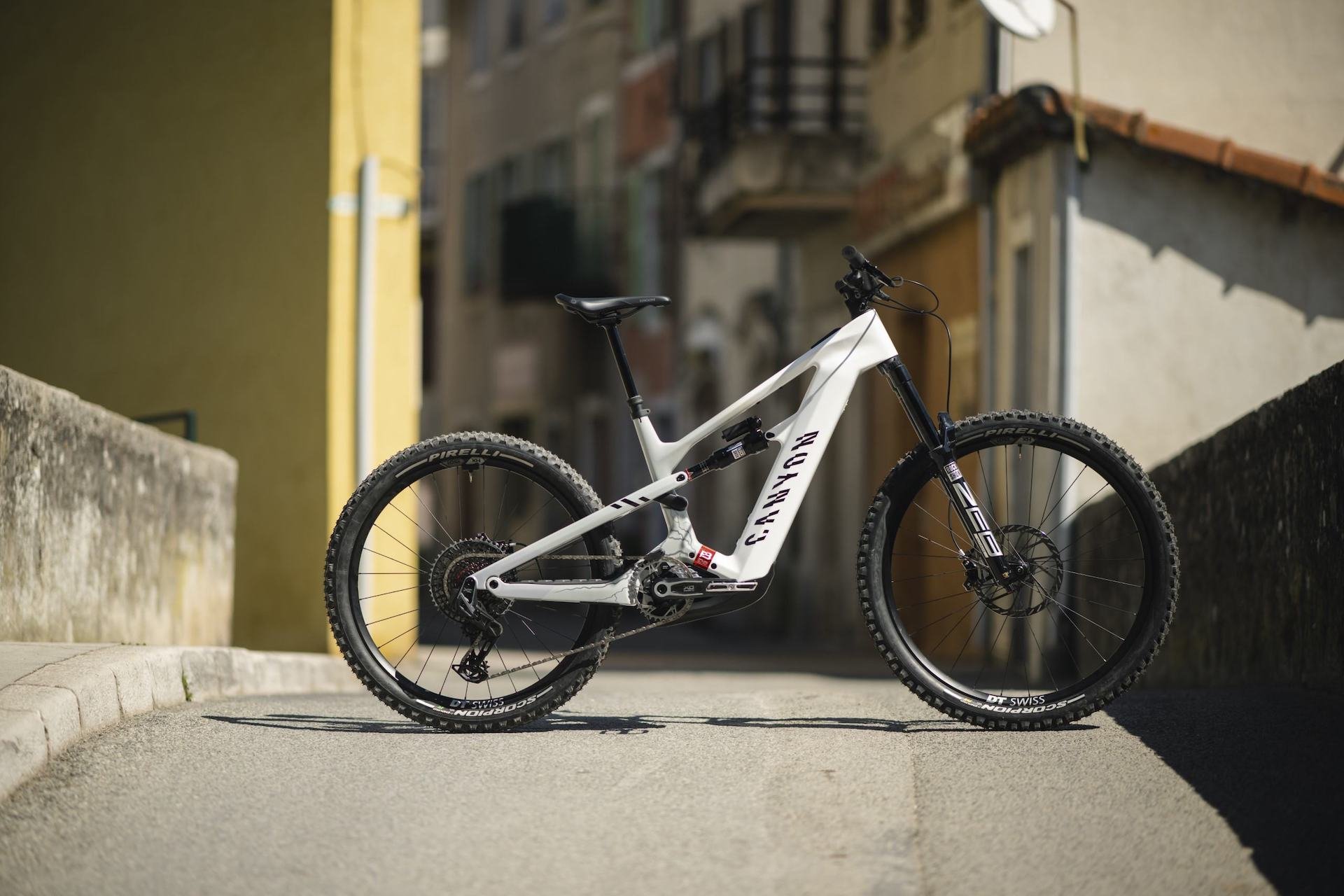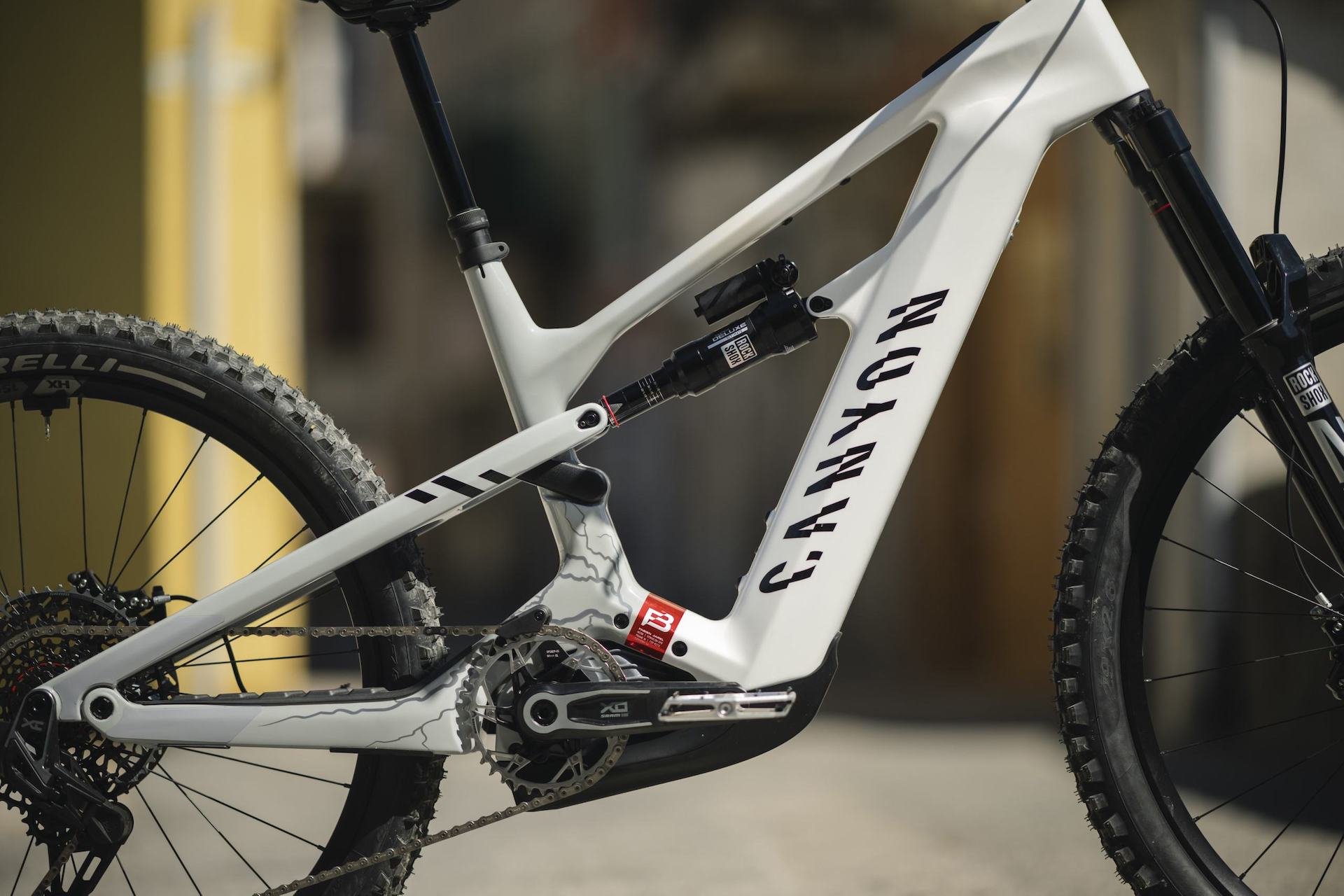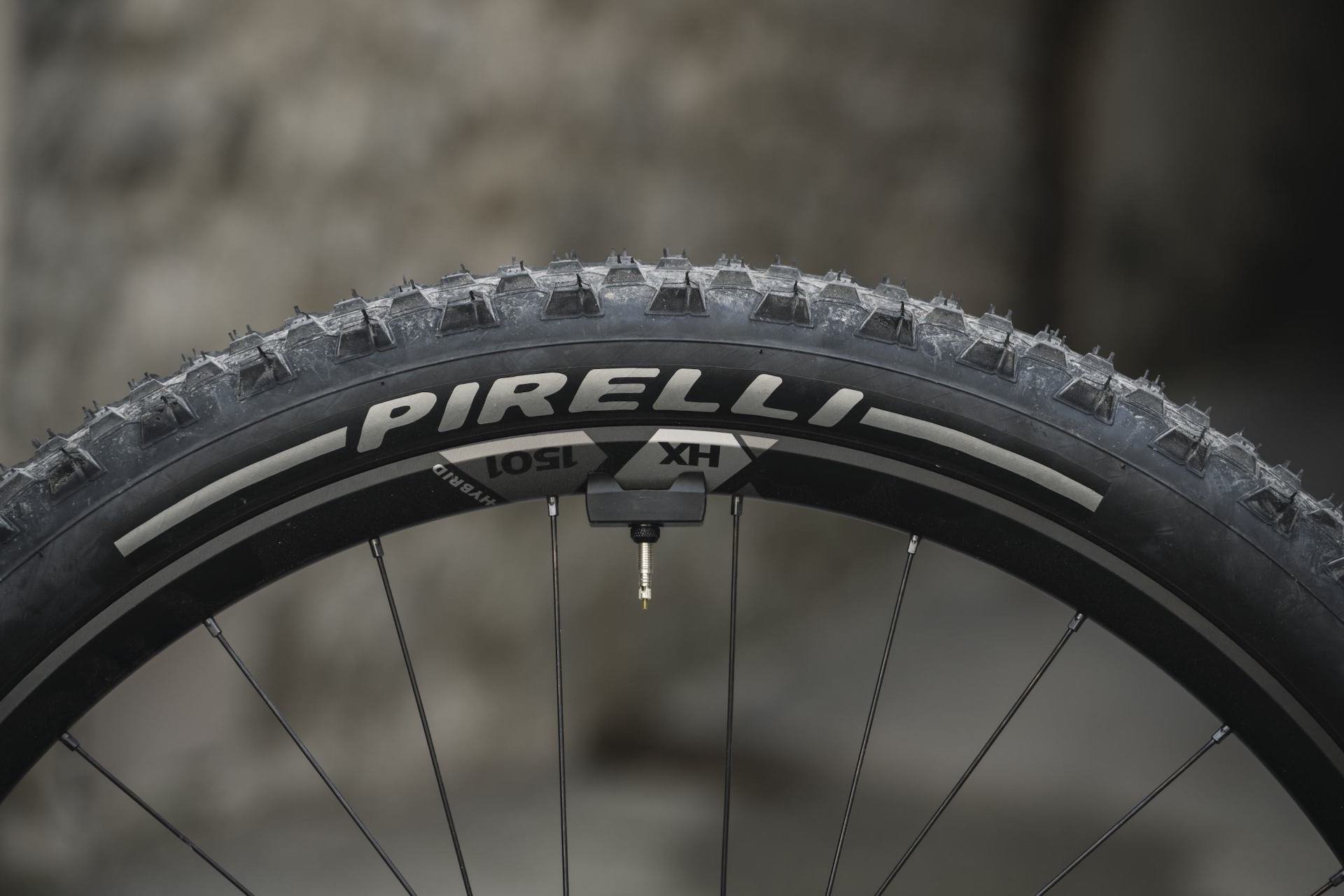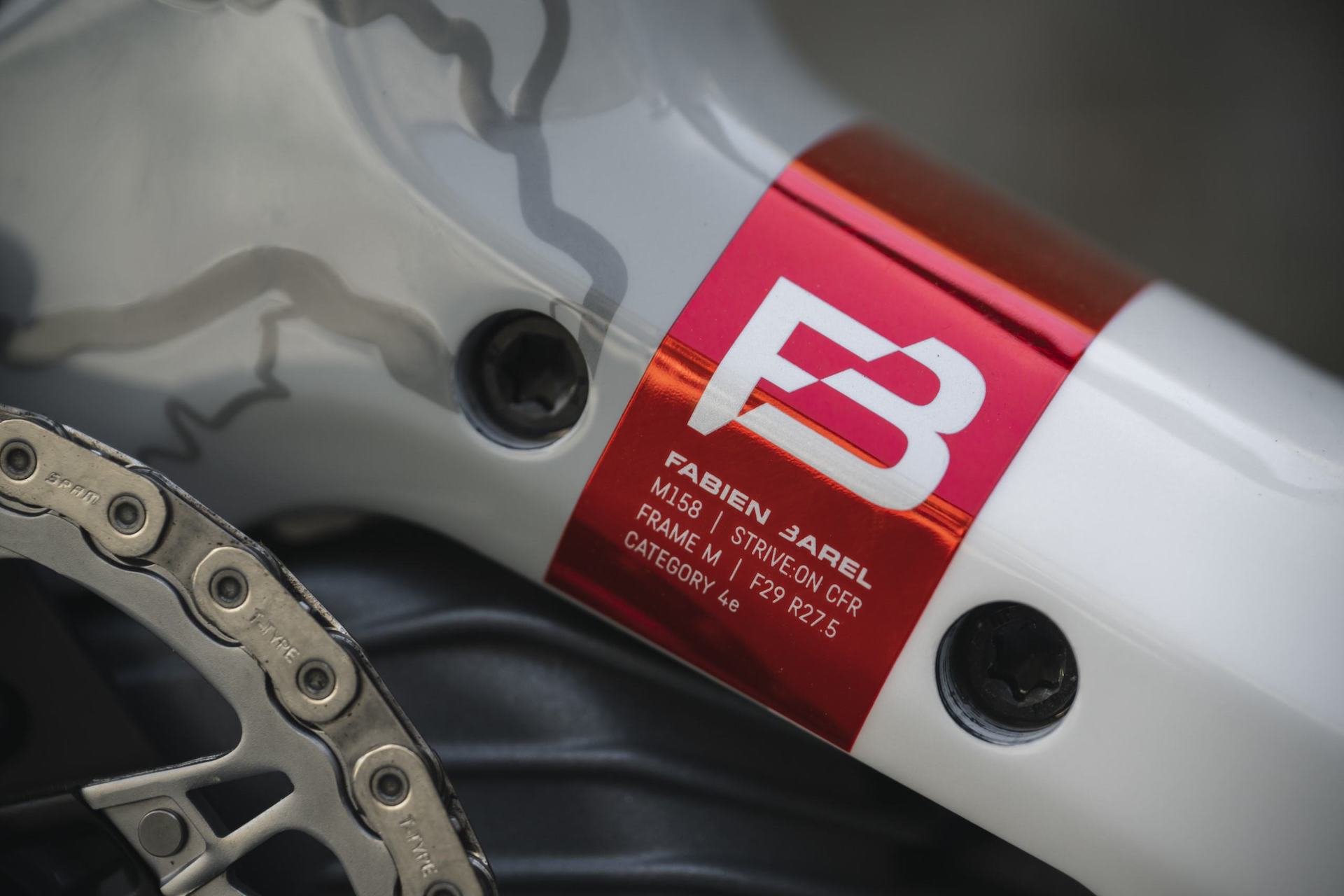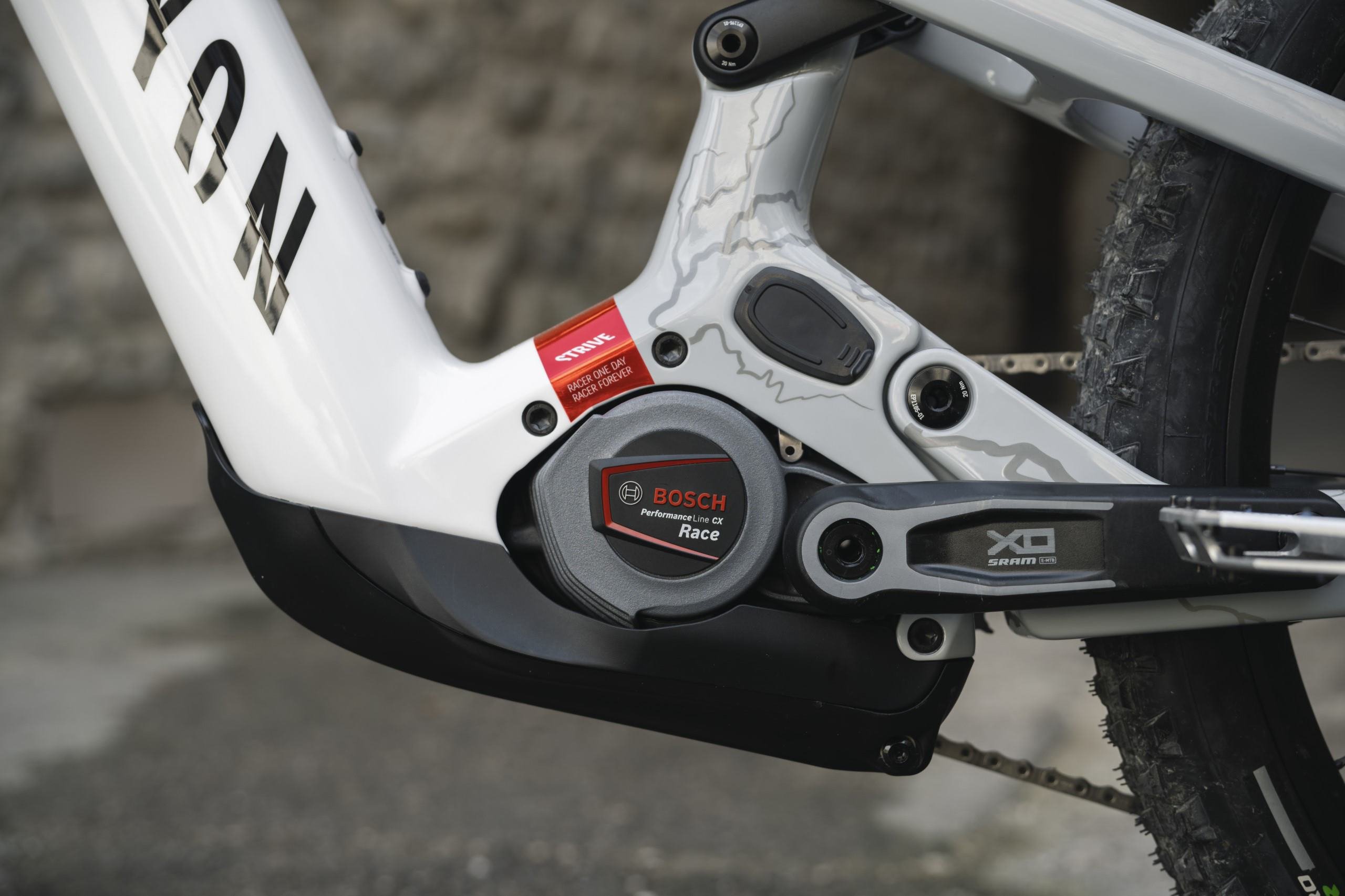 The Canyon Strive:ON features a 170 mm fork and 160 mm of rear travel; numbers that are relatively common in racing paddocks. The sleek lines and svelte (for an eMTB) silhouette make its competitive intentions clear.
For the Strive:ON, we rode trails near Punta Ala, site of the first ever EWS race in 2013. The first champion was Fabien Barel and (lucky bastards that we were) he was our guide for the day. The terrain was quite varied with fast singletrack punctuated by unexpected rocky features, and some steep lines that had eroded into uneven slabs of stone and compacted earth with lots of tricky technical moments. Some trails went straight down while others used the vertical more efficiently by following the contour meaning there was a lot of terrain to enjoy. In all we did 52 kms of riding and heaps of vertical, stopping for lunch to swap batteries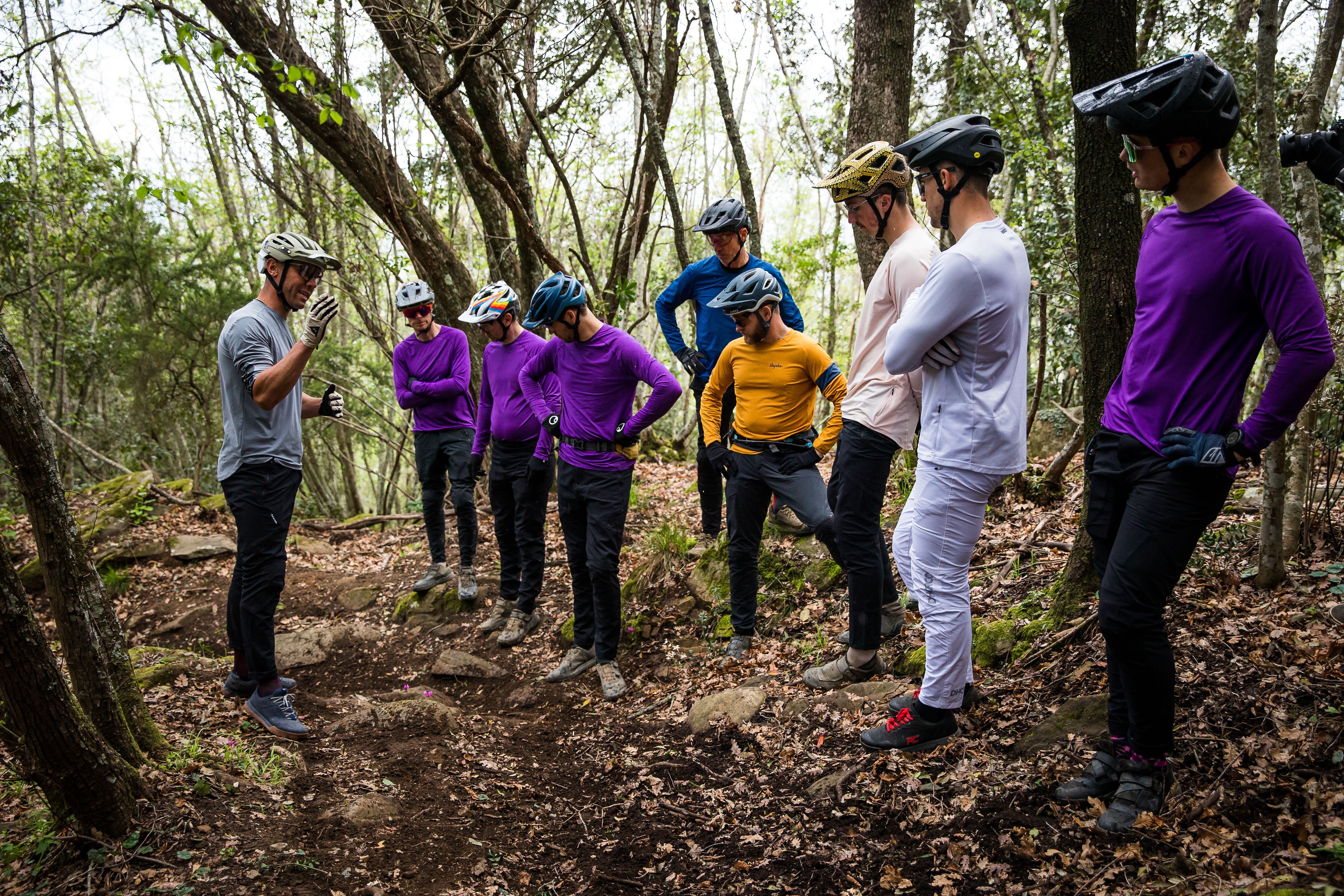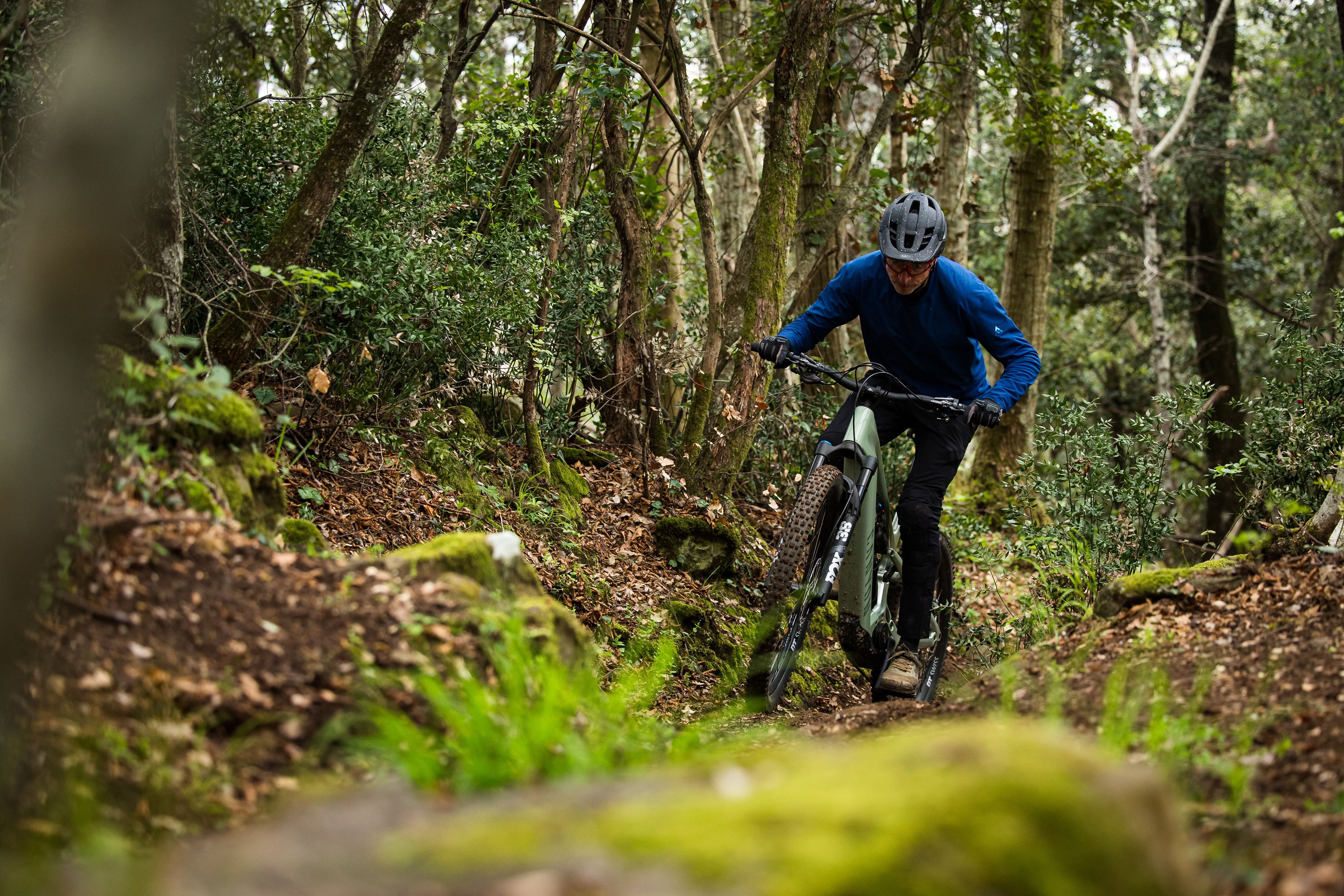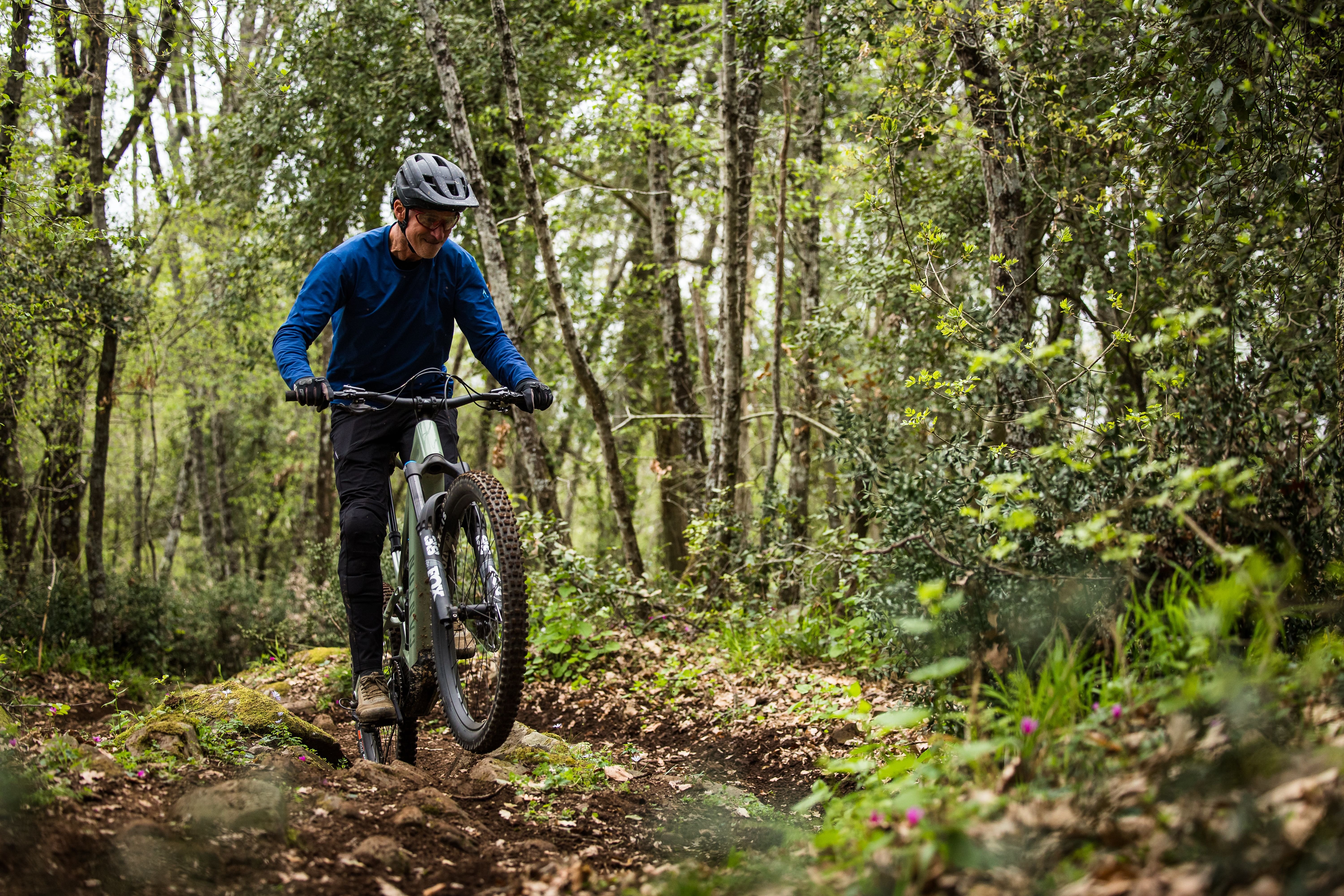 On The Dirt
We were all amazed by the quality and condition of the dirt at Bandite. Was it brown pow, chilled peanut butter, chocolate mousse? Perfectly moist trails in April are apparently a rarity in Punta Ala but it was unseasonably chilly and damp, but on this day we somehow managed to dodge the rain to enjoy Singletrack heaven. And if the rocky areas had been wet, it would have been treacherous indeed.
We rode some straight up nasty terrain on the Strive:ON, blind, often faster than I would have chosen on my own, and the bike saved my ass several times because I quickly became able to predict how it would react. The pace, led by Fabian and some other fast enduro racers, was at the upper limit of my abilities, but the bike kept me from getting dropped.
The handling surprisingly reminded me of my We Are One Arrival 170 - despite the motor and the mullet set up. It was fast, agile, and yet surprisingly stable. I located the centre of the bike relatively quickly and found myself carrying a surprising amount of speed (for me) after only a few descents.
I was impressed and a little confounded to discover that the Strive:ON began to feel light once it got up to speed which made it easy to find a narrow entry or get up and over an obstacle that couldn't be avoided. Even when it got slow and technical I had no trouble making the bike move where I wanted it to, or to survive when I ended up somewhere uncomfortable, which happened often in this terrain.
Canyon Strive:ON at a Glance
170 mm fork and 160 mm rear travel
Mullet in all sizes
Higher BB clearance and 'sled' design skid plate below that area
625 or 750 Wh (for 200 € more) 'Powertube' battery choices
Bosch Performance CX motor on Underdog and CFR models with 600 watts peak power and 85 nm peak torque and 340% max boost
Bosch Performance CX Race Edition motor on CFR LTD - same power and torque but 400% max boost and 150 g less weight
24.0 - 24.5 kg (52.9 - 54.0 lbs)
5800 EUR - 9200 EUR - depending on model and battery size
Mullet
The geometry of the Strive is supposed to be a little less DH focussed than the Torque (although the actual numbers are identical in many cases) which may explain why it didn't feel as much like a mullet - or at least not in any negative way. The rear wheel didn't seem to hang up more than a 29er but it tipped into corners with that satisfying mixed-wheeled eagerness. It also held lines with tenacity, on uneven terrain or even flat corners. And for a race bike, it felt surprisingly lively and fun.
Bosch CX Performance Line Motor
This was the most time I'd spent on the most recent Bosch motor and I was impressed. The torque, responsiveness, and natural power application were all really good. Another feature I appreciated is the overrun. All eMTB motors have this feature, where the motor will continue providing power momentarily after you stop pedalling. The CX pushes a little longer meaning you can ratchet through sections where a full pedal stroke isn't possible. Apparently the CX Race's overrun feature lasts even longer. When cheating is allowed, it's not even cheating.
Some motors provide all of their boost long before you have reached your personal maximum power output but the Bosch manages this nicely, rewarding your increased effort with more watts on a longer curve than many others, encouraging you to keep your own throttle down.
Final Thoughts
Obviously a day doesn't make a review, and this is particularly the case with an eMTB. We didn't have to charge them, deal with any maintenance, swap cables or bleed brakes (with through the headset routing!). Most importantly, there was no opportunity to see how the Strive:ON handles weeks of wear and tear. eMTBs take more of a beating than bikes that have only human engines because they are heavier and carry more speed on flats and uphill. Still, this is a bike I'm pretty optimistic about all in all.
I appreciated the motor and the handling and the kinematics, (although the mid stroke/anti squat was perhaps a little supportive for my less race-inclined tastes), and the spec was very well chosen. My only real gripe would be the through-the-headset routing for the rear brake, derailleur and dropper post, which means you'll be taking apart your headset far more often than you'd like.
Otherwise, she's a beaut!
2024 Strive:ON Prices
With 750 Wh batteries: The Strive:ON Underdog is available at 5,999 EUR, the Strive:ON CFR is 7,199 EUR and the Strive:ON CFR LTD is 9,699 EUR.
With 625 Wh batteries: The Strive:ON Underdog is available at 5,799 EUR, the Strive:ON CFR is 6,999 EUR and the Strive:ON CFR LTD is 9,499 EUR.
Canyon eMTBs aren't yet available in Canada - but they are working on it. US prices to come.
---
2024 Canyon Torque:ON CFR eMTB
Photos - Roo Fowler
You can't blame the Torque:ON. Or anyone really. Except maybe Cannondale... but not really. There is only so much terrain to go around in Massa Marittima and apparently, Cannondale was having a dealer event and had secured access to some trails that would have been more appropriate for this bike. The trails we rode weren't terrible or boring, it's just for the most part they would have been more appropriate for a bike like the Spectral:ON with its 150 mm of travel. There were a few sections where the bike began to come alive but it was often like we'd brought a monster truck to a rally. It wasn't that the bike felt bad, and TBF I believe it was the first time these bikes had been ridden since this was day 1, so the suspension wasn't likely broken in, but it was rare that the Torques felt poppy and alive or even challenged in any way.
I felt like my suspension settings were close to dialed - or at least not terrible - but I wasn't using much of my travel. Again, this isn't a criticism of the bike or Canyon, because it was a tough time of year to find terrain for a bike that would be most at home in a bike park, or at least on big mountains.
The Canyon Torque:ON - On the Trail
Our day riding the Massa Marittima trails was genuinely chilly and made worse by the wet conditions. Our climbs, done at high speed, were often in very shallow creeks running down the middle of the trails, pasting our asses with mud and water. The dirt held up in the wet though and the downhills were fun and well built.
My biggest impression of the bike was how robust it is. It felt like you could ride it through a solid wooden door without slowing down. Canyon's test rating system puts this at a 5E, which means tested to a DH standard but even further on the seat mast, which could see a lot of cycles considering how well these bikes climb. And we did a lot of climbing at high speed on this bike, where it peformed admirably. Self shuttling is a fair bit more fun than sitting in the back of a car or truck with your stinky buddies.
Shimano EP8 Motor
I was right a home on the Shimano EP8 motor and I prefer its numerical interface to the graphic display on the Strive:ON. And in this case I'd have to say that the EP8 rattled less than the Bosch CX Performance motor on the Strive, although I do prefer the more incremental power delivery of the Bosch.
Canyon Torque:ON At a Glance
Mullet in all sizes
Full carbon frame drops weight 1.5 kg from previous aluminum model (4.9 to 3.4 kg)
180 mm front travel and 175 mm rear (compatible with up to 190 up front but not with a dual crown)
2 battery options: 720 Wh and 900 Wh
Custom front and rear fenders available
Custom 650 ml water bottle mounts in split top tube for easy access
Can be used with a coil or an air shock
Shimano EP 8 motor
replaceable thread inserts and double-sealed bearings at all pivots
24 - 24.8 kg (52.9 - 54.7 lbs)
6,000 EUR - 9,400 EUR depending on model and battery size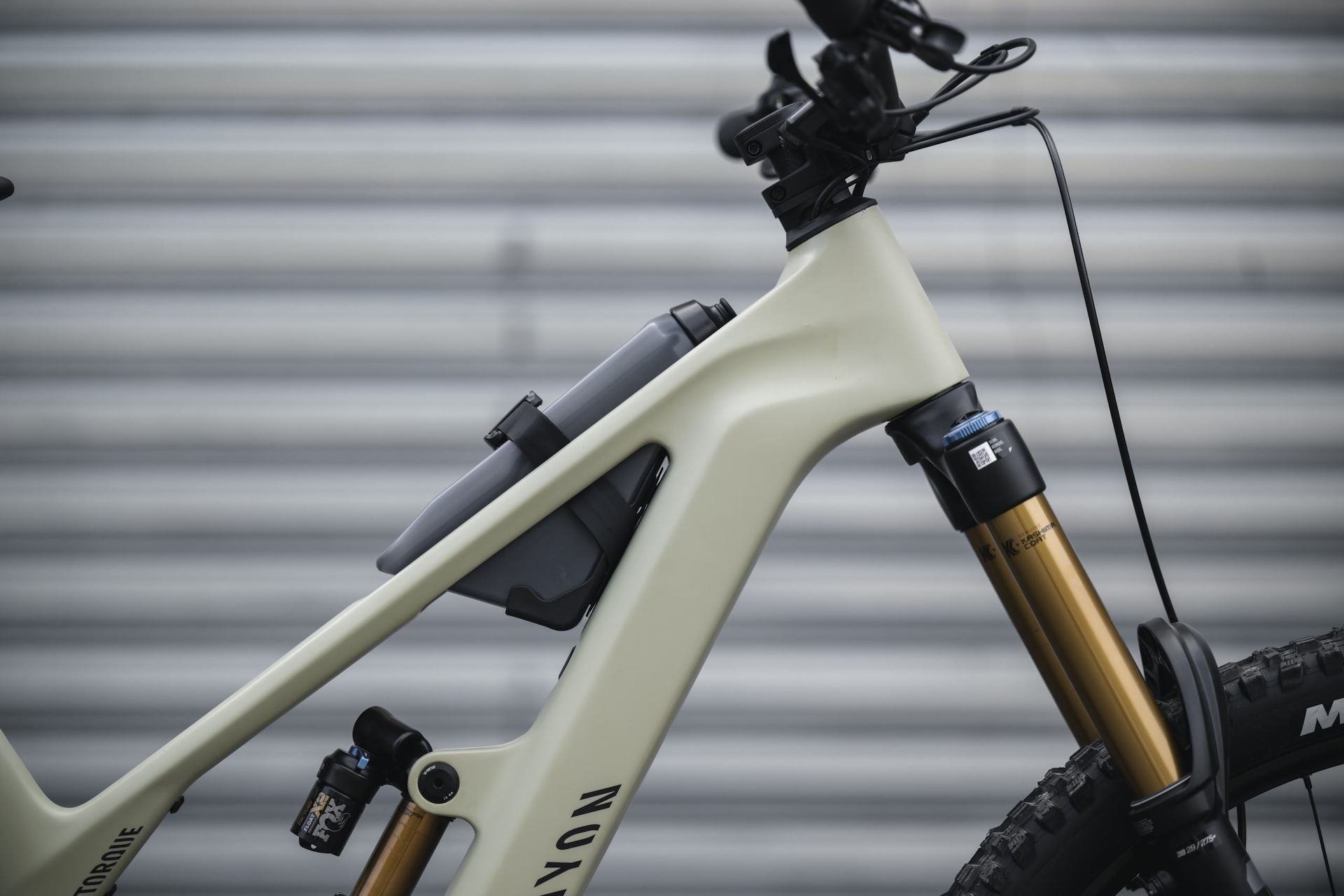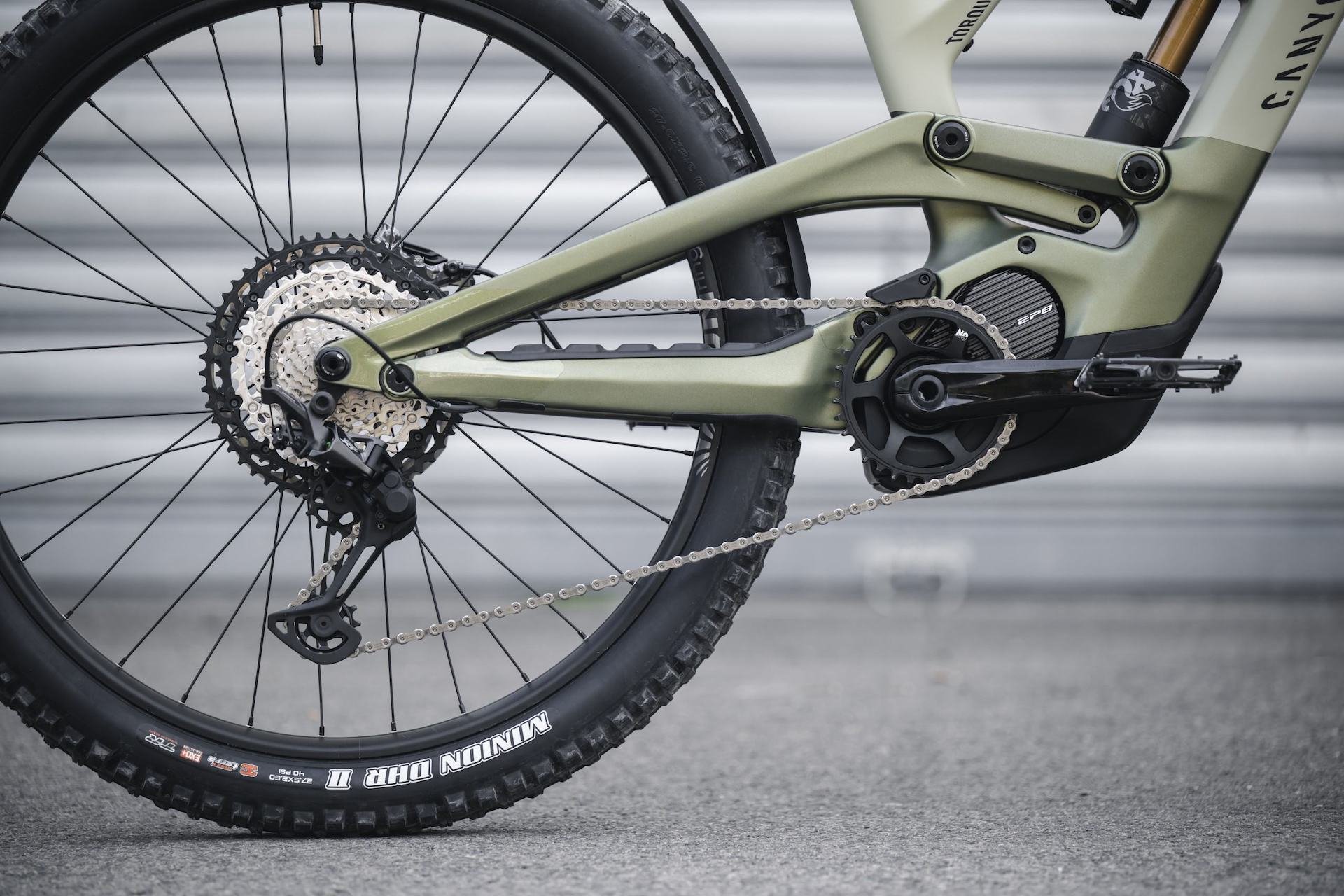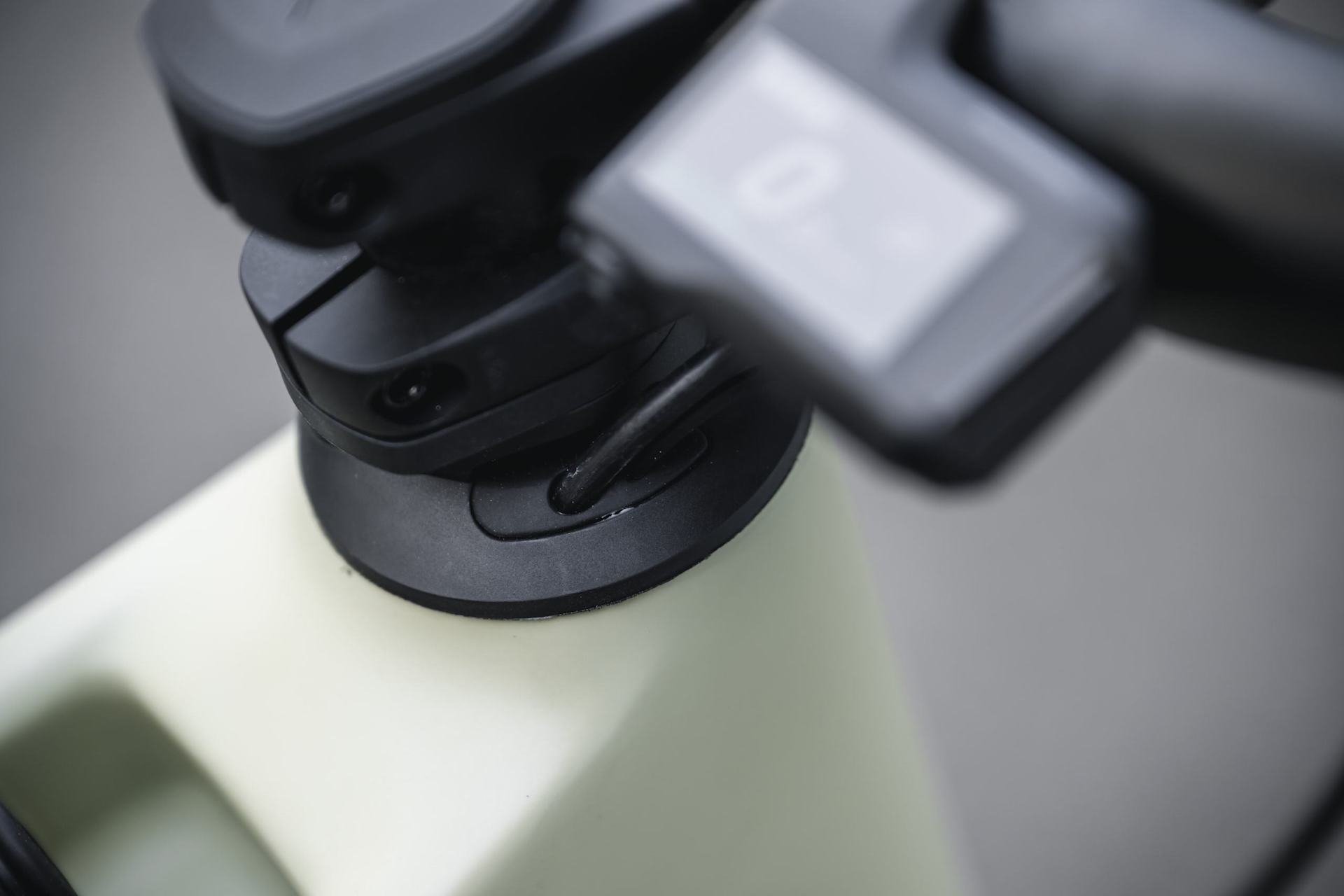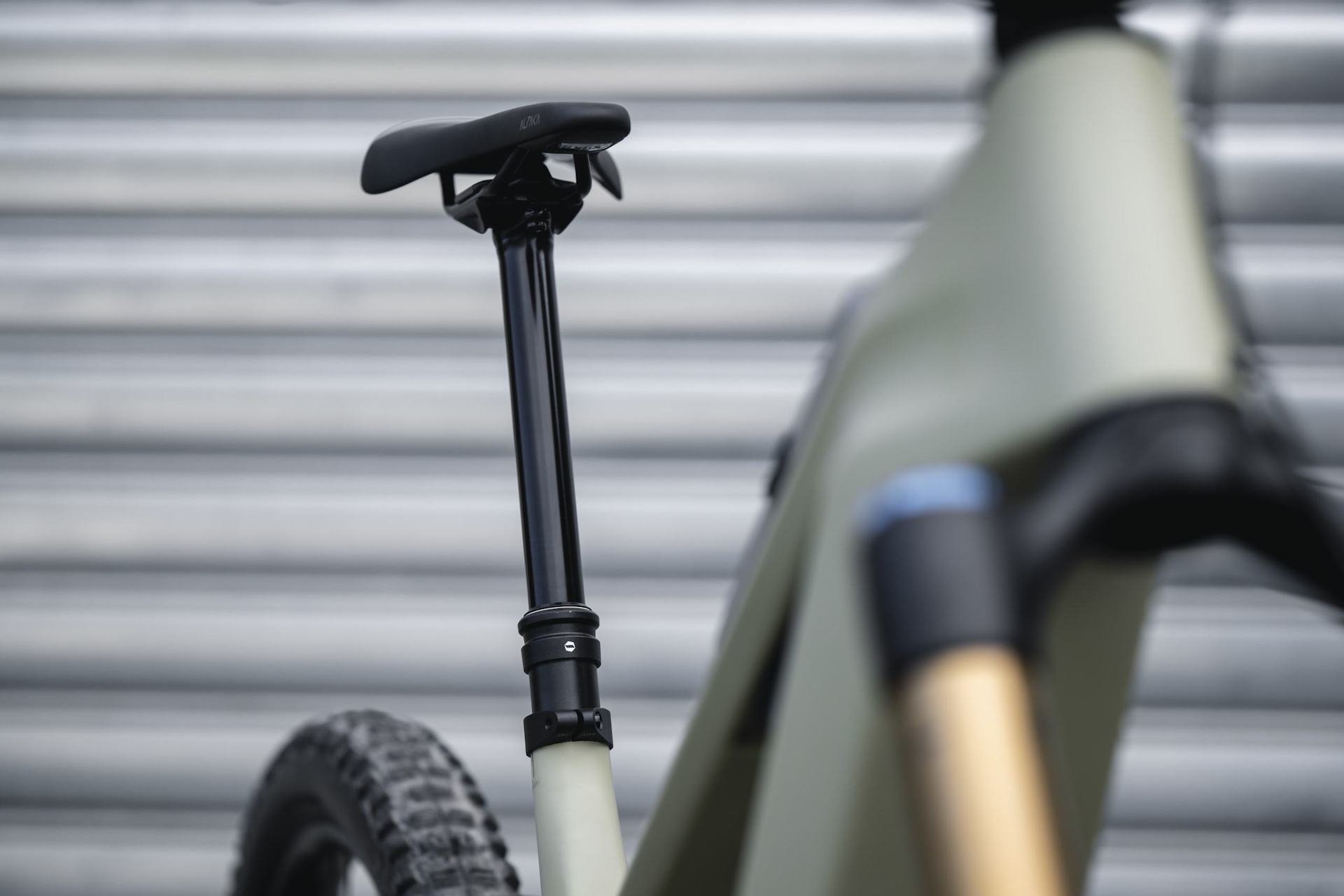 Component Spec
I've come to expect solid components draped from Canyon frames. The Torque:ON CF 8 continues that tradition. The CF 8 we 'editors' were riding rolled on a Fox Factory 38 Grip 2 Fork and a Factory X2 2-position in the rear, Shimano XT brakes and drivetrain, and Sun Ringle DUROC SD 37|42 wheels. Interestingly, the Torque came spec'ed with 203 mm rotors front and rear - Hayes again - rather than the 220 you'd expect up front from a bike with these intentions. Excellent rubber in the form of Maxxis Assegai 2.5 MaxxGrip, EXO+ up front and Minion DHR II 2.6 MaxxTerra, EXO+ in the rear. Many riders would prefer to see a DH spec for tires for this application but I'd prefer to run an EXO+ with inserts.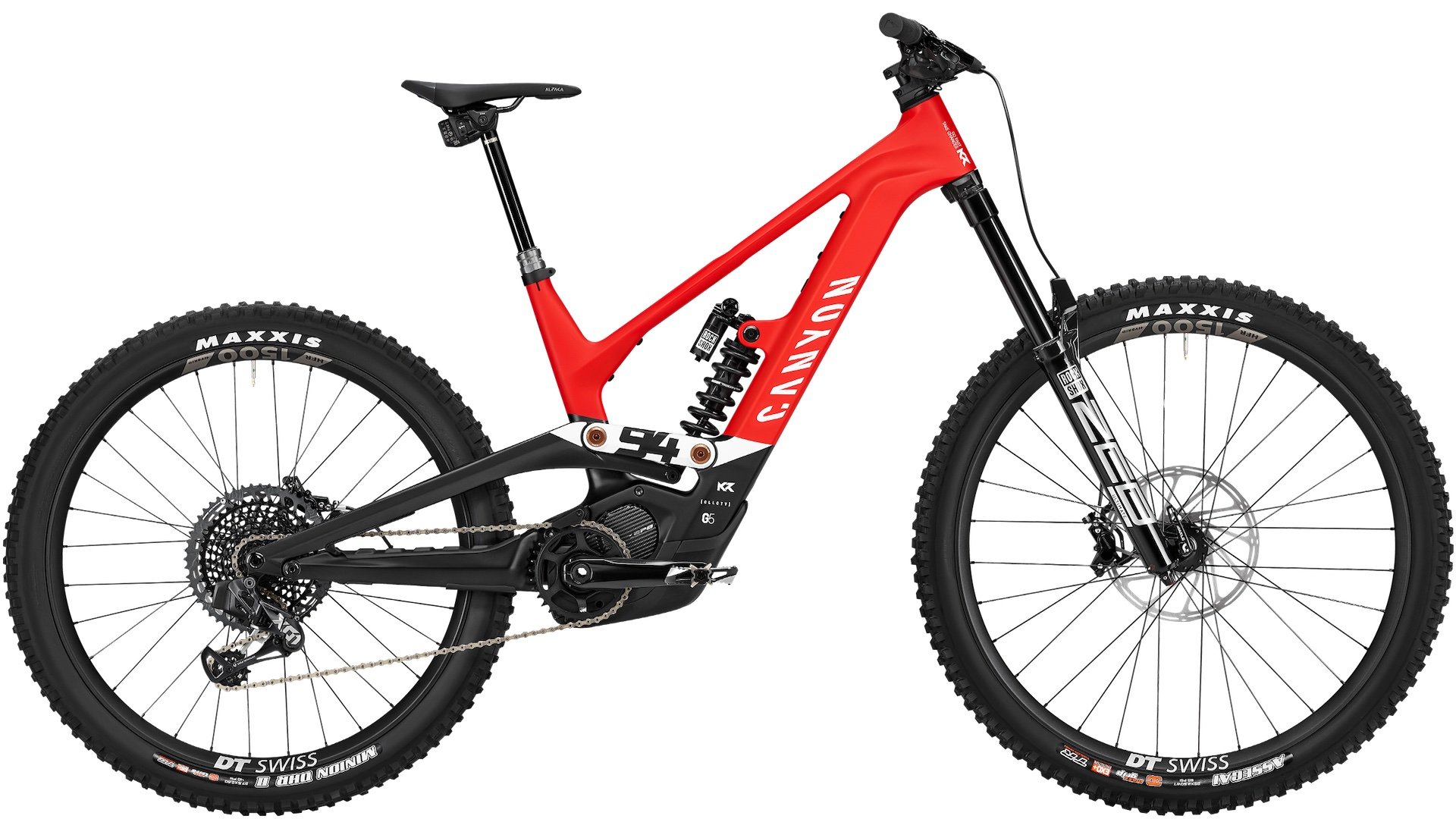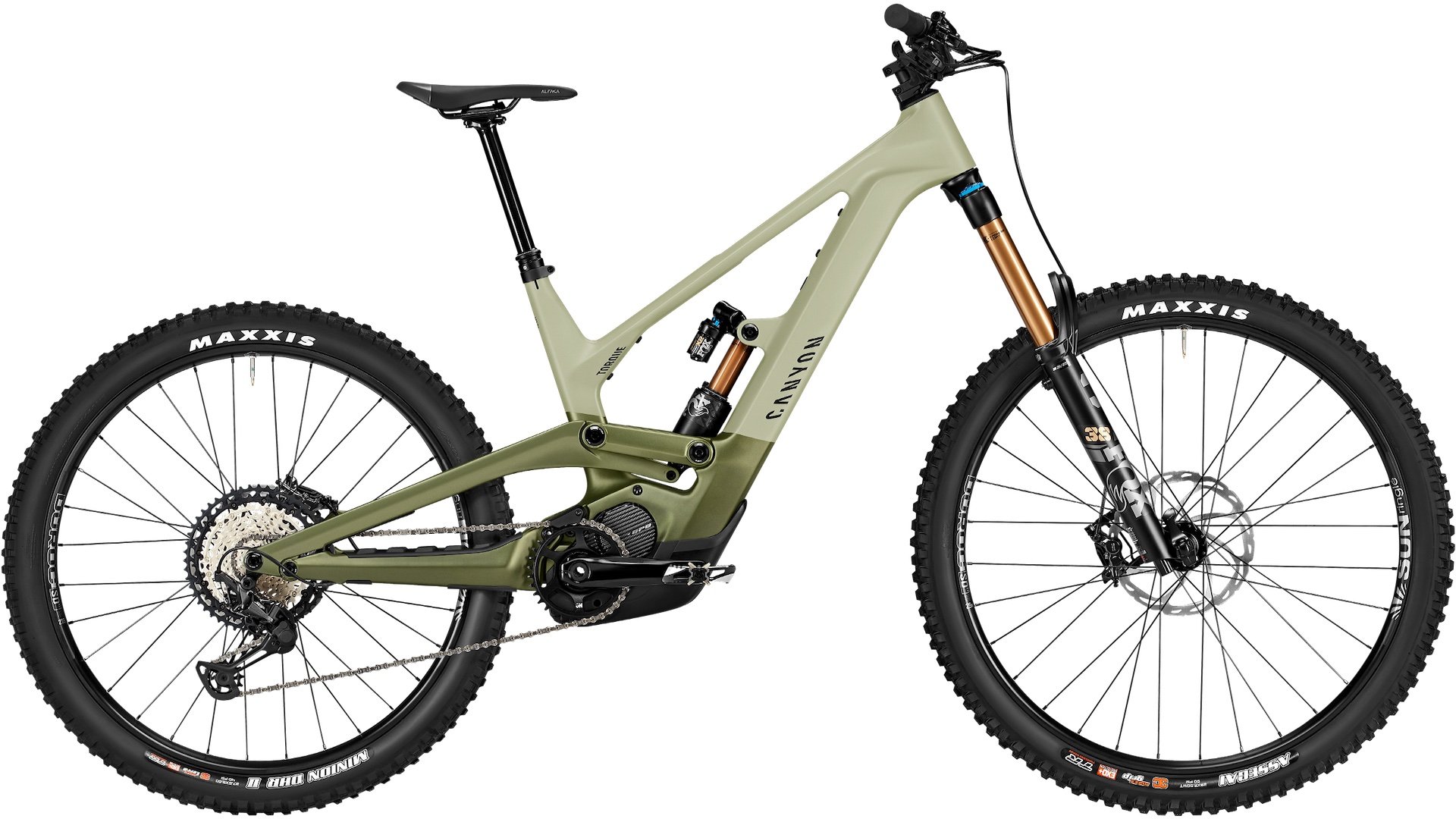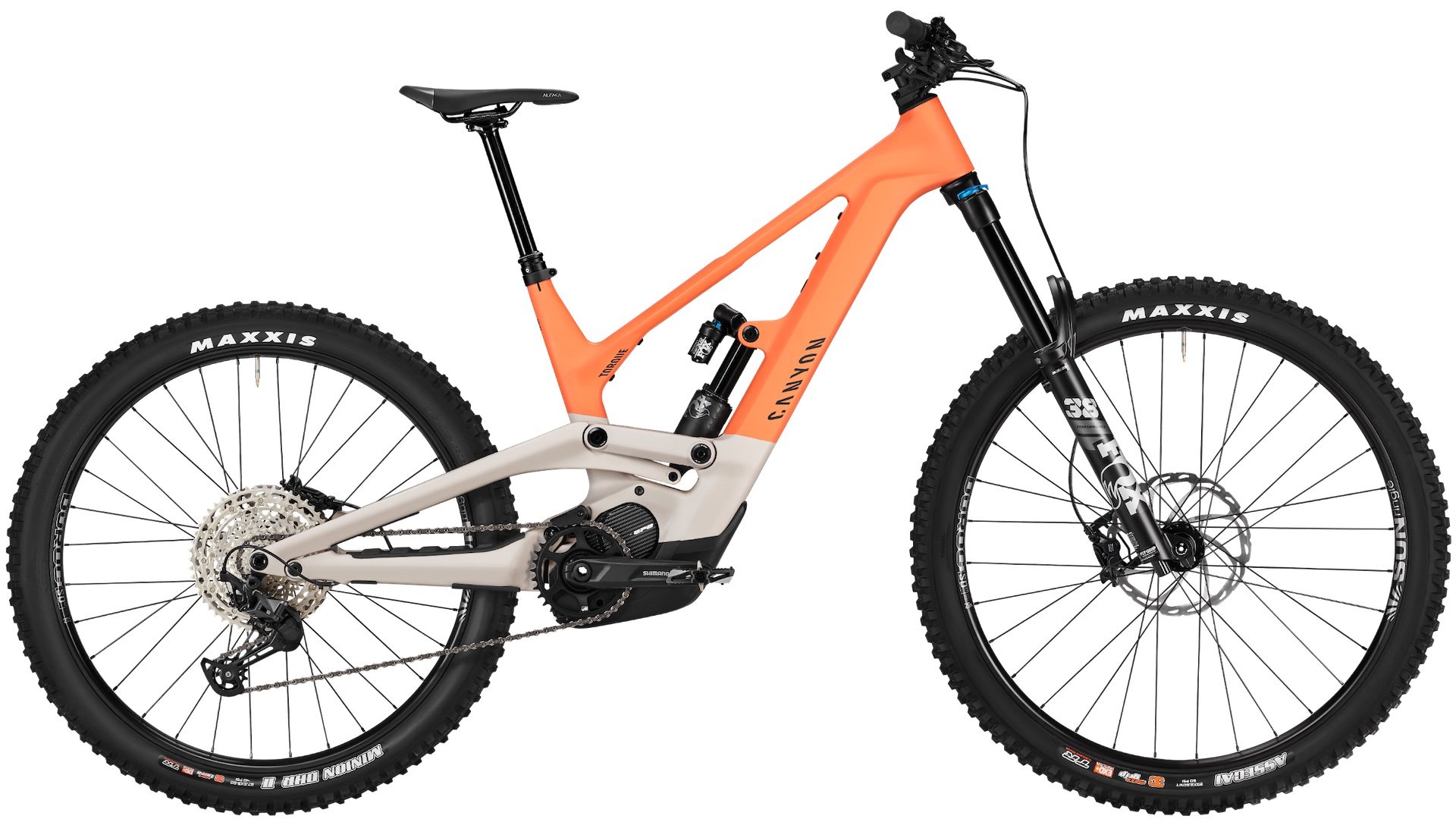 I would like to give the Torque:ON a fair shake on the North Shore, in Whistler, and Squamish to get an idea what it can do on more suitable terrain. I also think the coil-sprung model would come to life a little more. For now though I have to apologize for my somewhat limited impressions.
Torque:ON CF 8: 5,999 EUR (720 Wh) or 6,399 EUR (900 Wh)
Torque:ON CF 9: 7,499 EUR or 7,899 EUR
Torque:ON CF Roczen 8,999 EUR or 9,399 EUR
Canyon eMTBs aren't yet available in Canada. US prices to come.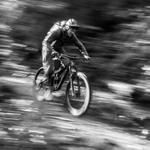 Cam McRae
Height - 6'/183cm (mostly legs)
Weight - 170lbs/77kg
Inseam - 34"/86cm
Ape Index - 0.986
Age - 56
Trail I've been stoked on lately - Boogieman
Bar Width - 760mm
Preferred Reach - 485-500mm (longer with 27.5 wheels than 29)